Ohio Life
Filmmaker Seth Breedlove's Small Town Monsters
Documentary filmmaker Seth Breedlove tells the stories of small-town America through elusive creatures that have become the stuff of legend.
October 2017
BY Jim Vickers | Photo by Ken Blaze
October 2017
BY Jim Vickers | Photo by Ken Blaze
Want to know what mysteries Seth Breedlove is uncovering now? Always stay up to date by visiting smalltownmonsters.com.

Minerva is like a lot of Ohio small towns dating back to the first half of the 19th century. It has a historic downtown and a brick-lined main drag that follows the route of a once-bustling canal. Walk through the neighborhoods and you'll find friendly residents and humble homes. It's a quiet community, but the stories are there, just beneath the surface.
For generations, the area has been a place people pass through on their way to somewhere else, be it Native Americans following the Great Trail or motorists traveling the transcontinental Lincoln Highway. A train once departed town daily to ferry southeast Ohio coal to Cleveland's city-owned power plant.
Other bits of Minerva history passed down over the years fall squarely into the realm of lore. One involves a trove of gold that a group of French soldiers is said to have buried in the area during the 1750s, prior to being overtaken by opposing forces. Some believe the treasure is still out there.
Another, much more recent tale, recounts how in August 1978 the Cayton family spotted a Bigfoot-like creature in the woods behind their Minerva home. It returned nightly, throwing rocks and causing the family members such distress they ultimately reported the monster to the sheriff's department. Having grown up in nearby Bolivar, filmmaker Seth Breedlove has known about the creature nearly his entire life.
"I was always aware of the Minerva Monster because kids in my neighborhood would say, 'Don't go out after dark or the Minerva Monster will get you,' " Breedlove recalls.
He wrote and directed a 2015 documentary recounting the Cayton family incident. In fact, his "Minerva Monster" spawned a Bigfoot film trilogy that reached beyond Ohio's borders into the Adirondack Mountains of New York and down to Fouke, Arkansas.
"The Mothman of Point Pleasant" followed in 2017, detailing 13 months of strange events along the Ohio River in West Virginia during the mid-1960s. This month, Breedlove's Small Town Monsters production company will release "Invasion on Chestnut Ridge," a film that examines the supernatural happenings tied to a 72-mile swath of land that runs through parts of Pennsylvania and West Virginia.
"We get slammed a lot for not having a really skeptical side, but I think ours are the least biased movies about these subjects," says Breedlove, who operates Small Town Monsters with his wife, Adrienne, out of their Wadsworth home. "My goal is not to prove to people that something exists or doesn't exist, because I don't know for myself."

***

The white Bigfoot statue leans forward, head cocked to the side, right leg in midstride. It's stationed outside Breedlove's garage, near his blue Honda CR-V with a sun-bleached bumper sticker in the corner of the back window that reads "I Brake for Bigfoot" above the words "Salt Fork State Park ... Always an Adventure."
Breedlove became synonymous with North America's furriest folklore creature soon after the release of "Minerva Monster." His slow burn of a documentary recounts the August 1978 event by way of interviews with those tied to it: a member of the Cayton family, the local sheriff's deputy who investigated the call and the Akron Beacon Journal newspaper reporter who wrote about it.
But the truth is Breedlove doesn't really like the film. He sees it as amateurish and lacking the sophistication of his subsequent documentaries, which have grown more confident and engaging.
In 2016, he released his two other Bigfoot tales: "Beast of Whitehall," followed closely by "Boggy Creek Monster." For "Beast of Whitehall," Breedlove traveled to New York's Adirondack Mountains with a tiny crew and a $500 budget. The film tells the story of a group of teenagers who saw a monster with glowing red eyes on an isolated stretch of road during the summer of 1976.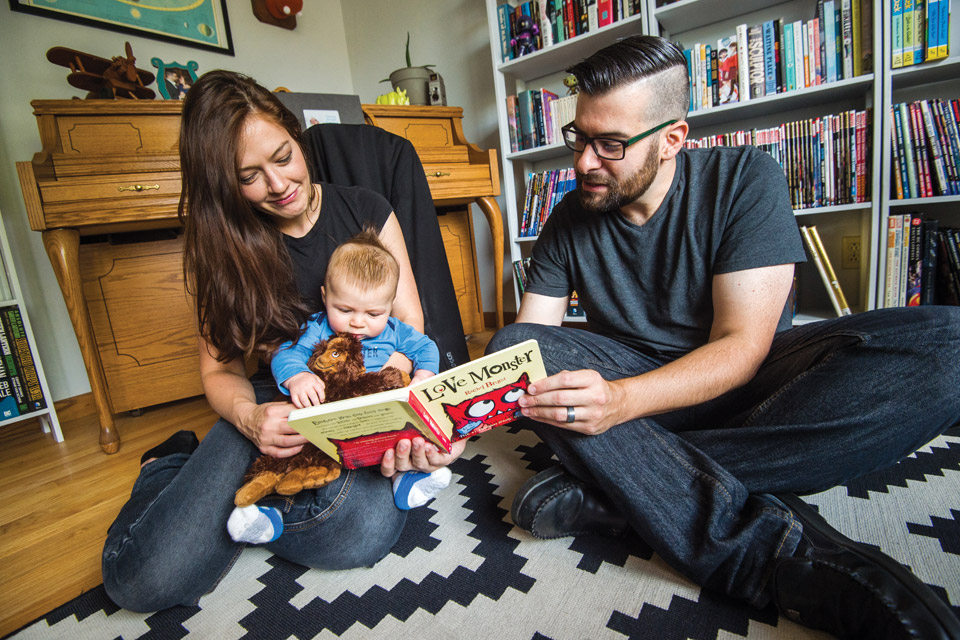 "The crew was me and my friend Brandon [Dalo], who does the music for all of our movies," Breedlove recalls of the shoot. "My dad went along, and if we needed him to, he held a reflector."
The larger budget "Boggy Creek Monster" details how Bigfoot sightings in Fouke, Arkansas, inspired the 1972 horror film "The Legend of Boggy Creek." For that, Breedlove teamed with Lyle Blackburn, who serves as the film's narrator. The Texas-based author, musician and cryptozoologist was a fan of "Minerva Monster" before he ever met Breedlove.
"When I saw 'Minerva Monster' I thought, this guy is a cut above most people who make films in this genre. So I saw the potential. Then, the next [film] was even better," says Blackburn, who has extensively researched and written about the Boggy Creek Monster. "I liked the team that was going, with Brandon doing the soundtrack. … There's no way I would pass this up."
Dalo, who recently relocated to Los Angeles to pursue film scoring as a career, says he believes Breedlove's commitment to documenting his subjects is what sets his films apart.
"The genius that Seth has brought to this form of entertainment that wasn't out there before is he takes this extremely serious approach to the storytelling," says Dalo. "He looks at it from a historical point of view. For him, what he's doing is preserving history."

***

Seth Breedlove grew up roughly 30 minutes from Minerva. His parents owned a bookstore in Bolivar that stocked history-focused titles with a concentration on the Civil War. Breedlove and his three siblings were home schooled, and he grew up enthralled by movies, with directors like Billy Wilder and stop-motion-animation master Ray Harryhausen among his favorites.
"I always wanted to be a filmmaker," says Breedlove, who admits he originally didn't see it as a realistic career path. "I used to read books by William Goldman and Roger Ebert. I was obsessed with screenwriting."
In 1999, Breedlove very briefly attended Kent State University's Stark Campus — "I lasted one day," he recalls — and then drove a FedEx truck, before hopping around to a string of different jobs. All the while, he worked as a freelance writer for local newspapers, including the Massillon Independent and Medina Gazette.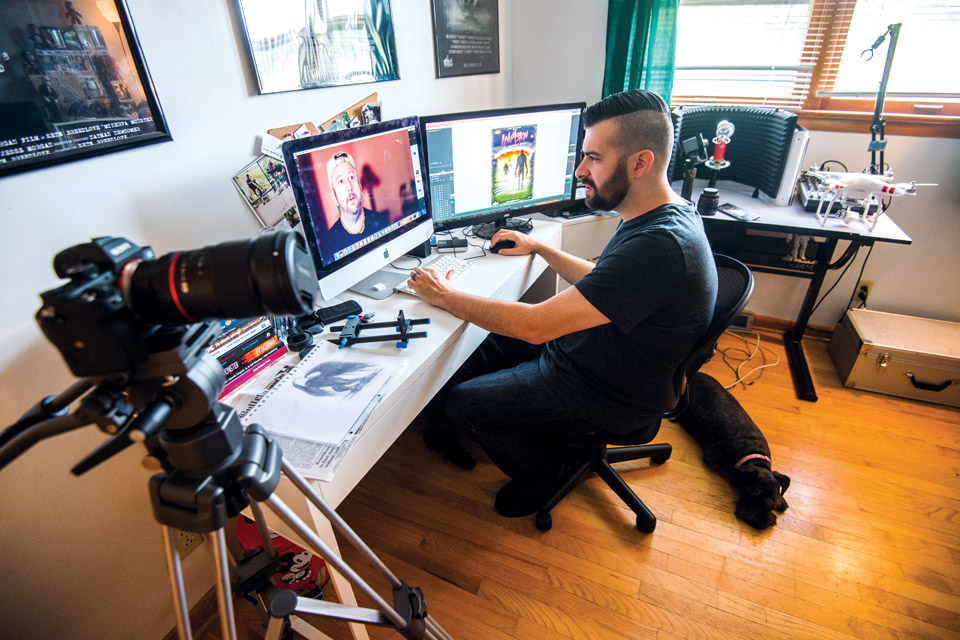 "I've done everything," Breedlove says. "I've tiled floors and repossessed homes and have done landscaping. I did medical billing for the last eight years up until a couple months ago."
Breedlove began thinking about what grew into Small Town Monsters in 2013, identifying cases that ended up being his first four films, as well as others slated for future releases.
This October brings "Invasion on Chestnut Ridge," a departure of sorts because it doesn't focus on a monster as the central mystery.
"It's more of a place story than a monster story," Breedlove explains. "It's the first thing where we've gone away from our established formula."
Small Town Monsters has found success using Kickstarter campaigns to help raise funds for each release, complete with cool rewards for investors that have ranged from T-shirts to DVDs to a desktop Mothman statuette.
"Our business model is somewhere between a band, a production company and a movie studio," Breedlove says of the balance of filmmaking, promotion and merchandise.
In just a few years, Small Town Monsters has become a viable business, with Breedlove currently planning film and miniseries releases through 2020. As it turns out, there are plenty of stories about creatures roaming rural America.
"I don't think we're going to run out anytime soon," he says.
But now that Breedlove has been immersed in the world of monsters, the question must be asked: Has he seen any evidence of the creatures he documents? Up until recently, the answer was no. But he has one unexplained story from a May trip to West Virginia with a Japanese film crew to search for the Mothman.
"Something started throwing rocks at us," Breedlove says. "We killed our lights and something in the path ahead of us starting talking … this weird kind of mumbling. What we heard was very similar to what Bigfoot talking has been described as … Of all the times we've been making movies, I've never had anything really weird happen to me, and that was really weird."
What the creature was, or wasn't, doesn't really matter in the end, and that's the underlying point of Breedlove's films as well. To him, America's wealth of monster lore is about memory, history, community and the stories that we tell ourselves.
"There's something very innocent about going out in the woods and looking for something that people say isn't there," Breedlove explains. "There's something about the folkloric side of this … it really boils down to, what is the most dramatic event that happened in a town? And if you're comparing a battle that once happened here versus a glowing, red-eyed creature that chased kids around at night on back roads … it's always going to come down to the most supernatural thing."

Visit smalltownmonsters.com to learn more about Seth Breedlove's films.