Ohio Life
From Ohio to the Wild West: The Life of Sharpshooter Annie Oakley
Annie Oakley was born in Darke County in 1860. Broadway and television have offered simplified takes on the life of the famous sharpshooter, but the story of the real woman is an inspiring tale of ingenuity and independence.
August 2015 Issue
BY Jill Sell | Photo courtesy of Library of Congress
August 2015 Issue
BY Jill Sell | Photo courtesy of Library of Congress
Annie Oakley could turn her back on a target and look into a handheld mirror to see where to aim her rifle. It wasn't a trick, but it seemed so impossible that many people of her time accused her of fakery. Besides, how could a 5-foot-tall, 100-pound woman do what most men with a gun couldn't even imagine?

"It is only natural that people should try to find fault," Oakley once told a newspaper reporter in regard to the skepticism. "Perhaps, had I been among the audience, I might have done so myself."

There were other spectacular demonstrations of Oakley's talent with a shotgun, rifle or pistol between the late 1870s and the early 1900s, when she performed with her sharpshooter husband Frank Butler, the Sells Brothers Circus and Buffalo Bill's Wild West Show. Oakley could hit a playing card dead center, and she obliterated feather- and paper-filled glass orbs in midair, sending their contents falling like snow. She even shot apples off of her dog's head.

"My ability to shoot is not the result of practice," Oakley claimed in her autobiography, which first appeared as a newspaper series in 1925 and 1926. "It came natural to me."

She did it all while dressed how people of the era expected a woman to present herself, wearing clothes she made or embellished herself. Oakley became an international superstar, performing for European royalty and America's elite. But her greatest contributions went far beyond her fame as an extraordinary sharpshooter. Her life also served as an example of female independence.

"She excelled in a traditional male sport, encouraged physical activity and was a patriot in word and deed," says

Diana Vela, associate executive director at the National Cowgirl Museum and Hall of Fame in Texas, where Oakley is an inductee. "She mentored other women by paying for their education and held shooting classes for them."

In 1925, Oakley estimated that she had taught 15,000 women to fire a gun over the years. "I believe every woman should learn how to shoot," she said. "It would give them confidence and power of self protection. And above all, it would teach them grace and poise. You cannot imagine how shooting demands perfect balance."

***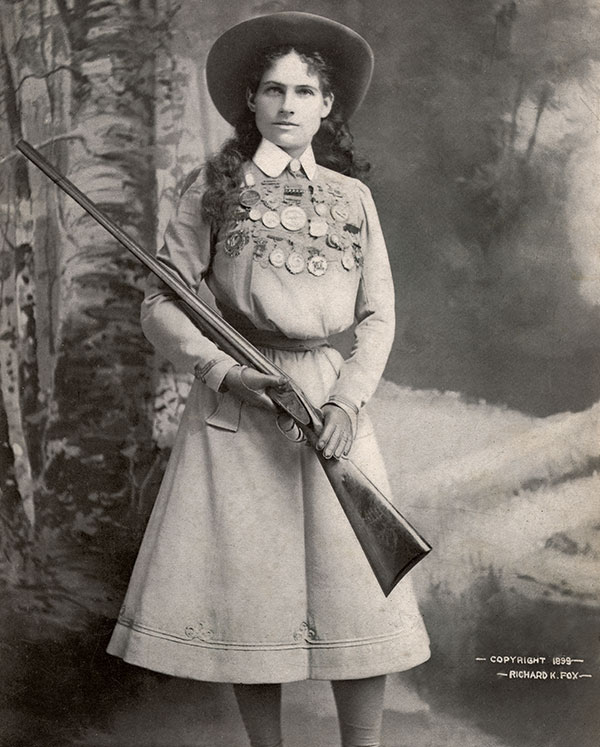 Oakley's talent got her noticed, but her tenacity made her a survivor. Born Phoebe Ann Moses on Aug. 13, 1860, near a town then known as Woodland, her childhood in Darke County reads like pages from a penny dreadful novel.

Oakley's last name has long caused confusion. She claimed her real family name was Mozee, not Moses. Biographers have also referred to it as Mosey and Mauzy. Annie took Oakley as a stage name in 1882. Bess Edwards, whose grandfather was Oakley's only brother, John Moses, claims she chose it as a tribute to a stranger on a train who once helped her.

"Annie was very mature for her age. When her father died [in 1866], he left his wife with a household of girls and one boy," says the 93-year-old Edwards, Oakley's great-niece. "Annie hunted with her father's rifle to put food on the table."

Because of the family's poverty, Oakley was sent to the county infirmary at age 10. While living there, she was taken in by a couple who claimed her only duties would be caring for their baby. But they mentally and physically abused her, and she eventually ran away.

"As a child, I spent holidays and summers with my grandparents in Ohio," recalls Edwards, who now lives in Michigan. "Sportswriters would often come and interview my grandpa about Annie, whom he loved. He'd laugh a little, but then he'd cry, too, remembering her abuse."

In 1876, she married Frank Butler, a performing marksman in his own right and a man 10 years her senior. Life got better. Not long after, the couple began performing sharpshooting shows together, with Butler wisely stepping aside and allowing his diminutive wife to take center stage.

Oakley knew how to play an audience. She would pretend to miss a few shots to make her task look more difficult, exhibiting a pretty pout after each errant try. The buildup set the stage for each performance's triumphant finish, upon which Oakley was known to run off stage with a signature little kick in her step.

***

In 1880, Oakley and Butler began performing with the Sells Brothers Circus, a four-year stint that got them noticed by a scout for Buffalo Bill's Wild West Show. Buffalo Bill Cody took the couple to Europe several times between the 1880s and 1892. Oakley met Queen Victoria, Prince Edward of England, Kaiser Wilhelm, the Grand Duke Michael of Russia and other blue bloods.

"As the first female Wild West star, Annie opened Wild West shows and rodeos to women in America. And in Europe, they loved her," says Edwards.

Oakley's success made her a role model for other women. She helped them realize that financial independence and having a career were possible. Oakley believed in equal pay, but perhaps surprisingly, was not a vocal supporter of giving women the right to vote.

Shirl Kasper's 1992 book Annie Oakley recounts a reporter of the era's take on Oakley's position: "About [suffrage] she does not have much to say. But you get the impression that she never has been strong for equal rights as this generation understands the term."

But her status as a star was instrumental in swaying public opinion about what women could or should do. "[Annie] helped change the American public's mind regarding what were appropriate sports and activities for women," Edwards once wrote in an article she penned for the Michigan-based Annie Oakley Foundation.

Oakley was not only physically agile and tough, but mentally strong as well. In the early 1900s, she filed defamation suits against newspapers for printing erroneous stories that threatened her reputation. Kasper's book details a 1903 newspaper article reporting that a destitute Annie Oakley had sold a pair of pants she stole from a man to get money for her cocaine habit. The real offender was "Any Oakley," a former Wild West burlesque performer. Unfortunately, the story identifying the famous sharpshooter as the culprit was picked up by newspapers across the nation. The court fights were arduous and expensive, but Oakley won 54 of the 55.

"Annie was also a very caring person," says Eileen Litchfield, president of Greenville's Annie Oakley Center Foundation. She melted down gold medals she received at competitions and as gifts from international dignitaries, using the money to support a tuberculosis sanitarium near Pinehurst, North Carolina, where she and Butler often spent time between traveling shows. Oakley also supported hospitals in Cincinnati and "adopted" 18 young women from across the country and helped pay for their educations.

***

Oakley and Butler, who were married 50 years and had no children, lived in New Jersey and Maryland after retiring from the show circuit. But Ohio was first in Oakley's heart. The couple moved initially to Dayton and then to Greenville in 1926.
There, she counted on the help of family and friends when age and lingering effects from a 1901 train wreck and a 1922 car accident caught up with her.

Oakley took charge of her destiny even when she was dying from pernicious anemia — a condition that affects the production of red blood cells. She contacted a female mortician in Greenville, a rarity in those days, and planned her cremation.

"Annie received a letter from someone who had been in the show with her who offered to donate blood for a transfusion, which might have made a difference for her," says Litchfield. "She wrote a letter back, which is on display in the museum. … Knowing she wasn't going to get any better … she wouldn't accept the blood transfusion. The comments in her letter show her strength of character and independence."

Oakley died Nov. 3, 1926, at age 66. Her husband followed 18 days later, "too heartbroken to even eat any longer," according to Marilyn Robbins, who edited The Autobiography of Annie Oakley, published by the Darke County Historical Society in 2006. It was compiled from the series of newspaper articles Oakley penned during the mid-1920s.

Dried flowers from Oakley's funeral are on display at the Garst Museum, which also owns Oakley's will, along with a collection of her guns, her traveling trunk with her name stenciled on the side, her dog's collar and other items.

"The biggest misconception people have about Annie comes from the shows like the 1946 Broadway musical 'Annie Get Your Gun' and the TV series 'Annie Oakley' in the 1950s," says Litchfield. "Actresses portrayed an unrefined Annie, but that's not true. For a woman who started in poverty and suffered some abuse, it's amazing what she did. She was a great inspiration to women of all ages and walks of life."

Litchfield says visitors to Darke County's Brock Cemetery, where the remains of Oakley and Butler are buried, often leave coins on the headstones. The gesture is a tribute to the woman once known as Little Miss Sure Shot, who easily left a hole in any card or coin on which she set her sight. Oakley's mark on women's independence is lesser known, but also a bull's-eye.

The National Annie Oakley Center is located at the Garst Museum, 205 N. Broadway, Greenville 45331. For more information, call 937/548-5250 or visit garstmuseum.org.