Ohio Life
How Scott Brown Became a Lego TikTok Sensation
Everything is awesome in Scott Brown's basement, and the Lego collector of 40 years is sharing the fun by way of videos that have garnered millions of views.
July/August 2022
BY Jason Brill | Photo by Ken Blaze
July/August 2022
BY Jason Brill | Photo by Ken Blaze
There are five unopened Lego sets on the bar in Scott Brown's Canton basement. Other than these boxes, the bar, bedecked with Ohio State University Buckeye memorabilia, is one of the few areas in Brown's basement that isn't covered with the popular building toys.

Waiting like Christmas presents just begging to be opened, there's a set based on "Harry Potter," one that re-creates a scene from "Jurassic Park" and a garage play set featuring three Ferraris. But there's one box Brown, who is program manager for donor relations and stewardship at Summa Health, is most eager to rip into.

Perched expectantly is a 3,772-piece Daily Bugle set. Based on the newspaper office tower made famous in Spider-Man comic books and movies, the four-story building comes with a whopping 25 minifigures (the official name of little Lego people) including the eponymous web slinger and a who's who of his villains and allies. Most sets come with a small handful of figures tied to the theme.

The superhero skyscraper rates highly among Lego city collectors for its build quality (and all those minifigures), and the 45-year-old Brown has already picked the spot it'll go in his own city — on the roundabout, right across the elevated train tracks from the Ghostbusters' firehouse.

He's chomping at the brick to build it, and it's TikTok's fault he hasn't yet.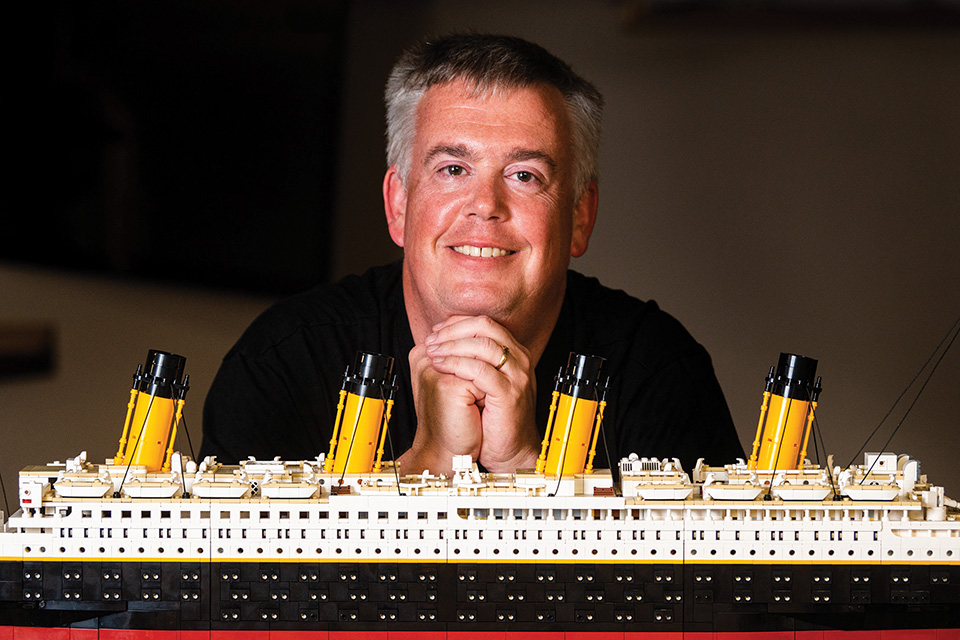 "It's just crazy to me that there are sets sitting over there that I haven't dived into because we're waiting for a time I can sit down and actually film it [for TikTok]," he says while glancing over at the bar during our visit to his Lego lair in May. (By the end of the month, he had started construction on the Daily Bugle.)

In January 2022, with the help of his wife and teenage daughter, Brown launched his @hoflego TikTok account documenting his collection of Legos. On the account, which has more than 156,000 followers and a total of more than 4.7 million likes on all of his videos, Brown builds sets, adds new buildings to his growing Lego city and more. In his most popular post, more than 38 million people (seriously) watched a video of Brown unboxing and building the Lego Titanic set with music from the movie "Titanic" playing in the background.

The set, which clocks in as one of the largest ever made by Lego at 9,090 pieces and 4-and-a-half-feet long, was the inspiration for starting the TikTok account. Brown received the set from his parents for Christmas this year and he thought it would be fun to share the build with the internet.

"I'm very lucky that even at 45 years old, my parents still get me a Lego set for my birthday and for Christmas every year," says Brown, who's been into Legos since he was about 5 years old and still has his first set, an Exxon gas station. "But when they brought that Titanic out, I was just stunned."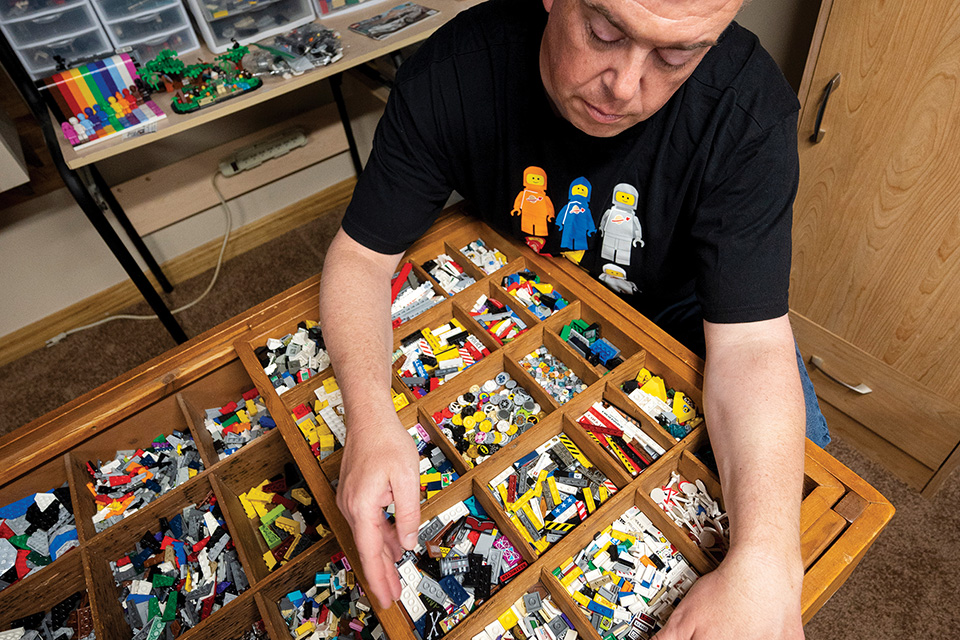 The thrill of the build is what brings grown-up Lego lovers back to the bricks over and over. The satisfying snap as two pieces come together, studying the instructions like a detailed map to buried treasure and marveling at the way the company's engineers reuse pieces in new ways never grows old — even if we do. Building a Lego set isn't like zoning out while bingeing TV, it's a chance to focus on creativity.

During the pandemic, the company bet big on adult fans of Lego (or AFOLs, as they sometimes call themselves), introducing expert-level sets such as the Titanic, a typewriter inspired by one the 89-year-old company's founder used and massive "Star Wars" sets. In 2021, the company's revenue jumped 27% based in part on more adults buying the toys.

"If you buy an action figure, you can play with it, but it's always going to be that action figure," Brown says. "With Legos, there are endless possibilities to create and build things."

The possibilities are endless in Brown's basement. He estimates that over his 40 years of collecting and building, he's amassed around 400,000 Lego bricks. His basement is more than just a place his Legos exist. It's designed to be a tinkerer's paradise.

There are more than 1,100 drawers of bricks, organized by style of piece. If he needs a stubby wing or 3-by-2 stud flat plate, he knows where to look. He also has a chest, sort of like an apothecary cabinet placed face up and mounted on four legs, that holds thousands of pieces for easy access. It was built for him by his dad when he was a kid. Even the style of carpeting in the fully finished room has a purpose.

"I insisted on double padding," Brown says. "I knew I'd be down here a lot, and if I do step on a piece I dropped, it's not going to hurt that bad."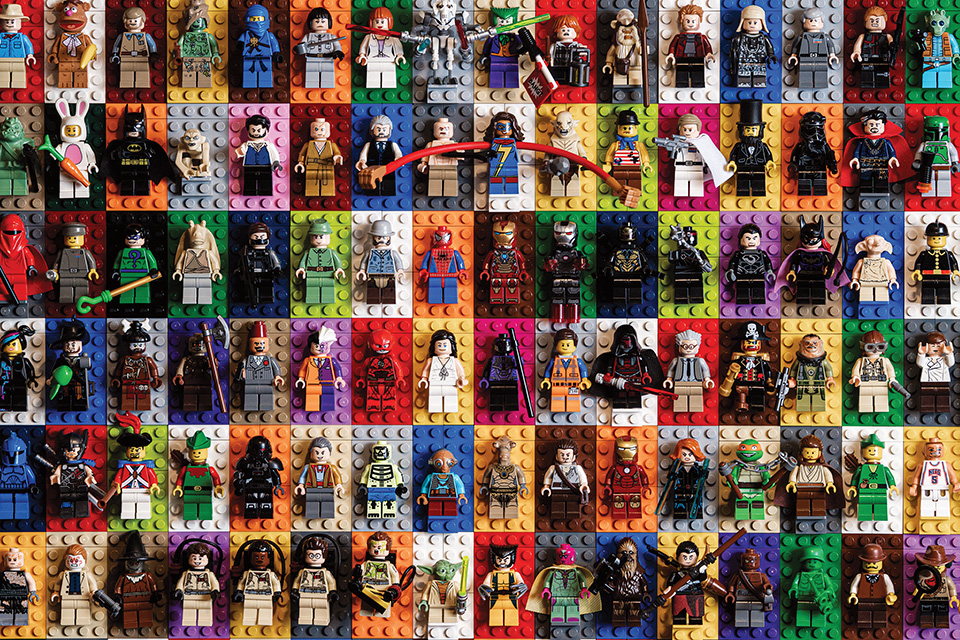 The most brick-tastic part of the basement's Lego-friendly design is a display wall he built that also doubles as storage for pieces. Like something out of a Lego retail store, three panes of plexiglass run nearly floor-to-ceiling, topped off by wood carvings made to look like a 4-by-1 stud Lego brick. Behind the plexiglass (and accessible from the other side), thousands of pieces in every color of the rainbow wait to be part of Brown's next build.

And he's been busy creating. While Brown often builds one-off sets such as the Titanic or Luke Skywalker's landspeeder from "Star Wars: A New Hope," he is always adding to his growing Lego city. The mini metropolis features more than a dozen buildings — from a diner and a boutique hotel to a fire station and a roundabout with a Statue of Liberty in the center. It's alive with dozens of minifigures living their lives and cars driving on the Lego roads Brown designed himself.

While his city is currently on one table, the plan is for it to take up two unconnected tables and an elevated counter. Spanning the divide between the two tables, Brown built a bridge with red trusses to mimic Canton's Hall of Fame Bridge over Interstate 77. "I thought, Why don't we try to give a little local flavor to this," he says.

When we visited Brown, he was close to adding Diagon Alley, made famous in the "Harry Potter" series, to his city. The Daily Bugle will be moving in soon as well.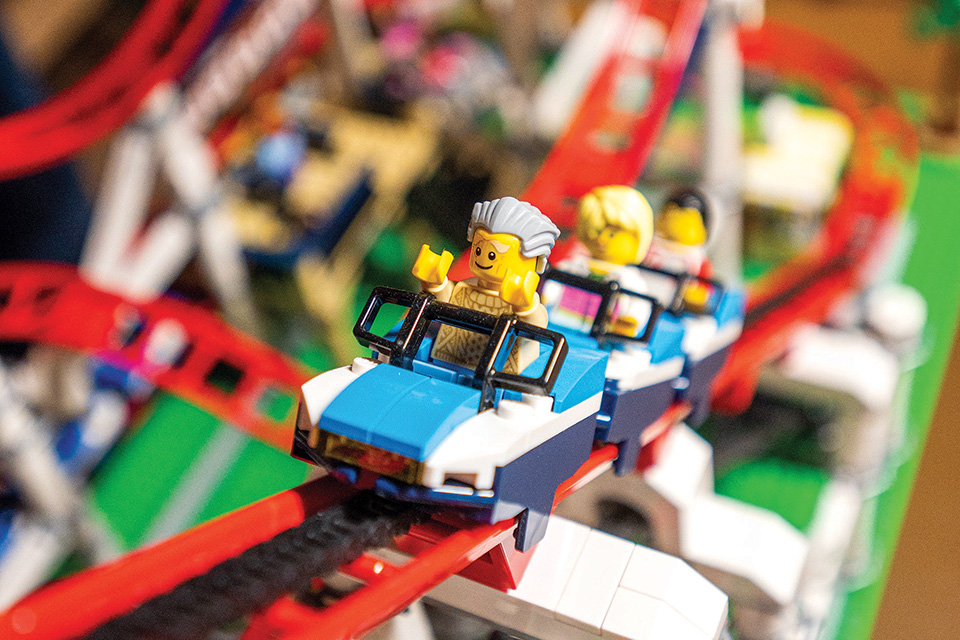 On the counter overlooking the main part of his city and connected by the train tracks and an inclined roadway, Brown has dreams of a constructing an amusement park. The centerpiece is already built — a Lego roller coaster set, with cars that zip, zoom, dip and bank along its red track. The set is also his favorite for a very specific reason.

Talk to any hardcore Lego fan long enough, and they'll tell you about the one thing they always tried to build with Legos when they were a kid, before there were officially licensed or intricate sets like there are now. For some, it was the time machine from "Back to the Future" or a "Star Wars" X-wing. For Brown, it was a roller coaster.

"When I was a kid, I tried to do roller coasters and they just didn't have these kinds of pieces," Brown says. "When that came out, I just had to have it because it's what I've always dreamed of."

Follow tiktok.com/@hoflego to see more of Scott Brown's creations.