Ohio Life
Haunted History: 4 Ohio Ghost Tours
These tours of historic landmarks across Ohio will capture your imagination and put a chill in your bones.
October 2019
BY Kate Bigam Kaput, Taylor Johnston, Kristina Smith and Rich Warren | Photo by Matthew Allen
October 2019
BY Kate Bigam Kaput, Taylor Johnston, Kristina Smith and Rich Warren | Photo by Matthew Allen
Haunted Cincinnati Tours
Explore Washington Park and discover the secrets of Music Hall during this trek through the Over-the-Rhine neighborhood.

In the grand finale of our two-hour walking sojourn filled with paranormal stories linked to Cincinnati's past, our guide, Dan Smith, hands out electromagnetic devices he says will detect energy levels from spirits wandering through Washington Park.

Although the apparatus I select neither blinks nor beeps, a tool several others choose — made up of bulbs that glow in accordance with activity — is particularly lively. On one, all five lights quickly radiate neon red.

"That's the equivalent of a microwave oven working!" Smith exclaims to the startled woman who holds it. "[The energy level] is that big."

In the 19th century, Washington Park was the site of Cincinnati's Presbyterian and Episcopal cemeteries. Across the street, the city's magnificent Music Hall sits atop what was once a potter's field, where thousands of bodies of indigent people and cholera victims were unceremoniously dumped in mass graves.

As Smith shares these chapters of Queen City history during Haunted Cincinnati Tours' Buried Secrets excursion, none of us are surprised that the park has become a magnet for spirit hunters. It's said a child in pigtails is often seen here late at night, and photos taken of the area sometimes pick up shadowy forms. I shudder when hearing that for decades swimmers in what is now a long-gone pool inside the park reported the sensation of their feet being pulled by something below.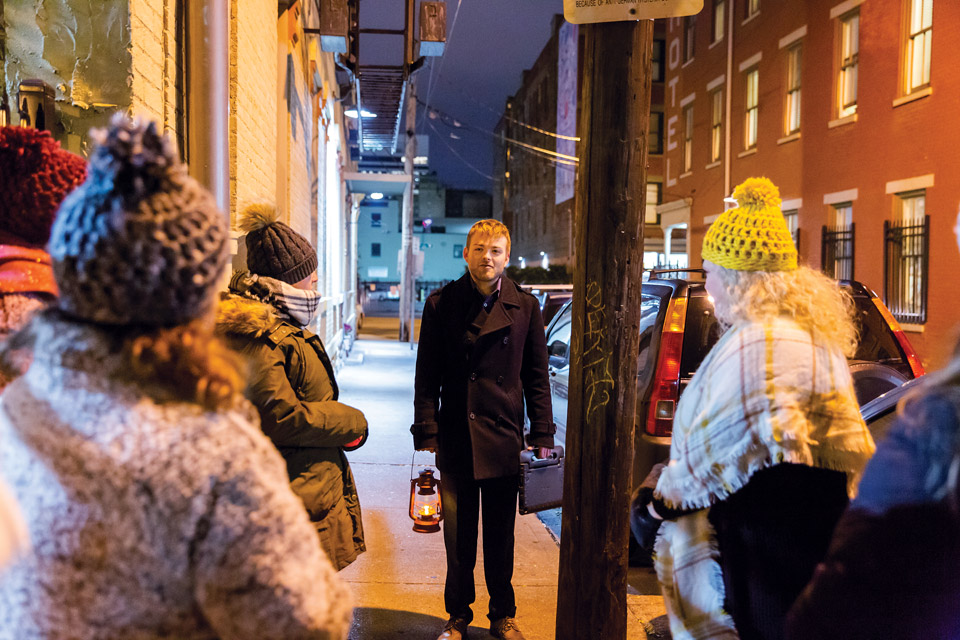 Buried Secrets focuses on Cincinnati's Over-the-Rhine neighborhood, where tens of thousands of German immigrants once resided. Naturally, there were also dozens of beer gardens. (My favorite story Smith relays during the tour is how famed temperance activist Carrie Nation, who was known for entering taverns and smashing bottles of liquor with a hatchet, took one look at all the drinking establishments in the area and turned back, claiming she'd have "dropped from exhaustion" after just one block.)

Central Parkway, a major thoroughfare, now covers what was once the city's portion of the Miami & Erie Canal, which traversed western Ohio all the way to Toledo. The largest abandoned subway tunnel system in the country lies beneath it. Along the way, we pass the site of the former Commercial Hospital and Lunatic Asylum as Smith regales us with ghost stories galore.

One recounts how a Music Hall night guard once encountered a ballroom of dancers dressed in formal attire. They were gone when he returned minutes later. Another tells of a family who's seen a man climbing the stairs in the home he occupied for 62 years before them. The kicker? He is still alive and residing in a nearby nursing home. Our guide calls such occurrences "residual hauntings," an eerie replay of events from the past.

"I love both history and the paranormal," says Smith, who is also the author of Ghosts of Cincinnati. "Putting the two together is a passion of mine."

The Buried Secrets tour takes place on Saturdays at 9 p.m. For more information, call 877/891-3374 or visit hauntedcincinnatitours.com.

---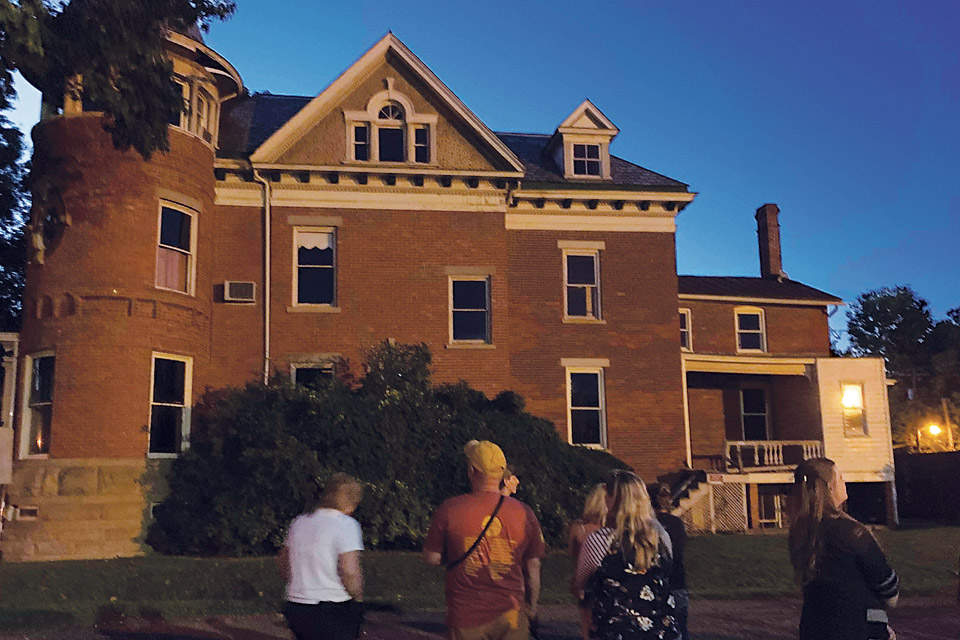 Hidden Marietta Tour Co.
Learn the creepy backstory behind a local church, and visit the site of this historic river town's only public execution.

Founded in 1788, Marietta has the distinction of being the United States' first permanent settlement north and west of the Ohio River. But beneath the history and charm of this quaint southeast Ohio town lies more than a few spine-tingling ghost stories.

"[The founders] created the type of community they left in the East, with wide streets, a school and a church," says Kat Watkins, a guide for Hidden Marietta Tour Co. "They hoped Marietta would eventually become the capital of the United States."

Costumed in a black Victorian dress representing the era we're going to learn about, she greets us beneath the eerie glow of the Washington County Courthouse clock tower, located at the corner of Second and Putnam streets.

The first stop in our 90-minute Putnam Street Ghost Trek walking tour is under the arch that graces the front entrance of the Mid-Ohio Valley Players Theater, also known as the Putnam Theater. Legend has it the original owner of this community theater, built in 1915, makes appearances to enjoy 21st-century performances.

Next, we pause outside The Betsey Mills Club on Fourth Street, established in the early 1900s by a community-minded resident as a place where girls could learn skills that would lead to reputable careers. Today, the center hums with activities ranging from lap swimming to exercise classes and offers long-term lodging. Watkins smiles at the astonished looks we give as she reveals it's been reported that students who lived here 100 years ago frequently return to turn off lights and "borrow" clothing from residents.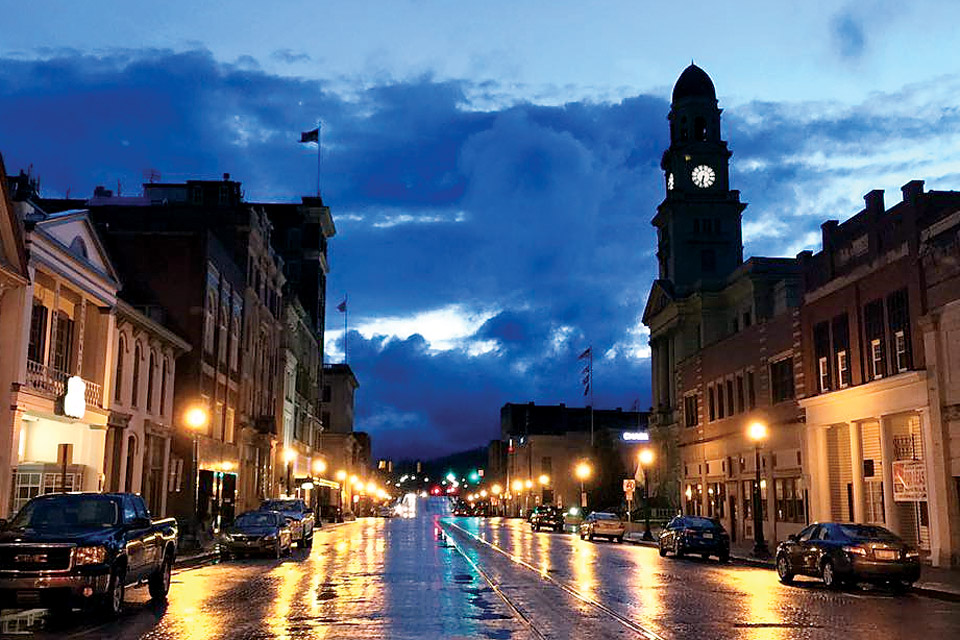 The First Unitarian Church of Marietta, located a block away, is steeped in history as well, along with a creepy backstory.

"The bricks don't look exciting but it's what gives this church an aura like no other [I know]," says Watkins.

She explains that Marietta residents built the house of worship in 1858 using bricks made with clay taken from burial grounds of the Adena and Hopewell people, and constructed it on land the Native Americans used to celebrate the winter solstice.

"There have been people who have stated they have occasionally heard people singing in the church when they are the only one in the building, as well as scratching along the pews," says Watkins.

Our final stop is behind the Dime Bank Building, which was built in 1901 and is the site of the town's only hanging, which took place in 1867. Watkins recounts the story of former Parkersburg, West Virginia, resident John Eubank, whose headless body was found in the river. Hanson Baumgardner, a man with a history of lawlessness, was arrested and jailed for Eubank's murder. On the day of his execution Baumgardner vehemently proclaimed his innocence, but he was put to death anyway.

"He was by no means innocent, but was he hung for the wrong crime? Nobody can answer," says Watkins. "That's why it is the only execution we've ever had [in Marietta], because they were afraid of making that mistake again."

Tours are offered every Saturday at 8 p.m., early July through Oct. 31 (some exceptions apply). Tours depart from the corner of Second and Putnam streets in Marietta 45750. For more information, call 740/538-0520 or visit hiddenmarietta.com.

---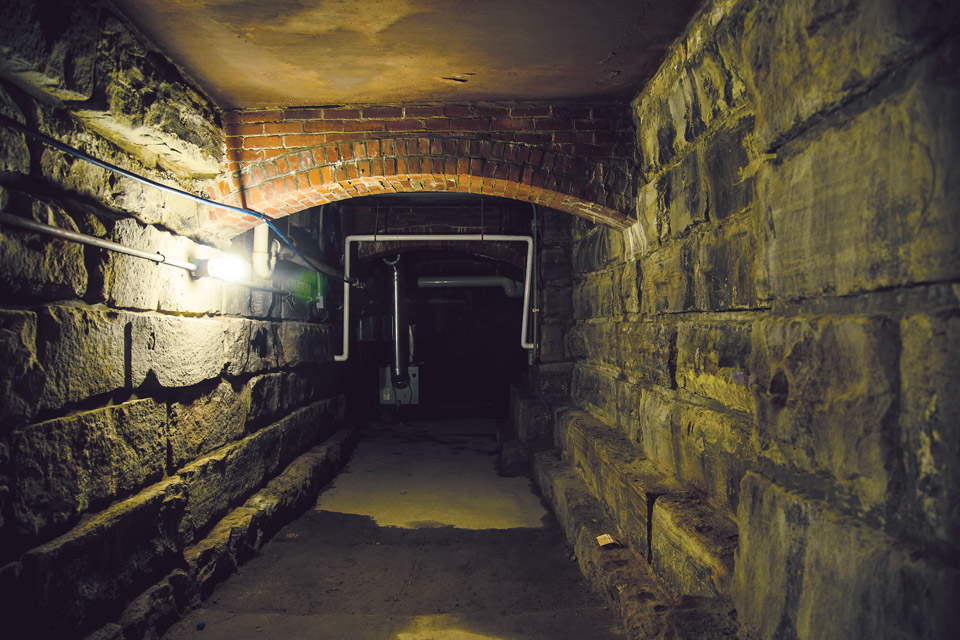 Haunted Cleveland Ghost Tours
Step inside Grays Armory and visit the tunnels beneath the Soldiers' & Sailors' Monument on this bus tour through the city.

As I step inside the lobby of the Variety Theatre on Cleveland's West Side, I envision its former glory of gilded ages past. When it opened in 1927, the Spanish Gothic-style theater was a vaudeville hot spot and a pinnacle of glamour. Sadly, it has fallen into disrepair since closing in 1986.

Patrick Colvin, board member of Friends of the Historic Variety Theatre, is passionate about restoring the building to its former splendor. He also insists it's haunted by as many as 19 spirits, including his brother, David, who was helping with the project before his death in 2016.

"They're much more like Casper — friendly ghosts, as opposed to malevolent," Colvin assures me. But as the wind whistles and lights flicker, I can't help but wonder if his pronouncement is entirely true. Later that evening, I find a tiny crystal from one of the theater's crumbling chandeliers stuck in my hair.

Of course, a city as old as Cleveland is bound to hold a spooky story or two. That's why Chuck Gove, a former homicide detective and longtime history buff, established Haunted Cleveland Ghost Tours in 1999 as an alternative to commercial haunted houses. Each year, Gove adds new spots to keep spirit seekers and history lovers coming back for more.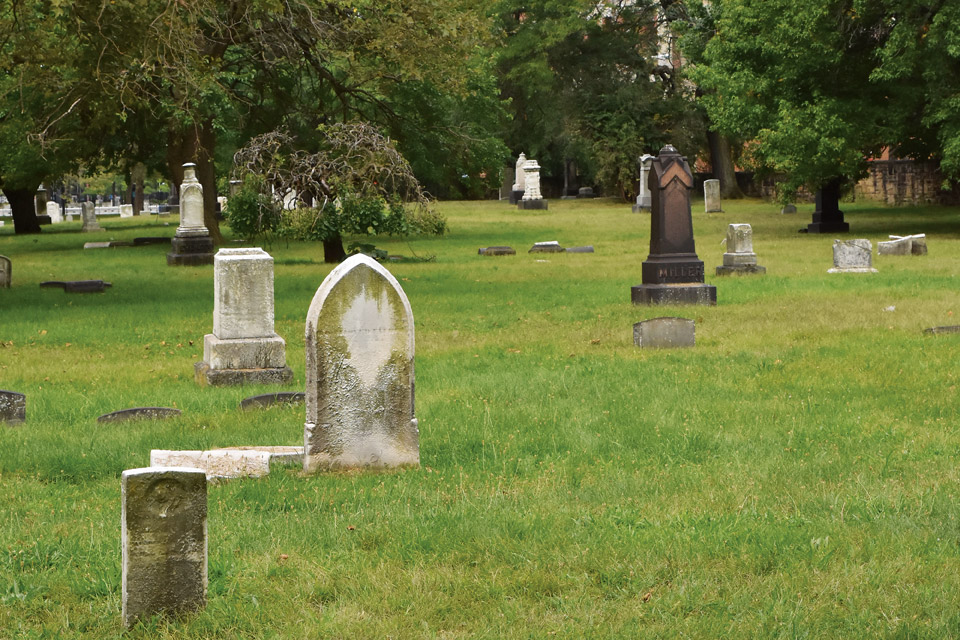 The Variety Theatre is currently one of four stops on the tour. Our group, numbering 40 strong, piles into a large, comfy tour bus that takes us to designated locations where we learn a bit about the city while exploring.

We park in front of Grays Armory, an ominous, castle-like fortress once home to the city's independent militia. Constructed in 1837 and rebuilt in 1893 following a devastating fire, it's now a military museum filled with artifacts including the first cannon captured by the Union in the Civil War. Our group ducks beneath a portentous, black iron drop-gate and files inside, where a docent explains the space is thought to be haunted by a former caretaker named Lou who suffered a fatal heart attack there.

Another stop on the tour takes us beneath the historic Soldiers' & Sailors' Monument in the middle of downtown's Public Square, where a spooky, maze-like series of underground tunnels leads to, well, nowhere. Created simply to function as storage for the monument, the tunnels are now mostly empty, aside from the sound of raindrops that slip through the cracks and form puddles throughout the dark cement labyrinth.

At Erie Street Cemetery, a graveyard dating back to 1826, Gove and co-tour-guide Beth Richards distribute copper dowsing rods made for identifying paranormal activity. Before we begin wandering the grounds, Richards recites a list of prominent people who are buried here, including Chief Joc-O-Sot, leader of the Mesquakie tribe, who settled in Cleveland in the early 1830s. As I stand by his headstone, my rod spins crazily, indicating a possible supernatural presence.

By the end of the tour, you can't help but ask: Does Gove believe in the spooky stuff?
"When I started this, I was more of a historian," he tells us. "But doing this over the years has made a believer out of me."

Haunted Cleveland Ghost Tours are offered every Friday in October at 6 p.m., with additional dates added per customer demand. Tours depart from the parking lot of the FirstEnergy Powerhouse at 2000 Sycamore St., Cleveland 44113. For more information, call 216/903-4892 or visit hauntedcleveland.net.

---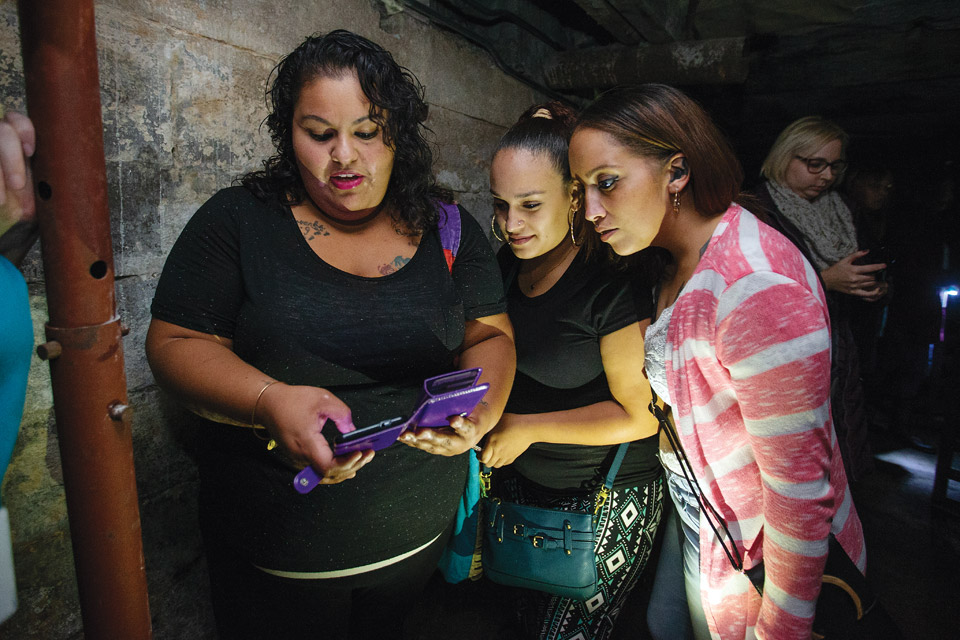 Dungeon Descent
Step into the creepy space below the Sandusky County Courthouse to hear the supernatural stories tied to it.

The entrance to the stone dungeon beneath the Sandusky County Courthouse is a narrow hole in the wall that's about 5 feet high. We duck as our group walks single file into the darkness beyond. On the other side, we're surrounded by what seem like ancient limestone walls dimly lit with lanterns that appear old-fashioned but contain battery-operated faux flames.

"Dungeon" is indeed the most appropriate word for our gathering place. Opened in 1842, it is, tour guide and local historian John Havens explains, one of only a few remaining cells of its kind in the United States. Throughout the year, the Sandusky County Convention & Visitors Bureau offers family-friendly tours of the dungeon, gallows and historic 1892 jail, which exude an eerie ambiance that's particularly befitting once fall arrives. The visitors bureau also offers a Dungeon Descent tour that stops at all of the same spots and covers the history of the buildings, but also focuses on finding ghosts by using instruments said to detect paranormal activity. Because both the history and creep factor fascinate me, I take the historic jail tour, then join about 30 others on the Dungeon Descent. Clearly, the dungeon seems to be the most captivating spot on both tours.

"There were no windows and no lights, except for candlelight from inmates whose families were willing to bring them a candle," Havens says. "Anyone arrested in Fremont was jailed here, whether the person was charged with murder or stealing a horse."

Curiously, most communities weren't building dungeons anymore when this one opened. Yet Sandusky County chose to construct a windowless underground prison with low ceilings and tight quarters anyway.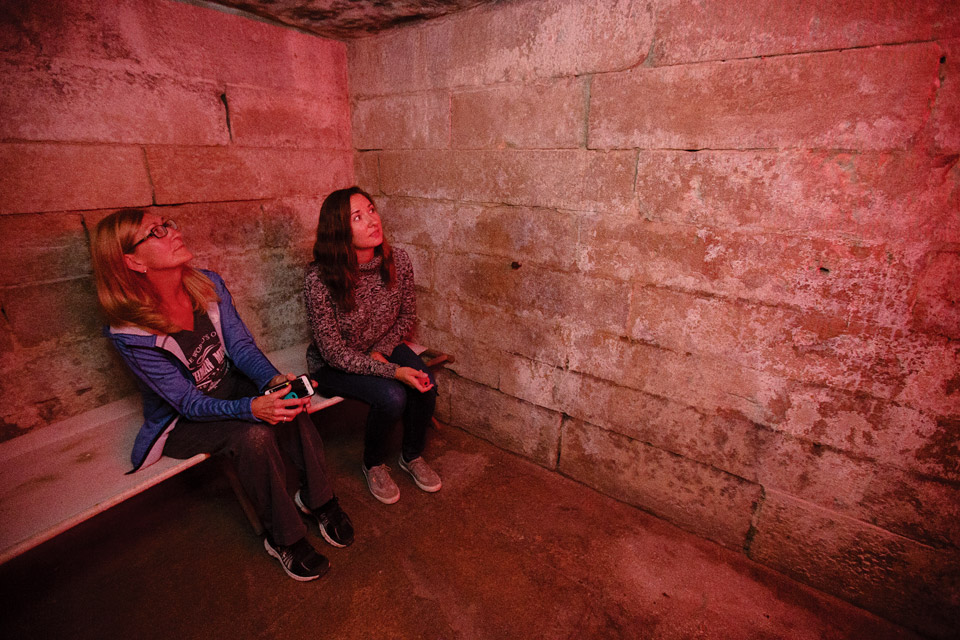 "At that time, this was 100 years out of date," Havens says. "I always wonder what the thought was behind it. Were they that worried about people escaping?"

The dungeon was only used for a decade, thanks in part to the prison-reform movement of that era. But the chamber still holds its share of spooky stories.

We walk into one of the dungeon cells through its only opening: a narrow passage with an iron bar across the door. The first prisoner to be incarcerated there, George Thompson, was sentenced to death by hanging for the murder of a woman he was obsessed with. It was not a clean hanging, and it took 20 minutes for him to succumb to death by noose.

The uneasiness persists when we learn that paranormal investigators have emerged from the dungeon with scratches on their arms they cannot account for and others report being touched by hands that were not human. The fire alarm once went off when no one was down here. It's been reported that lanterns turn on and off by themselves, and past participants on the tour have reported that something unseen touched them. The tour is simultaneously creepy and fascinating.

"I think it's kind of shocking for people when they go down there and see what it was like," Havens says. "I think it interests people to see the barbaric way the prisoners were handled."

Historic jail tours and Dungeon Descent experiences are scheduled periodically throughout the year. Tours begin at the Sandusky County Commissioners' offices, 622 Croghan St., Fremont 43420. For more information, call 419/332-4470 or visit sanduskycounty.org.