Ohio Life
Enchanted Evenings
Couples who got married at unique wedding venues throughout the state share how they put their own spin on the big day.
January 2017 Issue
BY Staff & Contributors | Photo by Open Lens Photography
January 2017 Issue
BY Staff & Contributors | Photo by Open Lens Photography
Did you or someone you know get married at an amazing Ohio venue in the past year or so? We want to share your wedding story with our readers! To be included, email a short description of what made this wedding special, along with photos showing off the venue and decor to weddings@ohiomagazine.com.

Erin & Floyd Stokes • June 18, 2016
Ceremony & Reception: Water's Edge Event Center

Erin and Floyd Stokes found the perfect venue for their summer wedding just a mile away from their home in Ashland. "Tucked away in a special nook," is how Erin describes the Water's Edge Event Center.

Nestled along Silver Stone Lake, the Water's Edge Event Center exudes a rustic, elegant style, with plenty of natural light streaming through its windows. Plus, the ability to hold the ceremony and reception at the same location was a winning factor for Erin and Floyd.

Formerly a private residence, Water's Edge Event Center opened in 2013. Staffed with on-site event planners, caterers and a cleanup crew, the place is geared for a variety of events, but it was the bridal suite that helped Erin decide this was the place for her big day. The suite includes a dressing room, a makeup room, a private bath and a balcony overlooking the lake. "It was great to have a place for the whole day," she says.
Silver Stone Lake served as the backdrop for the couple's outdoor ceremony, which was attended by 300 friends and family members, as well as one special guest: Erin and Floyd's Harley-Davidson motorcycle. The couple featured their Harley in some wedding-day photos, but it stayed parked as the bride made her trip down the aisle. "It was just there for decoration," she says.
Because classic literature is another of Erin's passions, the couple chose to incorporate her favorite books, such as The Great Gatsby and Wuthering Heights, into the reception decor, arranging them as table centerpieces.
"I also had great loves in literature as table names instead of using table numbers," says Erin. "Gatsby and Daisy, Jane and Mr. Rochester, Romeo and Juliet."
***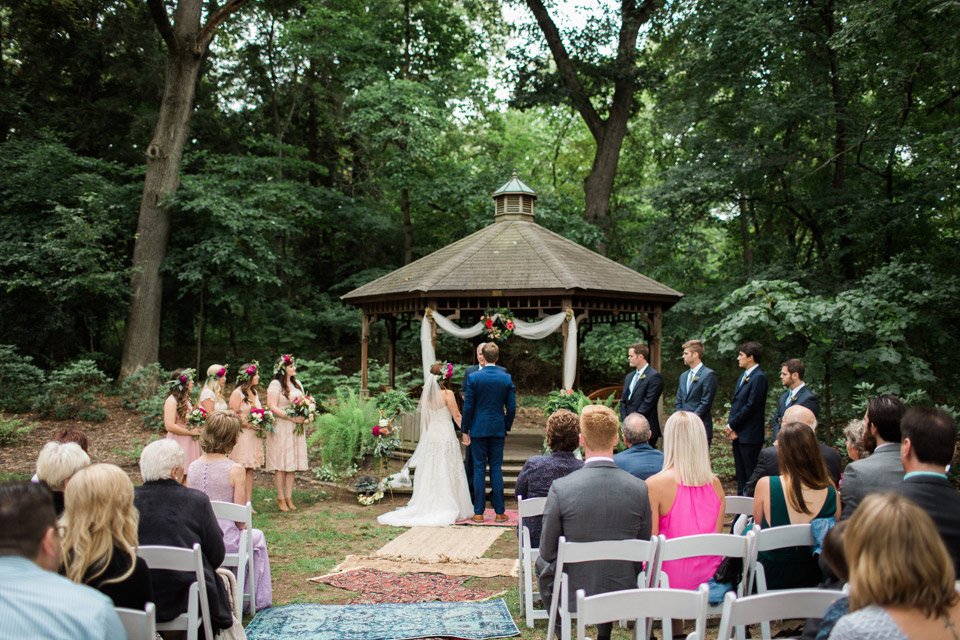 Andi Teggart & Eric Burdullis • Sept. 12, 2015
Ceremony: Wildwood Metropark; Reception: Dégagé Jazz Café
Colorful bohemian rugs and a gazebo draped with white linen set a joyful mood for Andi Teggart and Eric Burdullis' wedding at Toledo's Wildwood Metropark. The couple, who had long planned to exchange their vows outside, chose a ceremony set against the park's backdrop of towering trees.

"That was something we had decided on early," says Andi, whose family lives in Bowling Green. "We wanted an outdoor wedding with natural light."

The bride opted for a neutral palette featuring gold accents and broken up by bright flowers, including Andi's favorite: more than 100 peonies flown in from a peony co-op in Alaska.
"That was really important to me," says Andi. "And when we were budgeting, flowers were one of the big things for me — non-negotiable."
The couple, who live in San Francisco, hosted their reception at Dégagé Jazz Café in Maumee, not far from Wildwood Metropark. The circa-1836 building has a second-floor event space, but the couple decided to rent the entire venue. The evening began with first dances and drinks upstairs before guests were invited to the main level for food and more festivities.
The couple opted for a steady stream of hearty appetizers — including bite-size grilled cheese and tomato soup shooters, coconut shrimp, mini quiches and a Mediterranean bar — instead of a traditional sit-down meal.
"There were a bunch of different rooms, so people kind of floated between places to get different types of food," Andi explains. "[The reception] was very nontraditional."
And since pie is Eric's favorite food, the couple replaced wedding cake with a pie table featuring 10 varieties made by Andi's grandmother.
To keep a cohesive feeling as guests roamed from room to room, the same bright floral arrangements with gold details were used throughout, with each resting on a piece of wood cut from a tree at Andi's grandparents' farm. The wood accents were also used at her cousin's wedding earlier in the year. "They're a family thing," Andi says.
***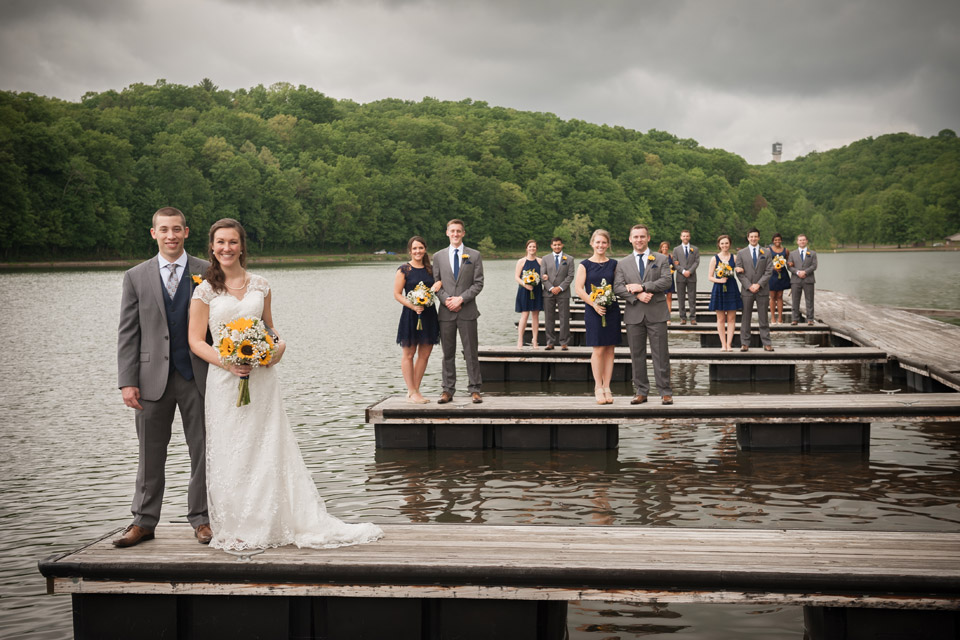 Jaci & Ben Williford • May 21, 2016
Ceremony & Reception: Burr Oak Lodge
The dense woodlands and peaceful lake are what drew Jaci and Ben Williford to host their wedding and reception at Morgan County's Burr Oak Lodge. The three-story structure, which was built in 1967, has a dining room, reception hall and bridal suite and offers beautiful views of the surrounding Burr Oak State Park.

The couple exchanged vows in a room with a 20-foot peaked ceiling and grand windows that offer views of Burr Oak Lake. For Jaci and Ben, the features inside the lodge were as big of a draw as the natural wonders beyond its doors. The fact that the lodge can provide up to 38 rooms to accommodate overnight guests was another factor in the couple's decision. Ben's family traveled from throughout Ohio to attend, and Jaci's family hails from Michigan.
"That's part of the reason we picked this location," says Jaci, who lives with Ben in Athens. "I knew we would need lodging for the family and most of our guests."
Among the lodge's attributes, Jaci and Ben especially admired the reception hall's large double doors leading outside. "People were walking the grounds, going down to the lake or standing and chatting," says Jaci. "It was such a beautiful night at such a beautiful location."
The bride accented Burr Oak Lodge's rustic feel with reception colors of navy and yellow and warm cream hues. Burlap replaced traditional tablecloths and cheery centerpieces of sunflowers in mason jars adorned each table. Also at each table, guests found numbered photographs of the couple, each representing one year in the newlywed's lives, as well as cards for guests to write out their favorite recipes for the couple to try. A dessert table at the reception featured sweets made by the bride and groom's families.
"Cooking and baking are a huge part of our families," explains Jaci. "We definitely wanted that incorporated into the day."