Ohio Life
Jordan Motor Car Co.'s Famous Ad
Cleveland's Ned Jordan ran an advertisement in 1923 that forever changed the automobile industry. It didn't focus on price, engine size or features. It sold a feeling.
February 2018
BY Vince Guerrieri | Advertisement courtesy of Western Reserve Historical Society
February 2018
BY Vince Guerrieri | Advertisement courtesy of Western Reserve Historical Society
The readers of The Saturday Evening Post were used to seeing ads for Jordan Motor Car Co. automobiles, but the one that appeared in the publication's June 23, 1923, edition was different.

The illustration was open and airy, anchored in the center by an elegant convertible — not even depicted in full detail — racing a woman on horseback. It radiated energy and speed. Below it floated a paragraph that sold the freedom of the American West and the shifting culture of the time, capped with this kicker: "The truth is — The Jordan Playboy was built for her."

Ned Jordan, Jordan Motor Car Co.'s Cleveland founder and namesake, advertised regularly in The Saturday Evening Post, at the time the largest magazine in America with a circulation of 2 million. Jordan wasn't a tinkerer like Henry Ford, and he wasn't a racer like the Dodge brothers. He was a journalist by training and a marketer by profession. He used words not to sell cars, but visions of life in the Jazz Age. (It was no coincidence that one of the characters in "The Great Gatsby" was named Jordan.)

His cars — "Smart design for smart folks," proclaimed one earlier advertisement — came in colors like burgundy old wine, Egyptian bronze and ocean sand gray. Models included the Playboy, introduced in 1919 (named for "The Playboy of the Western World," a popular and controversial stage play by John Millington Synge) and the Friendly Three Coupe introduced in 1920 (ads said the car "seats two, three if they're friendly").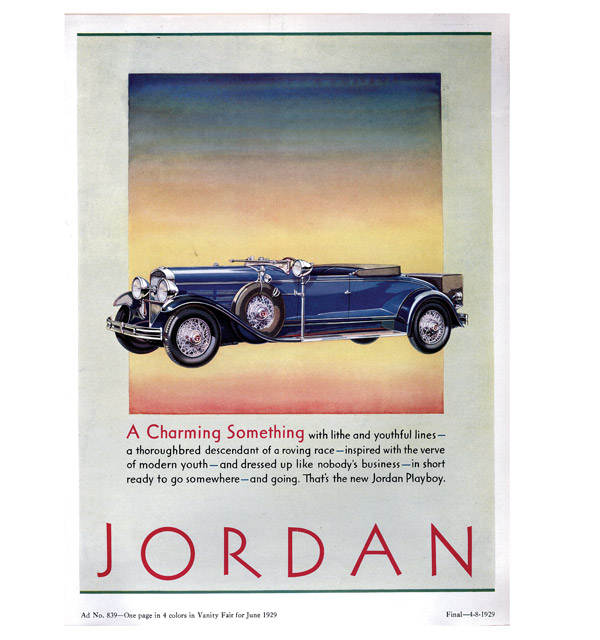 Jordan's June 1923 advertisement in The Saturday Evening Post was different than most car ads of the time for what it didn't have. It didn't include the vehicle's cost. There was no mention of how big the engine was. Instead, it told the story of the horseback-riding woman for whom the Jordan Playboy was made. It was innovative and fresh and, to this day, is often cited as the most famous car advertisement of all time.

Just 63 words in all, it started with four that Jordan had heard on a train en route to San Francisco.

"Somewhere west of Laramie …"

***

Ned Jordan arrived in Cleveland — for the second time — in 1916, looking for funding for his car company. The first time he'd come to the city, 11 years earlier, he was fresh out of the University of Wisconsin.

Jordan's father was raised in the Portage County city of Ravenna, but Jordan had spent his entire life in Wisconsin before future Cleveland Mayor Newton Baker lured him to Ohio to work for the Cleveland Press. He stayed at the newspaper for a year before taking his wife, Lottie, and their newborn son, Jack, to Dayton, where he went to work for National Cash Register Co. A year after the move, he was one of 93 people who lost their job at the company, and Jordan took his family back to Wisconsin, where he worked in advertising for the Thomas B. Jeffery Co. The business's namesake was an English immigrant who had started building bicycles in 1879 but switched to automobiles at the turn of the 20th century.

Jordan worked his way up to company secretary and general sales manager before leaving in 1916, determined to start his own business. At the time, the auto industry was booming. The total number of cars in the United States exploded from 469,000 in 1910 to nearly 2.5 million in just five years, and no saturation point was yet in sight.

Jordan had already raised $200,000 in capital from Chicago financiers when he came to Cleveland in 1916 looking for another $100,000. He struck a deal with bankers the day he arrived (a sign of his salesmanship as much as the city's desire to become a hub for auto manufacturing) and the Jordan Motor Car Co. built a factory on Cleveland's east side.

The city was a natural fit for Jordan. Not only was he familiar with the area from his days at the Press, it was an industrial mecca filled with mills and factories. While Henry Ford controlled every aspect of production, from growing the timber to making the steel for his Model T's, all the way to the finished product, Jordan's cars were assembled in Cleveland from parts made elsewhere.

"We never were automobile manufacturers," Jordan wrote in his autobiography, The Inside Story of Adam and Eve. "We were pioneers of a new technique in assembly production, custom style sales and advertising."

The initial Jordan autos were aluminum-bodied roadsters and touring cars that handled well and were easier and less expensive to make. The factory had been operating for less than a year when the United States was drawn into World War I. Newton Baker, who by then was Woodrow Wilson's Secretary of War, had issued a "work or fight" order saying all Americans not in the armed forces needed to be working on the war effort in their civilian capacity.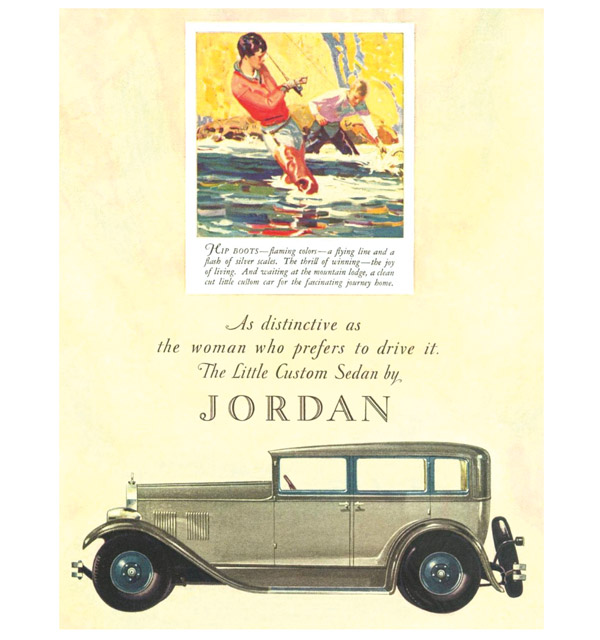 The war ended in November 1918, and Jordan returned to making cars. By then, inspiration had struck him. He was at a dance one evening earlier that year at the Mayfield Country Club when Eleanor Borton, whom he described in a retelling of the story for Advertising Age as "a fine outdoor girl," asked him, "Why don't you build a swanky roadster for the girl who loves to swim and paddle and shoot and for the boy who loves the roar of the cut-out?"

Jordan called it a "million-dollar idea," and in 1919, the Playboy debuted, selling 2,000 models that year. Pricing the car at $2,175, Jordan estimated that he made $500 profit on each sale. He'd made his million.

***

Jordan's cars and ads were revolutionary in their day not just for what they said but whom they targeted: women. The ads appeared in magazines such as Vogue, House and Garden and Vanity Fair in addition to The Saturday Evening Post.

In the early years of the auto industry, even starting a car was difficult. The number of wrists broken by a vehicle's hand crank after the engine started led doctors of the day to call the injury the "chauffeur fracture" or "Ford fracture." But in 1915, Dayton native Charles Kettering, who had worked with Jordan at National Cash Register, invented the electric starter, making driving more accessible to women.

While at NCR, Jordan had learned that a man is half-sold until his wife is sold — a fact he carried over to his business, once giving cash bonuses to his employees' wives.

Women responded to the "Somewhere West of Laramie" ad viscerally.

"I do not want a position with your company. I just want to meet the man who wrote that advertisement. I am 23 years of age, a brunette, weigh 120 pounds and my wings are spread. All you've got to do is say the word and I'll fly to you," one woman wrote in a letter to Jordan.

Another woman submitted poetry inspired by the ad. In his reply, Jordan said many people wrote in with similar works, adding that such a response indicated, "that the advertising is not only successful, but inspirational."

Other auto companies followed Jordan Motor Car Co.'s cue. Hupmobile ads discussed the women who drove them. Buick talked about its fashionable clientele. Duesenberg eschewed images of the cars entirely, showing drawings of upper-class men and women sailing and hunting, with the only text in the ad saying, "He (or she) drives a Duesenberg."

But Jordan knew the good times of the Roaring '20s were coming to an end. Big automakers could offer financing and make cars in volumes he couldn't.

In 1928, the company started to liquidate as the stock market crash loomed. Problems at home didn't help either, as Jordan and his wife separated. Finally, in 1931, the Jordan Motor Car Co. was no more, one of many smaller auto companies to go out of business during the Great Depression. Except for a brief foray in sales with Studebaker from 1934 to 1935, Jordan was out of the auto manufacturing industry.

Undaunted, he returned to advertising, initially at Sweeney and James, to rejoin his former advertising manager Joe Fewsmith, who had produced the "Somewhere West of Laramie" ad. Jordan later worked at Young & Rubicam, Campbell-Ewald and McArthur, the latter of which had 3-D advertising at train stations, including live mannequins at Grand Central in New York, where its office was located.

At the end of his life and beyond, Jordan was heralded as an advertising trailblazer. In the 1990s, a Hertz advertisement talked about offering a variety of cars "whether you're traveling somewhere west of Laramie or someplace east of Bangkok," and in 1999, the "Somewhere West of Laramie" ad was still regarded as one of the 100 greatest ads by Advertising Age. Eleven years after that, Jordan was inducted into the Automotive Hall of Fame.

During the 1950s, when car culture was at its zenith, Jordan was regarded as a fount of wisdom in that industry as well, writing a column for Automotive News about the wild early days of the auto industry, which he was only too happy to leave behind.

"Thank the Lord we quit just in time," Jordan wrote in Advertising Age in 1952, noting that his company had a 1,900 percent return for its original stockholders. "Our families have since been enjoying the trust funds which the Playboy earned."