Ohio Life
Columbus Architectural Salvage
Chris Sauer's store stocks a wide range of reclaimed, hard-to-find home items stretching from the 1840s to the mid-20th century.
June 2018
BY Jill Sell | Photo by Eric Wagner
June 2018
BY Jill Sell | Photo by Eric Wagner
Fifteen claw-foot bathtubs stand in straight, neatly organized rows, their rounded corners giving the appearance of a fleet of mini submarines. Nearby, a collection of antique wrought iron garden furniture and vintage outdoor statuary add to the surreal landscape that seems as if it could have leapt from one of artist Salvador Dali's canvases. All that's missing is a melting clock.

The sky has opened on this gray April afternoon and rain pours into the uncovered tubs, down through their drains and into the ground of Columbus Architectural Salvage's storage yard near the Ohio State Fairgrounds. It's located directly behind the company's 10,000-square-foot Clara Street store that's a resource for old house parts and a wide-ranging collection of older, hard-to-find items for the home.

Proprietor Chris Sauer opened this Columbus Architectural Salvage location in 2011, after working out of a smaller store in Columbus' Grandview neighborhood. Sauer never intended to become the master of a thousand doorknobs and the keeper of what seems to be zillions of old latches, hinges, keys and locks — all stored and neatly labeled in vintage oak library-card-catalog cabinets. Yet, here he is, surrounded by all of it.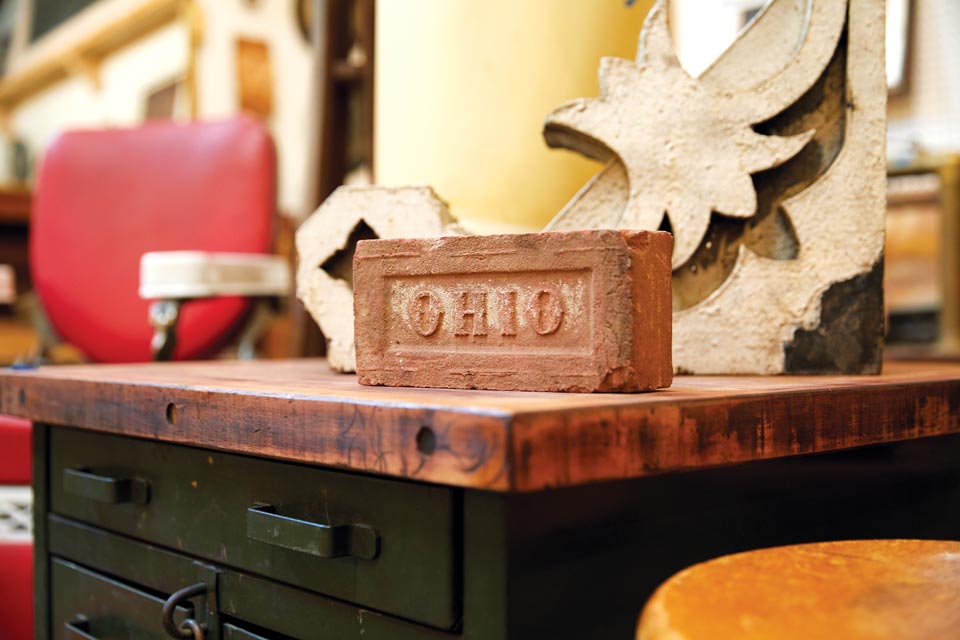 Sauer was born in Chicago, lived in Oakland, California, as a child and moved to Westerville before he entered eighth grade. He graduated from Miami University in 1992 with a bachelor's degree in American studies and history, and for six years he was the assistant historic preservation officer for the city of Columbus. He has also worked as a self-employed carpenter, which brought him face to face with finds like the ones he now stocks at Columbus Architectural Salvage.

"Whenever I came across something unwanted in a house I was working on and that I thought was valuable, I tried to save it," says Sauer. "I had some storage, but I was running out of room quickly."

The first house Sauer owned was a Victorian that had been converted into four apartments. As the carpenter turned it back into a single-family residence, he quickly realized that period-accurate hinges, doorknobs and other hardware were difficult to find.

"You just can't go to a big-box store," Sauer says. "People would tell me, 'Wouldn't it be great if there was a place to buy all this?' As unique as old houses are, there is also the challenge of finding parts."

It seems trite to say, but the rest really is history for Sauer, who in 2006 began selling online and hosting weekend garage sales where he sold his vintage finds. He eventually outgrew those options.

Today, his store stocks neatly organized register grates resembling oversize metal waffles and large, ornately framed mirrors that could double as horror-movie props. The store is organized by item, so a shopper looking for a door will find them all in the one area, but there are delightful surprises along the way, such as the step-on, coin-operated scale from Chicago's Watling Scale Co. and the four-person, cast-iron soaker tub.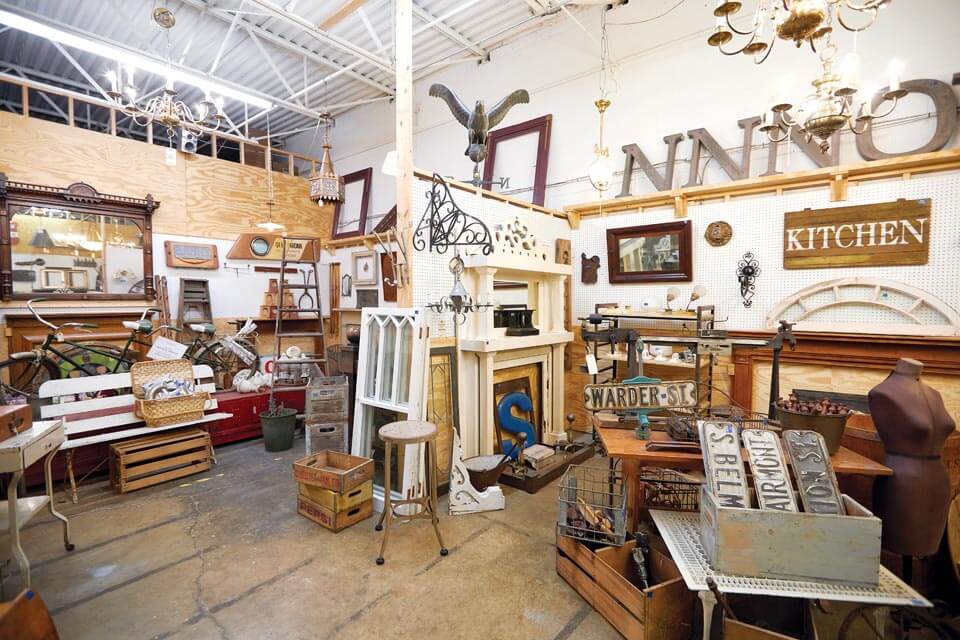 There are exceptions, but the store primarily stocks items from the 1840s through the 1950s.

"Midcentury modern homes aren't really old enough for us yet," says store manager Molly Patterson, adding that lighting fixtures and doors from the time period are occasionally available, but sell quickly.

The store also stocks some goofy stuff: a larger-than–life frozen Coca-Cola treat in a paper cup, phone booths and a vintage, mint-green dental spittoon.

"We like to add some unusual pieces and even some newer items just to keep things unexpected," adds Patterson.

Columbus Architectural Salvage's customers range from owners of old houses to people who want to incorporate some vintage character into contemporary homes to those who just love antiques. Others come to scout for unusual pieces to repurpose: think wooden ladders used as easels, antique glass telegraph insulators converted into planters or former bowling alley lanes transformed into butcher block-like kitchen tables and islands.

Sauer first collected salvageable architectural elements by himself. Today, he and his crew of four work with homeowners and buy from other salvage and antiques dealers.

"There is a lot of labor involved. We just don't go somewhere and tear things off walls," says Sauer, whose background enables him to correctly dismantle and reassemble entryways, pocket doors and molding. "And because space is still somewhat limited, I am more selective than I once was."

Sauer has never found treasure hidden in a wall, although he has discovered old coins, postcards, letters and photos, often behind fireplace mantels. When possible, he sends such discoveries to the home's former owner. (Then there are the unmentionable finds uncovered within walls where raccoons, mice and birds once made their homes.)

Because Columbus Architectural Salvage draws mainly from sources within our state, and because Sauer values historical preservation, the store is a resource for authentic Ohio heritage. Patterson adds that the store's staff spends ample time on research, education and organization.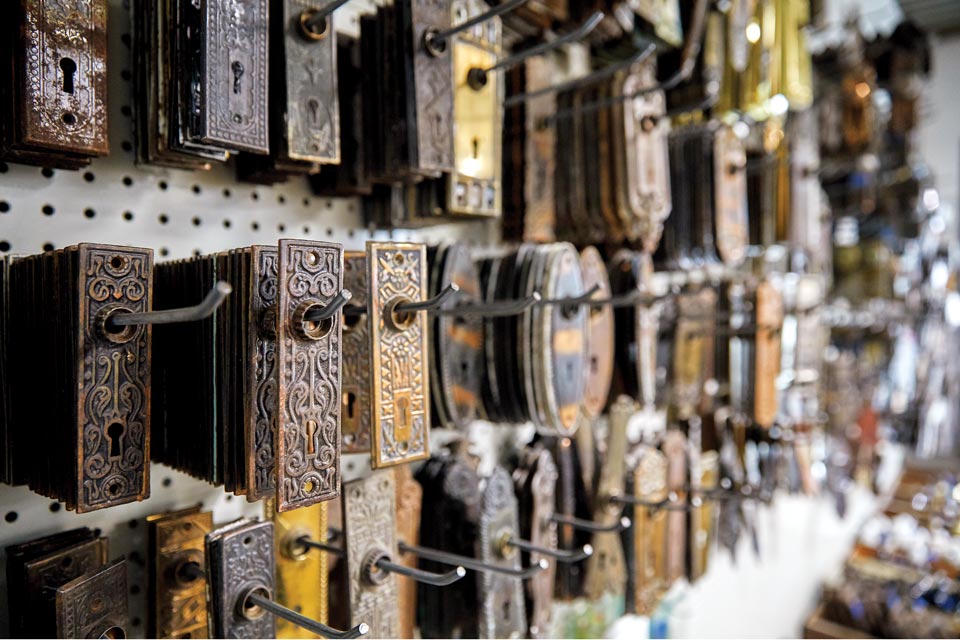 A huge plaster chandelier from an old post office in Bellefontaine now hangs from the showroom's ceiling. In another part of the store, elaborate entrance doors from the former Seneca County Courthouse in Tiffin that was demolished in 2012 await a new home. Then there's the 10-foot-tall, oak-and-glass, double-door entryway that once graced a Xenia funeral home that survived the horrific 1974 tornado that hit the town, one of the worst in Ohio's history.

"For me, it's difficult any time an old building is being demolished instead of being saved for future generations," says Sauer. "There are old buildings being lost every day across the state, and I wish I could do more to save materials from all of them. I know in some cases demolition has to be done. But if we can save anything, we will."

1580 Clara St., Columbus 43211, 614/299-6627, columbusarchitecturalsalvage.com