Ohio Life
Celebrating Hometown Spirit
Every fall, we celebrate life in Ohio with our Best Hometowns issue. This year, we're recognizing the inspiring efforts that have steadied our spirit and prepared us to move forward together.
Nov./Dec. 2020
BY Ohio Magazine Staff | Illustration by Jennifer Kalis
Nov./Dec. 2020
BY Ohio Magazine Staff | Illustration by Jennifer Kalis
Morning Inspiration
Singer Laurie Labishak's live performances on Facebook have grown into a larger celebration of kindness and positivity.

Laurie Labishak has been part of the Honky Tonk Sweethearts since 2012, performing across southeast Ohio and beyond. But it was a series of hopeful messages she posted online in the early days of the stay-at-home order that led to fans requesting she sing for them live on Facebook. On April 2, she launched the first of her daily Morning Music performances, during which she greeted fans and sang while playing the piano. The music Labishak performed started as gospel, but as she took requests, it turned into whatever lifted listeners' spirits.

As the weeks passed by, Labishak, who is also a motivational speaker, launched an online talk show, "Bright Spots," to highlight people in her community who are spreading positivity. Guests have included St. Clairsville Chamber of Commerce executive director Wendy Anderson, who discussed supporting small businesses, and Will Davis of Steubenville-based Vagabond Missions, which creates youth groups across the country.

"I was getting messages from all over … about people wanting to share their stories of kindness," says Labishak, whose show airs live on Wednesdays at 7 p.m. "I love connecting people." facebook.com/thelaurielabishak

---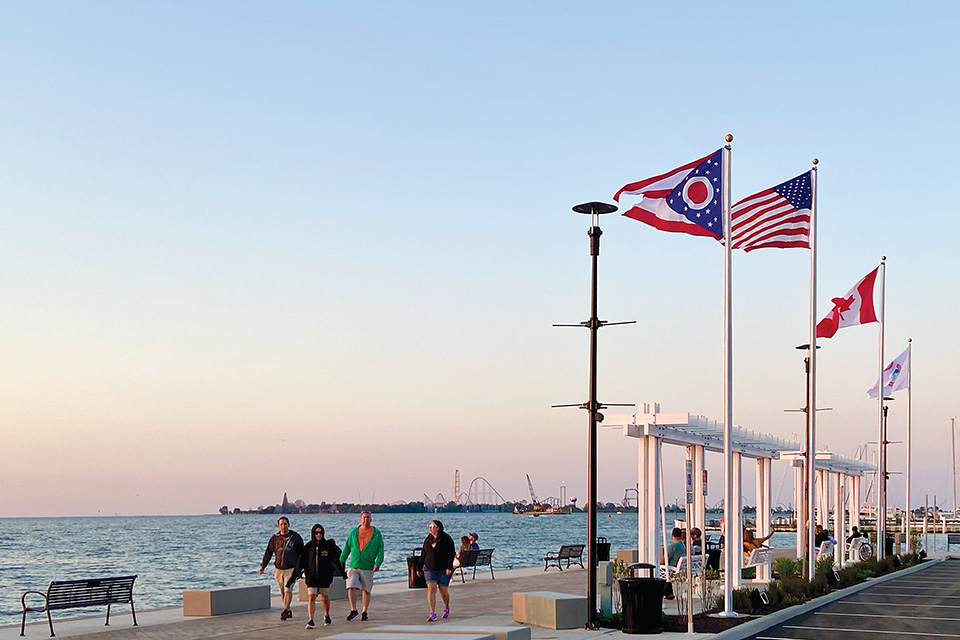 On The Water
When Sandusky's Jackson Street Pier was completed this summer, it provided a new and inviting space for relaxation and reflection at the time we most needed it.

The park at Sandusky's Jackson Street Pier seems like a place that should have been around for years, with its prime waterfront location, inviting swings and ability to walk right up to the water's edge. The Sandusky Bay spreads out to fill your entire field of vision, with the roller coasters of Cedar Point in the far distance. It's as serene and as welcoming as it sounds.

But before this year, the land here was a large parking lot, and utility wires marred the incredible lake views just north of Sandusky's downtown. The new $9 million park was part of an effort coinciding with the city's 2018 bicentennial aimed at improving waterfront access. It's joined by the $8 million remaking of Shoreline Drive, which includes just over 2 miles of separated bike path that planners hope will one day stretch the length of the city.

"We felt like our downtown needed an iconic waterfront space for people to gather," says Eric Wobser, Sandusky city manager. "And we wanted that to be a genuine space where everyone from Sandusky would feel welcome."

But when the project was completed around Memorial Day 2020, the world looked a lot different than the one its planners envisioned with waterfront events and other activities that would make the most of the space. Something else happened, though. During a summer when people yearned to get outside their home, Jackson Street Pier served as a place to relax and think, as well as a space to safely interact with others doing the same.

"[The response] has been to a level that exceeded probably even my expectations," says Tom Horsman, assistant planner for the city of Sandusky. "Coupled with the COVID pandemic and people just not having been able to have much social interaction with people, it's really become a civic gathering spot. You go down there and you expect to run into at least five different people you know. It's created a place that I had never really seen exist before since I've lived in Sandusky, of being that focal point you feel like is the center of public energy downtown." cityofsandusky.com

---

Innovative Solution
Boardman middle school teacher Tim Harker supported front-line workers by 3D printing face shields during the pandemic's early days.

As a technology teacher at Glenwood Middle School in Boardman, Tim Harker has seen his students use 3D printers to make items ranging from keychains to trumpet mouthpieces. But when school was canceled as the pandemic spread, Harker did some some printing of his own. He took three of the school's 3D printers home to make face shields during the time when demand for personal protective equipment far outstripped supply.

Harker would 3D print the face-shield frames and use blank overhead-projector transparency sheets to create the shield. He assembled as many as 35 a day, sending them to hospitals and first responders. "People all over the country were requesting face shields," he recalls.

The project demonstrated the utility of 3D printers, but Harker says it also showed the power of working together. The school administration provided the 3D-printer filament and unused transparency sheets, while Ray Detwiler of the Canfield web-design firm 45Press set up a GoFundMe page online to raise money for more materials.

"Working together is the real teachable moment for me," Harker says.

---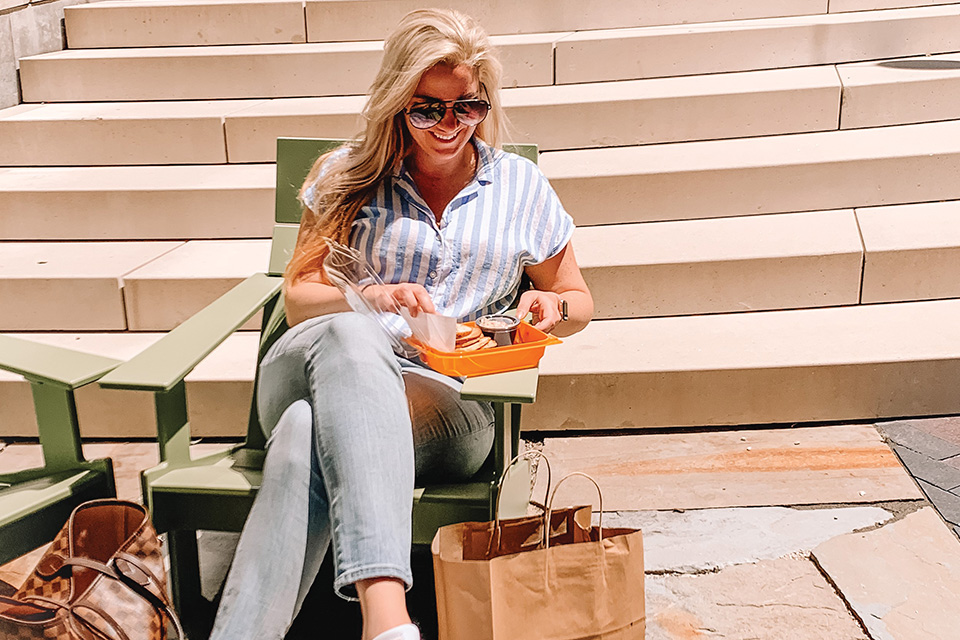 Pick-Me-Up Picnic
The Columbus suburb of Dublin found a creative way to raise residents' spirits and support local restaurants over the summer.

A few popular summer pastimes came back in style this year, from drive-in movie theaters to family picnics. The Dublin Convention & Visitors Bureau collaborated with local restaurants to create Picnic Packs, which debuted in June as a way to encourage residents to safely support local eateries.

Twenty-eight area businesses highlighted a dish on their menus that would be a fitting "picnic pick" (think a charcuterie board from Mezzo or a prosciutto-and-brie baguette sandwich from La Chatelaine). Some, like Sunny Street Cafe, even created an entire picnic package. Then, patrons were encouraged to dine in one of downtown's public seating areas or head to a scenic spot in one of the city's many parks.

"We have over 60 developed parks," says Sara Blatnik, marketing director for the Dublin Convention & Visitors Bureau. "A lot of them have either access to the Scioto River or public art within them, or playgrounds or permanent seating. We also have our downtown area that has expanded."

The visitors bureau posted all the picnic picks along with an outdoor-dining map on its website. Dublin residents carried out throughout the summer and fall, walking to spots like the city's historic square or Longshore Street, which was closed to traffic.

"[They] put picnic tables down the entire street and lined it with nice planters," says Blatnik. "It's a cool, al fresco experience." visitdublinohio.com

---

Block Party
After weeks of being shut down, Oxford invited residents Uptown in June for the first of three socially distanced Red Brick Fridays.

Following closings that slowed the college town of Oxford's busy downtown to a trickle of traffic, local leaders threw a safe and socially distanced gathering. On June 26, Uptown Oxford's red-brick-paved High Street was closed to vehicle traffic for a summer soiree aimed at raising spirits and boosting local businesses.

The city, Oxford Chamber of Commerce and Enjoy Oxford joined forces for the event, which also invited nine local businesses to set up tables to sell their wares. City council also passed a measure temporarily making Uptown Oxford a Designated Outdoor Refreshment Area, so attendees could buy an alcoholic beverage and carry it on the street. Bruno's Pizza, Left Field Tavern and Skipper's Pub set up outside to sell food. The first Red Brick Friday was such a success Oxford held two others on July 31 and Aug. 7.

"It felt great and heartwarming to see everyone out," says Kim Daggy, executive director of Enjoy Oxford, "staying a distance away, of course." enjoyexford.org

---

Eat Local
To help support its restaurants, the city of Bellefontaine placed picnic tables throughout downtown last spring. It was a simple move that had long-lasting results.

As Gov. Mike DeWine allowed restaurants to reopen for carryout business on May 15, the city of Bellefontaine wanted to ensure the community's eateries were on the best footing for success. That came in the form of 30 picnic tables placed throughout downtown that provided residents a place to enjoy their meal after picking up a to-go order.

"Necessity becomes the mother of invention," says Ben Stahler, mayor of Bellefontaine. "We had 17 picnic tables being stored, so we decided to mobilize those and move them to a building and paint them. Two days later, they were on the streets of Bellefontaine."

The city placed the picnic tables at strategic spots throughout downtown, while local restaurants pitched in with a total of 13 tables of their own outside their establishments. Locals loved the addition, and the tables remained busy throughout the summer into the fall.

"Sometimes, you drive through downtown and you see every table taken," Stahler says, adding that the city will continue the tradition by putting 12 to 15 heavier-duty tables throughout downtown for year-round use. "I think [the idea] is here to stay." downtownbellefontaine.com
---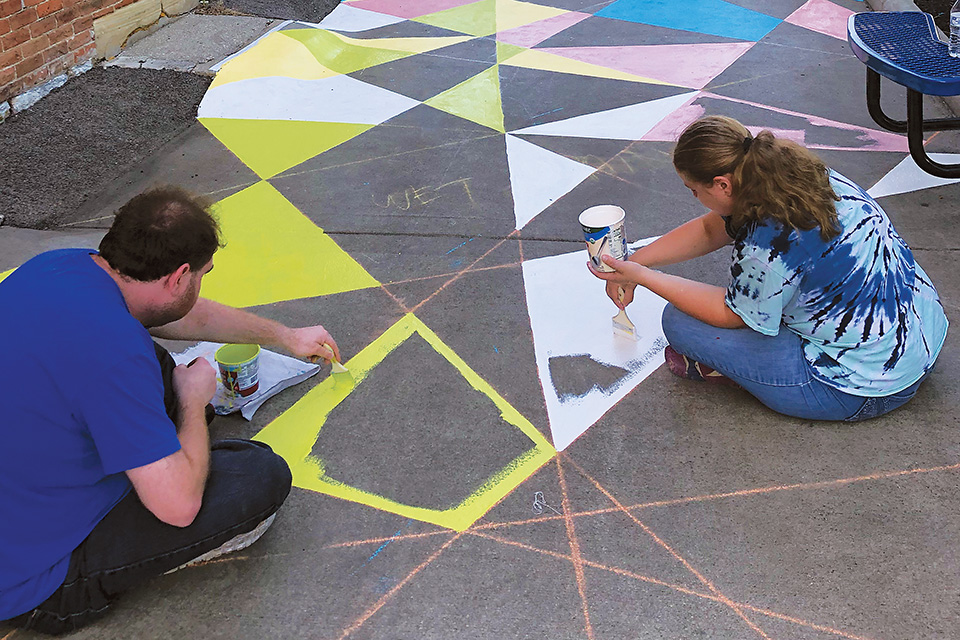 Creative Spirit
A vibrant mural created by InsideOut Studio artists in a new outdoor dining area was just one project the city of Hamilton launched in 2020 to support local businesses.

Public art abounds in Hamilton, from the monumental pieces at Pyramid Hill Sculpture Park to the sculptures and murals found throughout the city. In August, another mural took shape — this time in an alley within the Main Street Business District. A vibrant kaleidoscope of geometric shapes now cascades across the ground, creating a welcoming space for a new outdoor dining area. The mural was created by InsideOut Studio, an art studio and gallery that provides an opportunity for artists with disabilities to produce, market and receive an income from their work.

"I thought working with InsideOut Studio would be a really great collaboration with a local small business to make art," explains Mallory Greenham, small business development specialist for the city of Hamilton. "We really let InsideOut drive the direction of it."

Following Ohio's stay-at-home order that forced the closure of local restaurants, this alley was one of the first areas in Hamilton identified as a new outdoor dining spot. It was closed to traffic and the process to elevate it through art began. Within weeks, a total of five locations throughout the city were designated for safely distanced outdoor dining.

It was just one of the projects created by Hamilton's Rapid Restart Team, led by Greenham. The group was formed to respond quickly and creatively to the challenges brought on by the pandemic. Establishing new outdoor dining spaces was one of more than 25 initiatives the group has implemented since early 2020. Others include creating the city's first Restaurant Week and expanding the footprint of its Designated Outdoor Refreshment Area to encourage residents to gather safely outdoors. The group also launched a program in which the city granted $300,000 to the local chamber of commerce to purchase gift cards from around 100 small businesses to provide an instant influx of cash. (The chamber will sell those gift cards with the proceeds going to future small-business loans.)

"The important part is that the money is in the businesses hands," says Greenham. "We have luckily had very little turnover or businesses going out." downtownhamiltonohio.com

---


Porch Portraits
As being confined at home stretched from days to weeks, these two Ohio photographers used their talents to capture this unique moment in history for their neighbors.
When the pandemic forced the cancellation of her photo shoots, photographer Taylor Elchert mourned for the pictures she couldn't create.

"Clients had maternity shoots, new baby shoots, things like that scheduled, and that's time you can't get back," says Elchert, who has worked as a professional photographer in her hometown of Tiffin for more than a decade.

Elchert learned that photographers in other states had started taking socially distanced photos of local families on their front porches as a way to capture this period in time and wanted to do the same. She posted on Facebook to solicit interest and mapped out a route in her hometown, covering older farmhouses and historic homes. She walked up and down streets carrying a camera and accepting donations for the United Way of Seneca County.

"I got to meet lots of people I'd never met before," she says. "It was interesting to see how much my own spirit was lifted being behind a camera again, interacting with other people — even if it was at a distance, even if it was wearing a mask."

Porch portraits were also therapeutic for Bridget Caswell, a former newspaper photographer who worked as a contractor for NASA in Cleveland for 12 years. Her portfolio ranges from research photos at NASA labs to the Cleveland Public Library's Cleveland 2020 project in partnership with Cleveland Print Room.

Caswell was on a bicycle ride with her daughter through the city's Collinwood neighborhood where they live, when she saw a neighbor on her front porch playing the accordion.

"I about broke my neck rushing home to get my camera," Caswell recalls of the moment inspiration hit. "The reaction I got led me to realize I had to do it for my community."

For the next three months, she walked throughout Collinwood and other neighborhoods on the east side of Cleveland taking pictures. It was helpful to residents, who found themselves dressing up and wearing makeup for the occasion. It benefited Caswell, too.

"It helped me stay grounded," she says. "It was my therapy. It was therapy for all of us."

---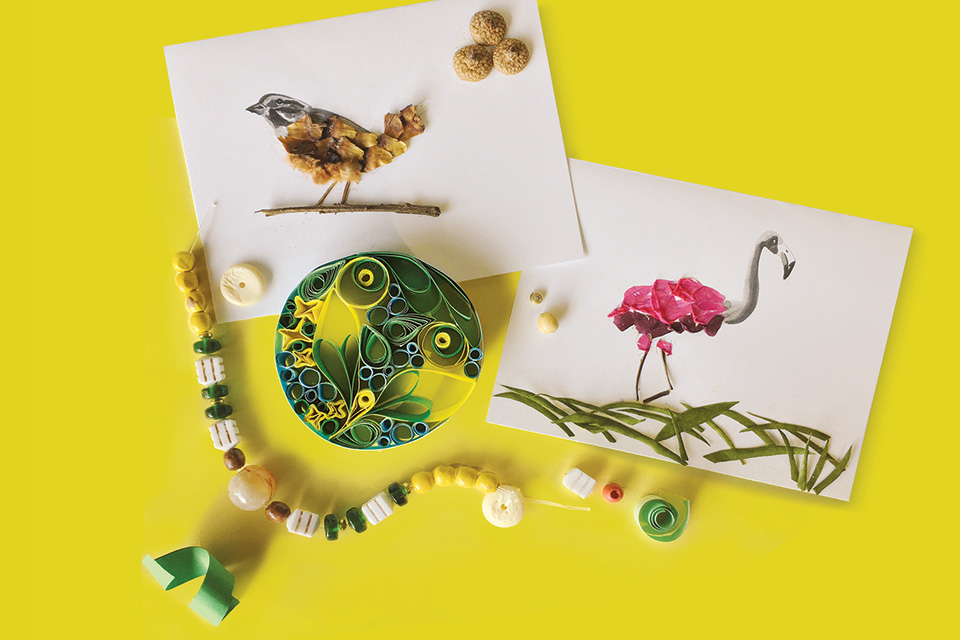 Artistic Outlet
ArtSpace/Lima's free to-go kits inspired locals to embrace creativity in whimsical ways.

When residents of the city of Lima could no longer safely meet at the local art gallery and classrooms due to the stay-at-home order, the nonprofit ArtSpace/Lima brought creativity to the community — one to-go pack at a time.

The effort initially started as a small-scale initiative: Residents were encouraged to come in to ArtSpace/Lima one at a time to pick up a letter-writing bag, which included a blank card, stamped envelope and textured paper. Seeing the bags' success, ArtSpace/Lima dropped off themed packages to two local restaurants the following week for customers to grab while picking up to-go orders. As demand for the art bags grew, ArtSpace/Lima scheduled drive-through pick-up times, eventually distributing nearly 600 art bags a week.

"One of the days we said we were going to do this, they were lined up for four blocks," says Sally Windle, executive director of ArtSpace/Lima. "Clear down the street, too, for art, which is the loveliest."
One week's bags included a clay pot, paint, seed packet and a recycling brochure from the Allen Soil & Water District. The Construction of Building Trades Union sponsored a bag that included Lego-like blocks, and the Lima Symphony Orchestra sponsored a build-your-own-instrument bag with guidance on how to make musical instruments using household items.
"[Everyone] had so much enthusiasm for it," Windle says. "I think it was because we gave them something interesting, and it was always free." artspacelima.com

---

Daily Chuckle
St. Michael Catholic Church in the Putnam County village of Kalida shared laughter to keep its congregation connected this spring — one joke at a time, from one very entertaining guy.

Soon after St. Michael Catholic Church in the village of Kalida had to cancel its services in March, the Rev. Elmer Wurth, a 91-year-old retired priest who lives at the parish rectory, decided to begin telling jokes live on Facebook each day as a small way to keep spirits up among the congregation.

"We promised we would put one [joke] on every day until the people could come back to the church," explains Wurth, a Kalida native who returned to his hometown five years ago. The parish has a local TV channel, but Wurth explains that it only reaches a 10-mile radius. So, with the help of St. Michael Catholic Church pastor Mark Hoying, who serves as cameraman and technical adviser, Wurth took to the church's Facebook feed.

"He went 50 days in a row," Hoying says. "He had certain jokes he has really enjoyed over the years, so he made sure those got told."

Wurth's daily joke became so popular that locals asked for more, and Wurth still jumps on Facebook from time to time to tell some.

"Mark is my technical director, but if he doesn't like the jokes, he [offers a] few," Wurth says. "We have a big game over it." facebook.com/kalidastmichaels