Ohio Life
A Look Inside Columbus' Historic Franklin Art Glass Studios
Columbus' Franklin Art Glass Studios creates stained glass works for public and private clients. We visited to see its projects firsthand.
December 2018
BY Jill Sell | Photo by Eric Wagner
December 2018
BY Jill Sell | Photo by Eric Wagner
The old stained glass church windows, tired and dirty, are securely strapped to wooden carts. They almost look like patients being readied for surgery, and in a way they are. Nearby, depictions of Biblical scenes and the lives of saints are in pieces, fanned across tables. Each fragment of colorful glass is carefully cleaned and recorded to ensure the giant and fragile jigsaw puzzles worked on here are reassembled correctly.

Franklin Art Glass Studios in Columbus' German Village neighborhood is working on 10 large windows — each about 15 feet high and 4 feet wide — removed from St. Mary Catholic Church, located less than a half-mile away. The 1868 building suffered major structural damage when lightning struck in September 2016.

"The lightning hit during mass," recalls the Rev. Kevin Lutz, the church's pastor. "There was a tremendous boom and flash. A lot of things got fried during that jolt."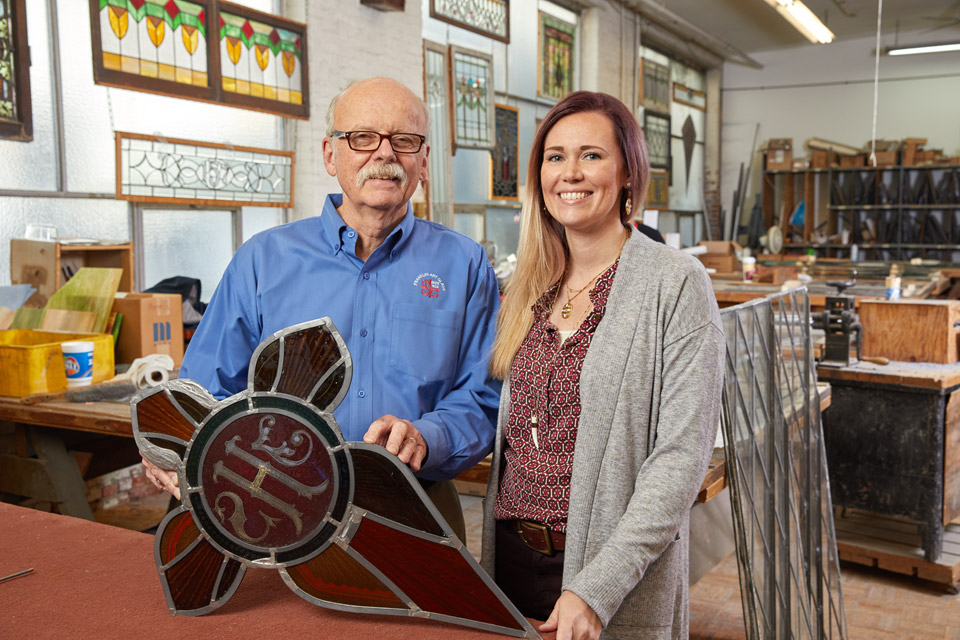 The church has been closed for repairs ever since, and it was decided that during the building renovation, all the old lead strips in the stained glass windows should be replaced as part of the effort. Lutz hopes his church will reopen a week or so before Easter 2019, and he's counting on Franklin Art Glass Studios to bring the historic building's stained glass windows back to their former glory.

"Stained glass windows can last 75 to 100 years, but weather and even soot from church candles can damage them," explains Garrett Pilarski, Franklin Art Glass Studios' custom sales manager and a 28-year employee. "We'll make these windows last another 100, 150 years."

It's believed Columbus' Von Gerichten Art Glass Co., founded by two German brothers in the late 19th century, created most of St. Mary's windows. Henry Helf was a skilled employee for the company and his son, Henry "Elmore" Helf, co-founded Franklin Art Glass Studios in 1924. The Columbus business is now the largest studio of its kind in Ohio and one of the biggest in the U.S., serving wholesale and retail customers while also offering classes to hobbyists.

Today, Gary Helf is president of the company, and the businesses' 35,000-square-foot facility includes several production areas, a showroom, a huge warehouse and a gift shop that sells supplies for glass artists, suncatchers, jewelry and glassware. Andrea Helf Reid is the fifth generation in her family to work in stained glass and the fourth to work under the banner of Franklin Art Glass. She is the company vice president as well as a designer, and she holds a joint business and art degree from Wittenberg University in Springfield.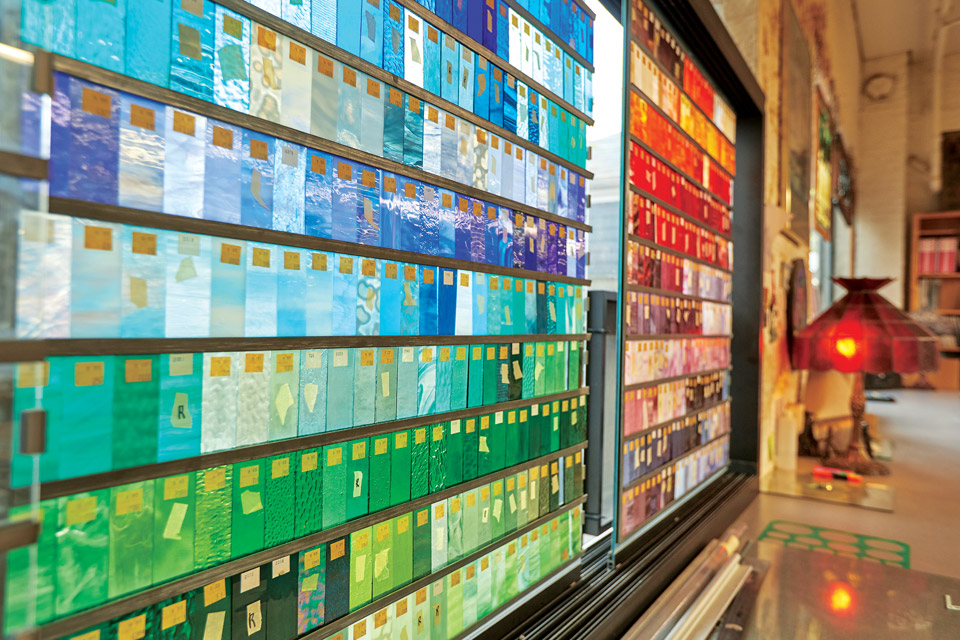 "Andrea literally learned to walk at a stained glass convention," says her proud father. "One reason Andrea joined the family business was because she was so close to her grandfather, James Helf, [who ran the company from 1945 to 1971]."

Helf Reid says she believes so many people love stained glass windows, especially in liturgical settings, not only because of their beauty and craftsmanship, but also because of the intense emotions they evoke.

"Stained glass is nostalgic," she says. "The windows may remind someone of going to church as a kid, as well as so many other important memories."

Historically, great cathedrals and small churches used stained glass as a teaching and preaching aid because much of the world was illiterate, according to Rev. Lutz. A stained glass window — a Bible in glass — could dramatically show the story of Noah's Ark or the ascension of Christ into heaven.

"If we are in a church that we are helping to build and a contractor hits his thumb with a hammer, he may say something nasty," says Helf. "But once the stained glass goes in, he won't swear. Atheist or not, you get an amazing feeling from the glass and the light that shines through it."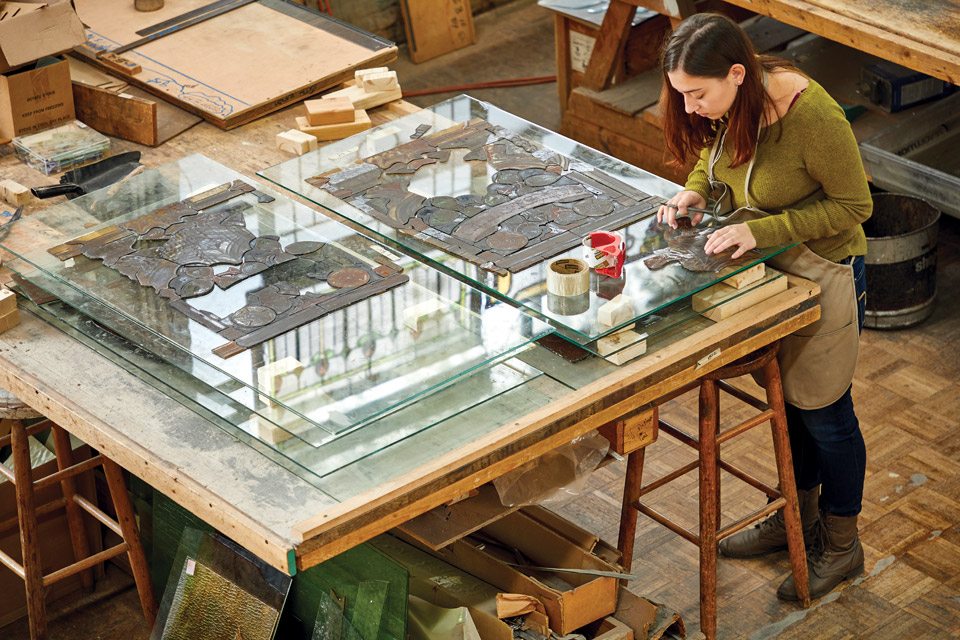 The nearly century-old company with 20 employees restores and creates new custom stained glass for places of worship as well as commercial and residential clients. The signs, windows, doors and room dividers the company makes for hospitals, restaurants, retail stores, mausoleums and universities are both functional and artistic.
Franklin Art Glass designed and made more than 45,000 Tiffany-style lampshades for Wendy's Old Fashioned Hamburgers, which became a symbol of the fast-food restaurant in the 1960s and '70s. Other Ohio-based clients have included White Castle, The Ohio State University, Victoria's Secret, Max and Erma's, The Limited and Bob Evans.

Residential art glass has never gone out of style among those who realize the beauty and value it adds to homes. Artistic glass shower doors, entranceways, interior and exterior windows, tiles, shelving, even flooring can be stunning in traditional or contemporary glass designs.

"Clear art glass in homes is especially popular with young people," observes Helf Reid. "Some don't want to commit to any color because they consider future resale plans. But I ask, 'Are you planning to move soon?' and they say, 'No.' "

Michael Whapham, a Franklin Art Glass employee for more than four decades, is the designer behind many of the company's new creations. He presides over a large, open studio, part of the company's connected maze of a three-block complex. Whapham still uses the kiln built by a Helf family member in the 1920s. It looks like a cross between an old-fashioned laundry machine and a modern tanning bed, and Whapham swears he wouldn't trade it for anything newer.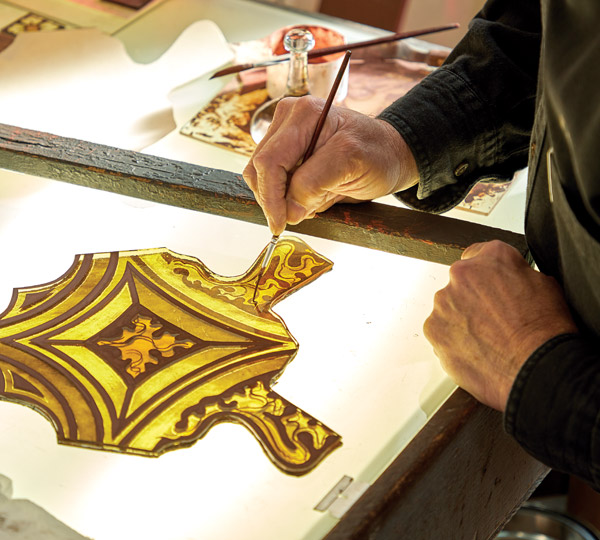 "If a stained glass artisan from Tiffany's or even from medieval times walked into our studio, he could easily work here," says Helf Reid. "The biggest adjustment would be electricity. We now have electric soldering irons and lights, but otherwise a lot of techniques and even tools remain the same.

"If we saw some modernization that would benefit Franklin Art Glass, we would incorporate it. But up to this point, we haven't seen anything," adds Helf Reid. "There are plenty of studios out there that use CAD for drawings and water jets for cutting. But we find these methods don't fit our one-off or custom nature well."

Whapham recently drew a sketch and pattern from a client's photograph of a black dog surrounded by purple flowers. He also created a family crest for display in a private home. Both will be turned into stained glass works.

"We like challenges," adds Helf Reid, emphasizing stained glass in its highest form is fine art, not a simple craft.

Those tasks include finding glass colors that closely match antique glass that is no longer made or choosing colors for both traditional and contemporary designs that enhance and bring stained glass to life. Franklin buys glass from several U.S. glass manufacturers and stores about 500,000 square feet of sheets of myriad sizes and textures in its massive warehouse.

Rows of stacked wooden cubicles hold colored glass that ranges from seemingly countless shades of blue (a favorite of many religious organizations, according to Helf) to the deepest of reds. Textures and patterns include glass with air bubbles throughout to wavy lines. Gorgeous dichroic glass changes colors depending upon how it is viewed.

"Most people judge a window by the color work," says Helf. "If the color works in the place you want it to, it's a success."

One stained glass window housed at Franklin Art Glass Studios, however, has been a permanent fixture. The Angel of Ascension depicts a female figure with large white wings and a heavenly face holding the Ten Commandments in a field of lilies. Helf Reid says she believes the 10-by-4-foot window is a Von Gerichten sample window that was never installed in public. Her grandfather, James Helf, acquired the window locally in the 1960s, during a period when Franklin Art Glass was absorbing remnants of a few central Ohio glass studios. The angel hangs over a window in a small room primarily used for storage, but it can be seen from the street. One year, Franklin Art Glass won the German Village Society's award for best Christmas window display without knowing it was in the running.

"We are not going to move her," says Helf. "We call her our guardian angel. She's watched over us for a long, long time."

Franklin Art Glass Studios is located at 222 E. Sycamore St., Columbus 43206, 614/221-2972, franklinartglass.com.