Ohio Life
Call to Arms
The Dayton Art Institute showcases posters that rallied support in the lead-up to World War I and World War II.
September 2015 Issue
BY Linda Feagler | Art Courtesy of Reading Public Museum
September 2015 Issue
BY Linda Feagler | Art Courtesy of Reading Public Museum
Among the images of cherubic children and a beautiful Lady Liberty is a likeness that Dayton Art Institute chief curator Aimee Marcereau DeGalan finds chilling. It depicts a German soldier peering menacingly over a wall, a Stahlhelm M16 helmet pulled low over his forehead. The accompanying caption reads: "He's Watching You."

"Those eyes look right through you," Marcereau DeGalan says. "It was used as a very effective way to heighten war fervor and to remind people of the necessity of not discussing sensitive information that might fall into Nazi hands."

The work, created in 1942 by artist Glenn Grohe, is one of 80 lithographs on display as part of "Call to Duty: World War Posters." The exhibition, which commemorates the centennial of World War I and the 70th anniversary of the conclusion of World War II, runs through Oct. 4.

The posters — on loan from Pennsylvania's Reading Public Museum — reflect messages designed to increase America's participation and support during 20th-century crusades to victory. They explore themes of recruitment into the armed services; funding of wars through bonds and other methods; home-front food and gasoline conservation; campaigns by service organizations, including the Salvation Army, Red Cross, YMCA and Boy Scouts of America; and the role of women. Images featured were created in America, Canada, France, Great Britain and other Allied countries.

"To understand the power they cast, we need to remove ourselves from the mindset of today, which is filled with TV, social media and other forms of electronic communication," Marcereau DeGalan explains. "People had a tendency to get out and about in the city every day. These posters papered grocery stores, post offices, community centers … they were part of society. The bold graphic designs combined with short memorable sentences served as the ideal medium to communicate very strong messages about the war."

Modern full-color pictorial posters originated in France in the 1890s during the art nouveau movement. French painter and lithographer Jules Cheret — whom many historians consider to be "the father of the modern poster" — is credited with perfecting the medium by expanding size and color options.

"The Civil War era had black and white illustrations made from woodblock prints that would be published in [periodicals] of the day such as Frank Leslie's Illustrated Newspaper and Harper's Magazine," Marcereau DeGalan explains. "But innovation in photomechanical printing opened up a new way to communicate what was going on in the world."

In 1917, President Woodrow Wilson assembled a Committee on Public Information, tasked with gaining popular support for America's entry into World War I. Twenty-five years later, a similar government organization, the Office of War Information, was developed to approve the design and distribution of material that would fuel America's fervor to win World War II. Throughout both conflicts, leading illustrators were called upon to lend their efforts to the cause.

"When people learned we were hosting this exhibition, some questioned the validity of the medium as fine art. But they very much are fine art," says Marcereau DeGalan. "Artists of the day lent their credibility to the war effort and didn't receive any compensation for doing so. ... The impact they had on graphic designers and artists who followed is really profound."

American artist and illustrator James Montgomery Flagg created one of the exhibit's most iconic images. His rendering of Uncle Sam, decked out in red, white and blue and pointing his forefinger while proclaiming "I Want You for U.S. Army," has transcended generations.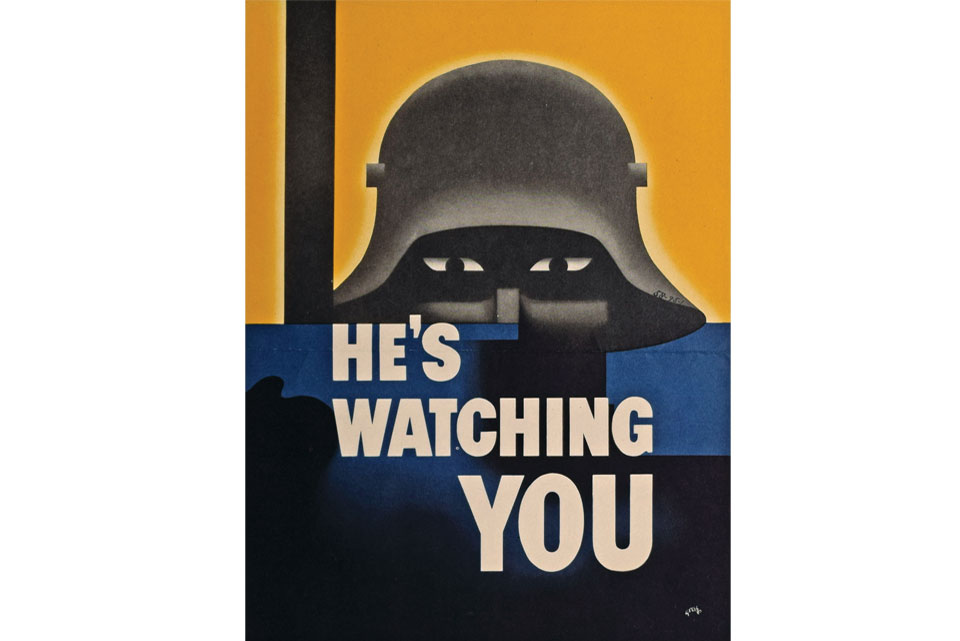 Originally published as the cover for the July 6, 1916, issue of Leslie's Weekly, the image was reproduced on 4 million posters between 1917 and 1918, as the United States entered World War I. Flagg ultimately contributed 46 works in support of the war effort.

Because of its overwhelming popularity, his Uncle Sam image was later adapted for use during World War II. According to Library of Congress archives, after presenting President Franklin Delano Roosevelt with a copy of the poster, Flagg mentioned that he used his own likeness to save the modeling fee. Roosevelt is said to have remarked, 'I congratulate you on your resourcefulness in saving model hire. Your method suggests Yankee forebears.' "

By the time World War I began, Howard Chandler Christy had already made a name for himself as one of the United States' premier illustrators. His renderings of the "Christy Girl" were seen as the personification of youth and beauty.

"The likeness of the 'Christy Girl' in the 1917 'Fight or Buy Bonds' poster looks like a seductive Greek goddess," Marcereau DeGalan says. "She's meant to symbolize the American ideals of freedom, democracy and patriotism. Christy's work also represents a shift in the way women were presented. Before this time, they would have been pictured as demure Victorian ideals. But Christy helped transform them into the predecessors of active, contemporary women."

At the outset of World War I, Americans were urged to buy Liberty Bonds from the United States Treasury to support the Allied cause. The illustration by Joseph Christian Leyendecker of a kneeling Boy Scout offering his sword and motto to Lady Liberty encouraged scouts around the country to promote sales. After the war, Leyendecker found his niche in fashion, most notably as the designer of advertisements for Arrow shirt collars.

Other artists chose to be more direct in their endorsements for a unified front. Born in Austria, painter and graphic designer Henry Koerner fled his homeland when it came under Nazi rule in 1938. Drafted into the Army, he was assigned to the Office of War Information and designed posters that included 1943's "UNITED we are strong, UNITED we will win," which is featured in the exhibition.

In 1945, Koerner was reassigned to Germany, where he sketched war criminals at the Nuremberg trials. Later, the artist returned to Vienna, where he learned that members of his family had perished in a Nazi extermination camp.

"I hope visitors young and old alike view this exhibition as a portal to history and how we banded together as a nation," Marcereau DeGalan says. "It provides an opportunity to remember where we've been and what shaped us today."

Dayton Art Institute
456 Belmonte Park N., Dayton 45405
937/223-4278, daytonartinstitute.org
Hours: Tues., Wed., Fri. and Sat. 11 a.m.–5 p.m., Thur. 11 a.m.–8 p.m., Sun. noon–5 p.m.
Admission: Adults $14, seniors and students 18+ with ID $11, children 7–17 $6, 6 and under free.