Ohio Life
Bridges to the Past
For more than three decades, photographer Carl Feather has documented the lasting reminders of a bygone era.
April 2014 Issue
BY Jim Vickers | Photos courtesy of Carl Feather
April 2014 Issue
BY Jim Vickers | Photos courtesy of Carl Feather
Ashtabula County's covered bridges have been part of Carl Feather's life since he was a kid. He had friends who lived near the Benetka Road Bridge, and the 115-foot span served as a backdrop for many of their winter sledding runs.

Years later, when he got his first SLR camera as a teenager, Feather chose the structure as one of his first subjects. It not only fueled his passion for photography but also sparked his interest in learning more about the bridges that speckled the county he called home.

For more than 30 years, that fascination has drawn Feather and his camera back to them over and over. His book, The Covered Bridges of Ashtabula County, Ohio (The History Press, $19.99), was published earlier this year. It delves into the history of the wooden structures and the people who built them.

"Once you take so many pictures, you start to wonder what the story is behind them," Feather says. "How do they differ, one from the other? And, why is this one here and not some other place?"

Although the bridges today serve as a sort of visual shorthand for rural living and country charm, Feather explains that their existence has little to do with aesthetics or the comfort of travelers. They were designed to survive, requiring a roof to protect the bridge's wooden surface from rain and snow.

"All of the structural elements of the bridge are made out of timber, and if they were exposed to the weather, particularly where those pieces come together, you would very quickly have deterioration," he says. "They had a very practical function."

Ashtabula County once had 48 wooden bridges, but Feather says others were likely never documented. Today, just 12 of those historic structures remain, with the oldest dating back to 1867.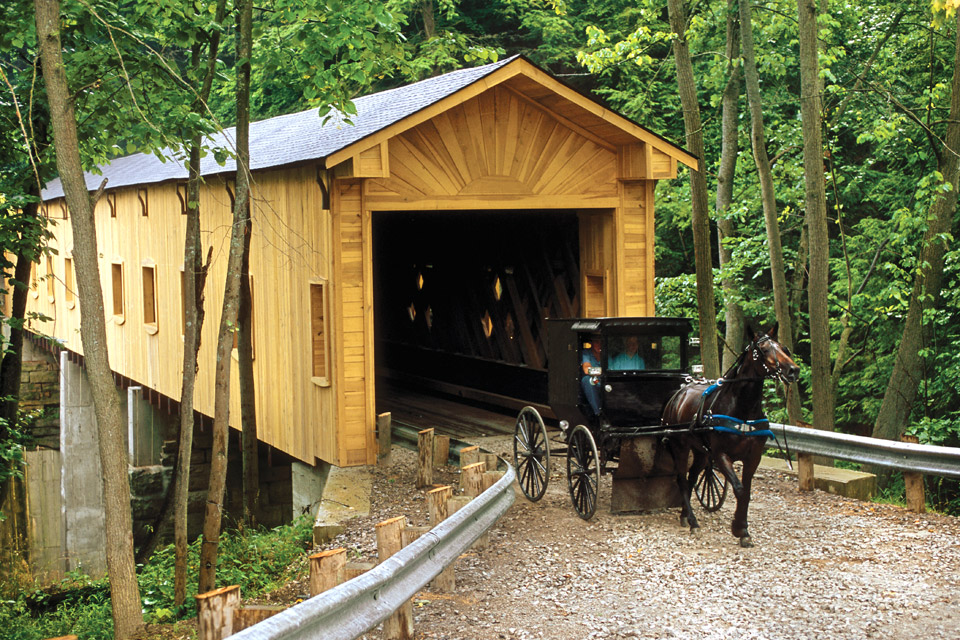 Unlike other Ohio counties, where covered bridges have been transplanted to other sites, 11 of Ashtabula County's original spans carry traffic across rivers and streams to this day.

They are a big tourist draw, especially in the autumn when fall colors and the region's wine industry bring visitors to the area. Feather knows this better than most. After a 27-year career as a writer and photographer for the Star Beacon newspaper, he now works as a tourism liaison for Ashtabula County.

Although many of his shots depict the county's bridges on summer or fall days, he also works at night and during the winter, using lighting to shape the mood and show details that may otherwise be overlooked under the glare of the sun. He was inspired by the work of O. Winston Link, a New York City photographer, who documented the last days of steam trains by working at night and using elaborate lighting setups to capture the beauty of a soon-to-be-bygone age.

"I thought, What is there left in our world today that would lend itself to that kind of treatment?" Feather recalls. "The covered bridges just seemed a natural."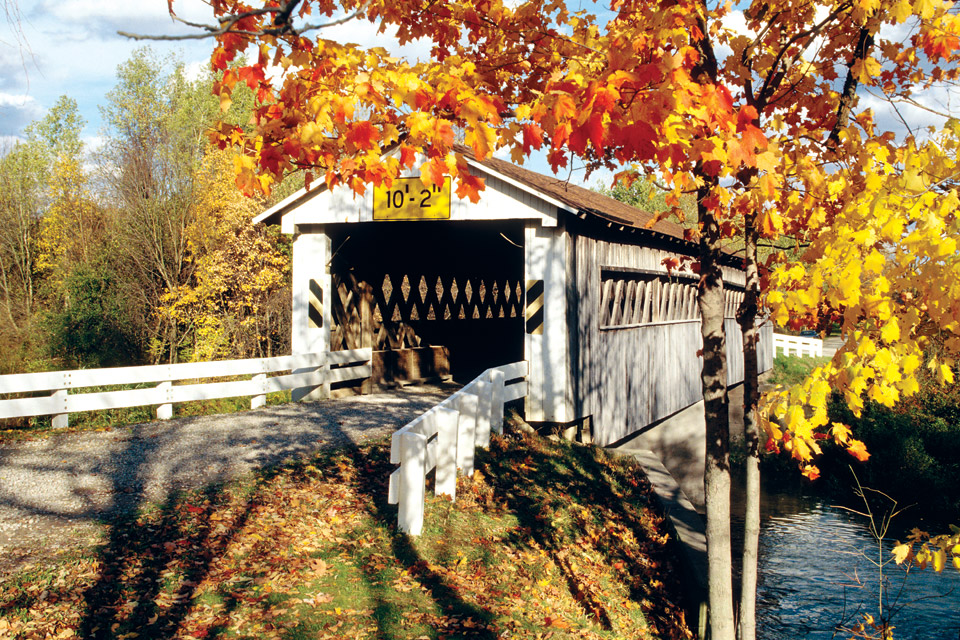 During his night shots, Feather's use of flash brings out the beauty of the grain in the bridges' wooden planks, and he'll sometimes work when a light snow is on the ground. He often illuminates the inside of the bridges to show off the intricate details that are usually hidden in darkness.

"You can light it in a way that really emphasizes the architectural elements of it inside," he adds. "During the day, those things tend to be in deep shadow. But at night you're in full control of the light."

But Feather says there wasn't always such a reverence for the county's historic bridges. Ashtabula County still had 14 of its original covered bridges at the start of 1970, but a fire claimed one that year. In the summer of 1973, another was purchased, dismantled, moved and reassembled for use as a pizza parlor.

From that point on, county officials became serious about preserving the remaining bridges and building new ones. County engineer John Smolen, who served from 1975 to 2002, led the efforts.

Six new covered bridges were built, starting in 1983 with the construction of the State Road Bridge. The new additions now bring the total of public and drivable bridges in Ashtabula County to 17 — the most of any in the state.

One of the most recent is the Smolen-Gulf Bridge, designed by and named for the former county engineer, who now runs his own engineering firm. The span has walkways along both sides and stretches 613 feet, making it the longest covered bridge in the United States. It opened to traffic in October 2008.

The Smolen-Gulf Bridge draws visitors year-round because of its size, but the 11 drivable historic bridges are where out-of-towners can connect with a piece of history, and that's part of why Feather has always found them so fascinating.

"There's very little left over from the 19th century that you can go, and not only look at but also drive through and walk around, and it still has a practical function," he says. "These are the remnants of our grandparents' and great-grandparents' lives, and for a few seconds, we can experience the way they lived."