Ohio Life
The Strange Tale of Ten Cent Beer Night
What the Cleveland Indians dreamed up during the summer of 1974 is a bizarre slice of baseball folklore and an odd page of Ohio history.
June 2014 Issue
BY Bill Lubinger | Photo courtesy of Cleveland State University
June 2014 Issue
BY Bill Lubinger | Photo courtesy of Cleveland State University
Only 25,134 spectators witnessed what unfolded at Cleveland Municipal Stadium on June 4, 1974, but the evening provided a wealth of material for "I was there" stories that have been rehashed at bars, barbershops and backyard barbecues since just before Richard Nixon was chased from the White House.

What had simply been dubbed "Beer Night" — a promotion offering 10-cent brews — ended with a Cleveland Indians forfeit to the Texas Rangers when drunken fans stormed the field and had to be turned back by bat-wielding players.

At the time, the scene represented just one more collective cringe of embarrassment for a punch line city. It has since grown into legend, spawning Ten Cent Beer Night t-shirts that Clevelanders now wear like a badge of honor.

Hindsight says, "Who in their right mind?" and "How could they not see this coming?" But on that unforgettable Tuesday night at old Cleveland Municipal Stadium, hindsight was on the disabled list.

CARL FAZIO
Cleveland Indians director of sales and marketing 1974–1975: "If you put on the hindsight glasses and kind of dumb it down, you're missing the context in which we were operating. We were on a mission to save baseball in Cleveland. We were bound and determined to do everything we could — the team, special events, promotions, the whole ballpark experience. We did everything possible to make baseball successful in Cleveland."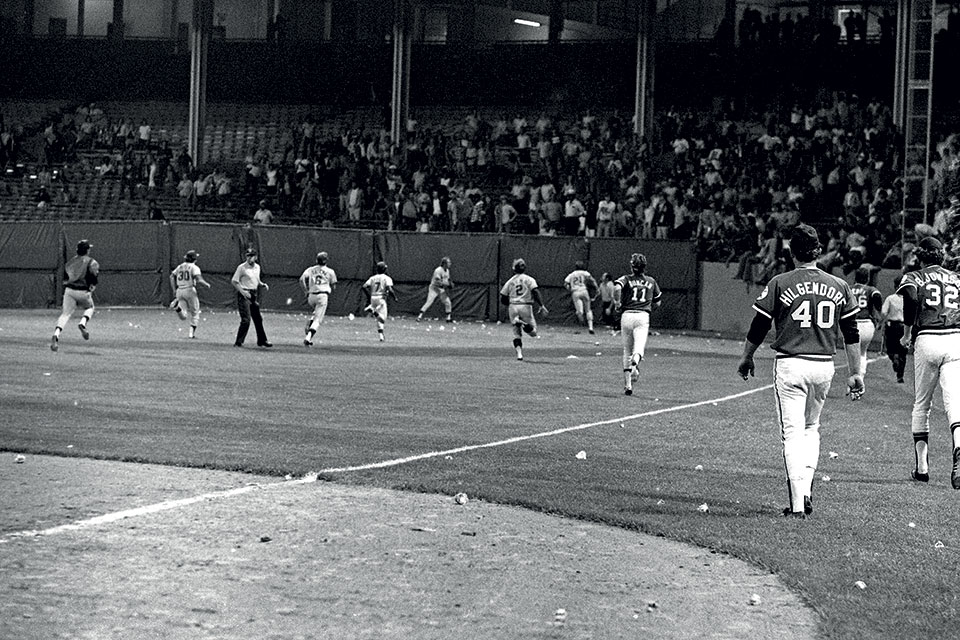 During the 1973 season, the Indians drew 615,107 fans — 74,420 of them on Opening Day. That meant 540,000 for the other 80 home dates, or fewer than 7,000 per game. Whispers about the team moving grew louder. Under the direction of team President Ted Bonda, marketing and promotions went full throttle. Fans were treated to post-game concerts, The Great Wallenda tightrope-walking the stadium's upper deck, human cannonball Hugo Zacchini blasting across the night sky, Halter Top Night, Italian Night (with tables of food set up along the concourse) and more.

Carl Fazio: "If we were going to fail, it wasn't going to be because we didn't try things."

The team had scheduled three Beer Nights that season — one each in June, July and August.

JACKIE YORK
Cleveland Indians promotions director 1973–1977: "There was no discussion about whether to do the event, it was simply which dates."

The promotion wasn't an experiment. In fact, cheap beer nights were being held uneventfully in Cleveland and elsewhere around the league. But this one…this one was different.

Carl Fazio: "It was a complete confluence of events. It was the perfect storm."

The storm clouds had rolled in six days earlier at Arlington Stadium in Texas , during the bottom of the eighth inning of a 3-0 Tribe loss.

MIKE HARGROVE
Texas Rangers first-baseman 1974–1978: "Milt Wilcox was pitching for the Indians and, for whatever reason — I don't know if there was history between them — but he tried to hit [Texas second-baseman] Lenny Randle. Lenny laid a bunt down the first-base line, and when Wilcox came over to field it, Lenny ran over the top of him and it caused a big brawl. When that was over, both teams returned to their dugouts and some fan leaned over the edge of the dugout and poured a beer on [Indians catcher] Dave Duncan's head.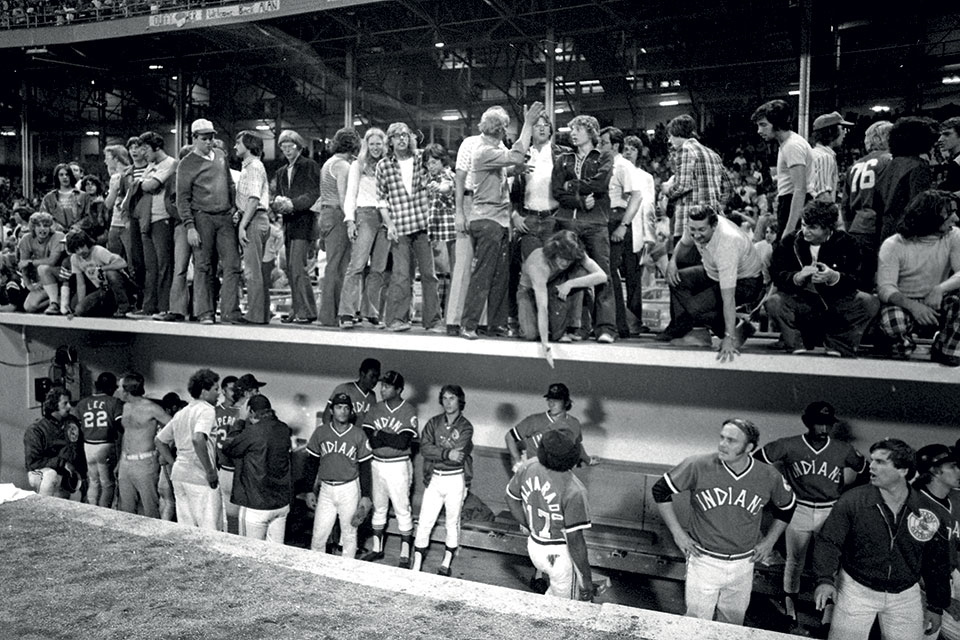 By the time the Rangers landed in Cleveland, fans were primed — even before a drop of the 3.2 Stroh's beer had touched their lips. Legendary radio sports talker Pete Franklin used every bit of his 50,000-watt WWWE signal to suggest to "38 states and half of Canada" that payback was in order. The local print media was right there with him. As the gates opened on June 4, 1974, 25,134 fans streamed in — almost twice as many as usual for the struggling franchise. Many had already hit pregame happy hours downtown after work.

Jackie York: "Over the years, you recognized familiar faces. This wasn't the usual crowd."

The Ten Cent Beer Night promotion allowed fans to buy six cups at a time, with no limit on the number of visits per customer. As long as they could find their way back to a keg with a dime and could prove they were at least 18, they were as golden as the brewer's slogan, "From One Beer Lover to Another." The temperature at game time was 82 degrees. Above the stadium lights, a full moon settled in.

PAUL TEPLEY
Cleveland Press photographer 1962-1982: "It was a stinkin' hot, humid night, and you just kind of had a feeling things weren't going to be good. Early on, [Texas manager] Billy Martin stood in front of the dugout — this is before game time — heckling the fans, and the fans were heckling him. So it just had the makings of a bad night."

Before the game and once it started, fans blew off fireworks and smoke bombs in the stands. In the second inning, a woman took the field, lifted her shirt to cheers and tried to kiss home plate umpire Nestor Chylak. It was on. Texas took a 3-0 lead in the top of the fourth inning on designated hitter Tom Grieve's second home run of the game. As Grieve circled the bases, a streaker ran onto the field and slid into second. The next inning, a father and son leapt from the stands and mooned the crowd. The crowd cheered as more fans, properly greased and brazen, randomly jumped from their seats and scampered across the field as police gave chase. The cops didn't stand a chance.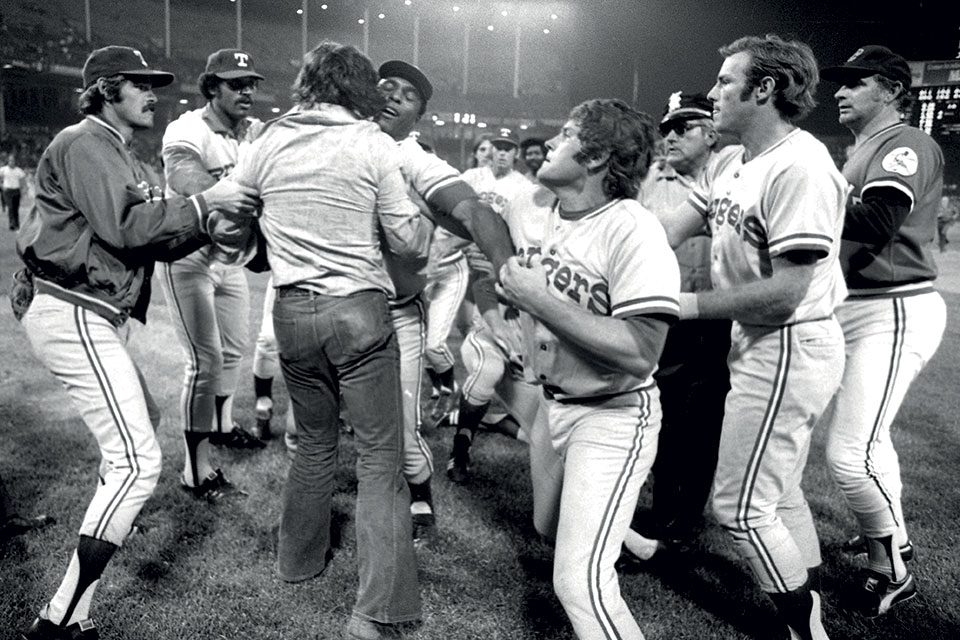 Carl Fazio: "The policemen are overweight, elderly guys who've got belts on with billy clubs and walkie-talkies and guns. They have to put their hands on their side to hold all this stuff so they can run after these kids, and here are these 19-year-old kids, cutting on a dime and these older guys with all this equipment trying to keep up with them and the crowd started laughing at the policemen. That was a bad sign right there."

OSCAR GAMBLE
Cleveland Indians designated hitter/outfielder 1973-1975: "It was mostly between innings, but it was going on the whole game."

Hargrove, a promising 24-year-old Texas rookie just two months into his first major league season, entered the game at first base in the last of the fifth, with the Rangers ahead 3-1. Down 5-1 in the bottom of the sixth, the Indians clawed back, closing the gap to 5-3. By then, more than naked bodies had rained down on the field.

Mike Hargrove: "I bet I had five or 10 pounds of hot dogs thrown at me at first base. Had a gallon jug of Thunderbird wine land about 10 feet behind me."

Carl Fazio: "We were just trying to keep a lid on everything, hoping the game would be over and get out of there before something bad happened."

But an Indians rally in the bottom of the ninth prolonged the party. Four straight hits and a sacrifice fly tied the game at 5 with two outs and the winning run on second. As more fans made their way down to the field, one took a swipe at Texas right fielder Jeff Burroughs' hat. In the scuffle, Burroughs fell to his knees. By then, Martin, the Texas manager, had his players on the top step of their dugout, bats in hand.

Oscar Gamble: "Somebody ran out on the field toward Jeff Burroughs, their right fielder, and both benches emptied. We were just trying to help them off the field. It happened down the right-field line, and the Indians dugout was located along the first-base line, and the Texas dugout was on the third-base line. So we could see what was happening."

Paul Tepley: "When Burroughs had his hat taken off, they proceeded to march toward right field. I followed that and, at one point, I was maybe 30 yards away from the right-field stands and I heard this clatter as I was walking. Someone had thrown a folding chair out of the upper deck. It landed about six feet to the right of me."

Indians relief pitcher Tom Hilgendorf had to be helped off the field after taking a folding chair to the head. Chylak, the umpire, was hit in the face with a chair. With the score tied, 5-5, he ruled the game a forfeit win for Texas.

Carl Fazio: "Billy Martin wanted the forfeit. That's my personal opinion. He knew what he was doing. We were coming back. We had the winning run on second. He wasn't going to wait for that to happen. He led the team out of the dugout."

Mike Hargrove: "If it wasn't for the Indians helping us off the field, we could have been in a whole lot of trouble."

Carl Fazio: "It was the players, not the policemen. When the players came out on the field, that's what restored peace and calm, if you will."

Mike Hargrove: "I do remember coming in off the field and sitting in the clubhouse three or four hours after the game was over. It may have been shorter than that, but I do remember we all left as a group, boarded the buses with police protection. They drove us up to the old Hollenden House, where we stayed, and we were told not to come down out of our rooms until noon the next day. I was told the police were stationed in the lobby all night."

Bonda, the team president, called a meeting the next day.

Carl Fazio: "Ted's first reaction was,'Ok, this was obviously a terrible mess. How can we take advantage of this and turn it into something good?' Actually, that was the focus of the meeting."

York assumed she'd be fired. Instead, Bonda sent York and Fazio to Milwaukee to see how the Brewers put on a beer night. In future promotions, Indians fans received a limited number of beer coupons.

Jackie York: "We revisited it. We tweaked it. We continued with it. I'm proud of that promotion. I'm not proud of what it did."

Carl Fazio: "I don't look at it as a black eye at all. It was just one of those crazy things that happened because of a crazy set of circumstances that all came together and happened that night."

The next night, the Indians blasted five home runs, pounding the Rangers, 9-3, in front of 8,101 well-behaved fans. No one interviewed for this story remembers that game.


WHERE ARE THEY NOW?

Carl Fazio is a financial advisor in Ft. Myers, Fla.
Oscar Gamble is retired in Montgomery, Ala.
Mike Hargrove is a special advisor for the Cleveland Indians.
Paul Tepley is a photographer living in Lakewood, Ohio.
Jackie York is district development marketing manager at Playhouse Square in Cleveland.