Ohio Life
Amusement Park Memories
Here's how dedicated devotees are keeping alive the spirit of three of Ohio's bygone amusement parks.
May 2017 Issue
BY Vince Guerrieri | Photo by Laura Watilo Blake, Illustration by Rachael Chillcott
May 2017 Issue
BY Vince Guerrieri | Photo by Laura Watilo Blake, Illustration by Rachael Chillcott
Euclid Beach Park
Cleveland • 1895–1969

On Sept. 27, 1969, the day before Euclid Beach Park closed, 12-year-old Joe Tomaro's father took a call from Joe's uncle, a police officer who worked at the amusement park located in Cleveland's Collinwood neighborhood.
"My uncle told my dad, 'If you want anything out of the park, let me know,' " Tomaro recalls. "But we lived in a bungalow in Mayfield Heights, and we didn't have room for anything."
But the seed planted in Tomaro's mind would bear fruit nearly 20 years later when he and his business partner at a local towing company, John Frato, came across a car from The Thriller — the tallest and fastest roller coaster in the nation when it opened in 1924.
"When we hit the park, that was the first ride we ran to," Frato says. "When I saw it, I had to have it."
It took four years, but he was finally able to buy the roller coaster car. "I just wanted to sit in it again," Frato recalls, so he gave others the chance to do the same. He put The Thriller car on a Chevrolet truck chassis, and the project was such a success that the Euclid Beach Boys — as Tomaro and Frato advertise themselves — did the same with one of the cars from the park's Rocket Ship ride. Today, both vehicles are available to rent for special events.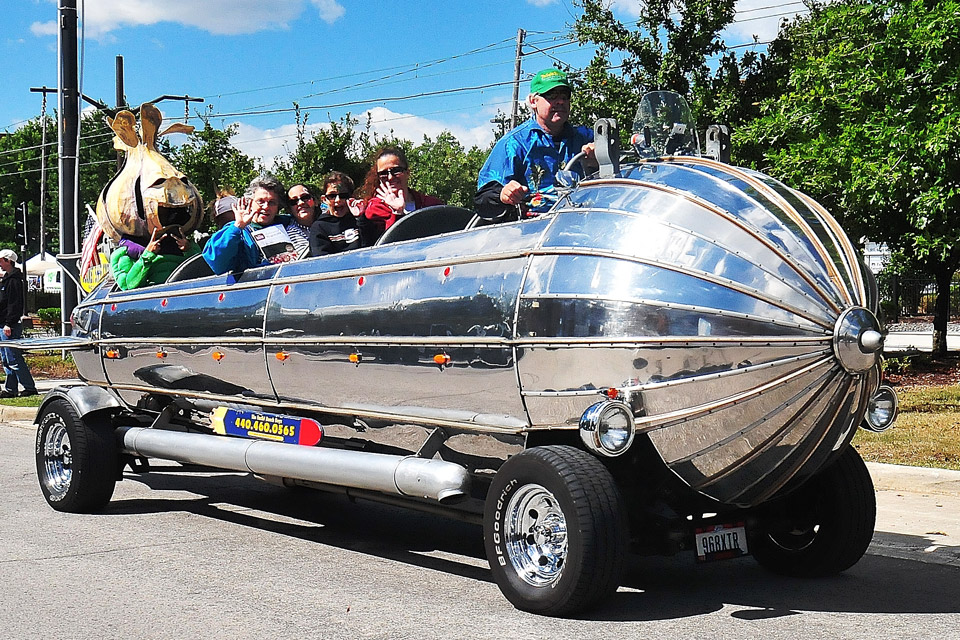 "Building them is nothing," Tomaro says. "The hardest part is getting them insured."
He said he was finally able to get the Thriller Car insured after the underwriter rode in it.
"The memories and feelings came back, and that's what it does for so many other people," he says. "It's just pure pleasure, and that's what drives us."
One of the rides that got a new life after Euclid Beach Park closed was its carousel, the 19th of 87 carousels built by the Philadelphia Toboggan Co. After its time at Euclid Beach, the carousel went to Palace Playland in Maine, where it operated until 1996. The following year, it returned to Cleveland, purchased by the Trust for Public Land for $715,000.
"They don't normally bid on carousels, but they realized how important it was to Cleveland history," Frato says.
There were ideas to locate the carousel downtown or in Shaker Square on the city's east side, but funding never materialized. Finally, in 2014, the carousel — one of 35 Philadelphia Toboggan Co. carousels still in existence — reopened for rides in its new home at the Western Reserve Historical Society on Cleveland's University Circle.
"We have people in tears when they're riding the carousel," Frato says. "Euclid Beach was all about family, and that's why it's so endearing. ... It takes them to a place in their lives when they were very happy."
For more information about the Euclid Beach Boys, visit theeuclidbeachboys.com. For more information about the Euclid Beach Park Carousel, visit wrhs.org.

----

Idora Park
Youngstown • 1899–1984

Jim Amey worked at the football throw and Skee-Ball games at Idora Park in the summer of 1976 — right before he left the Youngstown area to serve in the U.S. Air Force. By then, the amusement park built at the end of a trolley line in 1899 had become a relic, outlasting many of its contemporaries. But it wasn't long for this world.

In 1981, the park was put up for sale, and three years later, as it was being prepared for its 85th season, an errant spark started a fire that did $2.5 million in damage — $1 million more than the park's asking sale price. Still, the attraction opened for one final season, and after closing on Labor Day, the rides and equipment were auctioned off and the land was sold to a local church.
After retiring from the Air Force in 1993, Jim and his wife, Toni, returned to Youngstown and walked the former site of the amusement park. Jim discovered that the ballroom, the roller coasters and even the football throw game where he'd worked were still standing. At the football throw booth, he saw a light fixture hanging on by a solitary screw. "That's my game," Amey recalls telling his wife. "I have to take it."

To this day, the light fixture is Amey's prized Idora Park possession, but it has since been joined by what he estimates to be thousands of other items. Twice a year he opens the collection to the public at The Idora Park Experience, located just outside of Youngstown.

Amey estimates around 80 percent of his artifacts are original to the park, with the rest being identical to items found there. Then, there are pieces filed under "other," such as the elephant head he had to buy as part of a collection to get a car from the Baby Wildcat, a roller coaster located in Idora Park's Kiddieland.

Two of his first buys were cars from the Wildcat and the Jack Rabbit, Idora Park's two larger roller coasters. In 2015, he was fortunate enough to find a car from the Lost River, the dark ride where the fire started in 1984. The car was in someone's backyard and had a tree growing up through it. In fact, Amey says, many of the ride artifacts he collects need some restoration.

"If there's metal, there's usually rust," he says. "The wood is rotted and the paint is flaking. Sometimes I have to re-create parts. I try to keep as much as possible and still maintain the look."

The Idora Park Experience opens again on June 17 and 18, and Amey is looking forward to once again welcoming guests to see the artifacts that draw laughter, tears and memories. "It's so awesome to hear the stories," he says.

Visit theidoraparkexperience.com for more information.

----

Meyers Lake Park
Canton • 1920–1974

Meyers Lake Park was an oasis for families, but for generations of Stark County residents, a couple parts were traumatic — namely Beulah and Esmeralda.

Beulah, built by the Old King Cole Co. in Louisville, Ohio, was a larger-than-life papier-mache woman in the park's Laff in the Dark ride. In 2001, she became part of the William McKinley Presidential Library & Museum.

"She terrified people," says curator Kim Kenney, a New York native who never experienced Meyers Lake Park. "People talk about how scared they were of her when they were little. … Even kids who see her now are a little nervous to walk by her."

Original figures like Beulah are hard to come by because of the rather fragile materials with which they were made. Although Beulah, who famously doubled over in laughter, can still move, she doesn't. Instead, she's carefully preserved in a museum display case.
Beulah is clad in a red-and-white patterned dress that was crafted for her by the museum but isn't necessarily faithful to her original garb.

"As far as we know, there is no original photo of her," Kenney says. "We'd like one. We don't know what she was wearing."

Beulah is the centerpiece of a small Meyers Lake Park collection at the McKinley Museum that includes ride tickets, a matchbook from the park's restaurant and historic photos.

"A lot of items are still in private hands," Kenney explains. "We'd like to get more someday, but they remain really collectible locally."

Esmeralda was Meyers Lake Park's fortune-teller, and today she resides at the Canton Classic Car Museum, where she's still scaring people. "She freaked me out," says Char Lautzenheiser, the museum's director. "I hated her. I hate her here, too."

Eventually, Lautzenheiser says, that visceral reaction subsides, and she takes comfort in the other items in the museum's Meyers Lake Park collection, including the monkey band — a coin-operated music machine featuring a band of monkeys playing instruments.
"Anyone in Canton who is over the age of 45 has been to the park and they remember it," Lautzenheiser says. "I can still see it in my mind."

For more information about the William McKinley Presidential Library & Museum, visit mckinleymuseum.org. For more information about the Canton Classic Car Museum, visit cantonclassiccar.org.