Ohio Life
40 Things Every Ohioan Must Do
Consider this your Buckeye List — more than three dozen attractions, events and places that everyone who has ever proclaimed O-H-I-O needs to experience.
April 2018
BY Sarah Arnold, Caitlin Behrens, Rachel Cagle, Leo DeLuca, Linda Feagler, Vince Guerrieri, Jeff McCallister, Hallie Rybka, Kim Schneider, Jill Sell, Kristina Smith, Jim Vickers & Rich Warren | Photo by Laura Watilo Blake
April 2018
BY Sarah Arnold, Caitlin Behrens, Rachel Cagle, Leo DeLuca, Linda Feagler, Vince Guerrieri, Jeff McCallister, Hallie Rybka, Kim Schneider, Jill Sell, Kristina Smith, Jim Vickers & Rich Warren | Photo by Laura Watilo Blake
Take the Miller Ferry to South Bass Island

The Lake Erie islands exude a friendly spirit that's easy to get wrapped up in once you've made the trip from the mainland, but the experience actually begins before you dock. The Miller Ferry (previously known as Miller Boat Livery) has shuttled island-goers across Lake Erie since 1945, making multiple daily trips from Port Clinton to docks on both South Bass and Middle Bass islands.

But the boat line wasn't always intended to haul day trippers and weekend visitors. Co-founders William M. Miller and Harry Jones began by bringing blocks of ice to local restaurants and boaters moored on South Bass Island. Lee Miller, William's son, took over the route in the mid-1940s, delivering mail and passengers to the islands. Shortly after, he invested in the company's first automobile/passenger ferry to provide a safer and more efficient system than the wooden boats the company previously used.

Today, thousands of visitors (some with their vehicles) pile onto Miller Ferry's vessels, which range in length from 90- to 136-feet-long, each weekend for their own summer adventure, and the boat ride is the first leg of it. After that, where you go depends on what you're into.

Middle Bass Island offers a 136-acre waterfront state park and opportunities for biking, kayaking and stand-up paddleboarding. South Bass Island is known for its party scene along Delaware Avenue, but it's just as enjoyable without a beer in hand. From nature preserves to the Perry's Victory and International Peace Memorial to the world's largest geode at Heineman's Winery, there's a lot to see. Our advice: rent a bike or golf cart and cruise the island's 4-mile loop. 5174 E. Water St., Port Clinton 43452, millerferry.com


Visit Franklin Park Conservatory and Botanical Gardens
Year-round, Franklin Park Conservatory and Botanical Gardens is a temperate oasis. Built in 1895 and listed on the National Register of Historic Places, it's filled with 400 species of plants native to the Himalayas, rainforest, desert and Pacific Islands. Amid the flora are 78 crystalline creations by glass artist Dale Chihuly patterned after shapes and colors inherent in nature. The 122-year-old John F. Wolfe Palm House — home to 43 species of the perennial — sets the stage for the nightly light show by artist James Turrell that showers the Victorian gem in dazzling kaleidoscopic hues. A new 2-acre children's garden replicates the Ohio landscape with touches that include a sandstone bluff and creek and features a studio where kids can create art with flowers, seeds and leaves. 1777 E. Broad St., Columbus 43203, 614/715-8000, fpconservatory.org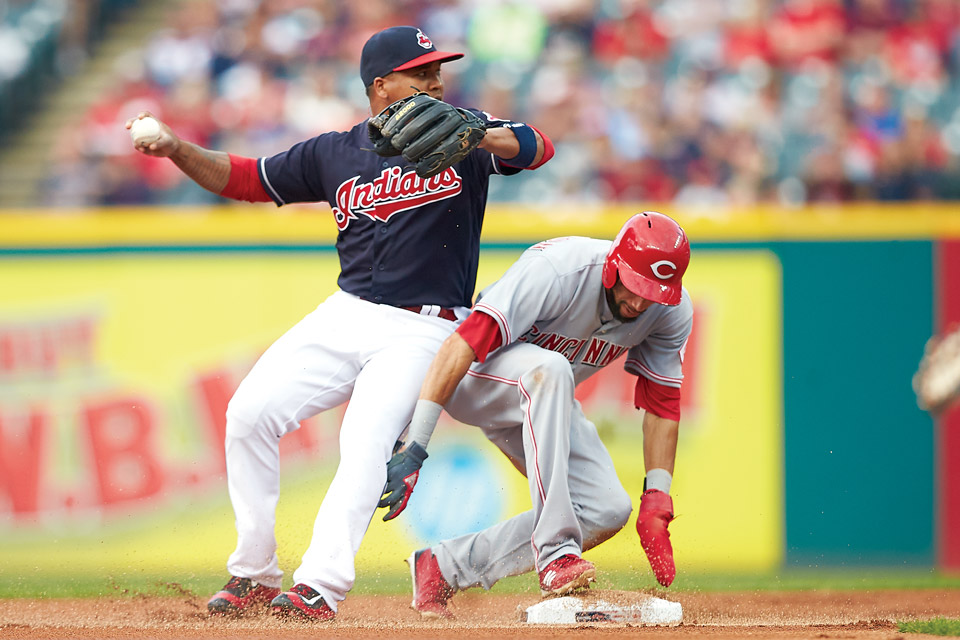 Witness the Battle of Ohio
No matter at what end of Interstate 71 your Major League Baseball allegiance lies, there are chances each season to celebrate our state's pair of storied franchises as they face off on the diamond. Such matchups used to only happen in spring training or special exhibition games, but the advent of interleague play and the decision for the Reds and Guardians to host a home stand against each other once every season has led to the Battle of Ohio, a delightful reason to pencil in a baseball road trip. First-timers to Great American Ball Park should visit the on-site Cincinnati Reds Hall of Fame & Museum, while those trekking to Progressive Field can pay their respects to Cleveland's baseball greats at Heritage Park beyond the outfield wall. Great American Ball Park, 100 Joe Nuxhall Way, Cincinnati 45202, reds.com; Progressive Field, 2401 Ontario St., Cleveland 44115, mlb.com/guardians

Eat a Hungarian Hot Dog at the Original Tony Packo's
The locals loved Tony Packo's in Toledo long before actor Jamie Farr immortalized his hometown spot on an episode of "M*A*S*H." After that, Tony Packo's was mentioned six more times over the classic television show's 11-season run. In one episode, his character, Corp. Maxwell Klinger, mentions that Tony Packo's in Toledo has the best Hungarian hot dog. (How's that for product placement?) The hot dog, which is actually a Hungarian sausage cut in half and served on a hot dog bun, is topped with mustard, onions and Tony Packo's famous hot dog sauce. There are several Tony Packo's locations in the Toledo area, but the original one is on Front Street. 1902 Front St., Toledo 43605, 419/691-6054, tonypacko.com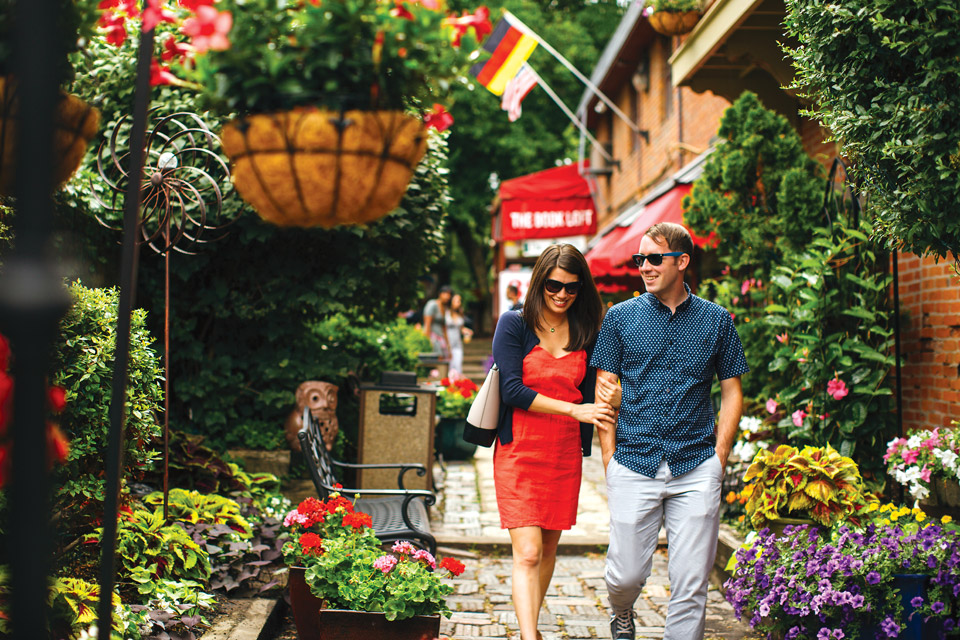 Explore Columbus' German Village
European immigrants have left their mark on dozens of urban neighborhoods across Ohio, but few are more charming than Columbus' German Village. Its shady brick streets are lined with lovingly restored cottages that during the 19th century were home to the German workers who labored in the nearby breweries of the era.

Today's friendly residents may no longer say "Herzlich Willkommen," but their welcomes will be just as hearty as those of the neighborhood's forebearers back in the day.

A coveted residential area, located just blocks from downtown, German Village is also sprinkled with distinctive shops and fine restaurants, making it a popular destination for those who want to savor the wurst and cream puffs at Schmidt's Sausage Haus, happily wander the maze inside The Book Loft's 32 rooms or dive into the drawers and cubbyholes at Helen Winnemore's in search of treasures created by some of the nation's finest craftspeople.

The Old World ambiance also includes the towering spire of St. Mary's Church, the macarons at Pistacia Vera, and the al fresco dining on the welcoming patios at Lindey's and Barcelona.

Schiller Park is German Village's verdant front yard, featuring Shakespeare in the Park at its amphitheater, a garden promenade and the lovely "Umbrella Girl" statue, clad in a dirndl and carrying her shoes while hoisting an umbrella overhead. germanvillage.com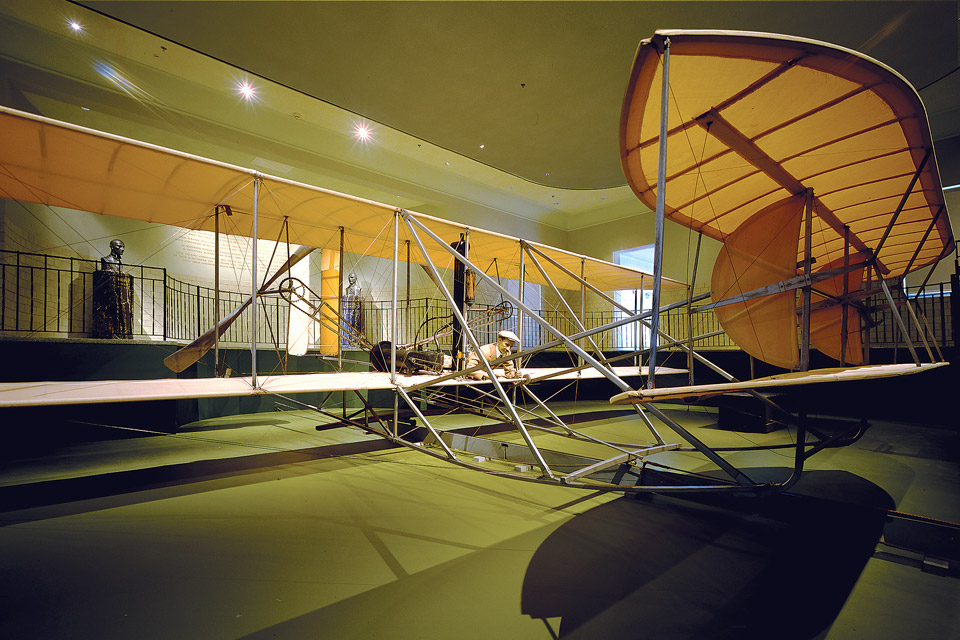 See the Wright Flyer III at Carillon Historical Park
Take a closer look at the flying machine the Wright brothers called their most significant invention in a building built specially for it.

By Leo DeLuca

Orville Wright was a lifelong tinkerer, and his last undertaking was a grand one. In 1946, his friend, Edward Deeds, a Dayton industrialist who worked with Charles Kettering to invent the automobile self-starter, announced plans for Carillon Historical Park, a new museum celebrating the region's revolutionary role in transportation history.

The Wright brothers would be highlighted at the new Dayton attraction, and Deeds proposed building a replica of their 1903 Wright Flyer for display. Orville had a different idea: The 1905 Wright Flyer III was in storage, although it needed some restoration. Deeds jumped at the thought. Not only did the plane fly in Dayton (taking off and landing from a small cow pasture known as Huffman Prairie), Orville considered it the most important aircraft he and his brother had ever built.

The 1905 Wright Flyer III is considered the world's first practical airplane. The Wright brothers' 1903 design that flew at Kitty Hawk, North Carolina, was airborne for less than a minute during each of its four B-line flights (Orville was the pilot during the first one), and a reimagined 1904 version failed to fix significant control issues. But the brothers' 1905 craft could turn figure eights, land and take off again. On Oct. 5, 1905, Wilbur flew the plane for nearly 40 minutes — so long he ran out of gas.

Orville oversaw the restoration of his Wright Flyer III and helped design Wright Hall, the building that houses the plane at Carillon Historical Park. Visitors encounter the legendary machine displayed in an open pit, offering an impressive view of the plane's more than 40-foot wingspan. This was Orville's idea. His wish was that visitors look down on the plane to understand how the controls really work. Today, a figure of Wilbur lies flat on his stomach across the middle of the machine. There was no seat. Instead, the pilot was nestled in a hip cradle, with a joystick-like mechanism in his left hand and a paddle-like mechanism in his right. Together, they controlled the plane's three primary axes: roll, pitch and yaw.

When the Smithsonian debuted the 1903 Wright Flyer in December 1948 on the 45th anniversary of flight, it hung from the ceiling. Many planes were displayed this way during Orville's time. But at Carillon Historical Park, visitors stand within a few feet of the aircraft. Like a massive bird spreading its wings across an open abyss, the machine has a primitive magic to it — one that is palpable the moment you enter Wright Hall.

In 1990, the Wright Flyer III became the only airplane ever to be designated a National Historic Landmark. Shortly after, in 1992, the historic aircraft became part of the newly created Dayton Aviation Heritage National Historical Park.

Orville didn't live to see the public enjoy Wright Hall. He died on Jan. 30, 1948, more than two years before Carillon Historical Park opened. When it did on June 3, 1950, crowds swarmed the city's new attraction, and Wright Hall in particular, eager to catch a glimpse of the newly restored plane that changed everything — the world's first pilot's last project. 1000 Carillon Blvd., Dayton 45409, 937/293-2841, daytonhistory.org


Spend a Day at the Ohio State Fair
The Ohio State Fair is more than just a place to enjoy rides, play games and dig into giant turkey legs and other forms of deep-fried goodness. It's a celebration of all things Ohio (particularly our deep agricultural roots), arriving at the end of July each summer and running through early August.

Entertainment ranges from homegrown talent such as the All-Ohio State Fair Band and the All-Ohio State Youth Choir, composed of the finest high school musicians and singers from across the state, to hypnotist shows and comedy acts to classic rockers and country music favorites.

If animals are your thing, check out the fairground's agricultural buildings filled with sheep, pigs and other livestock, while the Lausche Building and Cardinal Hall provide welcoming places to escape the summer heat. The former houses interactive exhibits put on by organizations such as 4-H, Boy Scouts of America and The Ohio State University's Department of Physics, while Cardinal Hall is where exhibitors, crafters and bakers sell their handmade wares.

Be sure not to miss the Dairy Products Building for some Ohio-made ice cream and to see the famous butter cow and calf sculptures that have been a fair tradition since 1903.

After taking it all in, the Ohio Department of Natural Resources' portion of the fairgrounds offers the opportunity to relax on one of 88 benches, each carved with the name of an Ohio county. 717 E. 17th Ave., Columbus 43211, ohiostatefair.com


Pay Your Respects at the McKinley National Memorial
William McKinley's death at the hands of an assassin in 1901 was met with mourning comparable to what was seen for John F. Kennedy. Right after McKinley died, plans were made for a final resting place befitting the president who brought the nation to the world stage. The McKinley National Memorial in Canton is nothing if not awe-inspiring. Located at the top of a tall set of steps (with a statue of McKinley halfway up), the 25th president and his wife are entombed in side-by-side sarcophagi, resting under a dome topped with a red, white and blue skylight. McKinley's successor, Theodore Roosevelt, reshaped the presidency. He also presided over the McKinley National Memorial's dedication in 1907. 800 McKinley Monument Dr. NW, Canton 44708, mckinleymuseum.org/mckinley-memorial


Hear the Cincinnati Pops at Music Hall
With its towering spires, opulent grand foyer and majestic red-and-gold color scheme, Music Hall is one of the Queen City's most revered landmarks and home to the renowned Cincinnati Pops Orchestra. In addition to recording more than 100 albums, including "Copland: Music of America," which won a Grammy Award in 1998, the Cincinnati Pops has collaborated with luminaries ranging from Mel Tormé to George Takei. Following a two-year renovation completed in 2017, the majestic Music Hall, which dates back to 1878, offers upgrades such as improved sightlines and wider seats. But the hall's architectural wonders have been preserved, right down to the rose window located at the front of the building, the slate and marble flooring in the Linder Grand Foyer and the original stenciled cove ceiling in Corbett Tower that had been hidden since the 1970s. 1241 Elm St., Cincinnati 45202, 513/744-3344, cincinnatiarts.org/music-hall


See a Show at Playhouse Square
The largest performing arts center outside of New York City, Cleveland's Playhouse Square reflects the dazzle of the 1920s, the era in which its theaters opened. Saved from the wrecking ball in the 1970s, each has been treated to extensive restoration, including the preservation of the four art deco murals by James Daugherty that grace the lobby of the State Theatre. The Connor Palace's Czechoslovakian crystal chandeliers, which illuminate the sweeping pair of marble staircases leading to the balcony, were also given new life. Outside, the GE Chandelier, erected in 2014, embraces theatergoers with beams of light radiating from 4,200 resin crystals. Suspended 44 feet in the air, the beacon earned a Guinness World Record as the largest outdoor chandelier in the world. 1501 Euclid Ave., Cleveland 44115, 216/241-6000, playhousesquare.org


Visit the Birthplace of the Studio Glass Movement
Watch artists shape molten glass into works of art at the museum that pioneered the medium. The Glass Pavilion at the Toledo Museum of Art includes hot shops where visitors can see artists blow glass daily or sign up to learn how to make glass art themselves through classes or a one-time workshop. Constructed from curved glass, the building is itself a work of art, and the galleries contained within house glass art through the ages, ranging from ancient items to modern pieces. Highlights include a giant white chandelier that sparkles in the light at the main entrance, a glass-panel mural by one of the artists who helped start the studio glass movement at the museum and stained-glass windows by Louis Comfort Tiffany and other artists. 2445 Monroe St., Toledo 43620, 419/255-8000, toledomuseum.org


Tour the Ohio Statehouse
Pivotal and poignant bits of history wait around every corner of the Ohio Statehouse. Abraham Lincoln delivered a fiery oratory about slavery there while on the campaign trail, and the bronze statue of William McKinley watching over High Street commemorates the four years the statesman lived across the street during his term as our 39th governor prior to becoming our 25th president. But the Statehouse rotunda is clearly the crown jewel of the magnificent Greek Revival structure: "Perry's Victory," a massive oil painting by Cincinnati artist William Powell has been there since 1865, and a brilliant skylight towers over the very same hand-cut marble tiles that Lincoln's casket rested upon. (More than 50,000 Ohioans filed past the slain leader's coffin as he lay in state there on April 29, 1865.) Free guided tours are offered Monday through Friday, every hour on the hour between 10 a.m. and 3 p.m., and Saturdays and Sundays at noon 1, 2 and 3 p.m. 1 Capitol Square, Columbus 43215, 614/752-9777, ohiostatehouse.org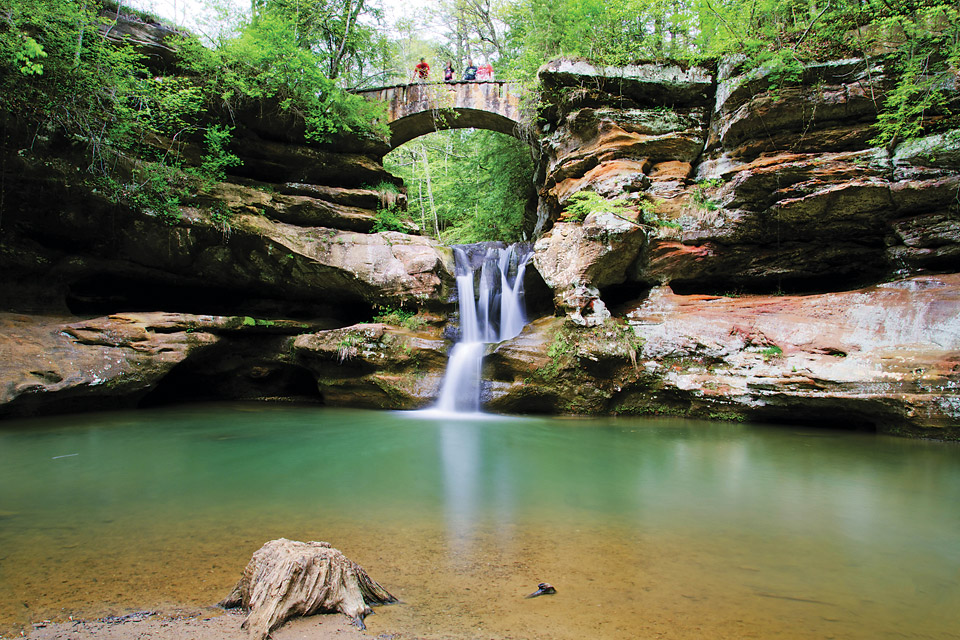 Explore the Hocking Hills
When it comes to wilderness, the caves, cliffs and gorges of Hocking Hills State Park offer some of Ohio's most stunning hikes and sights.

By Sarah Arnold

As we descended the well-worn stone staircase for the first time, the lushly wooded gorge immediately took my breath away. Our first visit to Old Man's Cave was a Sunday morning respite from Nelsonville Music Festival, a chance to stretch our legs and enjoy the undisturbed peace of southeastern Ohio wilderness. Despite having visited dozens of National Parks across the country, my husband and I weren't prepared for the unparalleled beauty we discovered within Hocking Hills State Park.

Although we initially planned only to visit the major landmarks, we became increasingly enchanted at every turn, and instead chose to hike to see every waterfall, cave and cliff we could. Mesmerized by the gothic-arched windows and great sandstone columns of the Rock House, the turbulent waters that slowly smooth the walls of Devil's Bathtub and the idyllic view of the Upper Falls at Old Man's Cave, we could have easily spent several days exploring. Only an hour in, we were already planning our next visit.

No location in Ohio is quite as romantic or wildly stunning as the Hocking Hills, with its postcard-ready waterfalls and deep, wooded ravines laced with hemlock trees and ferns. Standing inside the massive horseshoe-shaped Ash Cave, the history of the place is as impressive as the landscape itself. Named after a huge pile of ash found here by early settlers, the cave provides shelter for hikers as they admire the falls that trickle down from above, just as it provided shelter for Native Americans and early travelers along the Indian Trail (now state Route 56) in centuries past. Throughout the year, Ash Cave is a sight to behold, whether the valley floor is covered in delicate trillium and jewelweed, or the falls have formed a frozen column of ice. It's not uncommon to see children splashing under the falls during the dryer months, when the water descends softly like summer rain.

Old Man's Cave — named after hermit Richard Rowe, who called the large recess cave home in the late 1700s — is one of the park's most beloved landmarks. Located between the Upper and Lower falls, the cave is usually a hub of activity, as visitors wind through the stairways and make their way into the magnificent gorge. Carved by the creek, the gorge cuts through the thick black hand sandstone (the stone present in all of the park's noteworthy formations) offering a peek into the earth's subsurface. As hikers make their way to the Lower Falls, the famous Sphinx Head greets them from the moss-covered wall like an old friend. Flanked by waterfalls and covered by a canopy of green along the ridge, the trails around and through Old Man's Cave rank high on my list of favorites.

Much like the Tetons belong to Wyoming and the Grand Canyon to Arizona, the beauty of the Hocking Hills belongs to Ohio. Home to numerous Native American tribes, pioneers, settlers, bobcats, barred owls and whippoorwills, Hocking Hills State Park is a haven for all who seek its beauty. It is wilderness just waiting to be discovered by someone new — someone like you. explorehockinghills.com


Ride the Coasters at Cedar Point
Whether you live for the zero-to-screaming-in-three-seconds liftoff of Top Thrill Dragster or the clinking classic appeal of wooden legends like Gemini, Cedar Point is all about the roller coasters.

Yes, there's plenty more to do — from shows to the waterpark to games — but it's the Sandusky amusement park's towering beasts that capture our imagination. Their snaking forms are the first things we see in the distance and loom over us as we walk the peninsula that's hosted summer visitors since 1870.

Cedar Point's first roller coaster, Switchback Railway, appeared in 1892, with a height of 25 feet and a top speed of 10 miles per hour. In subsequent years, new rides and attractions opened, and Cedar Point remained a summer destination for decades. In the 1970s, the addition of the Corkscrew and Gemini set the park on the road to finding bigger, faster and better ways to give us a rush.
In 1989, Magnum XL-200 arrived as the tallest, fastest and steepest roller coaster in the world. It was followed 11 years later by the Millennium Force, a 310-foot-high creation that once again set world records crashing to the ground.

It's the thrill these rides provide — one of the closest experiences to flying most people are ever likely to achieve — that sticks with us long after we've left the park. It's also what brings us back, year after year. 1 Cedar Point Dr., Sandusky 44870, 419/627-2350, cedarpoint.com


Do Some Time at Shawhank
The Oscar-nominated 1994 film "The Shawshank Redemption" holds a place of permanence in American pop culture. So much so that thousands of people head to Richland County each year to travel the self-guided Shawshank Trail, which traces 14 Ohio sites where filming took place. The principal attraction, of course, is still Mansfield's Ohio State Reformatory that served as Shawshank State Prison on screen. Other locations include Pugh Cabin at Malabar Farm State Park and the Bissman Building in downtown Mansfield. Unfortunately, the movie's iconic oak tree was felled by lightning and wind, but its wood has been fashioned into souvenir items available at the Ohio State Reformatory's gift shop, allowing fans to take a piece of the movie home with them. 100 Reformatory Rd., Mansfield 44905, 419/522-2644, shawshanktrail.com


Dig in at the Ohio Pawpaw Festival
Just as summer makes its final yawn, Ohio University students, southeast Ohioans and curious foodies travel to Lake Snowden in Athens County to celebrate the pawpaw. Our state's strange official native fruit, which grows wild in the woods surrounding Lake Snowden, is the star of the Ohio Pawpaw Festival, held annually in September. The event features live music, a pawpaw cook-off, art and food, including items featuring the festival's star ingredient, ranging from pizza to beer to ice cream. Many attendees try their first pawpaw here — an experience that often leads them trying to find the right words to describe the oblong round fruit that tastes like a mix between a banana and mango with a custard-like texture. 5900 U.S. 50, Albany 45710, ohiopawpawfest.com


Watch the Buckeyes Play at The Horseshoe
If college football is a religion throughout Ohio — and in many ways, it is — Ohio Stadium is the mecca. More than 100,000 mostly scarlet-clad Ohio State Buckeyes fans fill The Horseshoe seven or so times each season to watch one of the winningest teams in college football history take the field.

The Buckeyes rarely disappoint, too. The team has won more games than all but two others in college football history, with only nine losing seasons since 1900, and produced more Heisman Trophy winners than any other program.

It's about more than football though. The full experience starts well before kickoff, and some traditional game-day events — such as the Skull Session, a giant pep rally hosted by The Ohio State University Marching Band — even take place away from the stadium itself.

But once inside the nearly century-old gridiron cathedral, it's a downright spiritual experience. Tension builds as fans await the band's emergence from the tunnel on the north side of the field, and then erupts as the drum major high-steps in and takes that famous hat-meets-field backbend.

Only then is it time for college football's most memorable tradition: Script Ohio. The band strikes up "Le Régiment" and begins spelling out O-H-I-O in precise formation. Then, at the appointed time, the drum major leads a fourth-year sousaphone player to "dot the i" to the delight of the entire congregation. 411 Woody Hayes Dr., Columbus 43210, ohiostatebuckeyes.com


Connect with Ohio's Past at Sauder Village
Stroll through a town that re-creates life during the days when people traveled by horse and buggy and craftsmen handmade nearly everything a person needed. Sauder Village features 110 buildings that date from when Ohio became a state in 1803 to 1928. Craftspeople in period clothing spin wool into yarn, fashion tin into mugs, hand weave baskets and make other items that were household essentials 100 years ago. Native American life is represented with crafters making gourd bowls and cattail mats. Visit the farm, and see the barnyard animals, including sheep, horses and cows. Meander through the gardens to learn how farming changed over the decades. When you're finished in the village, enjoy some home-cooked comfort food in a historic and rustic barn, aptly named the Barn Restaurant. 22611 St. Rte. 2, Archbold 43502, 419/446-2541, saudervillage.org


Visit Brandywine Falls at Cuyahoga Valley National Park
The curtain of water intensifies each spring as the seasonal rains fill the creek that crashes 60 feet down over Brandywine Falls' well-worn shale and sandstone. The sight makes for a beautiful photo opportunity, and the waterfall is the most famous spot within Cuyahoga Valley National Park, which protects approximately 33,000 acres between Cleveland and Akron. The location is made all the more inviting by boardwalks along the edge of the gorge that allow visitors to climb down and take a closer look at the rushing torrent of water. For those who want to explore a little farther, the popular 1.5-mile Brandywine Gorge Trail takes hikers on a loop along and through the gorge. If you want to stay a little longer, the adjacent Inn at Brandywine Falls, which was built in 1848, has six guest rooms. 8176 Brandywine Rd., Sagamore Hills 44067, 330/657-2752, nps.gov/cuva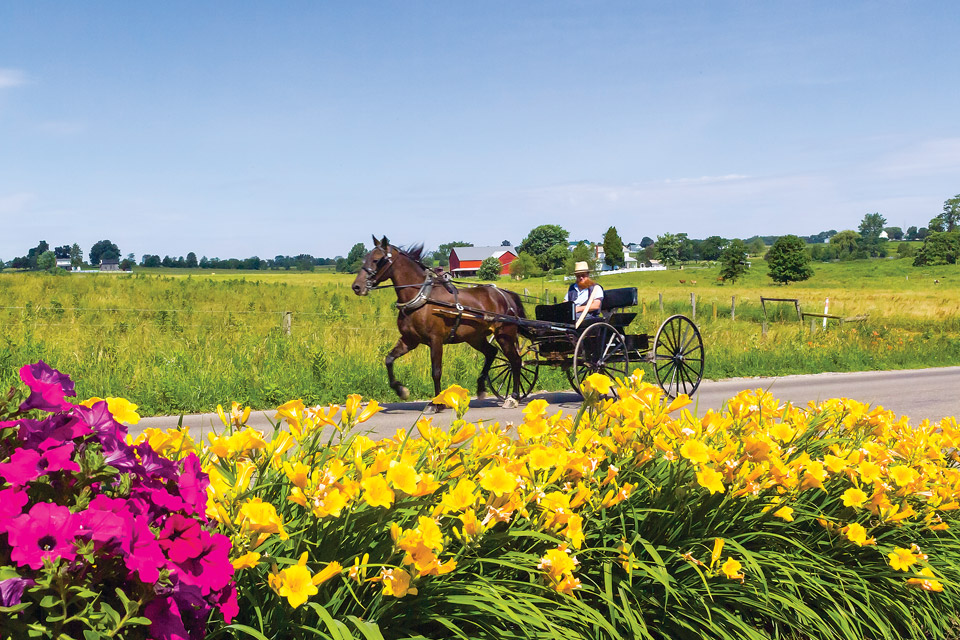 Embrace the Simple Life in Amish Country
The Amish teach that simplicity and modesty still have a place in the modern world. One of the best chances to see members of the religious order going about their daily lives is by carefully traveling the back roads of Holmes County and the surrounding area before the morning dew has burned off the haystacks.

Along with the ubiquitous black buggies for which the Amish are known, travelers are likely to spot children swinging lunch pails on their morning walk to school and young men and women riding bicycles to jobs at local cabinet shops, restaurants or bakeries. Life is a little slower here, which is the way everyone likes it.

Northeast Ohio is home to the largest concentration of Amish in the United States, which over the years has given way to scores of attractions that promise a taste of the simple life. Must-visit stops include Lehman's, Heini's Cheese Chalet and the Amish & Mennonite Heritage Center, as well as one of the many restaurants serving up hearty dishes from authentic family recipes. But also save a few hours to visit the small, out-of-the-way, Amish-owned businesses. Your GPS will probably get you lost, but that's OK. It's half the fun.

Although Amish Country businesses traditionally shut down at the end of the workday, Holmes and Tuscarawas counties are now home to family-focused shows and concerts in the evening, including performances at the 500-seat Ohio Star Theater in Sugarcreek. visitamishcountry.com


Visit Perry's Victory and International Peace Memorial
On a clear day, you can see the Lake Erie islands, the Canadian mainland and even the mouth of the Detroit River from the observation deck of Perry's Victory and International Peace Memorial in Put-in-Bay. As the National Park Service's third-tallest monument (only the Washington Monument and Gateway Arch in St. Louis are taller), this 352-foot-tall stone column is the most iconic spot on South Bass Island and is visible from the mainland. Near here on a September day in 1813, Commodore Oliver Hazard Perry led U.S. forces to victory in one of the War of 1812's most pivotal moments: The Battle of Lake Erie. The monument commemorates that victory and the lasting peace between the United States, Canada and Great Britain, while an on-site visitors center explains the battle. 93 Delaware Ave., Put-in-Bay 43456, 419/285-2184, nps.gov/pevi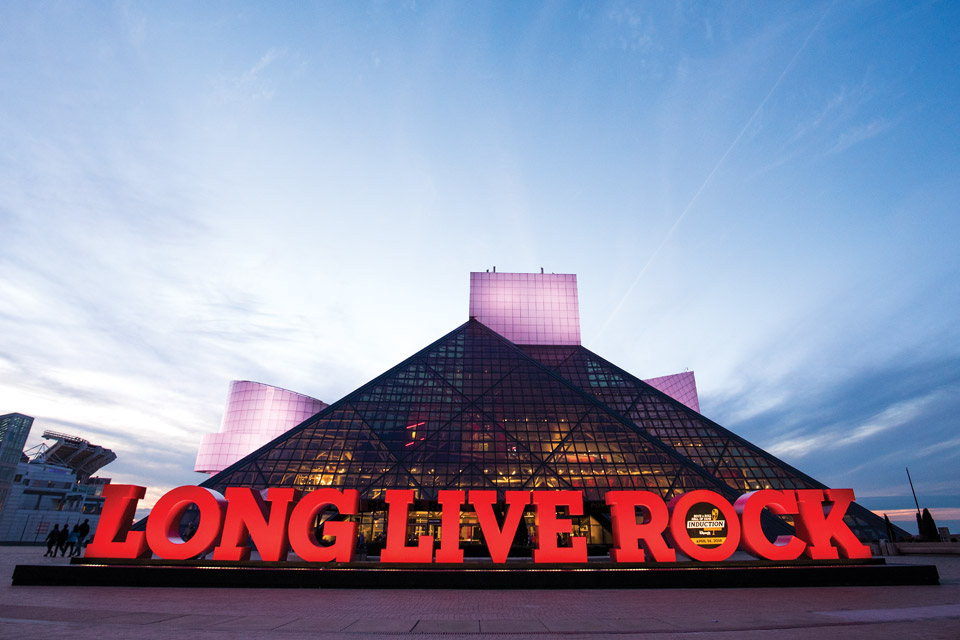 Visit the Rock & Roll Hall of Fame
Cleveland's shrine to the legends of rock 'n' roll beckons music lovers to commune with the greats who penned the soundtrack of our lives.

By Jim Vickers

Architect I.M. Pei designed the Rock & Roll Hall of Fame to be a place of performance. Those who visit provide movement and color as they ascend the escalators and cross the open balconies of his dream-like design. It's a building as rowdy and as confident as the art form it celebrates.

Cleveland record store owner Leo Mintz may have first said the words "rock 'n' roll," but Alan Freed was the one who spoke them into a microphone from his WJW radio studio a little over a mile away from where the Rock Hall stands today. There's an understated bronze plaque by the former station's front door noting the history contained within. People walk by the sign every day, and one can't help but wonder how many notice it.

The Rock & Roll Hall of Fame, on the other hand, is impossible to miss, rising up against Lake Erie at the end of East Ninth Street. In front, 12 human-size letters spell out "Long Live Rock." Inside, visitors take the escalator down to the main exhibition hall. After being led through a "Roots of Rock" and Elvis Presley exhibit, music fans are unleashed to explore the main hall at their own speed and sequence.

"Cities and Sounds" — large cases of artifacts paying tribute to Los Angeles, Detroit, New York, Seattle and more — examines pivotal rock music eras in cities across the United States and in London, from the rise of Motown to the birth of grunge. But the most powerful parts of the main exhibit hall are the spaces dedicated to legendary bands and artists.

It's not uncommon to see a group of visitors camped out around the television screens that tell the behind-the-scenes stories of each of the Beatles' albums. From there, fans can get a close-up look at the acoustic guitar John Lennon used both in the 1965 Beatles film "Help!" and during his and wife Yoko Ono's bed-ins for peace in March and May of 1969. During the second bed-in, Lennon recorded "Give Peace a Chance" on the instrument and inscribed it with a caricature of Yoko Ono and him that remains to this day.

Such discoveries are frequent while making a trip through the Rock Hall, giving fans that riveting feeling of connecting to the people and moments behind the songs and albums that shaped their lives. The whole place is a celebration, but nowhere is that more apparent than the "Power of Rock Experience," which distills incredible moments from years worth of Rock & Roll Hall of Fame Induction Ceremony performances into a captivating 12-minute montage.

Waiting outside the Connor Theater on the museum's open third level, visitors get the feeling they're waiting on the wings of a rock-concert stage. Once inside the theater, the immersive show fills your entire field of vision as it seamlessly flows through decades of performances: Chuck Berry, Metallica, Debbie Harry, Joan Jett, Bruce Springsteen, Stevie Wonder, U2.

Directed by Jonathan Demme, the film ends with the most famous moment of any Rock Hall induction: Prince's finale to "While My Guitar Gently Weeps" the night George Harrison was enshrined as a solo artist. George's son, Dhani, strums in the background and Tom Petty plays to Prince's right as the man who gave us "Purple Rain" revels in a searing guitar solo that seems to come from another place.

Prince is no longer with us. Neither is Petty. But here they are, immortal, forever, perfect — in this space where the greats are remembered and celebrated every day. Long live rock. 1100 E. Ninth St., Cleveland 44114, 216/781-7625, rockhall.com


Climb to the Top of the Marblehead Lighthouse
The interior of the Marblehead Lighthouse is a bit cramped for some modern visitors, probably the consequence of being built nearly 200 years ago. As you climb the 77 steps to the top of the oldest continuously operating lighthouse on the Great Lakes, the walls seem a bit closer than they should be, and you find yourself ducking frequently. But that makes you appreciate emerging at the top, which rewards those who do with an expansive view of Lake Erie and, off in the distance, the roller coasters of Cedar Point. Tours, as well as visiting the adjacent museum, are only available seasonally, but the adjoining 9-acre state park is open year-round. 110 Lighthouse Dr., Marblehead 43440, parks.ohiodnr.gov/marbleheadlighthouse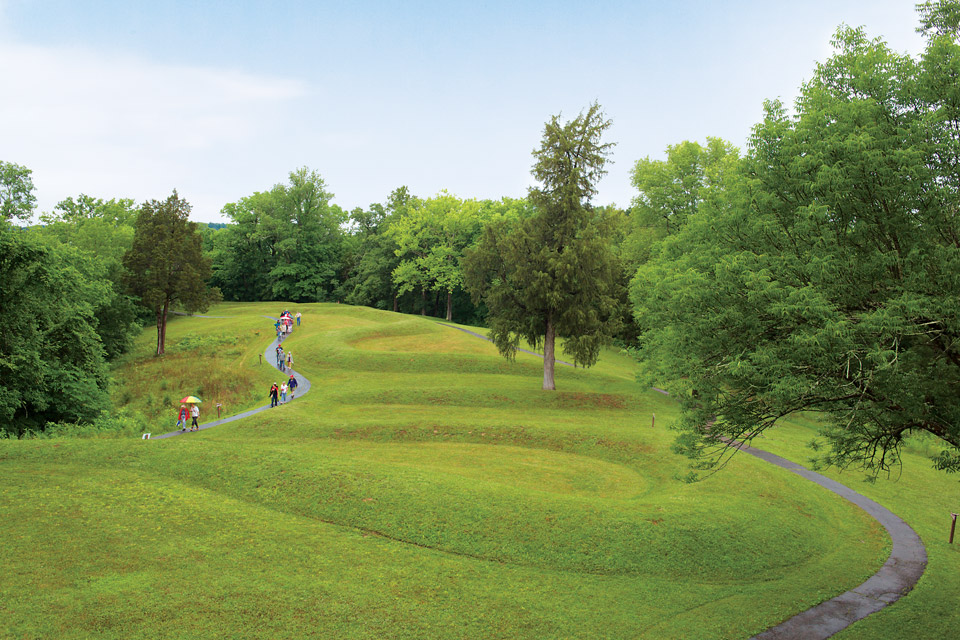 Explore the Work of Ancient Ohioans at Serpent Mound
There are few places in our state as iconic as the approximately 1,300-foot-long effigy of a giant snake writhing in several coils across a ridge top in Adams County. With its signature curlicue tail and a head that appears to be swallowing an egg, the Serpent Mound is emblematic of a mysterious, long-disappeared civilization that predates the arrival of the Europeans by hundreds of years — flourishing before, during and after the Roman Empire, when Ohio was the cultural epicenter of North America.

Under consideration by the United Nations Educational, Scientific and Cultural Organization as a World Heritage Site, the Serpent Mound is just one of thousands of earthworks once built across the Buckeye State and constructed by three separate ancient mound-builder cultures. Other notable sites include the Great Circle and Octagon in Newark, once part of a huge complex of geometrically shaped mounds that researchers say they believe was likely a place of religious pilgrimage. There's also Mound City outside Chillicothe, once a major population center for these native peoples, and Fort Ancient, an enormous hilltop enclosure dramatically perched far above the Little Miami River and also likely used for religious ceremonies.

But it's that long, undulating snake, a cryptic puzzle left by an enigmatic culture we don't fully understand, that may well fire your imagination the most, offering silent testimony to the centuries when Ohio truly was the heart of it all. 3850 St. Rte. 73, Peebles 45660, greatserpentmound.com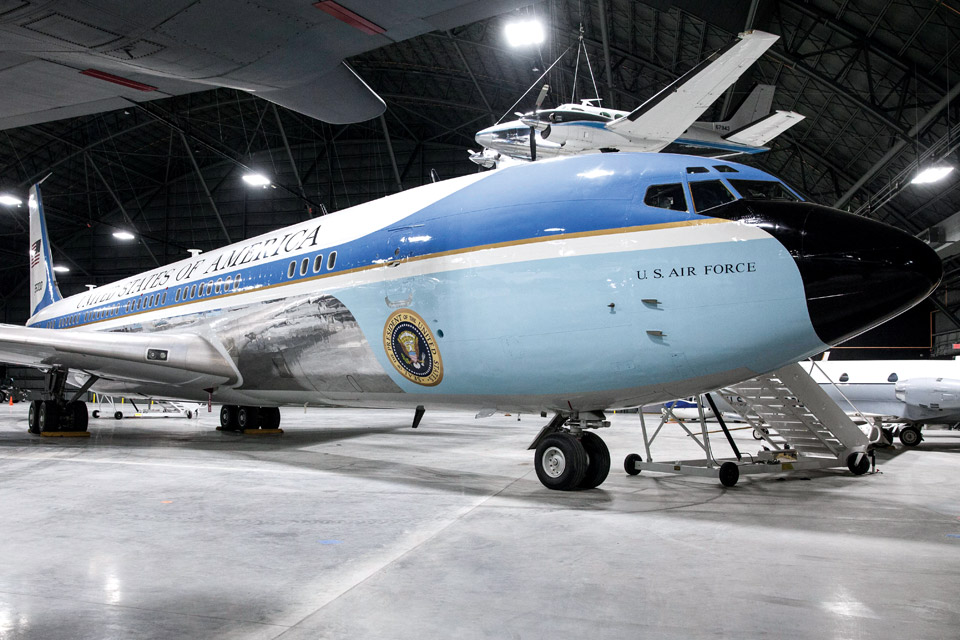 Climb Aboard Air Force One at the National Museum of the U.S. Air Force
Air Force One is arguably the most famous plane in the world, and the moment you see it, the wave of familiarity hits you. There's the powder blue color of the lower front hull emblazoned with the presidential seal, the American flag on the tail, the blue stripe that swoops back from the cockpit, underlining the words United States of America. Then, as you begin to climb the steps toward the plane's entrance — the same one that John F. Kennedy, Richard Nixon, Ronald Reagan and Bill Clinton all walked through — the excitement really starts to kick in.

Air Force One is actually the call sign for any aircraft carrying our nation's commander in chief, but it's almost always used as a shorthand for this icon of the presidency. This aircraft's official name is SAM-26000, and it's most famous for being the plane Kennedy took to Dallas in November 1963, and the one Lyndon B. Johnson was sworn in on following the president's assassination. After that, every president through Bill Clinton used the plane before it was retired.

Today, the aircraft is housed in the National Museum of the United States Air Force's fourth building, along with other historic presidential aircraft. Plexiglass walls installed inside the plane create a very thin aisle to navigate, but it's an experience that offers a fascinating look into the aircraft that we've all wanted to step aboard at one point or another in our lives. 1100 Spaatz St., Wright-Patterson Air Force Base 45433, 937/255-3286, nationalmuseum.af.mil


Shop at Jungle Jim's International Market
Towering fake giraffes and an old Kings Island monorail greet visitors to Fairfield's sprawling Jungle Jim's International Market, offering a preview of the vast and wild offerings within: a 55-foot yacht dubbed the S.S. Minnow stretches across the seafood section, and Elvis the mechanical lion croons on a bamboo stage. "Jungle" Jim Bonaminio opened his first produce stand in a Hamilton parking lot in 1971. Four years later, he opened Jungle Jim's International Market as a 4,200-square-foot grocer. Today, the market covers over 200,000 square feet and stocks more than 180,000 products from across the globe, ranging from kumquats to honeycomb to alligator meat. If it's edible, Jungle Jim's probably has it. 5440 Dixie Hwy., Fairfield 45014, 513/674-6000, junglejims.com


Go on Safari at The Wilds
Visitors take zip-line tours, go horseback riding and more as more than two dozen animal species wander The Wilds, a 10,000-acre safari park and conservation center in Cumberland. Open-Air Safari Tours provide up-close looks at zebras, rhinos, giraffes, camels and curious ostriches with a penchant for pecking at the side of The Wilds' vehicles. Extend your stay by glamping at Nomad Ridge, a collection of 12 adults-only yurts. With indulgent touches such as queen-size mattresses, air conditioning, coffee machines, full bathrooms, free Wi-Fi bamboo flooring, a private deck and a 24-hour concierge, a stay at The Wilds redefines the idea of roughing it. 14000 International Rd., Cumberland 43732, 740/638-5030, thewilds.org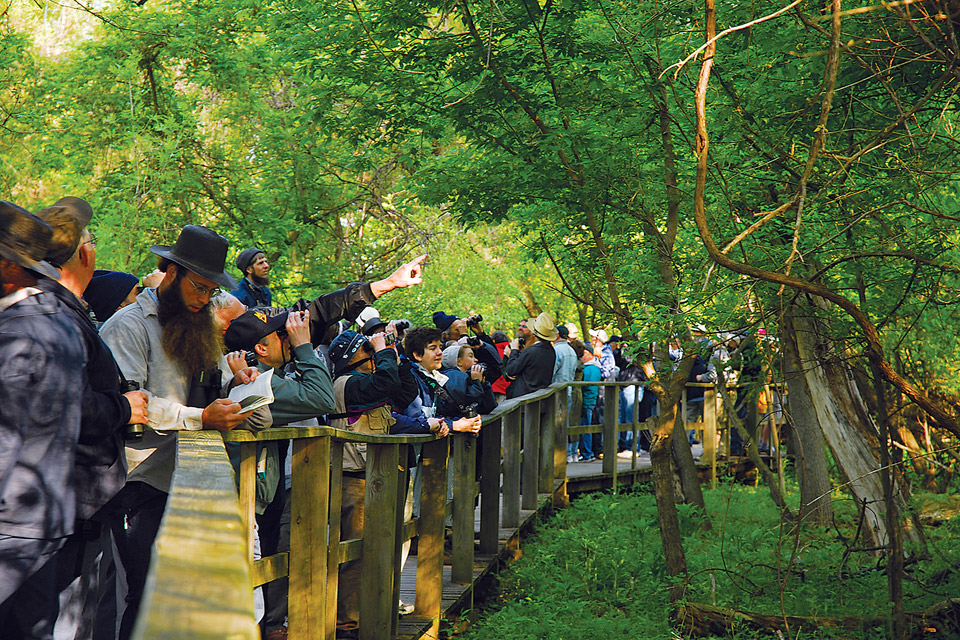 Go Birding at Magee Marsh
This spot along the Lake Erie shore is considered one of the world's best bird-watching sites. Visit and it won't take long to see why.

By Kristina Smith

We expected a quiet spring afternoon, hoping to see some turtles, an eagle or maybe a deer. Instead, as my parents and I stood on the boardwalk at Magee Marsh Wildlife Area near Oak Harbor, we were surrounded by people carrying binoculars and others holding the biggest camera lenses I had ever seen.

"Look! It's a warbler," a man said, identifying it by a name I have long since forgotten.

"Was it a male or a female?" someone else asked.

My parents and I looked at one other in bewilderment. I had heard that people went birding here, but I had no idea it was this big. It was a little intimidating, yet part of me wished I had binoculars so that I could see what was so fascinating.

The following spring, I was on the boardwalk again, this time as a reporter for the local newspaper and hoping to interview birders for a story. A man beckoned me over to him.

"Want to see a screech owl?" he asked.

In the crook of a tree was a reddish mass I recognized as a sleepy little owl, its eyes slightly opening and closing now and then. If it weren't for this man who generously pointed it out, I never would have seen it. I wanted to see what other adorable birds I was missing because I hadn't been looking.
On another trip to the boardwalk, a brilliant yellow bird flew past me and landed in a tree just a few feet away. As I watched, afraid that I might startle it, I saw that it could have fit in my hand and was marked with red streaks. I later learned it was the aptly named yellow warbler.

I finally understood that I was seeing something truly special. These warblers are from tropical places, and most only stop by for a few weeks in the spring and fall to rest and eat before continuing on their journey. They are at their brightest and most beautiful in their spring breeding plumage when they are here, in Ohio, in my backyard, where you might least expect to see something like them. I have yet to find a place where you can see them as closely as the Magee Marsh boardwalk.

That's why it's considered one of the best places in the world for birding. One of the guides who led a walk I took there during the Biggest Week in American Birding, a festival of birding events during peak migration, described it as "magical."

Each time I go there and see these birds — from the exotic-looking Blackburnian warbler with its bright orange head and black, white and yellow markings to the colorful green herons that nest here — I am reminded that he was right.

Over the years, I've birded many of the Lake Erie marshes with my parents and friends. Birding made me see my favorite nature spots in a new way. This year, I'll be back on the Magee Marsh boardwalk and at other spots around Lake Erie.

I'll have my binoculars and camera. I'll wear one of my many Biggest Week in American Birding T-shirts. I can't wait. 13229 W. St. Rte. 2, Oak Harbor 43449, 419/898-0960, wildlife.ohiodnr.gov/mageemarsh


Get Hip to HighBall Halloween
Jack Skellington, with stilted legs and a bulbous head, towers over you, as Sheriff Woody lets out a "Giddy-up, partner" and a white witch wrapped in glowing lights saunters by. In the heart of Columbus' Short North Arts District, HighBall Halloween takes over High Street with a fashionable costume party where creativity is held in highest regard. The annual festival features a public costume contest with multiple categories voted on by judges as well as roars of applause from the thousands of people who gather for the event each year. But there are also musical performances and, of course, the fierce Costume Couture Fashion Show, which takes the stage with designs as far out as the costumed partygoers on the street. Short North Arts District, Columbus 43215, highballcolumbus.org


Explore Our Wine Country
Wine has been part of who we are ever since Nicholas Longworth first planted Catawba grapes in Cincinnati in the early 1800s. Over the years, grapevines have become intertwined with Ohio's story, with nearly 200 wineries now dotting the Buckeye State, from the Lake Erie islands to the Ohio River and the hills of Appalachia to northeast Ohio's Grand River Valley.

Each region is different, making summer and early fall a great time to hit the road and see what's growing, while sampling the fruits of previous years' harvests. That's not even considering the interesting properties you'll discover along the way, such as the adorable red 1886 building that houses Dover's School House Winery or the century-old relocated country church where Geneva's South River Vineyard welcomes visitors.

Northeast Ohio has more wineries per square mile than any other region of the state and is home to more than half of Ohio's grape acreage. But wineries are popping up in other places as well: smaller towns like Bidwell, West Milton and Bryan to name just a few. There's likely one nearby, no matter what corner of Ohio you call home. For more information, visit findohiowines.com.


Ride the Valley Gem Sternwheeler
Boarding Marietta's Valley Gem Sternwheeler is like entering the pages of a Mark Twain tale. The paddle wheel's steady churn and the green riverbanks gliding past evoke the bygone days of river travel. Gazing back, you see the harbor through the rainbow in the paddle wheel's spray. The view — as well as the smell of dinner from the dining room — is delightful. Built with a narrow hull that can navigate the river's many hand-operated locks, the Valley Gem was named after a historic packet boat that plied the Muskingum River during the 1800s. Whether it's a quick tour or a leisurely day cruise, a ride on the Valley Gem is an experience you won't soon forget. 601 Front St., Marietta 45750, 740/373-7862, valleygemsternwheeler.com


See Where Bogie and Bacall Got Married
For two Hollywood legends, happily ever after began at Malabar Farm. On May 21, 1945, Lauren Bacall and Humphrey Bogart tied the knot at the home of their best man, Louis Bromfield. A writer who'd won a 1927 Pulitzer Prize for his novel Early Autumn, Bromfield traded fame to return to his native Mansfield and spend the rest of his life promoting innovative systems of crop rotation and soil conservation. Each year, more than 350,000 visitors pass through the gates of his former residence to stroll the scenic trails on the property and visit the 32-room Big House, where Bromfield entertained celebrities such as James Cagney, Tyrone Power, Shirley Temple and Carole Lombard. A focal point of every tour: the tiny bedroom where Bogie and Bacall spent their wedding night. 4050 Bromfield Rd., Lucas 44843, 419/892-2784, malabarfarm.org


Visit the Pro Football Hall of Fame
Ohio's ties to the NFL go back to the founding of the league, what was then known as the American Professional Football Association, in a Hupmobile car dealership in Canton on Sept. 17, 1920. Since 1963, the city has been home to the Pro Football Hall of Fame, which celebrates classic and current icons of the game, from Jim Brown to Tom Brady, while also taking us back to the days when there were teams in places like Columbus, Toledo and Dayton. The legends enshrined here are immortalized with iconic bronze busts inside the Hall of Fame Gallery — a collection of faces celebrating the men who made the game an American tradition. 2121 George Halas Dr. NW, Canton 44708, 330/456-8207, profootballhof.com


Shop at the West Side Market
When it comes to landmarks that offer a peek into a city and the mix of cuisines tied to its people, it's hard to beat a walk through Cleveland's historic West Side Market. The city's oldest continually operating, municipally owned public market anchors Cleveland's bustling Ohio City neighborhood. Construction started in 1908, and the building was dedicated on Oct. 31, 1912, with more than 100 vendors selling meat, bread, dairy and specialty foods. (Outdoor produce aisles were added a few years later.) When you visit, be sure to pack a cooler. It's tough to make a trip through the maze of stands without finding something you'll want to take home with you. 1979 W. 25th St., Cleveland 44113, westsidemarket.org


Experience "Tecumseh!" on Stage
Booming cannons, frontiersmen, galloping horses and blazing campfires mark the return of summer at Sugarloaf Mountain Amphitheatre. Since "Tecumseh!" debuted in 1973, more than 2.5 million people have traveled to Chillicothe to see the outdoor drama that tells the story of the legendary Shawnee leader who fought to defend his homeland in the 1700s. With the help of 500 pounds of gunpowder, a script written by historian Allan W. Eckert — a seven-time Pulitzer Prize nominee — and a soundtrack recorded by The London Symphony Orchestra, a cast of 75 gathers six nights a week each summer to present this critical chapter of American history. The natural ambiance of the 1,800-seat amphitheater, which includes scenic vistas of pine, woodland paths and stars overhead, complement the pageantry. 5968 Marietta Rd., Chillicothe 45601, 866/775-0700, tecumsehdrama.com


Visit COSI
A kid slowly pedals across a thin cable 17 feet above the ground just beyond COSI's main entrance. Thanks to a 250-pound counterweight, the High Wire Unicycle is as stable as can be. It's a mix of inspiration, education and fun, which is an apt description of Columbus' Center of Science and Industry as a whole. The massive 320,000-square-foot space along the Scioto River explores the ocean's depths as well as the outer reaches of space. Visitors can walk through time in the Progress exhibition, where an 1898 American street transforms to 1962 as you turn the corner, swapping telegraphs with televisions. There's also a planetarium and a National Geographic Giant Screen Theater, while a partnership with New York's American Museum of Natural History brought a permanent Dinosaur Gallery and a rotating special exhibition gallery. 333 W. Broad St., Columbus 43215, 614/228-2674, cosi.org


Eat a Kewpee Hamburger
Kewpee Hamburgers has been a downtown Lima destination for nearly 80 years. Legend has it that Kewpee's square hamburgers made from local, fresh beef served as inspiration for Dave Thomas when he opened Wendy's Old-Fashioned Hamburgers in Columbus in 1969. Kewpee's thick malt shakes and tasty chili may also have influenced Wendy's fare. Kewpee's owner, Harrison Shutt, distinctly remembers the day decades ago when Dave Thomas visited the downtown location, legal pad in hand, and took notes "right down to the toilet paper." Perhaps Thomas was inspired by Kewpee's longtime tag line: "Hamburg pickle on top! Makes your heart go flippety flop!" Kewpee Hamburgers' original location is at 111 N. Elizabeth St., Lima 45801, 419/228-1778; two other Lima locations are at 2111 Allentown Rd. and 1350 Bellefontaine Ave., kewpeehamburgers.com


Connect with our Canal Past at Roscoe Village
The 74-foot Monticello III glides through a restored section of the Ohio & Erie Canal, pulled by two large draft horses. The 45-minute boat ride is peaceful and fun, and it provides valuable insight into the short-lived but influential canal era that fueled commerce in Ohio during the 19th century.

The rise of railroads eventually led to the end of the canals, but Ohio still remembers them. No place does that better than Coshocton's Roscoe Village, a once-bustling port town along the canal that fell into disrepair following the flood of 1913 before it was restored during the second half of the 20th century.

Local businessman Edward Montgomery and his wife, Frances, began purchasing property in the area in 1961, with an aim to create a living museum similar to Virginia's Colonial Williamsburg.

Today, visitors can walk through period homes and workshops along Roscoe Village's main street, including a one-room schoolhouse, blacksmith and weaver, before checking out the stores and restaurants interspersed among the historical exhibits. But it's the ride on the Monticello III that brings it all together, offering an idea of the hard work and long days required to dig the canals that forever changed the face of our state and the nation. 600 N. Whitewoman St., Coshocton 43812, 740/622-7644, roscoevillage.com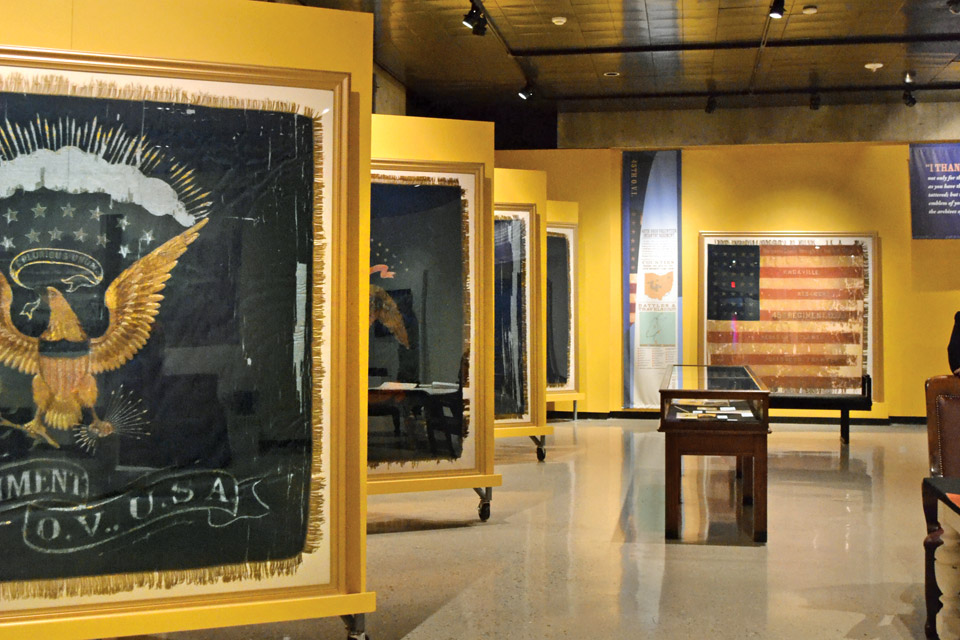 Travel Through Time at the Ohio History Center
This museum outside downtown Columbus is the keeper of our state's history and heritage, with a vast collection that offers insight into who we are.

By Jill Sell

Many times driving south on Interstate 71, I would see the Ohio History Center and think, I really should go there someday. Although the boxy, gray structure was completed in 1970, it was years before I finally stepped inside.

To be fair, I was usually in a hurry when I passed by, but the building isn't exactly inviting. The imposing concrete structure is an example of Brutalist architecture, an unadorned style that rose to prominence in the mid-20th century. When it was completed, Architectural Record called it "the most architecturally significant public structure built in Ohio" since the Ohio Statehouse. I won't argue with that, and once you get past the building's bulky exterior, you'll find the very soul of our state contained inside.

The Ohio History Connection, which operates the museum, owns nearly 2 million artifacts (although just a fraction is on view at any one time) spanning natural history, culture and archaeological collections. It's easy to see why kids love the huge skeleton of the Conway Mastodon, which roamed our state during the Ice Age (this one got stuck in a swamp on the border of Champaign and Clark counties), and I appreciate the artifacts and displays that share what we do know about Ohio's ancient mound-building peoples.

But I'm most drawn to the everyday objects: ones used in pioneer times, during the war years and right up to my lifetime, be it a lantern from a one-room cabin or a Firestone tire made in Akron. One of my favorite pieces is a lady's desk crafted in Portage County between 1820 and 1840. It is a simple piece of furniture, but I wonder about the woman who sat at it. Did she use the desk to write letters to a relative or perhaps a secret love

Among the most poignant Ohio History Center artifacts are the authentic Civil War flags carried in battle by Ohio military companies. Ten are displayed behind glass, while others are stored in a climate-controlled case. If you are lucky enough to visit the gallery when a staff member opens it, take a sniff to see if you can pick up on the ever-so-faint hints of battlefield smoke that still cling to the flags' fabric.

The Ohio History Center has never been an institution to shy away from subjects that stir deep emotions. In 2011, the exhibition "Controversy: Pieces You Don't Normally See" included Old Sparky, the nickname for the wooden electric chair the state used to execute 315 people between 1897 and 1963. It is a jarring artifact, no doubt, but also one that shows Ohio history is not all canal boats and hardwood forests.

In many ways, this is the Ohio History Center's greatest strength: We learn who we were, who we are and maybe even get a hint of who we want to become. The museum unites us, whether we live along the lakefront, in farm country or in the hills of Appalachia. It offers a deeper understanding of what it means to be an Ohioan by shining a light on the rich history we all share. 800 E. 17th Ave., Columbus 43211, 614/297-2300, ohiohistory.org