Home + Garden
The Garden Curator
Landscape designer Ann Cicarella embraces surprise, whimsy and beauty in the ever-evolving masterpiece that is her backyard.
April 2015 Issue
BY Teresa Woodard | Photos by Jeff Downie
April 2015 Issue
BY Teresa Woodard | Photos by Jeff Downie
Rounded topiaries in antique urns flank the entrance to Ann Cicarella's enchanting garden shed. A flowering vine scrambles up the structure's side, and a terra cotta bust of St. Beatrice looks down from a high shelf in the gable above the door. Inside, Cicarella's array of pots and statuary wait their turn to be featured in her ever-evolving landscape gallery.

"I love the thrill of the hunt," says the garden art collector and Shaker Heights resident. "Whether I'm at an estate sale in Chagrin Falls, an antique sale in Mt. Vernon or an art studio on vacation, I'll spot something and think … it's fabulous. I must find a home for it."

As a landscape designer, former garden shop owner and one-time executive director of the Shaker Historical Society, Cicarella is always experimenting with new plants and design ideas at her and her husband Tom's Georgian-style home, built by noted Cleveland Heights architect John Sherwood Kelly in 1934. She takes pride in carrying on Shaker Heights' 1912 founding mission as a "garden suburb" and relishes the rich history of the community, which was settled by the religious colony of North Union Shakers in 1822.

"This garden — front and back — has been through many iterations," says Cicarella. She explains that some of them have been accidental, such as a fallen tree clearing a spot for the yard's sunny border. Others, like the charming blue-sided shed, have been carefully planned and enhanced over the years.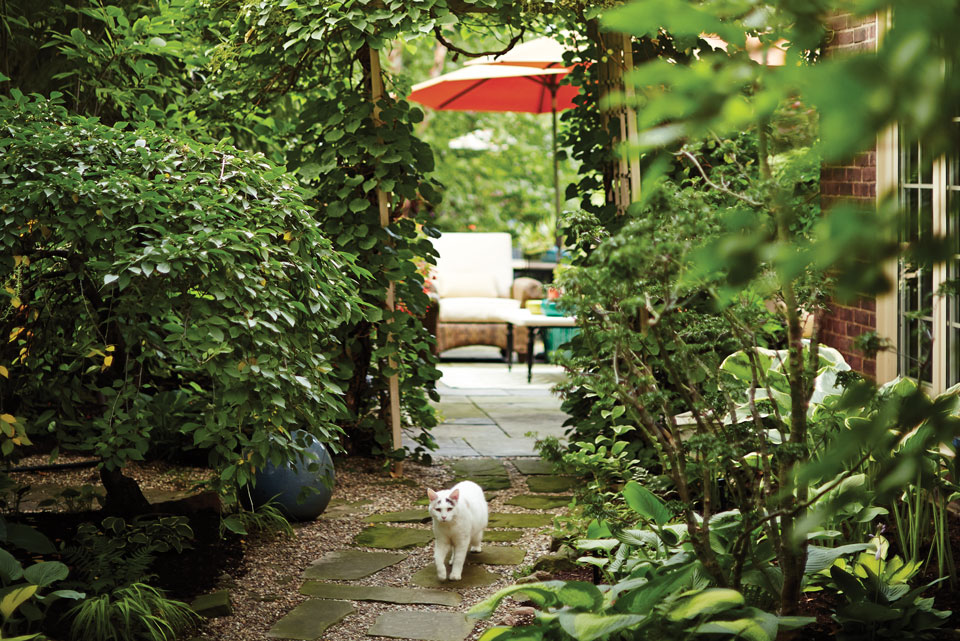 Entry from the driveway leading into Ann Cicarella's inviting patio
The focal point of the backyard space is a 60-by-20-foot bluestone patio that looks out over the back lawn. Divided into three areas, it offers an inviting guest entry from the driveway, a cozy seating area and a larger gathering space.

"For me, a garden is more fun when you can't see it all at once but view it from different seating areas with different vantage points," says Cicarella.

Visitors to her backyard garden first encounter a 26-pound bronze bell hanging from a wooden post near the entryway. Nearby, a stone pedestal supports a large, teal-colored ceramic pot that Cicarella fills with a tropical arrangement of dracaena, kalanchoe "flapjack" and a pink-foliaged alternanthera.

"I'm not a fan of symmetry," she says, admitting her preference for arranging in singles or odd numbers. "You can have more visual interest and tension in design if things are not so symmetrical and predictable."

For example, Cicarella cleverly assembles a gallery-like installation of herb-filled terra cotta pots in varying sizes, shapes and staggered heights on the patio steps. They're located near the kitchen door so she can easily harvest herbs for various drinks and dishes. A nearby exterior wall is adorned with antique enamel, metal and ceramic house numbers gathered during her and Tom's travels through Europe.

The patio's small seating area is positioned around a Buddha statue and against a backdrop of paperbark maples. The larger furnished space is accented with glazed pots in sea blue and yellow. Here, Cicarella has created a dining area with a round granite tabletop on an iron base she found at an estate sale. Aged foundation stones and layers of shrubs further enclose the space.

"We're out here all the time," she says. "We eat dinner, read the Sunday paper … entertain friends and watch our little grandchildren run down the paths."

From the patio, broad stone steps descend to the open lawn that extends 90 feet to the rear of the property. Cicarella marks the transition with arching redbuds and large urns overflowing with dragon-wing red begonias, chartreuse sweet potato vines and fan palms.

Located at the rear of the yard, the blue-sided garden shed features a hand-lettered inscription from Rudyard Kipling's "The Glory of the Garden" on its facade: "For where the old thick laurels grow, along the thin red wall, you will find the tool- and potting-sheds which are the heart of all." It provides an idyllic backdrop for a pint-sized pond and stacked-stone waterfall accented by a red bench and "Ed Wood" Japanese maple.

In the far corner of the property, Cicarella designed a second dining patio that features a ribbon of bluestone. She explains that the niche was a favorite place for family dinners when her three kids were growing up.

Nearby, two regal urns with dramatic magenta dracaena leaves and snow-like euphorbia flowers denote the opening to a shade garden. A stone Hindu goddess at the end of the weathered brick path beckons visitors to wander among the ferns, hostas, barrenwort and ligularia that line a small stream.

Cicarella is an advocate for planting backyard nectar and pollen sources to help sustain the endangered monarch butterfly and declining bee populations. She installed a pollinator garden in an open flowerbed where she lost a large pine tree. The open and sunny area created a place to grow pollinator favorites such as joe-pye, butterfly weed, catmint and swamp milkweed. She even added two boxes for beekeeping. Last summer, Cicarella combined her art and gardening interests to launch Bikes, Bees & Butterflies, a public art project to promote urban sustainability.

She recruited local artists to re-create discarded bikes as pollinator habitats. Sporting butterfly wings, bright colors and baskets filled with pollinator plants, the sculptures were displayed at sites throughout the Cuyahoga County, including the Children's Museum of Cleveland.

"Every client I design for now gets a pollinator plant," says Cicarella. "One third of all the food we eat is pollinated by bees, so we need to help them be successful by providing forage in our backyards."

Ann Cicarella's garden will be featured as part of The Garden Conservancy's Open Days Tour, July 19 from 10 a.m.–4 p.m. For more information, visit gardenconservancy.org.


***
Container Pointers
Ann Cicarella pots more than 100 containers for clients each year, not to mention the 92 found in her own backyard. We asked her advice for creating a beautiful (and successful) container garden arrangement of your own.
• Start with a Nutrient-packed Potting Mix:
Cicarella combines one bag (3 cubic feet) of organic potting soil, such as Happy Frog, with equal portions of an organic soil conditioner, such as Sweet Peet, and two cups of a time-release fertilizer (Cicarella says she prefers Osmocote).
• Go Big with Pots:
"Instead of using lots of small pots, make a statement with a large single one," says Cicarella. "Even on a small property, just one big piece can make a large gesture." The large pots in her backyard stand 3 feet tall or more.
• Select a Focal Plant:
Cicarella recommends big tropical plants with fantastic foliage. "I want my focal plant to have a great architectural presence and an exotic air,"she says. Her suggestions include birds-of-paradise, dark burgundy cannas, banana trees, tree-form crotons, agaves, Chinese fantail palms, large scheffleras and philodendrons, including split leaf and elephant ears. Prevent root girdling among these plants by scoring the root ball with four to five vertical slits about 1/4-inch deep. "It will shock them initially, then they will take off," says Cicarella.
• Add Interesting Accent Plants:
"I love popping in unexpected elements," says Cicarella. Try a striking succulent such as black tree aeonium. Its fleshy, burgundy-black leaves form showy, flower-like rosettes.
• Fill with Contrasting Colors and Textures:
Surround a focal plant with a secondary cast of plants. "I play with colors ... silvery gray leaves and dark burgundy ones, or textures like fluffy, spilling plants around large tropical ones." To get a jump-start, Cicarella purchases hanging baskets of filler plants to use whole or split into halves and thirds.