Home + Garden
How to Plant a Native Ohio Garden
Terri and Randy Litchfield created a living landscape of native plants outside their Delaware home. Here's how you can, too.
March/April 2023
BY Teresa Woodard | Photo by Randy Litchfield
March/April 2023
BY Teresa Woodard | Photo by Randy Litchfield
It's 7 a.m. in mid-July and time for Terri and Randy Litchfield's daily huddle to explore the eco-friendly native gardens they planted around their backyard in Delaware, Ohio. Terri heads down a sunny path and points to a royal catchfly with red blooms hummingbirds love, bee balm flowers (a favorite of bumblebees), purple coneflowers for Easter tiger swallowtails and plenty of milkweed for hungry Monarch caterpillars.

Once a barren landscape, today this 1.3-acre property is packed with native perennials, shrubs, trees and vines and abuzz with the wildlife they support. Near a clump of switchgrass, Randy stops to inspect blades lined with long-horned bees notorious for the males' charmingly long antennae.

"They'll cluster here overnight," says Terri, explaining that during the day they work as specialist pollinators collecting pollen primarily from plants in the aster family. "It looks like a bumble of bees."

And that's the intent of the Litchfields' garden.

"By growing these plants that insects depend on, they do show up," she adds.

The latest tally: 17 bee species, 13 wasps and hornets, 37 adult lepidoptera (moths and butterflies), 18 caterpillar lepidoptera, 18 flies, nine dragonflies and damselflies, and 34 other insect and arachnid species.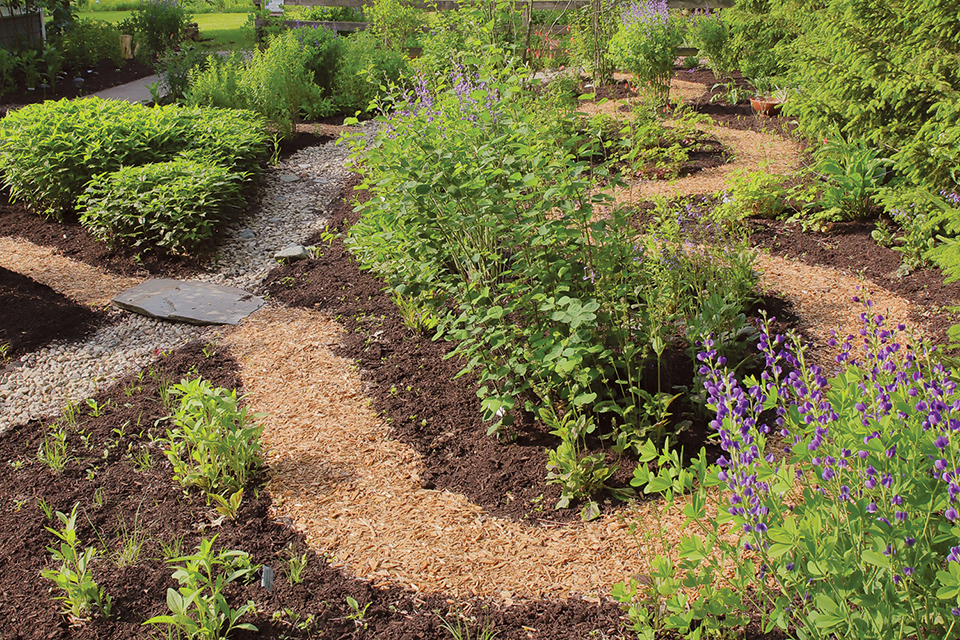 The Litchfields are part of a growing movement of homeowners forgoing trophy lawns in favor of naturalistic native gardens. Once viewed as unsightly weeds, native plants are now all the rage in gardening circles. In Ohio, garden centers are stocking up on natives to meet demand, and a new generation of landscape designers are promoting stylized prairies, woodland wildscapes and pocket pollinator gardens. Thanks to the pandemic lockdown, more and more gardeners are sowing plants, including many natives.

Ohio garden groups are hosting native plant sales and presenting workshops featuring native plant champions like Doug Tallamy, author of Nature's Best Hope and founder of Homegrown National Park, a grassroots effort to enlist home gardens in restoring biodiversity on a collective scale to rival the national park system.

"Native plants support biodiversity, and loss of biodiversity is such a big concern worldwide," says Terri.

When the Litchfields got started 20 years ago, they were among a handful of native gardening pioneers with limited information and plant material. They started with a series of raised beds at the back of their property and filled them with flowering prairie plants and grasses. Project by project, they removed more lawn, ripped out invasive thugs like Callery pear trees and created pocket gardens — along the neighbor's split-rail fence, under a maple tree, around an old swing set and in front of a grove of spruce trees. Eager to learn more, they enrolled in a master gardener training program.

Inspired to further expand, the challenge came in creating an aesthetically pleasing design.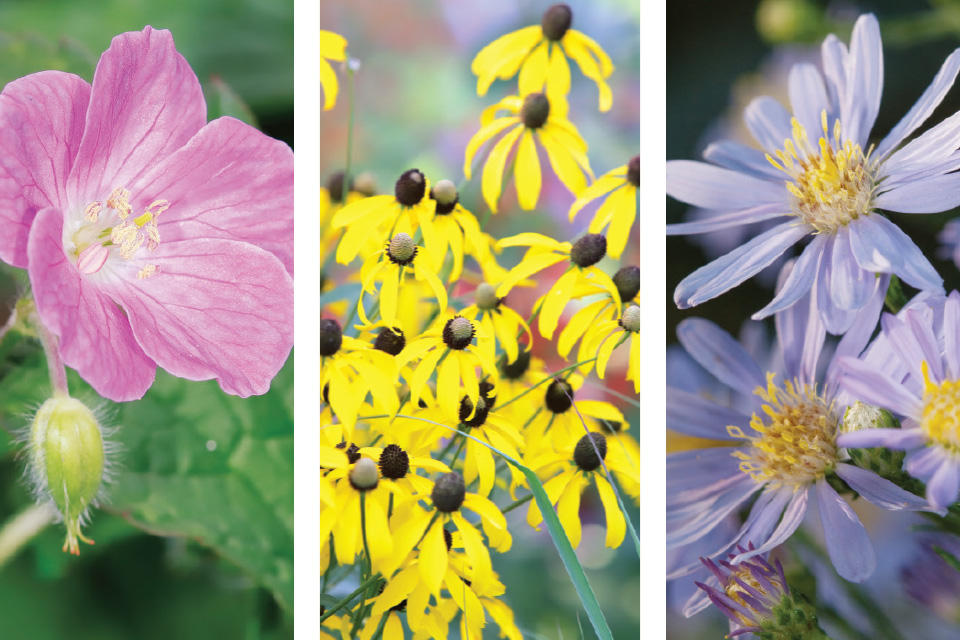 "Up to that point, we did things ad hoc," says Randy, explaining things shifted in 2017 when they developed a master plan to connect their existing mishmash of beds into a cohesive design that wraps continuously around the backyard. The design involved curved lines, vertical layering and seasonal interest with inspiration from the Living Landscape book. Ultimately, they hoped to create a defacto demonstration garden to share with others.

"Overall, we took out 8,000 to 9,000 square feet of turf and converted it to native gardens," says Randy, noting it reduced mowing time by 45 minutes, saved on lawn treatments and also boosted the backyard biodiversity.

Terri went on to launch a native plant-growing initiative for her master gardener group's annual plant sale. At her home, she started seedlings in raised beds once used for vegetable gardening and enlisted other master gardeners to grow even more. The first year, the group sold 400 native plants, and the program continues today with the support of Delaware's Stratford Ecological Center, where the majority of plants are now grown.

Terri and Randy graciously share their native gardening expertise. Terri teaches workshops on gardening with native plants, while Randy, a theology professor, speaks about attentiveness in the garden. The couple also hosts open tours of their garden throughout the summer. Randy developed a passion for photography, visually recording the backyard's plants and the pollinators that visit them.

"Macro photography helps me see all that we're gardening for," he says. "All the flies and insects. You have to pay attention to see them."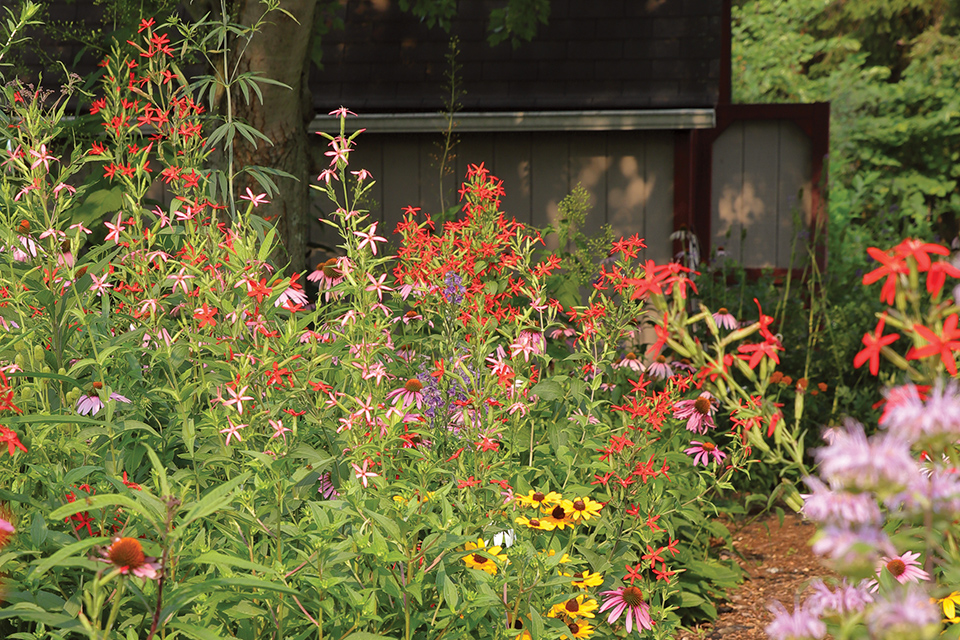 Randy uploads images to iNaturalist, an app that helps scientists track biodiversity worldwide. Terri, a newly retired database designer, labels the plants and keeps a comprehensive database of their garden's 275 species. (She was recognized as Outstanding Master Gardener Volunteer at The Ohio State University Extension awards in 2021.)

While many assume native gardens don't require care, the Litchfields say they can be quite challenging and have learned several clever solutions from their experiences.

First, they've learned to tightly space new plants when installing a new garden.

"The higher we get the plant density, the less weeding is required," says Terri.

Second, they learned to cluster weaker-stemmed plants with stronger companion plants that act as natural supports.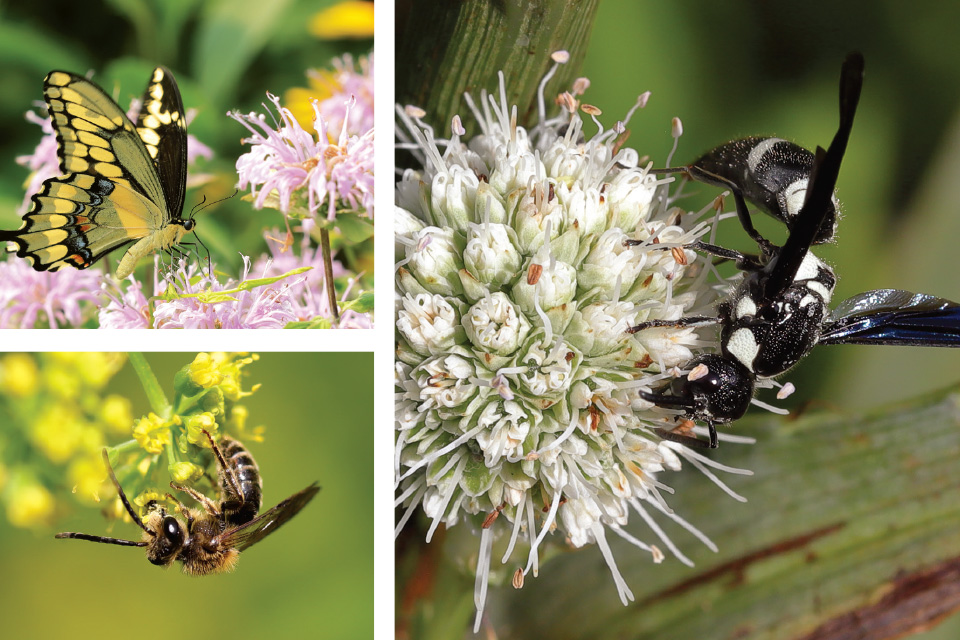 Third, they learned the value of consistently watering new plants to help their roots establish the first year, then offering supplemental water during drought times. They installed nine rain barrels and a pump to help with the task.

Fourth, they learned the importance of pulling weeds before they go to seed. Finally, they have installed wood-chip paths to allow easy access to the gardens and are experimenting with applying corn gluten on the paths to help minimize weed growth.

"For both of us, paying attention to what's right in front of you is really important in gardening in a native landscape," says Randy. "Being able to be present, to see what's going on and to learn from the plants and the soil requires an attentiveness.

"It's also a big part of the joy of gardening," he continues. "When we're out there gardening, there's this awareness of being surrounded by life, by microbes in the soil and by insects. It's like taking a life bath."

---
How to Plant a Native Pocket Garden

1. Choose a Site: Understand prairie plants need open sunny spaces (minimum six hours sunlight), while shady areas under trees support a different set of native plants. Also, wetter, low-lying areas need more water-loving plants like cardinal flower and Joe Pye weed. "When you look at the property, we have a lot of little microhabitats on this little footprint — full sun, dry shade and wetland swale," says Randy.

2. Select Plants: Research and select a mix of plants to fill the space given the light and growing conditions. Consider ones with different bloom times, so nectar is available for pollinators from early spring to late fall. Also think about the purchased plant's size. The Litchfields start with smaller plant plugs in 2-inch pots. For faster results, choose mature ones in larger pots.

3. Prepare Soil: Mow turf areas low then cover area with cardboard and a layer of mulch to smother the turf.

4. Install plants: Dig a hole through the mulch, cardboard, dead turf and soil. Place the plant in the hole and fill around it with existing soil and a scoop of compost. Plant densely to minimize weeds. Be patient as perennials are known to sleep, creep and leap — sleeping the first year, creeping the second year, then leaping the third year for a fully mature planting.

5. Consider Design: Use a garden hose or spray paint to mark the outline of the garden; consider soft curved lines or more modular lines depending on your style. Arrange tall plants in back and shorter ones in front. Add paths for easy access and create a clean edge along the border.

6. Add Accents: Intersperse art to complement the space. Try colorfully painted tuteurs or butterfly sculptures. Also, consider a stone or brick border, a bird feeder or birdhouse, or a Monarch Watch sign.

7. Maintain Garden: Learn to identify and remove weeds, especially before they form seeds, multiply and squeeze out new plants. Keep new plants watered the first year until their roots are established, then water supplementally during drought periods. Note, native plants can withstand drought conditions but will bloom better and more fully support wildlife when given supplemental water.

---

Where to Learn More
Here are websites, events and books that can help broaden your knowledge of native plants.
Websites

Delaware County Master Gardener Association
delcomga.org/education/how-to/grow-native-plants

Ohio Native Plant Month (April)
ohionativeplantmonth.org

Homegrown National Park
homegrownnationalpark.org

Events

Cincinnati Zoo Native Plant Symposium:
Nov. 18, Cincinnati
cincinnatizoo.org

Midwest Native Plant Conference and Sale:
July 28–30, Beavercreek
midwestnativeplants.org

Books

Midwest Native Plant Primer
by Alan Branhagen

Planting in a Post-Wild World
by Thomas Rainer and Claudia West

Pollinators of Native Plants
by Heather Holm

Native Plants Sources

Spring Native Plant Sales
Several public gardens host native plant sales. While there, also check out the native plant gardens for inspiration.

Aullwood Audubon Native Plant Sale (April, Dayton)
aullwood.audubon.org

Chadwick Arboretum Spring Plant Sale (May, Columbus)
chadwickarboretum.osu.edu

Cincinnati Nature Center Native Plant Sale (April, Cincinnati)
cincynature.org

The Dawes Arboretum Spring Plant Sale (May, Newark)
dawesarb.org

Holden Arboretum Spring Plant Sale (April 24, Kirtland)
holdenfg.org

Marianist Environmental Education Center (June, Dayton)
meec.center

Toledo Zoo Native Plant Sale (Spring, Toledo)
wildtoledo.org

The Wilderness Center Native Plant Sale (April, Wilmot)
wildernesscenter.org

Soil & Water Conservation Districts' native plant and tree sales (statewide)
ofswcd.org

Native Plant Stores
While plenty of local garden centers offer native plant collections, a few stores specialize in native plants and are worth the drive.

Companion Plants (Athens)
companionplants.com

Natives in Harmony (Marengo)
nativesinharmony.com

Scioto Gardens (Delaware)
sciotogardens.com

Down Nature's Path (Greenville)
dnpnatives.com

Five Springs Farm Nursery (Athens)
fivespringsfarm.com

Keystone Flora (Cincinnati)
keystoneflora.com

Leaves for Wildlife (Sunbury)
leavesforwildlife.com

Meadow City Native Plant Nursery (Cleveland)
meadowcitynursery.com

The Milkweed Patch (Troy)
themilkweedpatch.com

Native Ohio Plants (Tipp City)
nativeohioplants.com

Plant It Native (Willoughby)
plantitnativeohio.com

Riverside Native Trees and Shrubs (Delaware)
riversidenativetrees.com

Wild Hare Prairie Native Nursery (Clintonville)
wildhareprairienativenursery.com