Home + Garden
Step Inside Fremont's Historic Dillon House
Charles Dillon began building this grand home in 1873. Michael Free II lives there today and has merged the property's Victorian touches with his own creativity.
March 2020
BY Kristina Smith | Photo by Casey Rearick
March 2020
BY Kristina Smith | Photo by Casey Rearick
A warm blaze gently crackles in the white marble fireplace as a heavy wind whistles outside the front windows. Two velvety couches lined with colorful throw pillows face each other in front of the fire, and a mix of photographs — mostly vintage floral scenes that are all different but perfectly blended — decorate the walls.

The parlor is warm and inviting, the kind of place to cuddle up with a book or catch up with family and friends. This is the environment Michael Free II wanted to create when he bought Fremont's historic Dillon House in 2013.

"It gives off a good vibe," he says. "It's welcoming. There's such a good aura about the house."

Free refers to himself as the caretaker of the home, which is located in one of Fremont's historic neighborhoods and across the street from the estate of 19th U.S. President Rutherford B. Hayes. The two-story structure with an attic tower stands out among its elegant neighbors for its classic Victorian architecture, beautiful brick work and perfectly manicured facade and lawn.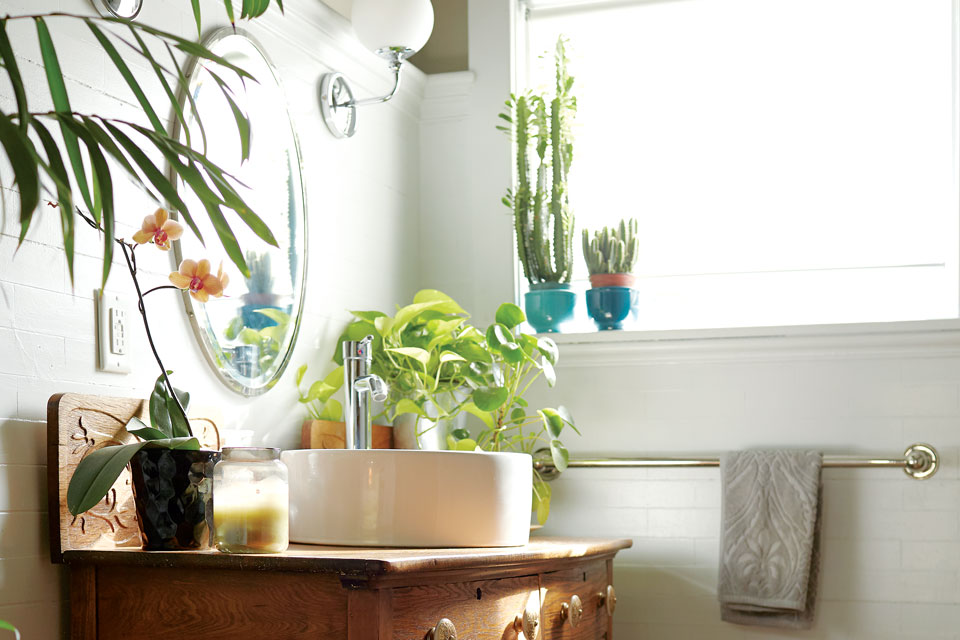 Charles Dillon, founder of the Grund Drug that's still in business today just a few blocks away, built the home between 1873 and 1875. His wife, Ann Kent Buckland Dillon, was the daughter of Civil War hero Gen. Ralph Buckland of Fremont. The couple had eight children, and various family members lived in the home until 1960.

"There is so much history here," Free says. "I feel like [the Dillons] are family. They were very welcoming people."

Like Free, the Dillons enjoyed entertaining in the spacious home. Their daughter, Mary, was married here, and the event was reported in the local newspaper's society column. A leaded glass window at the top of the ornate walnut staircase in the entry hall is believed to have been installed just for the occasion. It's still there.

But Free has also made the home his own, a reflection of his personality, style and talent for taking antique items and turning them into unique furnishings. Free, who grew up on a farm in the southern Ohio village of Otway, has always loved old houses and shared that passion with his grandmother. They would spend hours driving through the countryside, looking at old, abandoned houses.

"She would say, 'If those walls could talk, I bet they'd have stories,' " he recalls. "We had a special bond."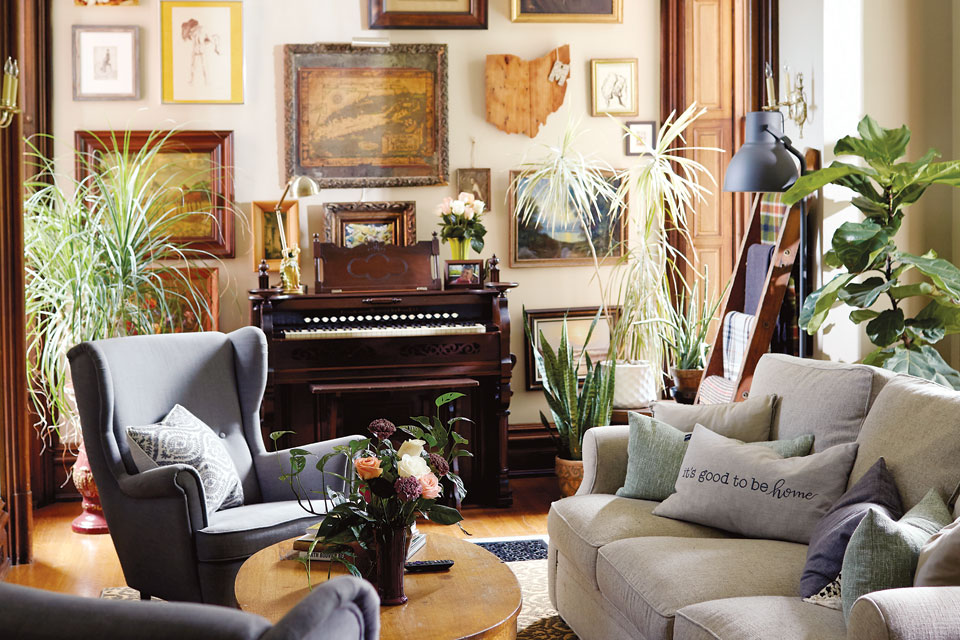 When the Dillon House went up for sale, Free was living a few streets away, in a small, historic cottage he had renovated. Remembering all those drives with his grandmother, he knew he had to make an offer on the famous Fremont home.
"Living here, I got above and beyond what I could have imagined," he says. "Just the craftsmanship — they don't make houses like that anymore."

When Free opens the home's wooden front doors, they reveal a small foyer typical of grand Victorian houses and a large entry hall with an ornate staircase leading to the second floor. The perfectly preserved wood floor, with alternating planks of chestnut and walnut, stands out for its light-and-dark striping effect, and crystal chandeliers hang from the vaulted ceiling.

At the end of the hall leading into the kitchen, an antique cabinet is filled with vintage Fiestaware. Free collects the brightly colored, American-made dinnerware that's still crafted in West Virginia today. The kitchen is Free's favorite room, and he has remodeled it extensively, creating lots of counter space for preparing meals and roasting coffee.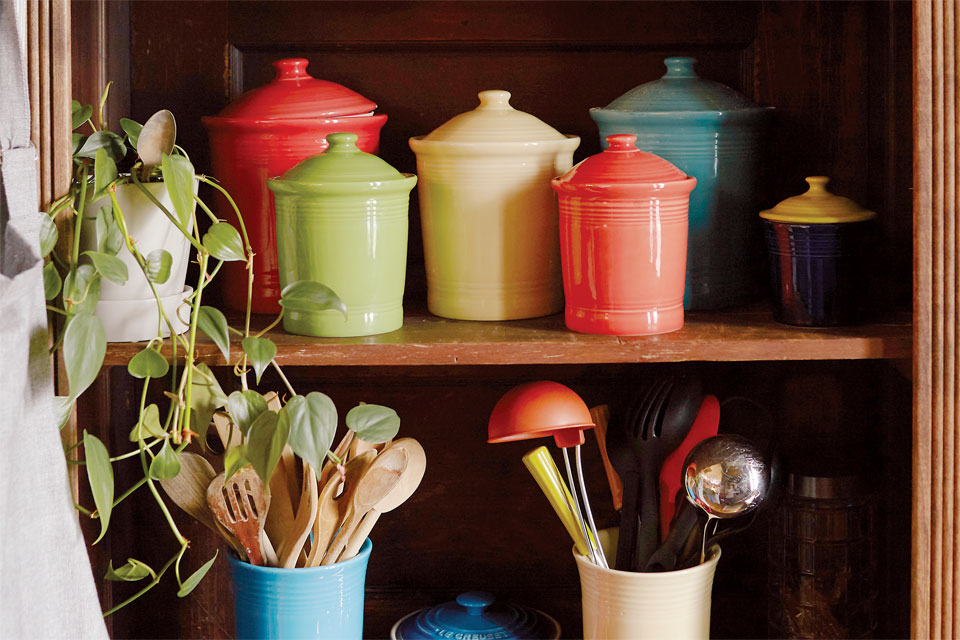 "The kitchen is the heart of the home," he says. "When I have people visiting, we're in here. It's a good hangout."

At the center is an island that Free made from an antique dresser and the top of a workbench that he sanded, stained and sealed. Using wood from an old factory, he built the wall cabinets next to it.

He also cut and finished the concrete countertops, which match an old concrete sink a family friend gave him from her farmhouse years ago. Free made the kitchen's two wooden butcher blocks, and the backsplashes are subway tile he installed. On the counter sits a real pineapple, not far from a metal sculpture of a pineapple. The fruit is a theme throughout the house in little accents like ornaments on the china-cabinet door.

"I love pineapples," says Free, as he shows a tattoo of one on his arm. "It means hospitality and friendship."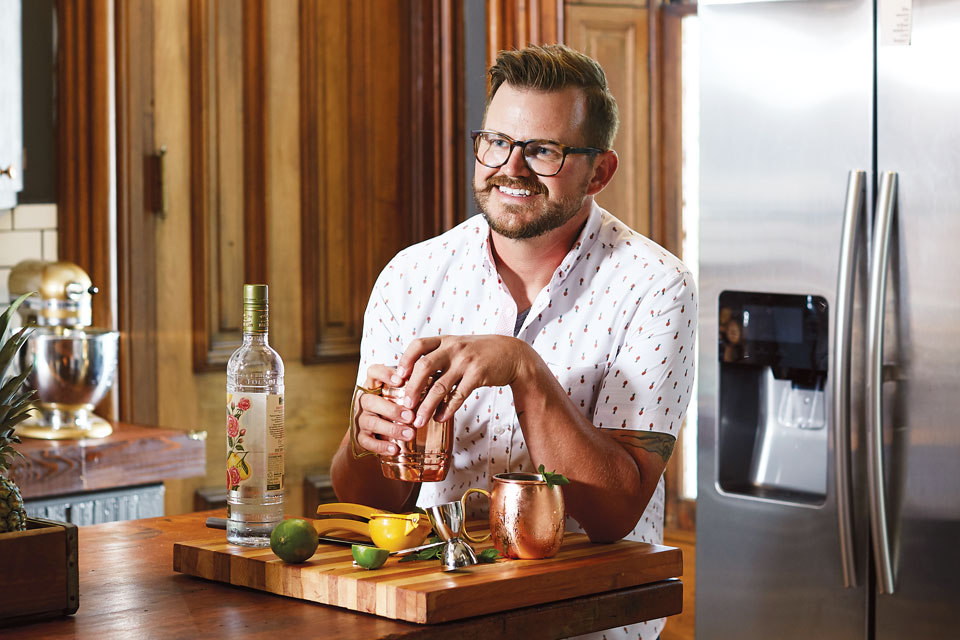 A substation electrician, Free has a talent for fixing and building things, which has come in handy with all the work a 4,606-square-foot home with five bedrooms needs. Throughout the house, his unique taste and his vision for decorating are evident.

In the library, where Free houses about 30 finches in several large cages, the wooden bookcases are topped with various busts, including classical figures and President John F. Kennedy. On one wall, three prints from an antique Audubon bird book he bought in New Orleans hang on the wall in frames hand-built with scrap wood. Below them is a black-and-white picture of Free's grandmother when she was a girl.

A unique set of paintings and photographs hangs on the walls in each room. The downstairs bathroom features a Victorian-era portrait of a stern-looking girl, a painting of a gallant-looking fellow with a pipe and others looking down from above the clawfoot bathtub, antique clawfoot foot-washing tub and old-fashioned chain-pull toilet. The effect is humorous, fun and historic — all at once.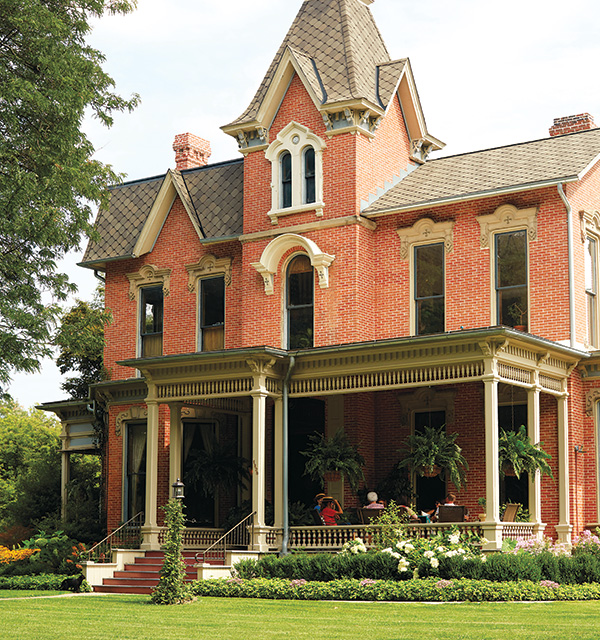 "I'm a very eclectic person," Free says. "It all seems to flow really well. I didn't want to do full Victorian. I guess I'm a modern Victorian."

Upstairs, each bedroom is opened with a skeleton key and has its own name, matching its theme. The Tangerine Room has antique wallpaper featuring Asian scenes in a tangerine color. The master bedroom lined with four tall windows is the Jade Room due to its calming light jade hue and paintings of tranquil beach and nature scenes.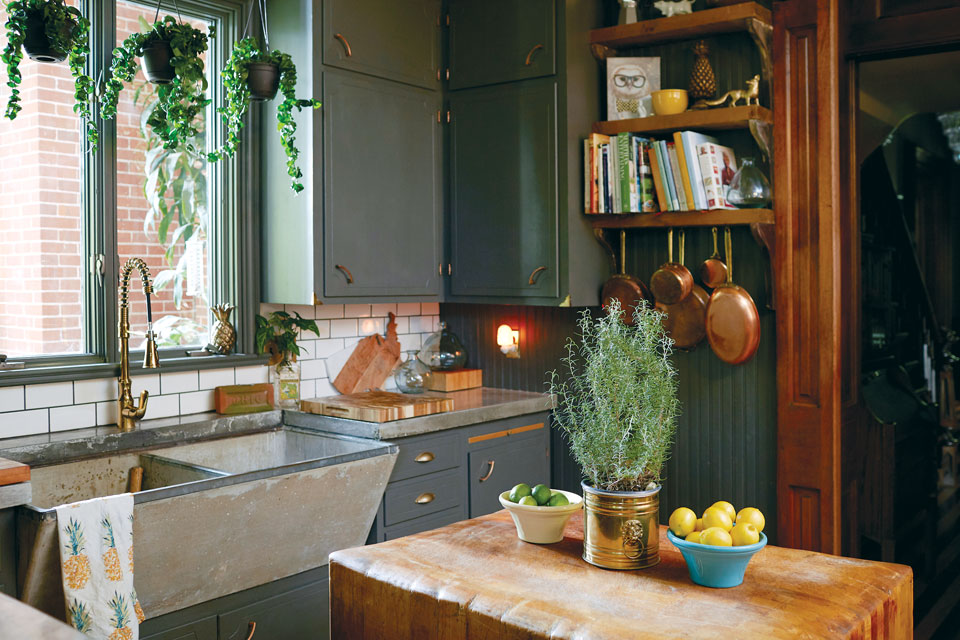 In some of the rooms Free hasn't fully refurbished, he shares his vision for future work. As he talks about creating a shower stall using reclaimed factory windows or painting a guest room a dark charcoal but keeping the stenciling on the wall, it's evident he sees the plans in his mind and is already picturing colors and wall hangings.

At the back of the house is a servants' staircase, which is common in homes of the era, next to what was the maid's room. It leads back down to the kitchen. The staircase wall is lined with historic sketches of Fremont landmarks, including the Dillon House.
Each painting, picture and decorative item throughout the home, Free carefully hand-picked at estate sales, thrift stores and during his travels. Some items, such as a still-life painting in the dining room and the old pump organ in the front parlor, are believed to have belonged to the Dillons and have been acquired by Free since he bought the house.

"I know in my mind what I'm looking for," Free says. "It's a hunt. Finding something is very rewarding."

To see more of Michael Free II's home, follow @the1873dillonhouse on Instagram.