Home + Garden
Parade of Color
Beth Karp's Indian Hill garden shines in summer, but careful planning makes it a year-round gem.
April 2016 Issue
BY Teresa Woodard | Photo by Kelly Wilt
April 2016 Issue
BY Teresa Woodard | Photo by Kelly Wilt
Beth Karp looks out her bedroom window in delight as she points out the pink and purple pops of color in her shade garden. The vibrant primroses are part of the procession of hues that march their way across her 3-acre yard as the weeks and months pass by.

Pink astilbe plumes and purple ajuga mounds shine against a lush backdrop of bright green ostrich ferns, a medley of hostas and a tapestry of evergreen conifers. At the front of the brick ranch home, located in the Cincinnati suburb of Indian Hill, a neatly clipped boxwood hedge frames a courtyard filled with cheery blue and white flowering plants.

"I love the beauty of Ohio's four seasons," says Karp, "and the opportunity to experiment with so many different plant varieties throughout the year."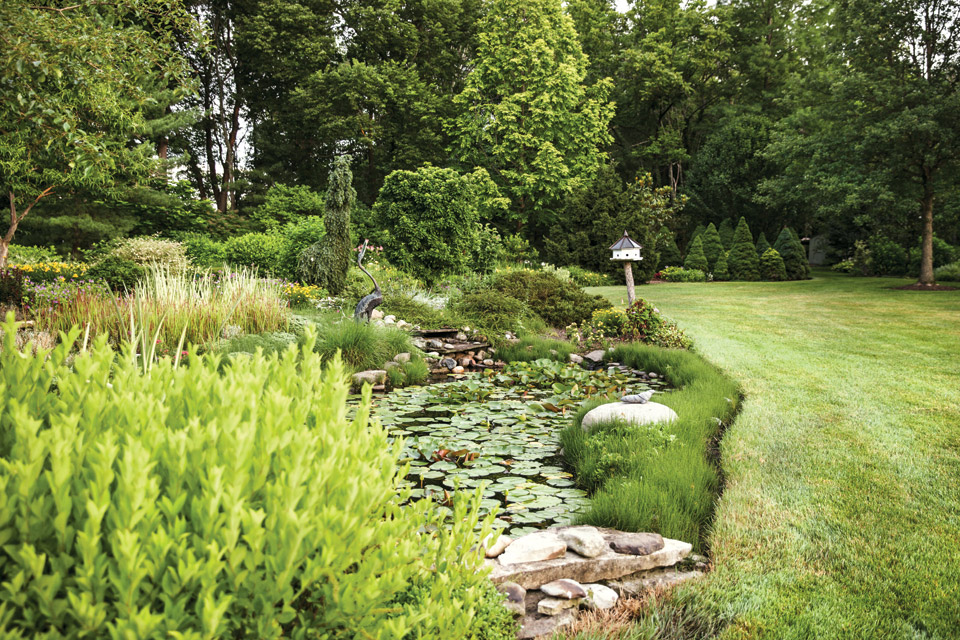 In 1993, Karp and her husband, Jay, moved with their three teenage children to the village of 5,900 residents known for its quality schools and plentiful green spaces. But when the family arrived at their new home, they found the property was covered with briars and honeysuckle, waterlogged by underground springs and inhabited by grazing deer.

"I came to accept there was little I could do about the soggy ground," Karp says, "so I learned about a new set of plants that can survive in those conditions."

Starting in the driest spot she could find — just outside the home's front door — she created a courtyard and enclosed it with walls of brick columns and boxwood hedges. She then planted perennials with blooms in white and her favorite color, blue. In May, the space bursts with white tulips, alyssum, roses, blue salvia, larkspur and African lilies. It's here that Karp cultivated the design style she refers to as "formality with a free-for-all behind the formality."

Over the next few years, she tackled the soggy backyard by adding a drainage swale and planting water-loving trees such as willows, bald cypresses and dawn redwoods. She dug out the property's muck-filled pond and expanded it to 15 feet. She built a hill just beyond it and added a smaller, upper pond, and then connected the two with layered plantings.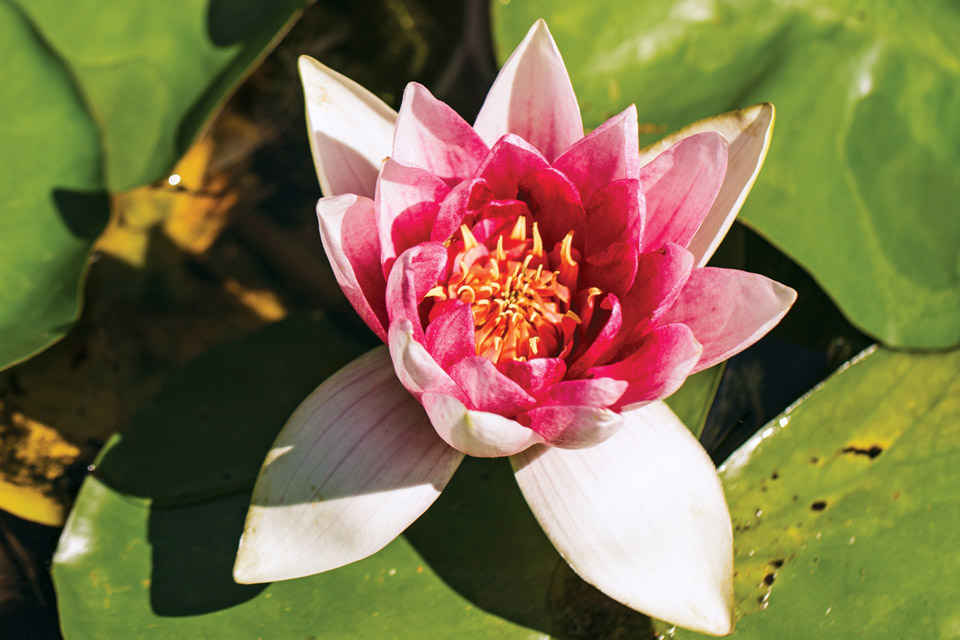 "I design from views inside the house and wanted to break up the flatness of the garden," Karp explains.

As she experimented with more plants, Karp began adding those that could provide color and beauty throughout the seasons, even if they were more challenging to cultivate. For early spring, she lined the paths of her woodland garden with candelabra primroses and then added daylilies and hydrangeas for plenty of summer color.

For later in the season, Karp sought out plants with vibrant fall foliage and interesting textured bark, as well as various conifers that would carry through into the winter landscape.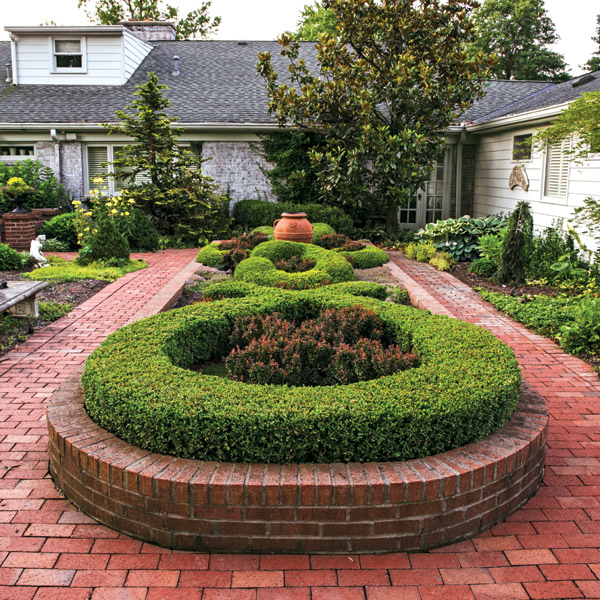 "I buy three of each plant and put them in three different places to see what location is best," she says. "I usually get one that works."

So, as tulip blooms fade in late spring, successions of irises, daylilies, hydrangeas and fall asters unfold. Two decades of tweaking on Karp's part has resulted in a garden packed with year-round splendor.

"Unlike many plant collectors' gardens, this one never suffers from a lack of cohesion," says Scott Beuerlein, a horticulturist at the Cincinnati Zoo & Botanical Garden. He coordinated a tour of Karp's yard for the national Perennial Plant Symposium in 2014.

"The garden sweeps across the horizon with a master's touch of texture, color, masses, repetition and a steady diet of focal points," Beuerlein adds. "Plus, it's amazing that this very large, ambitious garden is all maintained by this one, petite woman who does this in her spare time after tending a robust list of clients' gardens."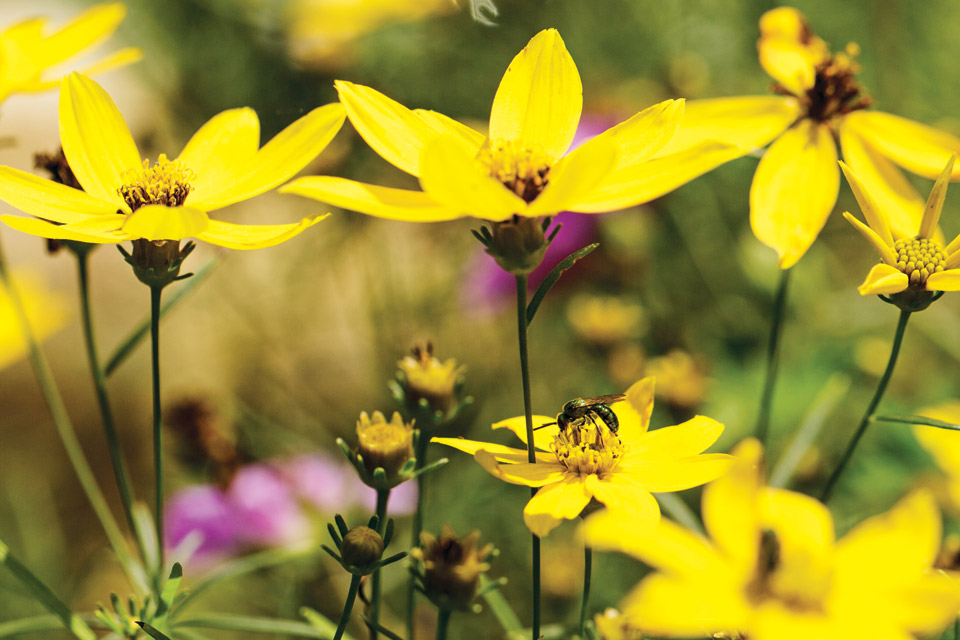 In 1999, Karp started her own landscape design business after her interior decorator introduced her to a woman who needed help preparing her 20-acre property for her daughter's outdoor wedding. The two-year project led to other jobs and eventually 15 clients. Today, Karp has downsized her business, focusing on container designs and entry gardens. Still, her own backyard care usually remains on hold until early June, once her clients' projects are completed.

Over the years, Karp has added a hosta shade garden, a woodland perennial garden, a conifer rock garden, a stone-edged vegetable garden, a knot garden and brick patios to her property. She also installed a tall nylon fence around it all to keep the deer out. Beyond botanicals, Karp collects benches, stones and statues to hide among the garden's twists and turns. She suspends an iron spider from a sweetgum tree and fills a birdbath with succulents in rosette and spiky forms.

"I intermix sculptures and furnishings, especially architectural salvage from local antiques shops," Karp says.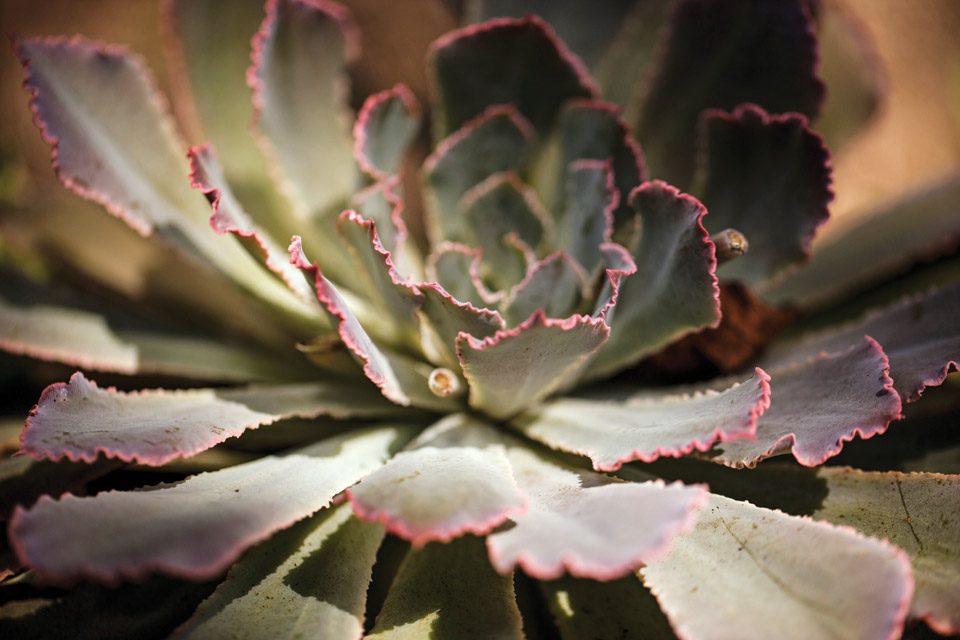 A self-taught garden designer, Karp attributes her horticultural and design wisdom to reading books (Michael Dirr's gardening tomes are her favorites), visiting other gardens, and trial and error in her own backyard. And, yes, this consummate gardener is forever tinkering with plants (a Lemony Lace elderberry and cistena plum sit near her garage as they await a spot in Karp's ever-evolving yard) and learning plenty along the way.

She confesses she's tried many times to defy Ohio's tough winters and growmore delicate plants that look so tempting in garden catalogs.

"I used to [think] I could grow anything, but now I've come to realize with some less-hardy plants — like daphnes — you're just pushing money in a pile and lighting a match."

***

How-To: Create a Four-Season Garden
Garden designer Beth Karp spent more than two decades experimenting with plantings to create a yard that dazzles year-round. Here's her advice for how you can do the same:

Spring Favorites
Candelabra primroses put on a six-week show along Karp's woodland paths. The plants send up tiers of blooms in varying shades of pink. "They bloom [continuously] five times, plus they self-sow," says Karp, who appreciates how the plants drop seeds that sprout the next season. She also loves irises such as Louisiana, Siberian and Japanese, as well as hellebores for long-lasting blooms and attractive foliage.

Summer Show
Hydrangeas are a dominant summer feature in Karp's landscape. "I have every hydrangea known to man," she says, naming Endless Summer and Limelight among her favorites. For a riot of color, try hardy hibiscus, Pink Velour crepe myrtle, rose of Sharon and kalimeris (Japanese aster).

Fall Stars
Karp's favorite fall perennials include Japanese anemones and helianthus. For trees with colorful fall foliage, she suggests Japanese maples, black gum and Persian ironwood. "Besides the colorful foliage," says Karp, "what I really like about fall is how the annuals and perennials often rebloom and look so much more vibrant than the summer when they can get washed out in the hot sun."

Winter Interest
Karp advises selecting varying shapes and textures that bring beauty to the winter landscape, including evergreen boxwoods and conifers, winterberry for its red fruits, magnolia australis for its shimmering green leaves, paperbark maple for its peeling bark and cardinal dogwood for its showy orange-red stems. "In winter, I love looking outside to see statuary with evergreens backing them up."