Home + Garden
How to Make Healing Herbal Honeys
Dawn Combs crafts concoctions that boost health. Her book of recipes and new Soda Pharm shop in Marysville provide an opportunity to explore the benefits of her creations.
January 2020
BY Rich Warren | Photo by Eric Wagner
January 2020
BY Rich Warren | Photo by Eric Wagner
Dawn Combs opens a sealed container of a concoction she calls Fire Cider in the kitchen of her shop, Soda Pharm, in downtown Marysville. A brightly colored hodgepodge of reds, greens and whites appears, and almost immediately the aromas of vinegar, garlic, peppers and horseradish come wafting across the room.

But there's a "secret ingredient" missing in both the visual and aromatic qualities of the brew: honey. In her book, Sweet Remedies: Healing Herbal Honeys, Combs explores the synergistic effects of blending honey with herbs and other botanicals to bring a variety of health benefits. It's knowledge that's been around for centuries in the folklore and medicine of cultures across the globe that's now being validated by modern science. And Combs is a firm adherent to the wisdom of blending those ancient practices with modern botanical and medical research.

"There's a quote from Hippocrates I use as one of my guiding principles: 'Let food be thy medicine and medicine be thy food,' " she says. "I've always believed this philosophy to be a foundational guide to our health."

Few foods pack a more powerful medicinal punch than honey, as Combs' book explains. Not only does it modulate the immune system and can be a good source of antioxidants, it's also anti-inflammatory, antimicrobial and antibacterial. Combs says combining honey with the curative qualities found in herbs and other plants amplifies the beneficial effects of both, making the blend more powerful than its individual ingredients.

"There's something altogether magical that happens to both substances when they're combined," she adds.

Combs maintains that only raw honey — meaning honey that hasn't been pasteurized or heated — is effective as medicine. (She explains that heat destroys its curative properties.) Local honey is best, especially for those using it to treat allergies but also because supporting local beekeepers is good for the ecology of communities. Since the honey the bees make must be produced under certain conditions, Combs says most varieties found in supermarkets are not suitable for making medicine.

Combs began experimenting with honey 15 years ago, creating infusions by steeping herbs and spices in honey for weeks. Several years later, she started producing what's become her specialty: honey spreads — a blend of herbs in powder form to be mixed with honey — that can then be taken by the spoonful or used as spreads or marinades. Her motive was to get her son to start consuming herbs, which often can be bitter or have foul flavors. All this reflects another of Combs' guiding principles: flavor first.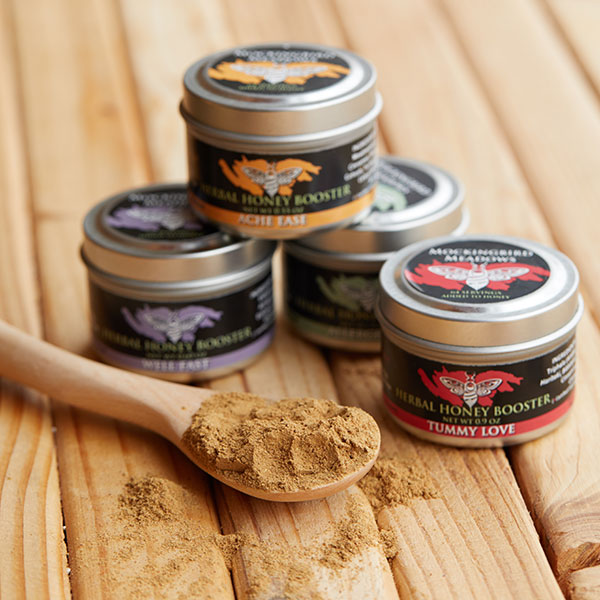 "Healthy food should be delicious, something you actually want to consume not just because it's good for you but because it's downright tasty," Combs says. "That's why you need to lead with the flavor."

Honey spread recipes in Combs' book include ones useful for pain relief, migraines, optimal digestion and congestion relief. Other sections cover making infusions and tinctures with herbal honey. Yet another part examines oxymels, which are mixtures of honey and vinegar. Combs' Fire Cider is one such example.

The book also covers fermenting honey to create probiotics, as well as making the honey and herbs into pills — a convenient option for those who travel. There's even a chapter on making drinks and desserts such as smoothies, honey-filled chocolates and honey cocktails.

Combs recognizes that only a fraction of her readers will go to the trouble of growing their own herbs or grinding them into powders. Health food stores are a good place to look for ingredients, or they can be ordered online at websites such as Mountain Rose Herbs, Starwest Botanicals or Frontier Co-op. All the powders Combs uses in the dozens of recipes in her book can also be ordered directly from Combs herself through her website, along with many of the products she makes with them.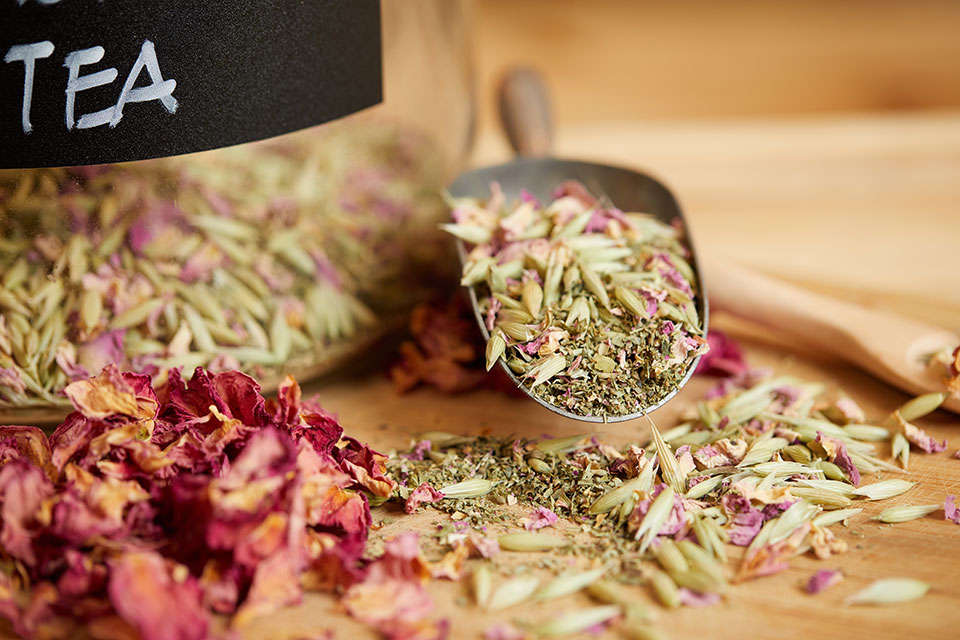 Combs says she believes regular use of herbal products helps maintain good health. She adds that they can be used as treatment for specific conditions or for the many colds and illnesses prevalent this time of year. Other tips she cites to fight colds and flus include avoiding refined sugars and flours and phlegm-creating foods such as dairy. Combs says it's also wise to consume lots of fluids, especially bone broth, and eat lots of foods like garlic, onion and ginger that support the immune system.
Combs is a certified herbalist and an ethnobotanist, who studies cultural connections with food. She's interested in folk practices in places like India, China and Africa, where food is used as medicine. Her studies have brought her renown, too. Combs speaks at conferences across the country and regularly contributes articles to Mother Earth Living, Heirloom Gardener and Hobby Farms.

Mockingbird Meadows, Comb's farm in Union County, has long been a mecca for students wanting to learn her techniques, and her shop in Marysville offers tasty concoctions such as sodas that support muscle and joint health, settle stomachs, combat allergies or just serve as a mood lifter. The array of herbal teas filling the shop's shelves have playful names like Swallowed Emotions, Barky Rooty and Cool Down. "Soda Pharm is like an old-fashioned soda fountain meets apothecary," says Combs
Dawn Combs makes concoctions that fight illness and boost health. Her book of recipes and new Soda Pharm shop in downtown Marysville provide an opportunity to explore the benefits of her creations.
And just like the honey concoctions in her book, you can be assured these nectars will nourish.

Soda Pharm is located at 123 N. Main St., Marysville 43040. For more information, call 614/354-5163 or visit sodapharmcafe.com.


RECIPES
Courtesy of Dawn Combs' Sweet Remedies: Healing Herbal Honeys. Photo by Joe St. Pierre and used with permission from Storey Publishing.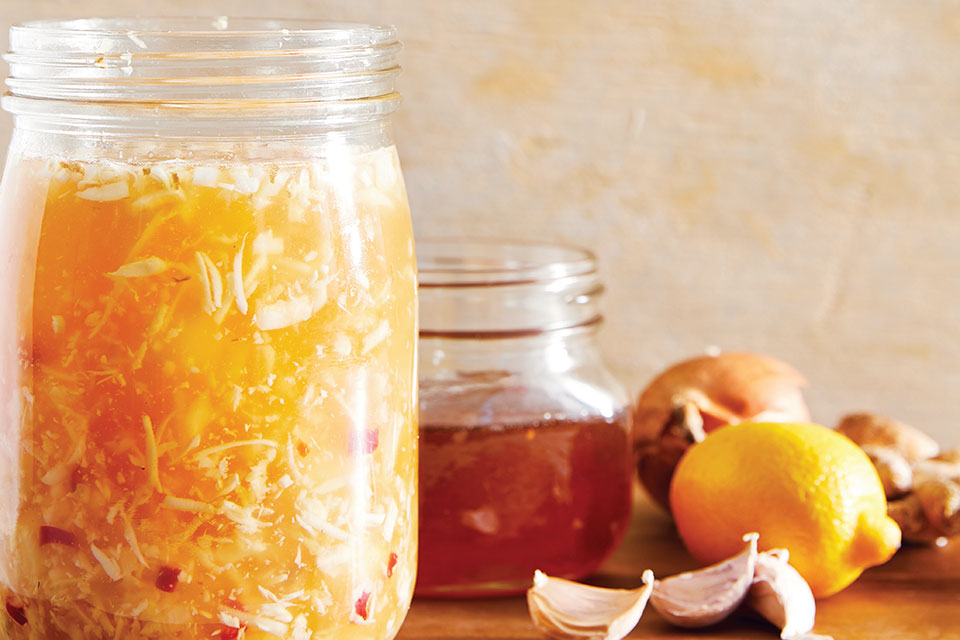 Rosemary's Fire Cider Oxymel
American herbalist Rosemary Gladstar wrote this recipe down and named it Fire Cider in the 1970s. Combs writes that "this important medicine should be made, shared and taught as often as possible." that this oxymel features the best herbs for supporting the immune system.

INGREDIENTS
1/2 cup freshly grated organic ginger root
1/2 cup freshly grated organic horseradish root
1 medium organic onion, chopped
10 cloves organic garlic, crushed or chopped
2 organic cayenne peppers, chopped
Zest from 1 organic lemon
Juice from 1 organic lemon
1 quart organic apple cider vinegar
1/4 to 1 cup raw local honey, more if needed

DIRECTIONS
Add the prepared roots, onion, garlic, peppers, lemon zest and juice, and enough apple cider vinegar to cover all in a quart jar. Lay a piece of natural parchment paper over the opening of the jar to keep the vinegar from touching the metal lid (or use a plastic lid).

Shake well. Store in a dark, cool place for 1 month and remember to shake often.

After 1 month, strain the concoction through a kitchen strainer, pouring the vinegar into a clean jar. Be sure to squeeze as much of the liquid goodness as you can from the pulp while straining.

Add 1/4 cup honey and stir. Taste your cider and continue to add honey in 1/4-cup increments until you reach the desired sweetness.

To Use: Just a tablespoon will support your immune system when everyone else is getting the cold or flu, but you should feel free to use this oxymel as often and as much as you like.

---

Well Fast Honey Spread
Dawn Combs created this spread for her family during a particularly tough cold and flu season. As she explains in her book, she "needed something to fend off winter germs that was so delicious I wouldn't have to chase the kids down to get them to take it." Over time, Combs has played with the proportions of herbal ingredients in her formula. It works well with equal parts, but you can adjust the amount of each individual herb depending on your taste.

INGREDIENTS
Powdered Herb Formula
1 part astragalus powder
1 part echinacea powder
1 part elderberry powder
1 part shiitake powder

Honey Spread
7 teaspoons powdered herb formula
1 cup raw honey

DIRECTIONS
Stir the powdered herb formula into the raw honey. Keep in a cool, dry area. Lasts indefinitely.

To Use: Enjoy 1 to 3 teaspoons daily.

---

Fermented Honey Garlic
Fermentation boosts the potent medicinal properties of both honey and garlic. This recipe originally created by fermenting expert, author and educator Kirsten Shockey has multiple uses, including brushing the garlic-infused honey over fresh baked rolls or drizzling it over a cheese plate. As Combs writes, "This will become a staple in your pantry, trust me."

INGREDIENTS
1 1/4 cups garlic cloves
1 1/2 cups raw honey, or to fill pint jar

DIRECTIONS
Peel garlic cloves. Press each clove with the back of a chef's knife to lightly bruise. This will release some of the garlic's juice, which will help stimulate the honey to ferment.

Place lightly crushed garlic cloves in a pint jar with a tight-fitting lid. Pour in honey to cover the garlic, leaving about 1 1/2 inches of headspace. This space is important as the honey will become quite bubbly and active, and the headspace will give the mixture the room it needs to keep from overflowing. Place lid on jar and tighten.

Place jar on the counter. Every other day, or more often as needed, crack open the lid and allow the carbon dioxide to escape. Retighten and turn the jar over and allow the honey to recoat the garlic that will float to the top.

Ferment for 1 month. The ferment will be ready when the bubbles start to settle, the honey becomes runny and the garlic develops a mellow flavor. Can be stored indefinitely at room temperature.