Home + Garden
Abel's Ohio Windsor Chairs, Newark
Windsor chairs date back to early America. Furniture-maker Bob Abel crafts them one at a time at his home workshop.
March 2015 Issue
BY Jill Sell | Photo by Kirk Irwin
March 2015 Issue
BY Jill Sell | Photo by Kirk Irwin
You smell the woodworking shop before you see it. It's like that good, damp aroma of mornings in deep woods. Inside the shop, small piles of sawdust and wood shavings create the feel of a spongy walk on a forest floor.

Bob Abel of Newark is the woodsman here, turning logs into custom-made, reproduction 18th-century Windsor chairs. The tools of the craftsman's trade — scorps, adzes, planes, rasps and rifflers — hang like a museum collection on the workshop's walls. Some are the same tools used by craftsmen 200 years ago to make the well-known style that is recognized by its spindles and steam-bent pieces of wood that are used to create the chairs' backs and arms. He scoured antique stores and flea markets to find many of the tools. A few he made himself because he wanted them to fit his hand just right, to sing when he touched them to wood.

Abel's workshop is attached to his home in Licking County's farm country, and his business, Abel's Ohio Windsor Chairs, is a one-man operation. He crafts about 20 chairs annually and almost everything is done with manual tools. Each chair's wooden pieces are turned by hand and there is no duplication of patterns. Each of Abel's creations is truly one of a kind.

"I work with green wood. If you want to shape wood and it is green, it's softer to turn in the lathe," he explains. "I get it from trees that are down on our property or from the neighbors and farmers. They know if a tree is down to call me. I like to split the pieces like firewood to make rounds. Then I put them in a dry place in my garage."

Abel also sometimes uses his kitchen oven to dry wood. With the interior light on, the inside temperature only reaches 100 degrees, what he describes as "perfect" for his needs.

"But it always seems like I need the oven the same time my wife does," says Abel. He and Connie have been married for 50 years, and they have three children and seven grandchildren. "So, I guess we go out to dinner then."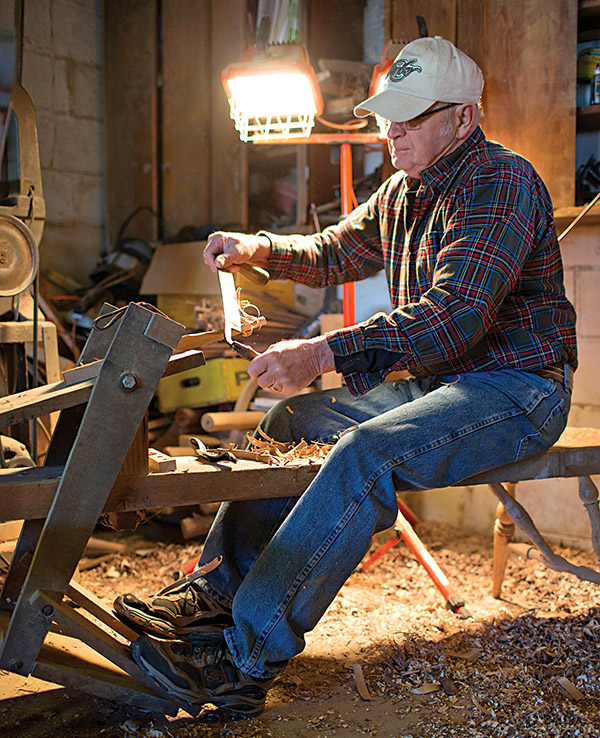 A welder and maintenance worker before retirement, Abel has also built houses, barns and cabinets over the years. But he became seriously intrigued with Windsor chairs when he picked up a book about the subject at a woodworking show. A short time later, in 1998, he founded his cottage industry.

"Bob's first chair wasn't a Windsor chair. I called it the Electric Chair," recalls Connie Abel, poking fun at her husband. "It was very, ah, manly."

But it was also a start. Abel refined his Windsor chair-making talent into one that is now appreciated by clients across the country. A few of his commissioned pieces are solid walnut or cherry, but traditional Windsor chairs are made with mixed woods and Abel respects that fact. He uses oak or ash for spindles, poplar for the seats and hardwood maples, including sugar maple, for his chairs' legs and stretchers. (The crosspieces attached to the legs on some chairs serve to create tension and eliminate slack.)

Connie sometimes helps when more than two hands are needed and has even helped steam the wooden chair parts to make them more flexible for bending. The couple at times personally delivers chairs and have traveled as far as Texas, Florida and California to do so.

Prices range from $350 for a Windsor child comb-back chair to $1,850 for a 7-foot Windsor continuous-arm settee. Abel's chairs grace high-end log cabin homes, western-style abodes and contemporary dwellings alike.

He is particularly proud of making Windsor chairs for his clients in New England, a hotbed for fine handcrafted, traditional furniture. American-made Windsor chairs popular in the late 18th century were originally inspired by those being crafted in Europe at the time, particularly England.

Most Windsor chairs share several similarities, including a thick seat that allows the legs and back to be attached securely and legs splayed at angles. American Windsor chair-makers in the 18th century and after made some changes based on wood availability and independent styling. For example, Abel says the seats, or saddles, on American-made Windsor chairs are carved deeper than those of their European counterparts.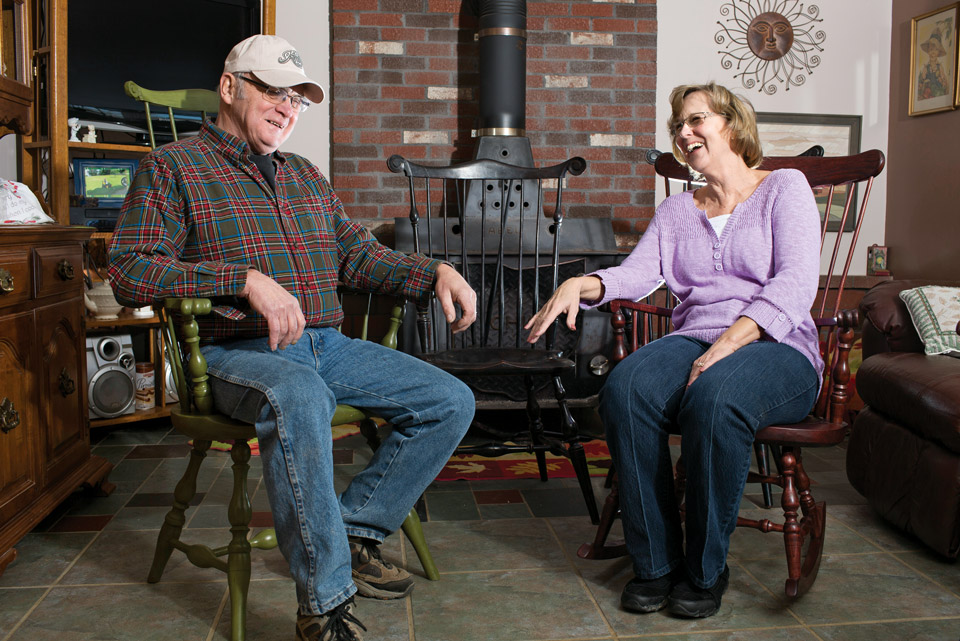 "Windsor chairs are light, flexible, strong and they don't fall apart," he adds. "The original chairs were a little small though by today's standards. People now are a little bigger. So I may increase the size and proportions a bit, based on the person. Almost all the chairs are custom designed."

There were few choices of finishing colors for America's first Windsor chairs. They were often referred to as "green chairs" because green was to a Windsor chair what black was to the Model T Ford decades later.

Today, Abel will stain or varnish a chair or use milk paint in bold colors to honor tradition. Homemade milk paint was historically made from buttermilk or skim milk, crushed limestone and natural coloring pigments.

"I have some old recipes to make milk paint, but it's also now commercially available again for restoration and reproduction work," he says, adding that the modern paint is more consistent than vintage concoctions. "That is one part of the chair-making process I will let someone else do."

The Abels' dining room at home contains a large, round oak table, which the craftsman made himself. It is surrounded by different styles and finishes of Abel's Windsor chairs. The area serves as a mini showroom of sorts, although visits are by appointment only.

Depending on who is coming for a meal, and which chairs' turns it is to preside at the table, one may see sack-back, fan-back, comb-back, bow-back, birdcage or continuous-arm Windsor chairs. (Abel also makes Windsor rocking chairs, writing armchairs and bar stools.)

It's a welcoming place to have guests over for tea, and a way for them to connect with a furniture tradition that reaches back to our nation's earliest days. The Founding Fathers owned Windsor chairs, and sitting at the Abels' dining room table, one gets the feeling Thomas Jefferson or Benjamin Franklin would be at home here. "I want people to appreciate and know what they are getting when they get a Windsor chair," says Abel. "It's really part of history."

For more information about Abel's Ohio Windsor Chairs, call 740/763-2810 or visit abelsohiowindsorchairs.com.