Home + Garden
Flashes of Flavor
We asked two experts to share a few favorite herb varieties, whether you're growing outdoors or inside.
June 2014 Issue
BY Jill Sell | Photo by Thinkstock
June 2014 Issue
BY Jill Sell | Photo by Thinkstock
Many of us have romantic notions of our perfect herb garden. For some, it's delicate dill and sassy sage hemmed in by the white picket fence of a country garden. Others envision regal oregano and summer savory flourishing in perfect patterns as part of a formal knot garden. The truth is a lot of us choose not to plant herb gardens because we believe they'll be a lot of work. But a few easy-to-grow annual and perennial herbs provide even an inexperienced gardener the opportunity to become more adventuresome. Planting, rather than buying, herbs can be less expensive. It also provides the satisfaction of cultivating something from the ground up and encourages growers to try new recipes in the kitchen. Whether you're planting outside or indoors, going big or keeping it simple, we asked two Ohio herb experts for their growing suggestions.
GROW OUTSIDE...

Brooke Sackenheim, an instructor with the Ohio Herb Education Center in Gahanna, chose four intriguing and useful herbs that even novice gardeners can grow outdoors.

Mint
(Mentha spp.)
: "There is nothing in the world like walking through a patch of mint. It smells so good, and there are so many types: chocolate, peppermint, spearmint," Sackenheim says. "People are worried that mint will take over everything else because it has that tendency. ... If you really are concerned, just put it in a pot." The versatile mint can be used in cold or hot tea, cocktails, syrups, salads and even to make chocolate-mint brownies.
Salad Burnet
(Poterium sanguisorba)
: This herb doesn't dry well, which is why it isn't often found in stores. Best used fresh, the pretty perennial with serrated leaves and pink flowers thrives in a dry, sandy loam. Sackenheim says it was a common practice in Elizabethan England to serve a goblet of wine with salad burnet leaves floating on top "to make the heart merry and glad." "It is a clean, cool-tasting herb that works well when a subtle flavor is needed," says Sackenheim. "Some say it has a nutty flavor, but I think it's more like cucumber. It's good in cool drinks, salads and coleslaw."

Tarragon
(Artemisia dracunculus)
: With a name derived from the French word for "little dragon," this perennial grows about two feet high and bears small pale yellow flowers with black heads. Tarragon is one of the four fines herbes (along with chives, chervil and parsley) blended for traditional French cuisine. "Tarragon has a bit of a licorice, anise taste. A small amount goes a long way in cooking," say Sackenheim, adding it is the French, not Russian variety that is the culinary herb. "It's excellent with poultry and fish as well as dairy and eggs, especially egg salad and salad dressings."
Scented geraniums
(
Pelargonium spp.
): This herb is fragrant all season long, not just when it is blooming. The leaves' aromatic oil is used for culinary purposes but are usually not eaten. "Use the leaves to impart flavor into desserts and drinks by adding them to the liquid parts of the recipe," says Sackenheim. "To make flavored sugar, alternate layers of sugar and leaves in a glass jar. Let it sit for at least one week and remove the leaves." Varieties include nutmeg, apricot, chocolate mint, cinnamon, lemon, lime, orange and ginger.
Growing Advice:
Starting with four or five herbs and a moderately sized plot will ensure you aren't overwhelmed. Many common herbs originated in the Mediterranean region and love the sun, so choose a spot that receives four to six hours of sunlight a day. According to the Herb Society of America's The Beginner's Herb Garden, most herbs do well in gritty, well-drained soil and a pH of 6.5 to 7.5. Soil can easily be amended with compost and added organic nutrients. The guide also suggests mulching herb beds with three to four inches of wood chips, gravel or sand to retain soil moisture and fight weeds.
OR INDOORS...

Karen Kennedy, an educator with The Herb Society of America's national headquarters in Kirtland, says growing herbs indoors should be done only out of necessity, adding that indoor plants don't get the recommended hours of sunlight. "But if you accept those limitations," says Kennedy, "there are things you can do."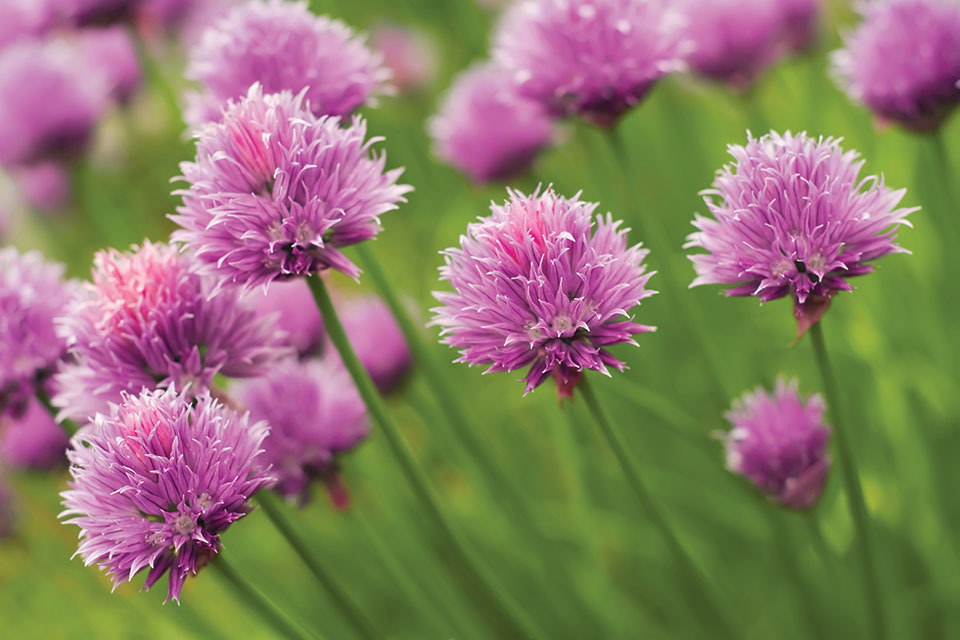 Dwarf or Windowsill Chives
(Allium schoenoprasum 'Grolau')
: Because of its concentrated flavor, less of this perennial is used in cooking compared to the common garden variety chive. Chives are a good energy-boosting herb to have on hand, too. Civil War Gen. Ulysses S. Grant once famously wrote, "I will not move my troops until the chives arrive."
Basil Emily
(Ocimum basilicum 'Emily')
: Kennedy says indoor growers are ahead of the game if they begin with compact herb varieties rather than ones that naturally grow larger. This traditional big-leaf basil is an example. Use fresh or dried leaves to add clovelike flavor to poultry, stuffing, meats and pasta dishes, especially those made with tomatoes.
Basil Spicy Globe
(
Ocimum basilicum minimum 'Spicy Globe'
): This compact bush basil grows in mounds and produces attractive leaves that are one-quarter-inch in length. "You don't have to chop up the tiny leaves, so they can be used whole over food and nothing turns brown. That way you can prepare a dish ahead of time," says Kennedy, who suggests basil leaf syrup made with lemon juice and sugar to pour over ice cream.
Growing Advice:
Kennedy says she has had success with self-contained, soil-free growing units that use air, water and nutrients to cultivate herbs. Plants can be started from seed and the light cover can be raised as the herbs grow taller. "It's a nice way to grow herbs indoors. You don't need outside light so you can place the unit in a closet or down in the basement," she says. She also suggests buying inexpensive "grow lights" — four to six foot tube lights that do wonders for growing herbs from seed.
***
HERB RESOURCES:
Ohio Herb Education Center
117 Mill St., Gahanna 43230,
614/342-4380,
gahanna.gov/
departments/parks/Herb_Center.aspx
Offers classes and private tours
The Herb Society of America
9019 Kirtland Chardon Rd.,
Kirtland 44094, 440/256-0514,
herbsociety.org
Offers library and information online