Home + Garden
Farmhouse Blooms
Gardener Diana Daily finds new life for salvaged farm treasures. Step into her yard and learn how you can do the same at home.
April 2017 Issue
BY Teresa Woodard | Photo by Joshua A. Bickel
April 2017 Issue
BY Teresa Woodard | Photo by Joshua A. Bickel
Rose vines climb the side of a corncrib turned gazebo, and petunias tumble from a galvanized watering trough. An old grinding stone stands in a bed of classic cottage perennials, while red, pink and yellow daylilies rise through rusted tractor wheels.
Walking through Diana Daily's cottage garden, it's surprising to learn that its creator was once a city girl who only dreamed of country living. Now in her late 70s, Daily happily gives tours of the gardens she and her late husband, Bernard, created and cleverly filled with vintage farm implements at their 200-year-old farmhouse in Sunbury.
"I can't look at an empty space and not pretty it up," says Daily, whose beautiful farm is a popular garden tour stop and a favorite on Flea Market Gardening, a website that showcases how collectors and antiques aficionados fuse their passion for gardening with their love of discarded objects.
"As a flea market gardener," Daily adds, "we love rust whether it's rusted wheels, shovels or other tools."
Daily grew up in a suburb of Columbus, but when she married Bernard in 1959, they moved to the Delaware County family farm where he was born. There, Daily learned that country living wasn't always so rosy.
Her once-romanticized lifestyle involved plenty of work raising three children, running her own home-based craft business and supporting her husband's dairy business. Even her first gardening venture was a more practical one, as she dutifully tended a vegetable garden with coaching from her mother-in-law who lived next door.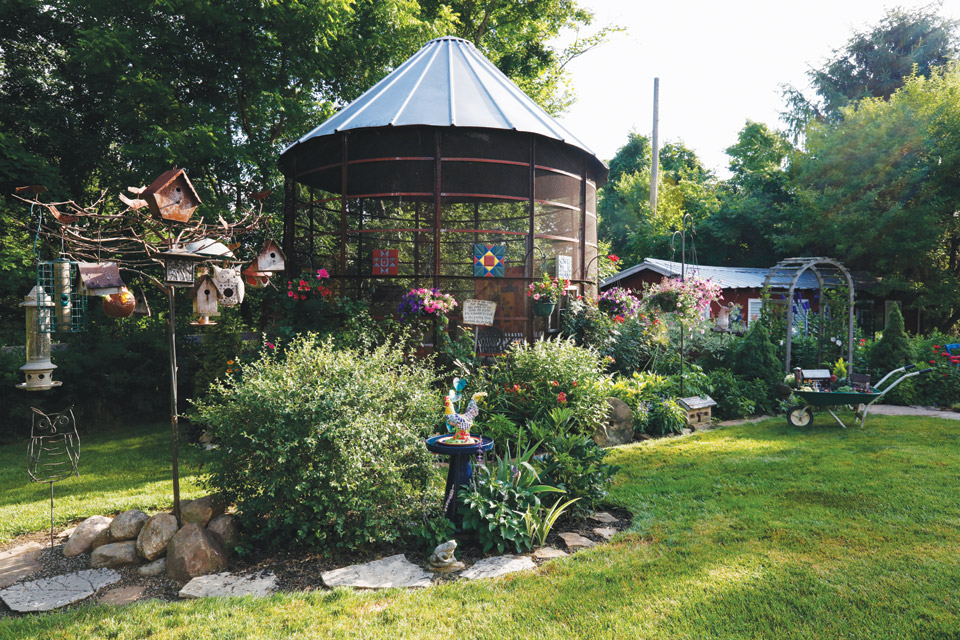 Two decades later, the couple discovered the fun of gardening with the help of a neighbor who had sought Bernard's help on her farm. In exchange, the neighbor offered to create a flower bed for the Dailys and to provide instructions for planting. They chose the side yard space around an old church bell post and filled it with perennials. At the time, Daily remembers naively asking, "What's a perennial?" but was spurred to learn more through trial and error and the help of a local garden club.
As the couple continued landscaping around the house and farm buildings, they adopted the same formula as the initial church bell flower bed. Daily planted cottage perennials including daylilies, black-eyed Susans and bee balm, while Bernard found new garden uses for salvaged farm finds.
"Long before I knew anything about flea market gardening, my husband created a water fountain from an old hand pump," says Daily.
Inspired by a water feature from a magazine, Bernard offered to build one alongside the farm's charming red shed. He dug out the pond, resourcefully trimmed it with stone salvaged from the basement walls and added a waterfall of original stone slabs from his mother's home along with the old hand pump. Daily beautifully finished the pond with aquatic plants, including water lilies, papyrus and Japanese irises.
"I garden by the seat of my pants," Daily says. "I just try things, and if a plant doesn't work in one place, it gets moved to another."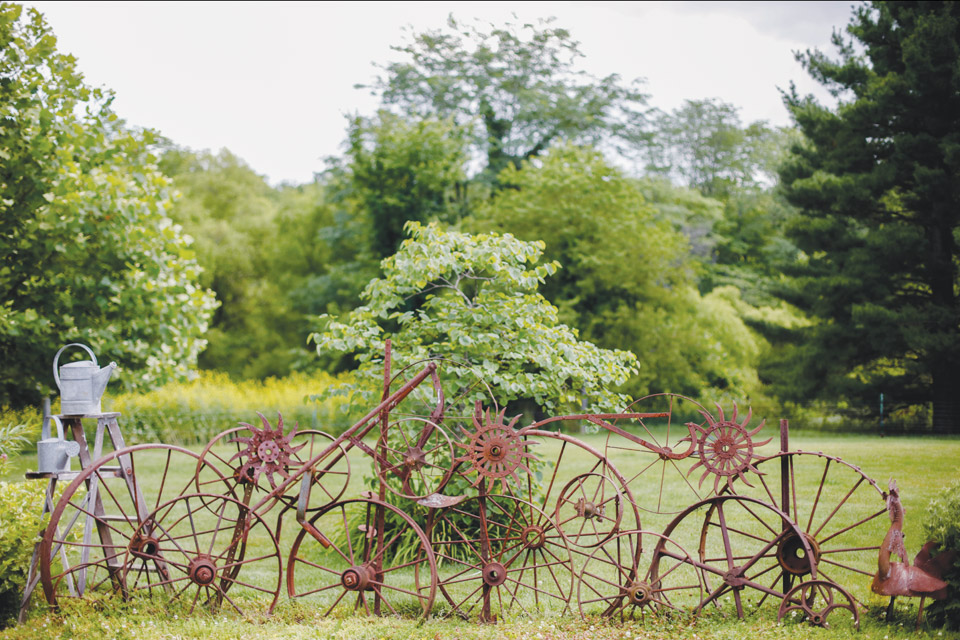 Her Indian Summer rudbeckia flowers reseed each year and produce multiple volunteer plants in the spring. Once they finish blooming, she simply pulls the excess plants and replaces them with annuals or other perennials.
Following Bernard's death in 2005, Daily continued to treasure hunt for her garden with the help of family members and garden-club friends. Her sons Jeff and Mark helped her create a sculpture of rusted wheel rims to pay homage to her husband. Daily started the project with a couple wheels she found on the farm, then Jeff purchased a truckload of them from a scrapyard for $35. Mark assembled the mishmash of wheels into an eye-catching work of art with the help of Daily's grandson, Adam.

The corncrib gazebo was another family project. Daily says aggressive bittersweet and wisteria vines climbed the sides of the corncrib and started to weaken it. When Mark suggested demolishing the structure, Daily proposed removing the vines and recruited her family's help. Today, the gazebo is a garden standout planted with daylilies, climbing roses and hanging baskets of petunias and mandevilla vines. Inside the gazebo, Daily added her garden-themed quilt art and a seating area with a quilt-covered tabletop.
One day, a garden-tour visitor to her home suggested Daily connect with a community of flea market gardeners that share ideas via Facebook and a website, fleamarketgardening.org. Since that suggestion, she has exchanged ideas with fellow flea market gardeners across the United States. She's even made friends with several Ohio garden club members and joins them for tours and flea market shopping.
"If you're strangers, you're not strangers for long when you have this instant bond in gardening," says Daily. These relationships have grown, as friends have stepped up to ready her gardens for tours and serve as tour guides.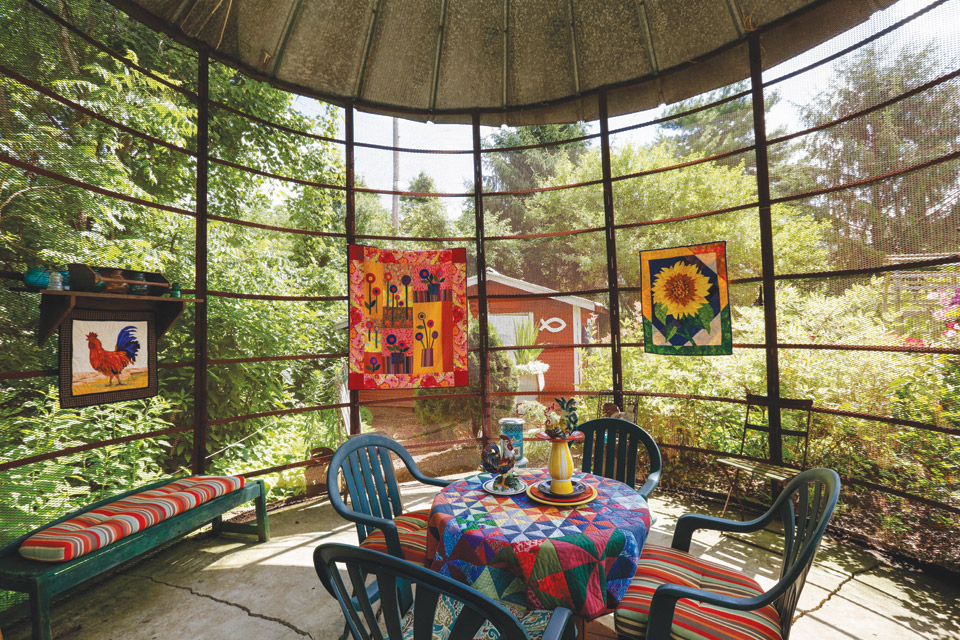 Over the years, Daily has sprinkled salvaged treasures throughout her flower-filled gardens. She unearthed an old grinding stone on the property and tucked it in a bed of daylilies. She discovered four mirrors at a Goodwill store for $2 each, painted them to match her red shed and hung them from the shed's side to reflect the pond garden. For another project, Mark gathered scrap copper tubing to create a metal tree that Daily accented with blue wine bottles. The bottle tree now whimsically rises from a bed of golden rudbeckia. In the same garden, Daily reassembled old glass windows into a mini greenhouse and tucked the recycled structure in front of a planting of queen of the prairie with its cotton-candy-like plumes.
Daily often welcomes others' ideas for her gardening projects. A neighbor suggested she disguise an electric box with a delightfully weathered outhouse door. When she asked her Flea Market Gardening Facebook friends for suggested sayings for an old shovel, they offered "I Dig My Grandkids." Daily expanded on the idea with a totem of hand shovels including each grandchild's name.
Today, Daily enjoys connecting with flea market gardening friends to tour gardens, shop at flea markets and create art. She met one friend as they both simultaneously posted similar snow-covered backyards on Facebook and realized they lived within miles of one another. When they decided to meet, a friend cautioned Daily about the idea, but she had no qualms: "She's a gardener," Daily responded. "How bad can it be?"

***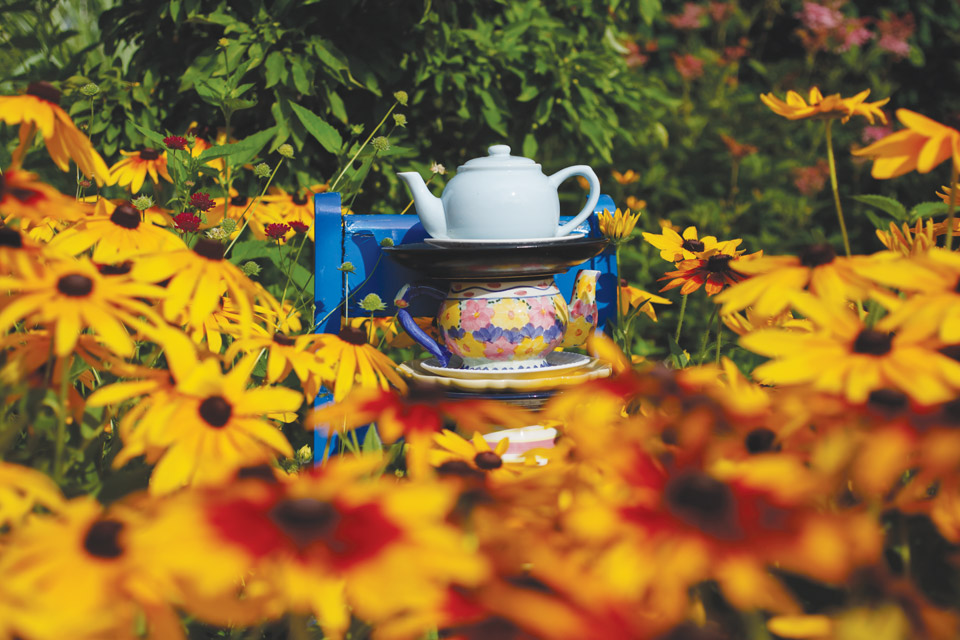 Second Time Around

Diana Daily shares her advice for adding repurposed items to your own garden.

Containers:
Look for unconventional objects such as milk cans, watering troughs, work boots, galvanized buckets, toolboxes and wooden crates. Just make sure to add drainage holes to avoid rotting plant roots. Create miniature gardens in an old wheelbarrow or red wagon. Even old tractor tires can be painted and hung from a wall or laid flat and filled with soil for mini raised gardens. "I raided our barns, scoured flea markets and searched garage sales for unusual containers," says Daily. "It's the search that's so much fun."


Sculpture:
Daily suggests adding garden interest with uniquely shaped flea market finds. Mount a colorful bowling ball on a metal pole to create a new kind of garden gazing ball or assemble old plates and cups into flower-like art. Create a garden angel using an old shutter as the body and salvaged wood planks for wings. "There's an art to it," says Daily. "You have to be careful to not junk up your garden with too much stuff and get too cluttered."


Structures:
Transform old structures, by turning a chicken coop into a potting shed, converting a corncrib into a gazebo or building a mini greenhouse from salvaged windows. "Keep your eyes open for bargains," says Daily. "We don't like to spend a lot of money on this stuff."


Collections:
Display collections on the side of a garage wall. Try a display of garden tools, tractor parts or galvanized items. Assemble them in multiples to create a sculpture similar to Daily's collage of rusted wheels. "It's so much fun to find unusual objects for the garden," she says.


Plants:
For flea market gardeners, thrifty thinking also applies to plant choices. Try self-sowing cottage garden favorites like cleome, rudbeckia and coneflowers that multiply as they drop new seeds. "Many friends also have success buying near-dead plants at bargain prices then reviving them," says Daily.

Daily suggests visiting Flea Market Gardening's Facebook page or website at fleamarketgardening.org for additional ideas.