Home + Garden
Barn Sale Shopping
Whether you're looking for retro furniture or one-of-a-kind home decor pieces, here's where and how to shop like a pro.
May 2017 Issue
BY Teresa Woodard | Photo courtesy of Cyndi Neal
May 2017 Issue
BY Teresa Woodard | Photo courtesy of Cyndi Neal
Yes, the idea of shopping in a barn sounds a little crazy, especially when the barn is an hour's drive away. But, there's something about treasure hunting with friends that makes piling into a Chevy Suburban on a Friday morning and hitting the road sound like a great way to spend a day.
Joining me on the trip are Stacy Urbancic, a DIY extraordinaire who uses power tools to transform her flea market finds, and Lois Heater, a savvy interior decorator who scours sales for collectibles for her home and those of her longtime clients. These Columbus-based scavenging mavens have searched everything from outlet stores to clearance rooms to massive flea markets, but in the past three years they've turned to a more intimate shopping experience: barn sales.
"While we have lots of great shopping in Columbus, you find unique items and accent pieces [at barn sales] that you can't find anywhere else," explains Heater.
Although antiquing and flea market shopping have been an Ohio pastime for decades, barn sales are a relatively new phenomenon in our state. Ohio barn sale pioneers include Gina Bishop, who hosted her first Homegirl Sale in 2008 at her century barn in Hudson, and Page Price, who organized the first Rural Society Sale in 2011 at Warwick Farms in Mount Vernon.

Today, these barn sales have grown increasingly popular with clever Facebook promotions, and some sales have been known to cause country-road traffic jams. Organizers attribute the success of the trend to the growing maker movement, the efficiency of pop-up sales over traditional storefronts and the rise of people seeking new and interesting shopping experiences.
As we arrive at the White Cottage Barn Flea outside Thornville, the pastoral setting immediately charms us. Event organizer Cyndi Neal's 200-year-old, Federal-style brick home stands just off the road, with a chalkboard sign out front welcoming guests and a friendly parking attendant waving us to an open spot near the property's red barn.
Inside, the former dairy barn's hand-hewn beams serve as a wonderful backdrop for the mix of vintage, farmhouse, industrial and French-inspired furniture, as well as home accessories, clothing and handmade jewelry.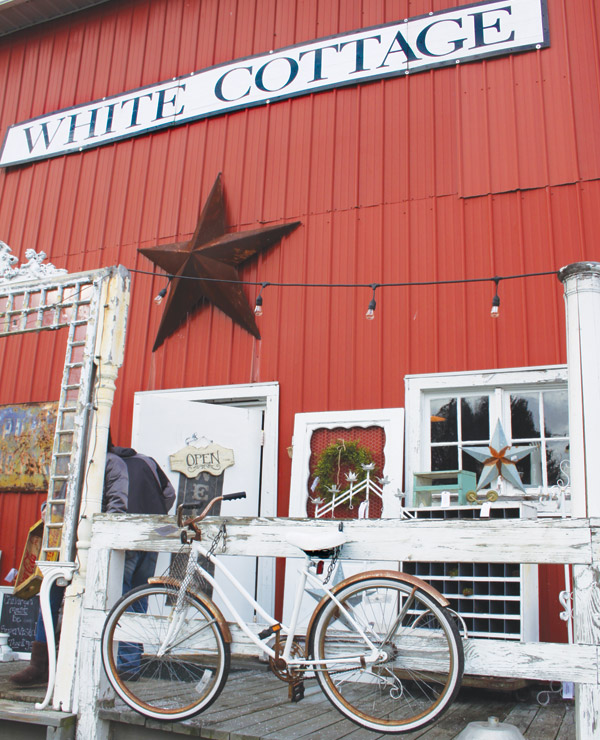 Heater is quickly drawn to a collection of colorful rooster and hen feathers, as well as hand-painted eggs from one vendor's own flock of chickens. Searching for birthday gifts, I discover a handmade topiary of vintage costume jewelry and naturalist Gwen Frostic's book of botanical prints and poems. Urbancic heads to a clothing rack filled with chambray shirts, jersey tops and tanks all embellished with oversized lace trim.
"I'm all about the bargain," she says as she tries on a long tunic with ruffled lace trim priced at $38. "Not just inexpensive, but something of good quality at a good price."
Since Neal and a group of friends hosted the first White Cottage sale in 2014, the sales have expanded from semiannual events to monthly ones in the summer and weekly ones during the holidays.
"We didn't know what to expect when we started it on a cold March day, but now we get people from all over Ohio," says Neal, who previously ran a retail home-goods store in Thornville. "It's that event atmosphere that makes it so fun for both the vendors and the shoppers."
During our first visit to the White Cottage Barn Flea last spring, our trio purchased more pieces than we could fit into Urbancic's Surburban. First, we loaded an industrial-style sofa table for her living room before adding an oversize carved gold frame for my fireplace and vintage urns for my front walk. Heater squeezed in baked goods, jewelry, old books and some glassware. (Unfortunately, Urbancic had to make a second trip to pick up a large chest of drawers with rope pulls for her son's room.)
Heater likes to remind me of a similar flea market shopping trip where I purchased a life-size metal deer sculpture and struggled fitting it in my mid-size SUV along with four passengers. Thankfully, on this latest trip to White Cottage, we settled on smaller buys including the topiary, vintage jewelry and lace-trimmed shirts.
We finish our morning at the barn sale with a final purchase of some flower-shaped sugar cookies for the trip home. Back on the road, we rehash our discoveries and even regret not buying duplicates of some finds. Fortunately, Urbancic reminds us that we have more opportunities ahead at another barn sale that's just two weeks away. "I just love getting together with girlfriends and finding a treasure," she says.

----

Barn Sale Know-How
Seasoned shoppers Stacy Urbancic and Lois Heater share how to make the most of your trip.
Do Your Homework: Check Facebook, Instagram and sale websites for a list of vendors and merchandise sneak peeks. If shopping for vintage collectibles, such as Ohio pottery or retro furniture, check eBay for price references.

Dress for the Occasion: Wear comfortable shoes or even boots in case of muddy parking areas. Be prepared for weather changes and dress in layers.

Bring the Right Tools: Bring a measuring tape and room measurements. Pack a tote bag, foldable shopping cart or wagon. Also, bring old blankets, boxes and newspapers to protect purchases on the ride home. A tarp is handy for messy buys like plants.
Start Early: The best items are often purchased in the first two hours. Several sales even host ticketed presale events, while others encourage vendors to have new merchandise each sale day.
Inspect Before Buying: Carefully examine items, especially furniture, for wear or flaws. Remember, all sales are final.
Feel Free to Negotiate: Most vendors are willing to negotiate five to 10 percent if asked politely, "Would you be willing to take less?" Try bundling items or paying in cash for a discount.
Love it or Leave it: It's easy to get caught up in the buying frenzy. So, be discerning to avoid a garage or basement full of impulse purchases.

----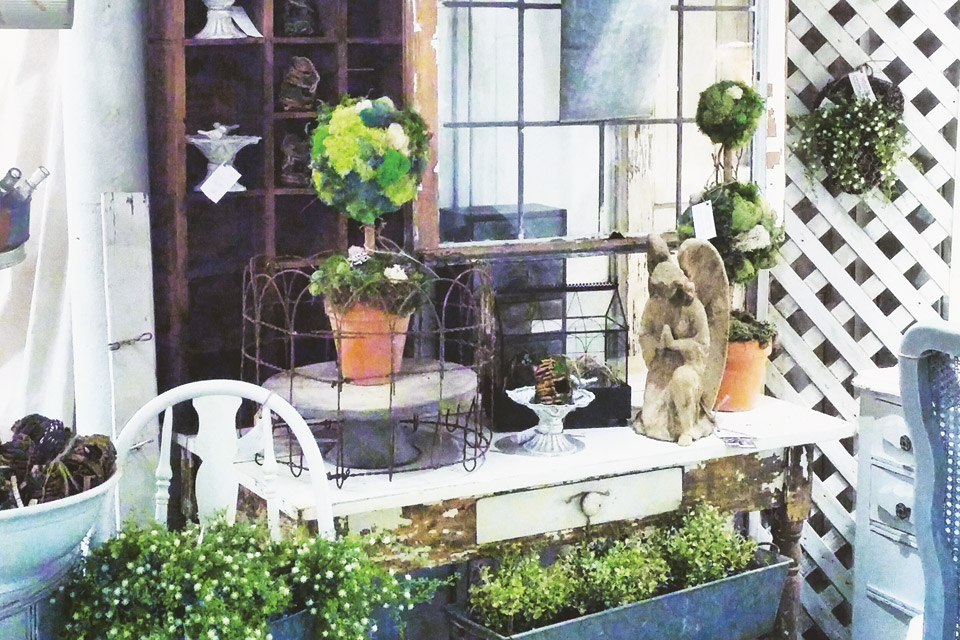 2021 Barn Sales
Spring and summer are great times to hit the road and visit these sales throughout the state. All are free unless otherwise noted.

Note: For up-to-date times and information about these events, visit their websites before traveling.
The Granville Barn Hop
Granville/Newark | May 7–8
Tour four nearby barn sales including Antebellum Farmhouse (4710 Gale Rd., Granville 43023), Industrial Salvage Barns (71 Clouse Ln., Granville 43023), Sister Salvage (2376 Burg St., Granville 43023) and The Barns at Hope Timber (2135 W. Main St., Newark 43055). Highlights include vintage accessories and decor, antique and industrial furniture, barn items and signs. thegranvillebarnhop.com

Rural Society Spring Sale
Mount Vernon | May 7–8
Hosted at Page Price's Warwick Farm, this antiques and garden show features 40 vendors and 10 farmers market participants. 16620 Wells Rd., Mount Vernon 43050, 740/507-6663, theruralsociety.com. Visit website for admission price.

Zassy's Fall Vendor Market 2021
London | Oct. 7–9
Hosted on a 22-acre farm, this sale features a festival atmosphere with food trucks, live music and 90 handpicked vendors and artists in a barn and under tents. 1283 OH-129 NE, London 43140, 614/499-3449, zassystreasures.com