Home + Garden
How to Make Peanut Butter Pumpkin Dog Treats
A bakery catering to dogs shares a recipe that will allow your best friend to take part in Halloween.
October 2014 Issue
BY Hallie Rybka | Photos by Jason Miller
October 2014 Issue
BY Hallie Rybka | Photos by Jason Miller
As you stock up on the bite-size Snickers and put the finishing touches on your kids' costumes, don't forget to set time aside this month to whip up a batch of Halloween treats for the dogs in your life.

We all know that man's best friend has to steer clear of chocolates, but safe alternatives require just a handful of ingredients and a little time in the kitchen. The Canine Castle & Dog's Deli in Rossford has perfected pooch pampering with its lineup of baked and decorated treats.

The store fills up to 50 custom orders each week and stocks its shelves with specialty items daily. Treat chef Matt Tilton bakes the fresh creations that range from football-shaped frosted biscuits to peanut butter-flavored buckeyes to candy-speckled snowmen.

"Dogs are a little more finicky than you think," says Larry Weaver, who has co-owned the gourmet pet bakery and grooming salon with his business partner, Monica Wittenmyer, since 2000. "They definitely do have their favorites."

For Halloween, the shop caters to seasonal expectations with a peanut butter and pumpkin mixture that is cut into the shapes of ghosts, witch hats and other festive fall forms. "We use a lot of pumpkin in recipes," Weaver says. "It's good for dogs."

Like all of The Canine Castle & Dog's Deli's treats, the peanut butter and pumpkin batter mixture contains no sugars or salts. The shop does add a powdered Vitamin C ascorbic acid, which adds to the treats' shelf life. (They can be also be made without the Vitamin C ascorbic acid as long as they're eaten within a few days or frozen for later.)

The Canine Castle & Dog's Deli gets the treat's frosting-like appearance by melting yogurt chips, tinting them with food coloring and then painting the biscuits with a spatula or baker's decorating tube. "We do a lot of seasonal things," Weaver says, explaining that the decorative frosting plays a large role in the store's designs. "It's football season now, so we have cookies made like footballs, 'O' for Ohio State, things like that."

While Tilton handles preparing the canine cookies and greeting store visitors, Weaver and Wittenmyer tackle the grooming of 20 to 25 dogs a day. The dog salon also offers specialty services such as facials and footbaths, the latter of which can relieve itchiness for dogs with allergies and sooth irritated paws. The shop's four-legged patrons have also been known to benefit from the perk of snacking on treats that didn't turn out quite beautiful enough to sell.

"It doesn't smell like a dog shop," Weaver says with a chuckle. "It smells like grandma's kitchen."

The Canine Castle & Dog's Deli, 1137 Dixie Hwy., Rossford 43460, 419/662-8380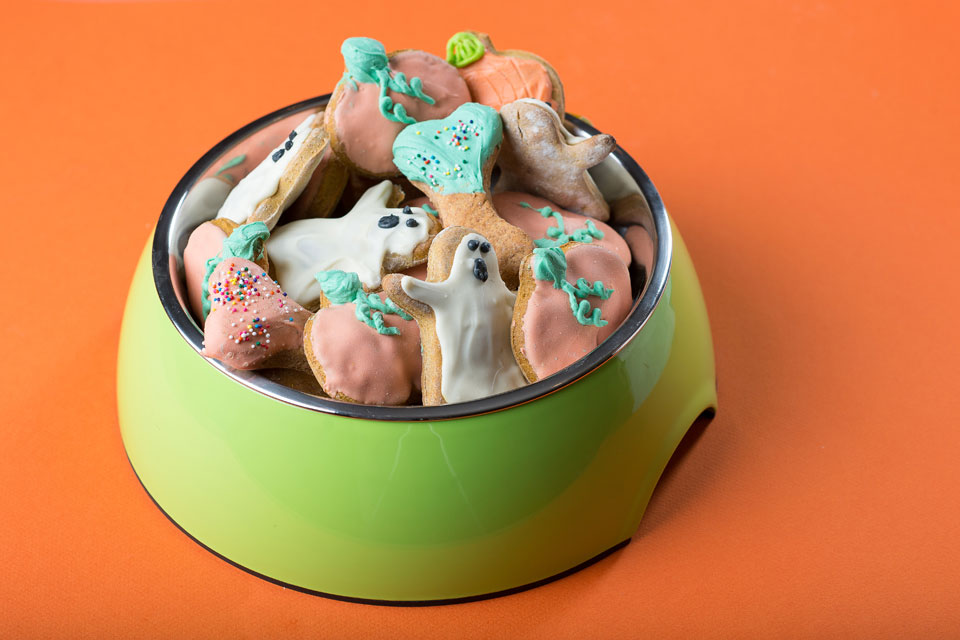 Peanut Butter Pumpkin Dog Treat
Yield: makes 20–26 treats with a 2-inch cookie cutter

INGREDIENTS
2 cups stoneground wheat flour
2 cups white flour
1/4 cup peanut butter
1/4 cup canned pumpkin
1 egg
1 cup warm water
1 teaspoon ground clove
1 cup yogurt chips (available on nuts.com or in health food stores)
Paramount crystals (available from nuts.com or at specialty gourmet stores)
Preferred food coloring

DIRECTIONS
Cookies: Preheat oven to 375 F. Pour warm water into bowl and add peanut butter, pumpkin, egg and ground cloves. Mix and gradually add in flours until mixture is a doughy consistency. Roll dough ball out on a lightly floured surface to 1/4-inch thickness. Cut dough into shapes. Place on baking sheet lined with parchment paper. Bake for 25–30 minutes or until treats are firm to touch and lightly browned on top. Allow treats to cool overnight in open air.

Frosting: Pour the chips into a microwave-safe bowl and microwave until creamy, stopping at 30-second intervals to stir. Add a sprinkle of paramount crystals as needed while stirring to smooth the yogurt. Use a baker's decorating tube or a spoon and spatula to apply frosting to the treats. Add food coloring to the liquefied yogurt until preferred color is achieved.

Note: Treats will last about three days unless refrigerated or frozen. The Canine Castle & Dog's Deli adds one teaspoon of powdered Vitamin C ascorbic acid, which can be found in health food stores, to the recipe when making its treats. The ingredient serves as a preservative and it can extend shelf life for two to four months.