Home + Garden
Backyard Bliss
Krista Havill gives us a closer look at the water garden she and her husband, Nick, built at the center of their backyard retreat.
March 2014 Issue
BY Teresa Woodard | Photos by Andy Morrison
March 2014 Issue
BY Teresa Woodard | Photos by Andy Morrison
Morning sunshine sparkles on the water as it trickles down a stone-filled brook leading to the intimate pond in Krista Havill's backyard. Here, a new water lily slowly unfolds, stealing the show from the nearby flowering clematis vine and the hundreds of other blooming plants nearby. A small school of goldfish dart beneath the lily's signature saucer-shaped leaves, adding flashes of orange, silvery white, red and black.

"Every time I'd go on a garden tour, the ones I liked the best had a water feature," explains Krista, a retired teacher and active master gardener. She had worked for years to build the elaborate, multilayered garden in the backyard of her Ottawa Hills home. But she realized a water feature was needed to complete her ideal retreat.

Luckily, her husband, Nick, has an engineering background and welcomed the new project. Today, the water garden — complete with a stream-fed pond — is the main attraction of their 89-year-old Georgian home's landscape.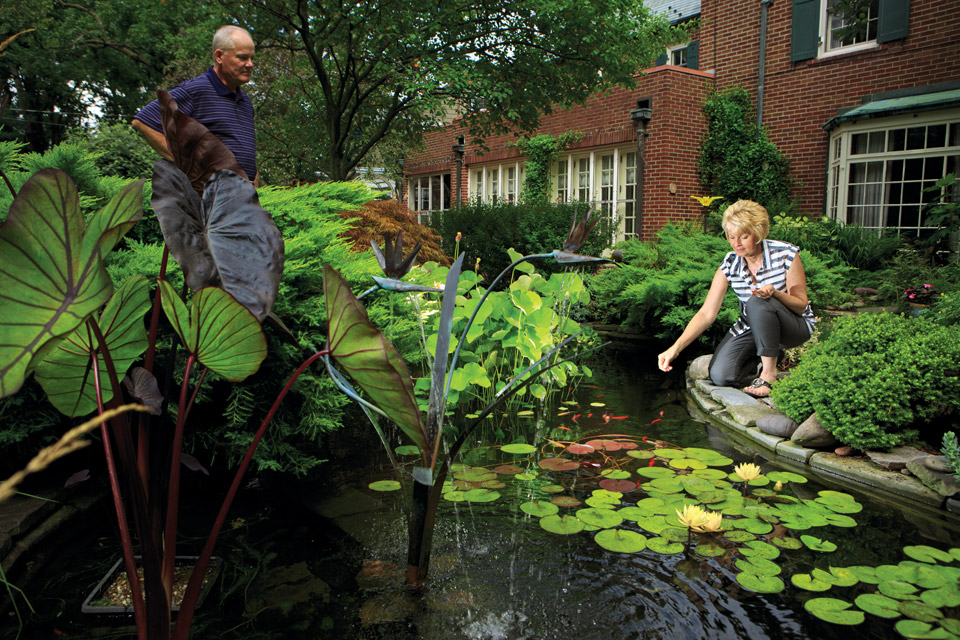 In the morning, it's the first thing Krista checks as she looks out her window. And at the end of the day, the couple turns to the pond for a relaxing moment as they sit in a pair of blue Adirondack chairs, listening to the sounds of water and enjoying a glass of wine on the waterside stone patio. They're often treated to a robin bathing in the stream's waterfall, a hummingbird jutting through the spray of the fountain or a pair of mallards landing for a swim.

"Our backyard has become a little nature preserve just because of the pond," says Krista.

When the Havills started making plans for the water garden, they sought out magazine articles on the topic, borrowed library books and attended a class. They consulted with a water-gardening expert but realized they could tackle the project themselves. First, they created a design by sketching the initial concept on a copy of earlier landscape plans.

"We didn't want just a pond with the typical waterfall along one edge," explains Krista. "We wanted something more natural."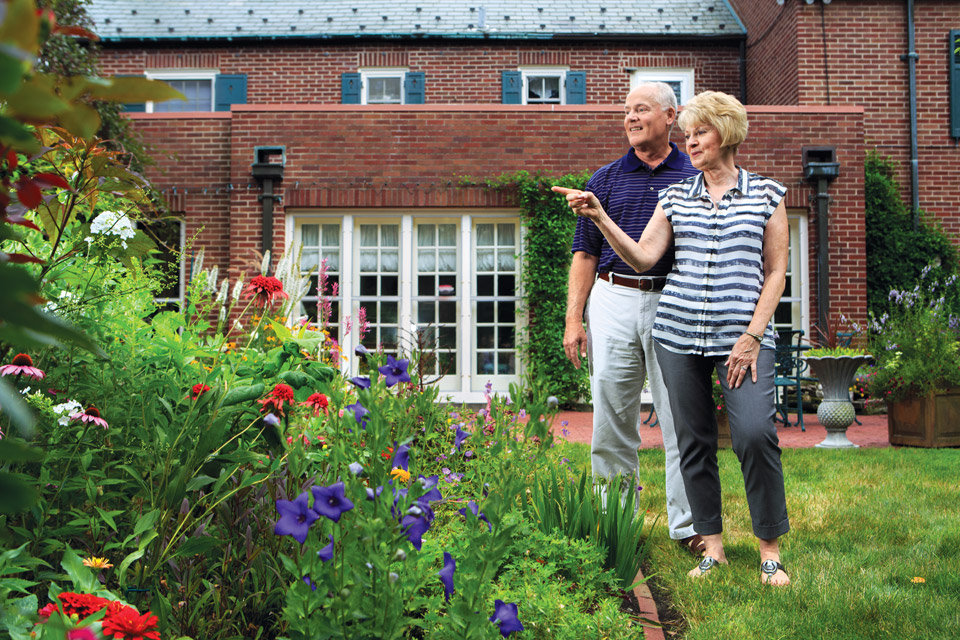 Nick designed an informal, 21-by-9-foot, kidney-shaped pond to fit the scale of the adjoining patio. He then added a 20-foot, winding stream and three incremental waterfalls that subtly cascade into the pond. With the preliminary sketches in hand, he further tweaked the water feature's shape and scale by laying garden hoses in the pattern along the patio.

Next, the Havills went to a local stone company. With so many choices, they focused on stones that would complement their home's red bricks and slate roof. They chose blue-colored sandstones to line the edges of the pond and red- and gray-toned granite flagstones for the walkway from the brick patio to the pond and seating area. Two larger limestone slabs with turtle-back textured tops were selected for the bridge and viewing platform. Smooth fieldstones and water skips in reds, blues and grays line the stream, and pea gravel fills its bottom.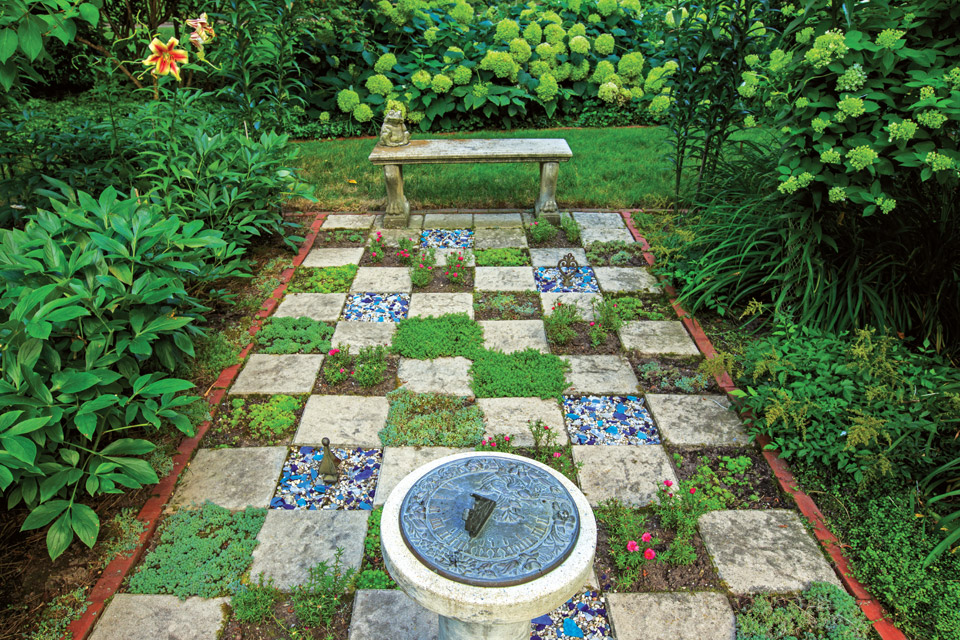 To dig the pond and position the stones, the Havills recruited help from neighbor teens and their dads. After Nick finished up with the pond's mechanics, it was time to bring the feature to life with water, goldfish and aquatic plants. As a long-time "terrestrial gardener," Krista says she heartily welcomed the new planting challenge.
She started off with two pond favorites — a floating water lily and a semi-dwarf Momo Botan lotus — and submerged them in containers in the central, deepest part of the pond. She explains that keeping vigorous aquatic plants contained makes them easier to care for and controls their growth.

"There is nothing more satisfying than the opening of the first water lily," says Krista.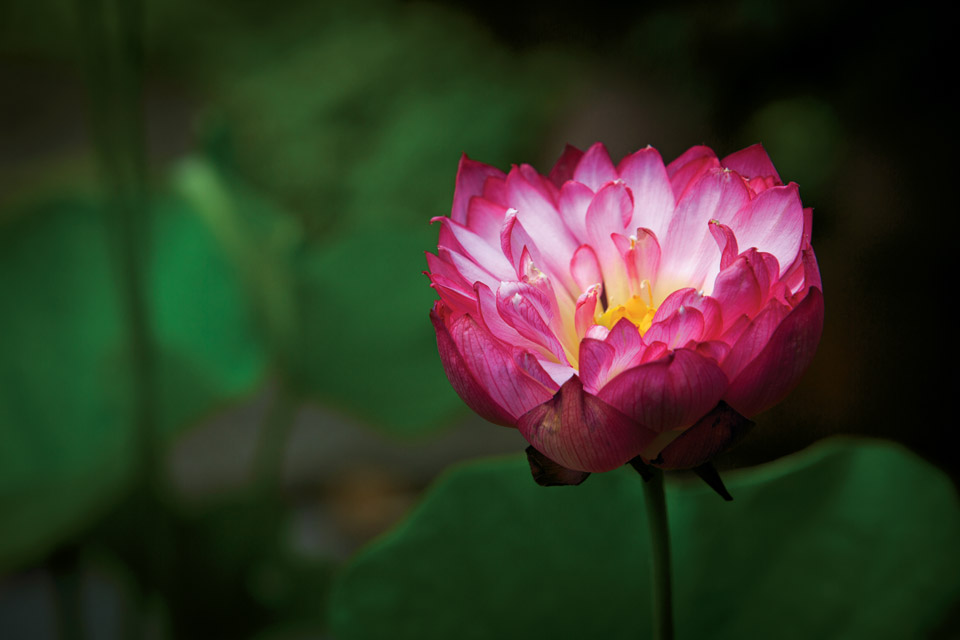 These plants that inspired artist Claude Monet's beloved impressionist paintings do afford iconic beauty to the water garden, but Krista learned there's more to stocking a pond than pretty plants and colorful fish. In the case of the water lilies and lotus, these plants also provide essential shade to thwart algae growth and help cool water temperatures. Aquatic plants also contribute oxygen, absorb waste and offer spawning places for fish and frogs. She says the trick is finding the right ecological balance to maintain clear water, healthy fish and thriving plants.

Along more shallow shelves, she placed mesh baskets filled with tropical elephant's ear (colocasia), dwarf cattails, corkscrew rush and pickerelweed. She also added free-floating plants, such as lavender-flowering water hyacinth and water lettuce, and submerged bunches of grasslike anacharis.

For the surrounding plants, Krista applied lessons learned from her years of growing perennials: repeat colors and mix textures and shapes. She started with a palette inspired by the home's colors, initially planting a burgundy-colored Japanese maple tree, Blue Star junipers and a contrasting golden dwarf Hinoki cypress. She further filled spaces with perennials such as Dragon's Blood sedum, blue ornamental grasses, golden amsonia and red-purple coral bells. A trellis supports her favorite clematis vine, Princess Diana, with its deep-pink, tuliplike blooms.

Finally, she accented the space with a piece of driftwood, glass art and a metal sculpture fountain. Krista says she loves visiting the pond each morning to feed her attentive goldfish. "I rattle a rock, and they come a-swimming," she says. And, indeed, they do — all 35 of them.


***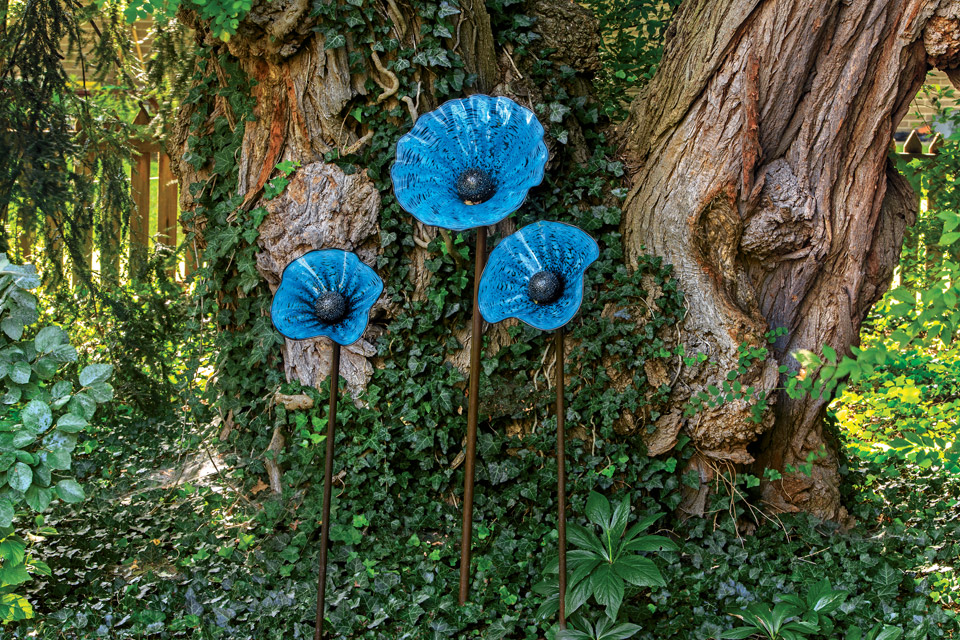 Water Joys
Master gardener Krista Havill offers advice for creating your own beautiful and functional water garden.

Do your homework.
"The first step in building a pond is research," says Krista. Read magazines, borrow library books, attend a pond-building class, tour gardens or talk with experts. Her favorite books include
The Master Book of the Water Garden
by Phillip Swindells and
The Practical Rock & Water Garden
by Peter Robinson.
Pick the right location.
Put the water garden in a place you can enjoy it and in an area that receives at least four hours of sunlight. "Include areas to view and enjoy the pond," Krista says, "whether it's sitting to relax or taking a closer look at fish, frogs and dragonflies from a viewing stone."

Choose the right size.
First sketch the pond in scale with the size of the yard then lay out the shape with a garden hose. "The shape should encourage the natural flow of water," explains Krista. "Also, the waterfalls and streams need to be in proportion to the pond."

Select your plants.
"Vary textures, heights and color combinations," says Krista. "I tried to repeat color combinations in yellow, dark burgundy and blue."

Provide proper care.
"A good quality pump skimmer is key," Krista says. Chores include daily fish feedings, weekly chemical applications to control algae, monthly fertilization of the plants and cleaning of the filter and skimmer basket. To prepare for winter, you must remove leaves, trim back plants and connect a bubbler to prevent the water from freezing. Krista advises also buying a small heater to float on the pond during the winter to ensure a hole remains in the ice. If gasses can't escape, they'll kill the fish