Food + Drink
| Wineries
Sip & Stay: 4 Ohio Wine Country Getaways
These Ohio wineries are suited for overnight stays thanks to on-site accommodations and nearby finds you'll love.
June 2017 Issue
BY Jame Rhein | Photos courtesy of wineries listed
June 2017 Issue
BY Jame Rhein | Photos courtesy of wineries listed
Red Fern Inn at Rocky Point Winery | Marblehead

A white wooden cupola and double doors have been features of the Marblehead schoolhouse since the quarried limestone structure opened in 1893. Today, cheerful red doors greet visitors to the schoolhouse's latest incarnation: a combination inn and winery.
"The big idea was our inn, and I fell in love with the lake," says Kim Redfern, who owns Red Fern Inn at Rocky Point Winery with her husband, Chris. "I wanted to share what I look for when I travel … amazing beds, a sleep experience that's perfect for the bone-weary tired."
Opened in 2014, Red Fern Inn does just that. Four well-appointed suites are equipped with a complete kitchen and a lake-inspired color palette of soft blues, greens and cream. Where the Red Fern Grows is one of Kim's favorite novels, and a copy is part of each suite's decor as a play on the inn's name.
While the second-floor lodging is mostly Kim's domain, she credits Chris for transforming the Schoolhouse Gallery and Gifts, which previously occupied the first floor, into the Rocky Point Winery.
"It's been the superstar," she says. The winery's laid-back vibe and outdoor pavilion bar with sweeping views of Lake Erie draw in people for wine flights ranging from dry to sweet and featuring Ohio-grown grapes. Concord and pink Catawba are among the customer-favorite varieties.
Chris is also a master of mixing up tasty wine combinations, according to Kim. "He really loves the old-fashioned sangrias," she says.
Perfect Pairings: Borrow one of Red Fern Inn's bicycles and take the ferry to Kelleys Island or pedal to Lake Point Park, which provides views of Cedar Point. While you're visiting Marblehead, also be sure to tour the Marblehead Lighthouse, the oldest continuously operating lighthouse on the Great Lakes. 111 W. Main St., Marblehead 43440, 419/967-5344, redferninn.com

***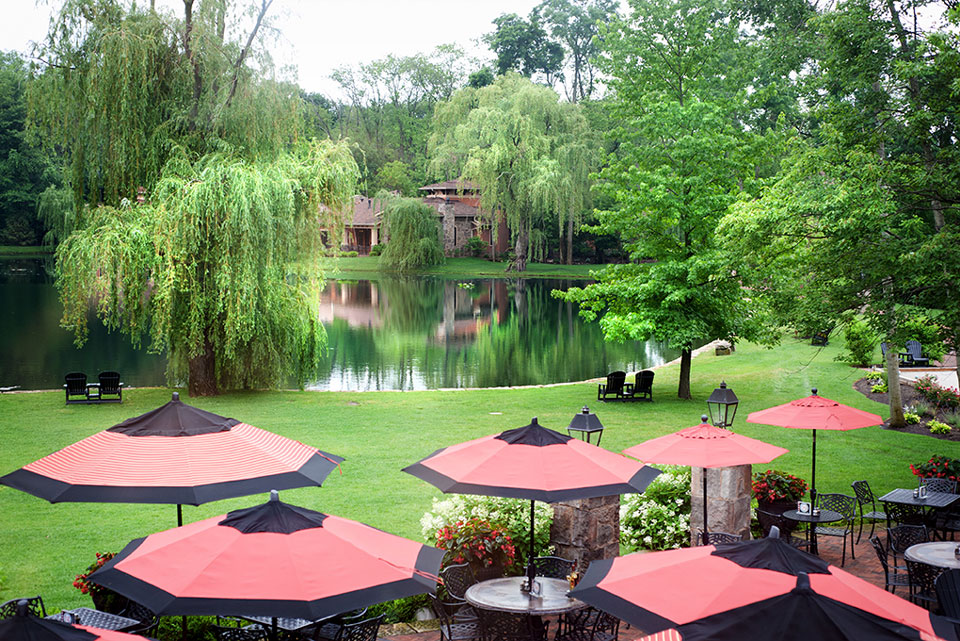 Gervasi Vineyard | Canton
Pass through the stone and wrought iron entrance of Gervasi Vineyard for a trip to Tuscany, where the summer sun ripens grapes to plumpness on row after row of vines.
Ted Swaldo and his family have created a spot offering award-winning wine, casual and fine dining, and overnight accommodations on the site of a 55-acre former tree farm in Canton.
Ted's inspiration for Gervasi, which bears his mother's maiden name, was to create something that transcends generations. The family's heritage is woven throughout the winery.
"Lascito — that means legacy — is a white wine my father named," says Scott Swaldo, the vineyard's general manager and Ted's son. "Rooms at the Villa Grande [event center] are named after grandchildren. The Villas are named after provinces of Italy that have meaning for the family. The Trentino region is where my grandmother is from."
The names aren't all that evokes Italian ambiance. The Villas, a AAA Four Diamond boutique inn, pair upscale accomodations with Italian flair.
Situated around a spring-fed lake, each villa's custom-made furniture, wrought iron work, stone fireplaces and travertine limestone flooring are Tuscan inspired. Heated towel bars and floors, luxurious bedding and plush towels are part of the pampering. So is the gourmet continental breakfast served in a wooden wine box.
Gervasi Vineyard's lake dates back to 1823 when it was the site of a sawmill. The property's remaining barn was restored as the Bistro, which features Italian favorites such as seafood chitarra, a dish featuring shrimp and scallops. Scott's favorite dish is the Tuscan beef short ribs.
For casual fare, dine on the Piazza Outdoor Patio with views of the lake or at The Crush House, a casual restaurant located in the same building as Gervasi's winemaking operation. Sandwiches, salads and pasta bowls offer an array of options, and the housemade goat cheese ravioli is a standout.
Perfect Pairings: Follow your winery tour with a cooking class. For a day off-site, the Pro Football Hall of Fame as well as the William McKinley Presidential Library & Museum and the McKinley Memorial are must-visit destinations. 1700 55th St. NE, Canton 44721, 330/497-1000, gervasivineyard.com

***


Heritage Vineyard Winery and Guest House | Warsaw

Since June 1999, Tina Endsley and her husband, Randy, have been welcoming visitors to Heritage Guest House, a charming two-story country cottage overlooking their 3-acre vineyard and winery in Coshocton County. Surrounded by farmland, the guest house is a respite in Ohio's Appalachian foothills.
"We've had the vineyard and sold grapes to local wineries since 2000," says Tina Endsley. When their son Brent took an interest in making handcrafted estate wines, they kept their grapes for themselves. Their son Brandon also got involved, overseeing the winery's website and finances.
Heritage Vineyard Guest House, complete with flower baskets that festoon the front porch and a white picket fence, was built after people asked about overnight stays for a quiet country getaway.
At first, the Endsleys considered a bed-and-breakfast at their own home, but they settled on a private-use, separate two-bedroom guest house next door that can accommodate six.
Amish oak kitchen cabinets, hardwood floors and comfortable furniture in the living room and bedrooms create an upscale country feel with a hospitable our-home-is-your-home appeal. The continental breakfast of fresh-baked rolls, fruit, coffee and tea is a welcome treat in the morning.
"Repeat guests are like family," Endsley says of the innkeeper-next-door approach. After wine tastings that can be paired with a cheese and meat plate (Endsley says the sweet Vineyard Peach fruit wine is a consistent hit) guests often sit on the guest house porch swing to enjoy a glass while taking in an evening view of the sunlit hills.
Perfect Pairings: After enjoying the vista from the top of the Gospel Hill Lighthouse located 9 miles away on Endsley's brother-in-law's property, head to historic Roscoe Village. Spend an afternoon browsing the shops of this restored 1830s canal town, and take a ride on a horse-drawn canal boat along a restored section of the Ohio & Erie Canal. 27561 Township Rd. 45, Warsaw 43844, 740/824-4314, heritagevineyardwinery.com

***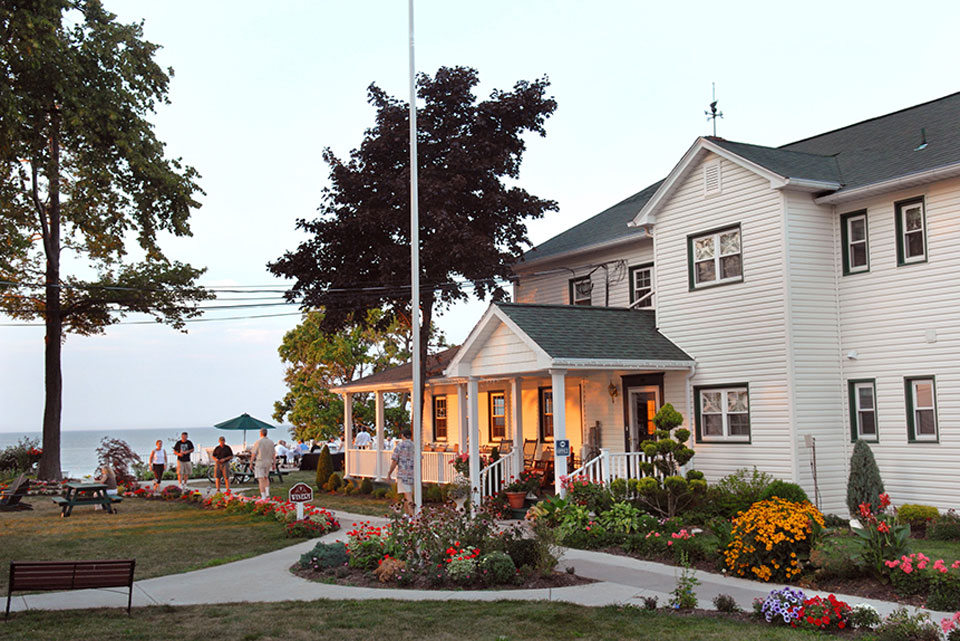 Lakehouse Inn and Winery | Geneva-on-the-Lake
The Fagnilli family fell into the wine and lodging business by accident. While searching without luck for a house to buy on Lake Erie's shoreline, they discovered the Lakehouse Inn was for sale.
The property had operated as a bed-and-breakfast since the 1940s — a tradition the Fagnillis decided to continue after they purchased the home. When they began noticing their guests' reactions to the sunset views over the lake, their next idea was born.
"People would run to the benches by the lake with a glass of wine to watch the sunset," says Andrea Bushweiler, who operates the family business alongside her parents, Sam and Karen Fagnilli, and her brother, Nate Fagnilli, who is the chef at the inn's Crosswinds Grille restaurant.
To gear up their winemaking operation, the Fagnillis purchased grapes from a local vineyard in 2001 and opened their winery a year later.
Lakehouse Inn and Winery offers daily wine tastings, and its wines are available by the glass or bottle at Crosswinds Grille. Here, locally sourced farm-to-table, wood-fired cuisine is Nate's passion, and seam butchery — a European technique for cutting meats — is his specialty. The daily handpicked steak is a popular choice, and Lake Erie perch is another local favorite when available.
The inn's eight rooms, three cottages and beach house evoke a summer-vacation mood. Framed photographs and artwork depicting lake sunsets, sailboats and lighthouses capture a nautical touch. But the property's signature features are the landscaped gardens and the expansive, tiered patio overlooking Lake Erie. "At the end of the day," adds Bushweiler, "it's the view."
Perfect Pairings: Along with enjoying the lakeside town, visitors can take a fishing charter boat or head out for a self-guided driving tour of Ashtabula County's 18 historic covered bridges. Among them are both the longest and the shortest covered bridges in the United States. 5653 Lake Rd. E., Geneva-on-the-Lake 44041, 440/466-8668, thelakehouseinn.com