Food + Drink
| Wineries
Laurentia Vineyard & Winery
This vineyard in northeast Ohio's Grand River Valley region embodies the feel of a rustic hunting lodge.
August 2016 Issue
BY Andrew Poulsen | Photo by Casey Rearick
August 2016 Issue
BY Andrew Poulsen | Photo by Casey Rearick
A dirt road flanked by neat rows of grape vines leads guests under Laurentia Vineyard & Winery's towering entrance gate and along a meandering route shaded by a dense forest of lofty red oak and beech trees. The road ends at the winery's tasting room, which would look at home in the pages of a vintage hunting catalog.

The log-and-stone construction gives the rustic, laid back feel of a lodge nestled along a Colorado stream, and the interior exudes the same appeal. Those pastoral qualities continue inside. Floors are made of reclaimed early 19th-century hickory wood, and the mount of a trophy elk hangs above the textured-stone, four-sided fireplace.

"Early on, it became apparent that I wasn't just building a winery anymore," says co-owner Leonard Blackie, who created the place with his brother, Gary Blackie. "I was building an attraction. From the last post, to the last rock, to the last fruit, no detail is overlooked. The wines are important, but everything else has to be top-notch."

In 2009, Leonard and Gary first conceived the idea of opening a winery in Ohio's Grand River Valley region during a hunting trip in Idaho. Upon their return, the two found 117 acres just minutes from Interstate 90 in Lake County's tiny and peaceful Madison Township.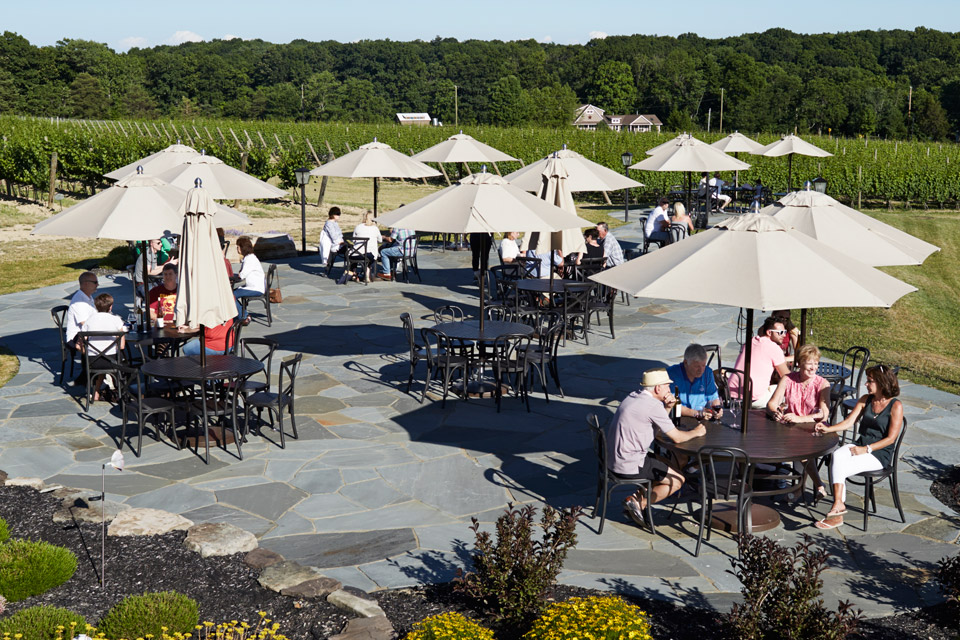 The brothers purchased the property in 2010 and harvested their first estate chardonnay three years later. It was also important to Leonard to maintain the property's natural flow and characteristics, so he was careful to keep the forest intact while building the winery's production facility and tasting room, which opened in July 2015.

The vineyard is named after Laurentia, the prehistoric North American land mass that was once covered by the Laurentide glacier. As the ice sheet retreated north back toward what is now Canada, its deposits created the fertile land that has made northeast Ohio the hub for viticulture it is today.

"This land has always been capable of producing world-class wines," says Leonard. "You have great soil and clay from the land and the climate control from Lake Erie."

With its hand-hewn beams, Laurentia Vineyard & Winery's spacious tasting room was based on Gary's fishing lodge in Colorado. Sliding barn doors reveal the kitchen, which offers a variety of seasonal dishes made from scratch, such as as a hand-thrown, three-cheese pizza, smoked salmon deviled eggs, pesto and chevre or a citrus fennel salad. The kitchen also hosts classes and demonstrations led by visiting wine experts and guest chefs.

Large windows surround the lodge's main sitting area, letting in lots of natural light and allowing guests to take in the surrounding scenery year-round. The property's stonework is meant to mimic the rocks of the nearby Grand River Valley Gorge.

Depending on the time of year, guests can curl up by the fireplace, hang out at one of the indoor or outdoor tables or even take a walk among the acres of chardonnay and riesling vines. Laurentia is also home to 43 acres of highly prized vinifera grapes necessary for pinot noir and cabernet sauvignon.
Hand-forged iron railings lead downstairs from the lodge's main floor to Laurentia's wine cellar, which offers a second bar and a view of the dozens of oak barrels which hold aged red wines and some chardonnays.

Behind glass, in a temperature-controlled room, 475-gallon cement tanks hold a 2014 Oregon chardonnay and 2014 riesling. Leonard explains that the use of concrete tanks during winemaking dates back to Roman times. Their porous nature allows the wines inside to breathe while imbuing them with minerality and a clean finish.

The wine cellar leads on to a wine library — a small, dimly lit room dedicated to Laurentia's most exclusive vintages. The space also serves as a private tasting room that is available to customers by reservation.

"We concentrate on making the best wine possible out of a particular vintage or variety through great record-keeping, bench trials and always experimenting," says Leonard. "For us, this is just the beginning."

4599 S. Madison Rd., Madison 44057, 440/296-9175, laurentiawinery.com