Food + Drink
| Wineries
Henke Winery, Cincinnati
Joe Henke's popular urban winery merges a fine dining pedigree with an eat-local approach on the city's west side.
August 2018
BY Rich Warren | Photo by Amie Santavicca
August 2018
BY Rich Warren | Photo by Amie Santavicca
There's a sign at Henke Winery saying "Sit, sip and savor." That sums up the overall philosophy. The place is serious about wanting its guests to linger, enjoying their wine and having a memorable meal while they're at it.

Situated in Cincinnati's Westwood neighborhood in a repurposed farmhouse that was built in the 1880s, Henke Winery's pleasant dining areas with large picture windows ramble across several rooms. Owner Joe Henke produces 20,000 bottles of 15 varieties of wine in the establishment's basement, with 99 percent of it sold on-site. He loves to work in the wine cellar and then pop upstairs to greet guests — changing clothes first, he's quick to tell you.

Wine Enthusiast declared the place as one of the 10 best urban wineries in the United States, but that can represent a challenge since being situated in the middle of a large city means there are no vineyards just outside its doors.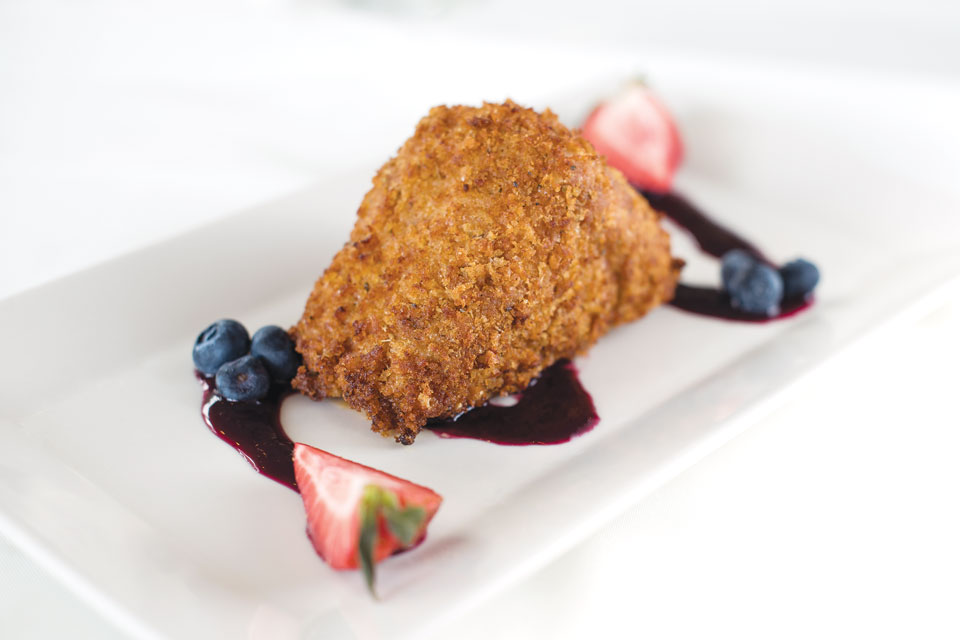 And because terroir is important to Henke, he is choosy about the grapes he uses. As much as possible, he selects grapes from Ohio, many of them from within a 100-mile radius of Cincinnati. He also doesn't believe in hurrying his wine to market.

"I prefer to allow them to age and gain character," he explains. "I try to make a wine that has both structure and flavor, but that's not too sweet."

Henke describes his wine as European in character, so when he was looking for a new chef in 2016, he wanted one with similar European influences. His choice was Steve Anderson, who'd worked at the Maisonette — Cincinnati's famed five-star French restaurant, which is now closed — and later at Nikola's, an Italian restaurant in the city's Over-the-Rhine neighborhood. Anderson, who parted ways with the winery over the summer, transformed its menu.

"The farm-to-table approach was a collaboration between me and the chef," Henke says. "So, we try to make everything from scratch."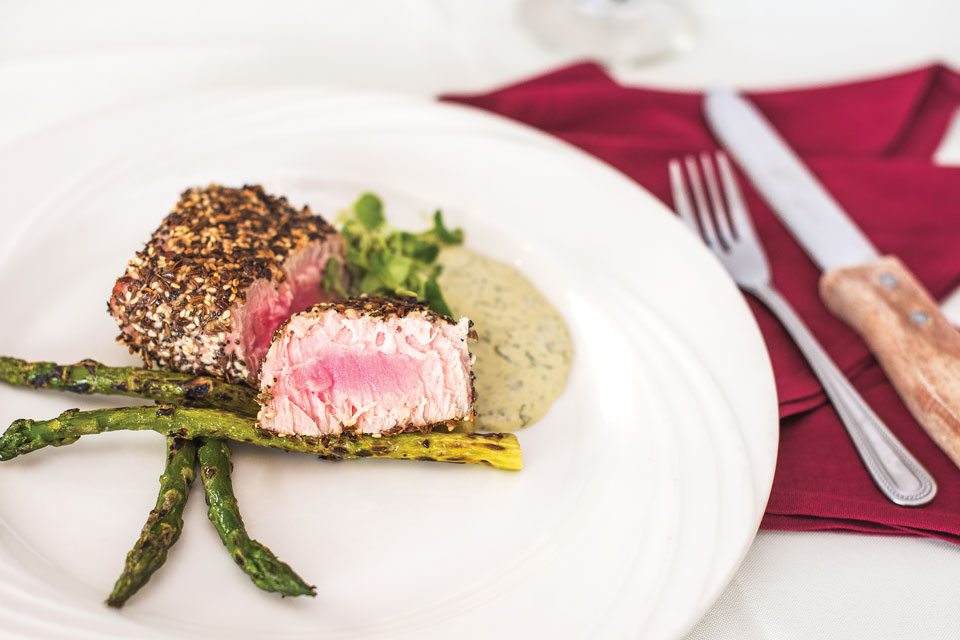 Henke Winery stresses local ingredients purchased from local purveyors, be it herbs, mushrooms, pork or produce. The restaurant uses only antibiotic-free and grass-fed meats and organic eggs.

The result is a menu full of crowd-pleasers. Most popular is the to-die-for pan-seared cheese appetizer featuring a white Vermont cheddar coated with herbs and bread crumbs served over a sweet red wine sauce with fresh raspberries and blueberries.

Cincinnati food critic Polly Campbell described Anderson's handmade ricotta tortellini as "delicate crepes wrapped around a creamy filling." A red sauce that uses San Marzano tomatoes infused with emulsified oil and herbs accompanies the dish.

Specials depend on what's fresh and available. Summertime features can range from cioppino (a fish stew) to soft-shell crab to Caprese salad using the local tomatoes and basil abundant during summer months. Henke says he plans to continue using Anderson's menu, but you can expect more interesting creations to appear as time goes on.

"I want to bring as many new and creative plates to the menu as possible," Henke says. "You eat with your eyes. Plate presentation is very important, and it is amazing how the flavors can blend. Touching it off with a sip of wine makes the evening so enjoyable." 3077 Harrison Ave., Cincinnati 45211, 513/662-9463, henkewine.com


Order This!
Winemaker Joe Henke shares a few of his favorite food-and-wine pairings at Henke Winery.

Pan-seared Cheese + Seyval
Henke says seyval "has a nice buttery finish and some crisp acidic values that marry well with the cheese and the berry sauce reduction."

Mediterranean Lamb + Vendange à Trois
Noting this is a blend of several wines, Henke says, "The cabernet gives it style and power. The merlot tones it down a shade. The cabernet franc gives it a freshness at the end."

Yellow Fin Tuna + Cabernet Franc
"This wine is light enough, yet full-bodied enough to go well with tuna," Henke says. "There's a black cherry finish that allows you to enjoy the freshness of the seafood."