Food + Drink
| Wineries
Heineman Winery, Put-in-Bay
The Heineman family has been operating its Put-in-Bay winery since 1888 and now makes more than two dozen wines with grapes grown on the Lake Erie islands.
August 2019
BY Kristina Smith | Photo by Bianca Garza
August 2019
BY Kristina Smith | Photo by Bianca Garza
The beautifully landscaped, German-style wine garden creates a peaceful oasis amid the golf carts full of tourists zipping around Put-in-Bay. Families and groups of friends talk and laugh as they sip wine and grape juice, taking in a pleasant summer afternoon at Heineman Winery just as generations before them have.

"We love having the families come here and enjoy themselves," says Dustin Heineman, the fifth generation to help run the South Bass Island landmark. "We want whoever walks in these doors to find a wine they're going to enjoy and take home with them."

Opened in 1888 by Dustin's great-great-great grandfather, Gustav, Heineman's is the oldest family-owned winery in Ohio. An immigrant from Germany, Gustav first worked at Golden Eagle Wine Cellars, the precursor to Middle Bass Island's Lonz Winery. He saved his money and came to neighboring South Bass Island, where he went into business for himself. Gustav added Crystal Cave — billed as the world's largest celestite geode — when he stumbled on the geological anomaly in 1897 while digging a new well. By 1900, he had turned the cave into an attraction and began giving tours.

"Gustav was a very good businessman," Dustin says. "He's one of the reasons we're still here."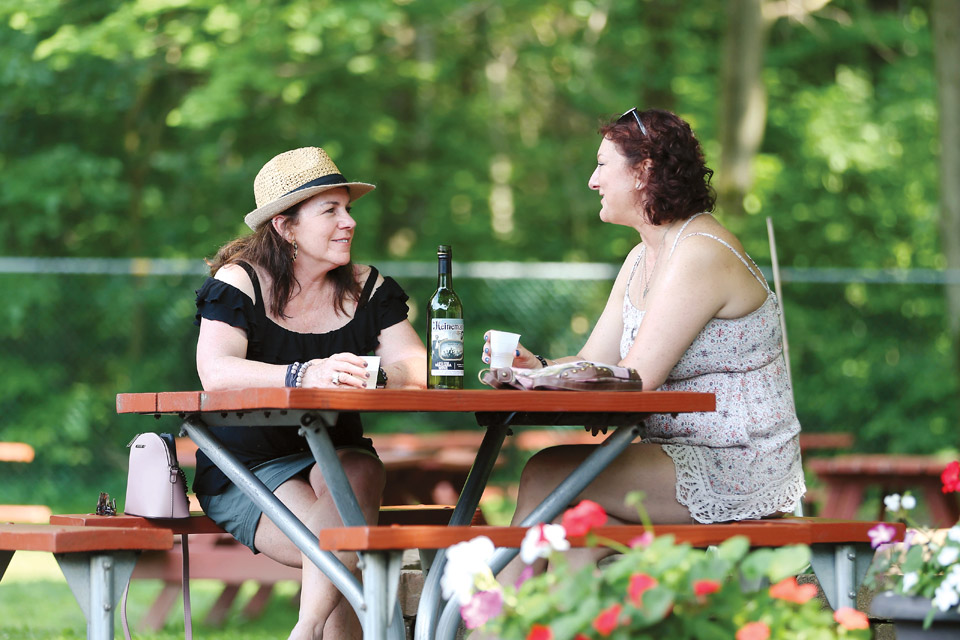 Gustav kept the winery afloat during Prohibition, a time when the 16 other wineries on South Bass Island were forced to shut down. The combination of selling grape juice, offering cave tours and operating a cab company created enough revenue to keep the winery in business. (An antique photo of Gustav's fleet of cars, which resembled motorized buggies, hangs on a wall inside.)
As the business was passed down through the generations, some things remained constant, including growing the grapes the Heineman family uses in its wines.
"A lot of people want that vine-to-wine experience," Dustin says. "You grow your own grapes, you pick them, you press them, you bottle the wine and you label it. You do it all."
Many of the grapes used to make the wines here are grown on South Bass Island. Heineman's also leases vineyard land on North Bass Island from the state, allowing the winery to grow even more grape varieties.
Ed Heineman, who earned a degree in winemaking at The Ohio State University, has expanded Heineman's offerings from seven or eight varieties to 25, ranging from whites and white blushes to reds in sweet and medium-dry varieties.
"Every wine is different and a different challenge to make," he says. "It's fun to make wines people like to drink."
The winery's most popular variety is pink Catawba, a sweet blush wine made with Catawba grapes grown on the island. The winery produces 35,000 gallons of wine annually and ships 6,000 to 8,000 gallons of all-natural grape juice throughout the state and beyond each year. (Heineman's will also deliver your purchased bottles to the ferry docks for easy pick up before you leave the island.)
Ed and Dustin work together every day, and they both spent years learning from Ed's father, Louis. A founding member of the Ohio Wine Producers Association and an Ohio Wine Hall of Fame inductee, he was very involved with the business up until his death at age 92. Vivid storytellers, Dustin and Ed recall Louis' stories about the business. Owners of other large Ohio wineries, including George Lonz of Lonz Winery on Middle Bass Island, would visit Heineman's and drink wine with Louis' father, Norman.
"Dad would tell us how they'd come into the winery and sit together and lie to each other about how much wine they sold and how much money they made," Ed says with a laugh.
Dustin remembers watching Ed and Louis press the freshly picked grapes outside, next to the winery, while he would run around the property and play in the wine garden. Today, his son, Eli, loves to do the same. For Dustin and Ed, continuing their family tradition while welcoming new generations of families to the winery brings the business full circle.
"Some people say they dread going to work in the morning," Dustin says. "That's not me. I enjoy coming to work every day." 978 Catawba Ave., Put-in-Bay 43456, 419/285-2811, heinemanswinery.com