Food + Drink
| Wineries
Gervasi Vineyard, Canton
This Stark County winery features three distinct dining experiences at a 55-acre property that's made for a weekend getaway.
August 2018
BY Jim Vickers | Photo by Casey Rearick
August 2018
BY Jim Vickers | Photo by Casey Rearick
The barn that houses Gervasi Vineyard's fine dining restaurant has been here since the beginning. When the vineyard opened in 2010, the corporate offices were housed upstairs and the wine was made in the lower level.

The place has grown incredibly since then, with Italian-style villas for overnight guests, a second on-site restaurant called The Crush House, a new distillery set to open in late 2018 and a hotel to follow in early 2019.

These days, the barn shines as The Bistro with its rich and gleaming woods and central spiral staircase. It's rustic and beautiful and the perfect stage for the food coming out of executive chef Jerry Risner's kitchen.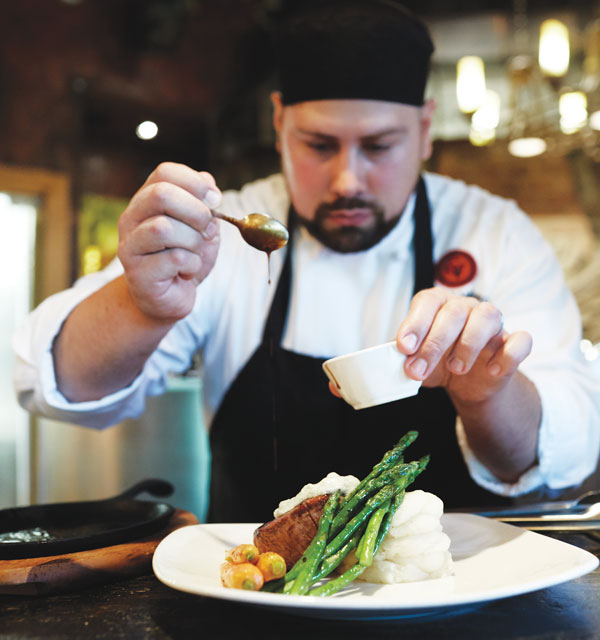 Risner has also been here since the vineyard's beginning and oversees each of the property's dining options. The Piazza is home to lighter fare such as wood-fired pizzas and fresh summer salads that go great with crisp white wines on a hot day. The Crush House offers a contemporary space with dishes such as beef gnocchi and chickpea-crusted chicken breast. The Bistro offers more traditional fine dining options such as steaks and seafood.

What makes Risner's job all the more interesting is that each space offers an entirely different menu and, consequently, experience based on what you're in the mood to eat. Buying quality ingredients and sourcing whatever he can find fresh and nearby is at the heart of Risner's approach.

"It all depends on what we can get locally, especially for specials," he says, singling out a walleye dish featured over the summer. "In the summertime, we always want to focus on lighter dishes ... In the wintertime, when we're less busy, we might have homemade raviolis on the menu."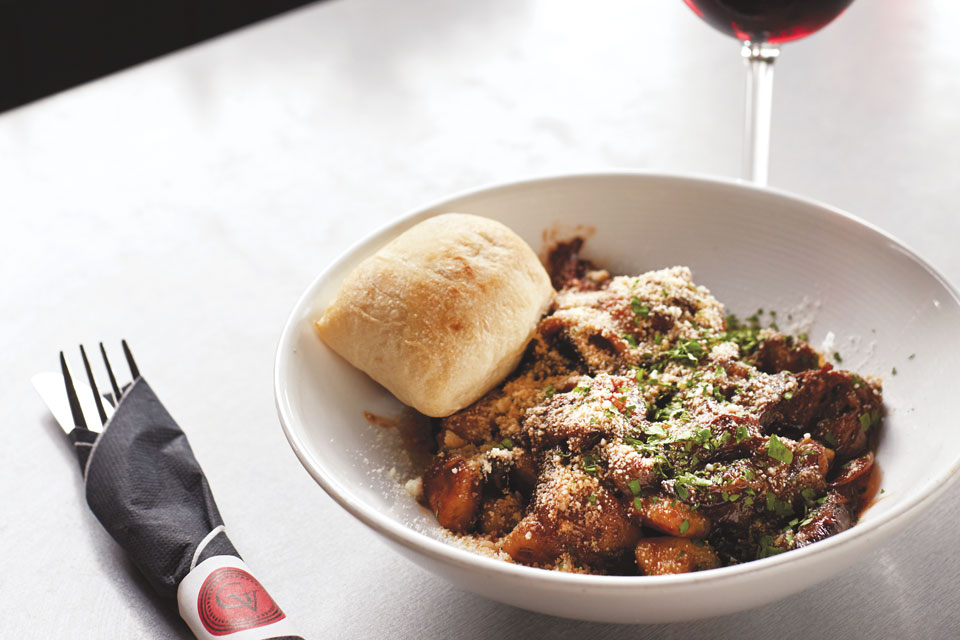 Risner's efforts in the kitchen are complemented by the work of Gervasi Vineyard director of winemaking and distilling operations Andrew Codispoti, who grew up in the Italian village of Calabria. Codispoti has overseen wine production here since the place opened.

"I don't like to make too big of a deal out of food and wine pairings," Codispoti says, noting that people gravitate toward varietals they like. "All you're trying to do is elevate the experience a little bit more."

Because Codispoti's focus is making a variety of compelling wines, he must source grapes from where they grow best. North American hybrids, such as Marquette and Frontenac gris, are made with grapes cultivated at the 5-acre, on-site vineyard. Other grapes are sourced from elsewhere in northeast Ohio. For a few varietals, the winery partners with California and Washington grape growers who ship their products to Canton. There are even a couple wines made in Italy specifically for Gervasi Vineyard.

"When you look at what it takes to satisfy this operation, it's Italy, it's northeast Ohio, it's Canton, it's southern California, it's northern California and Washington state," Codispoti says. "Except for Washington state, I have been to every vineyard, every winery, every producer. They know me and I know them." 1700 55th St. NE, Canton 44721, 330/497-1000, gervasivineyard.com


Order This!
Winemaker Andrew Codispoti shares a few of his favorite food-and-wine pairings at Gervasi Vineyard.

Sicilian Salad + Lacito Frontenac Gris
This dish served at The Piazza features mixed greens, pistachios, dried cherries, goat cheese, strawberries and creamy vinaigrette. "It has some tropical flavors — strawberry and pineapple," Codispoti says of the wine. "It works so well with the strawberries and the dried cherries."

Beef Gnocchi + Truscano Sangiovese
This dish at The Crush House combines handmade potato gnocchi with mushrooms, caramelized onions, beef short rib, red wine demi-glace and Parmesan cheese. "The fruit flavors [in the wine] are a younger, fresher fruit," Codispoti says. "There's a bridging with the sweetness of the caramelized onions in there."

Manzo Italian Grilled Filet Mignon + Abbraccio Cabernet Sauvignon
This higher-end cut is served with Gorgonzola cheese, port wine sauce, potato puree, asparagus and baby carrots. "The fats — all those good things that are either in the sauce or in the meat — really work well with a wine that has more tannins because the fats tend to soften them," Codispoti says.