Food + Drink
| Wineries
Crosswinds Grille, Geneva-on-the-Lake
Chef Nate Fagnilli's approach to butchering is efficient and delicious, as evidenced by the creative cuts coming out of his kitchen at The Lakehouse Inn.
August 2018
BY Ruth Corradi Beach | Photo by Casey Rearick
August 2018
BY Ruth Corradi Beach | Photo by Casey Rearick
Crosswinds Grille exists in a cozy enclave within The Lakehouse Inn, an all-in-one destination that also boasts a boutique winery and spa. The four businesses are like the fingers on a hand, with the fifth — Na*Kyrsie Meats — located just down the road. The Fagnilli family owns them all, with chef Nate Fagnilli helming the restaurant and butchering the meat he serves there.

With father Sam making the wine and overseeing maintenance, mother Karen acting as CEO and sister Andrea Bushweiler in charge of finances and events, every family member's talents are pressed into service. This do-it-all, no-waste business model is a good description of Fagnilli's philosophy on prepping the meats that appear on his menu.

"I get 16 steaks per cow. Most butchers cut six," Fagnilli explains. "I'm not going to kill thousands of cows just so diners can get their [familiar] steaks."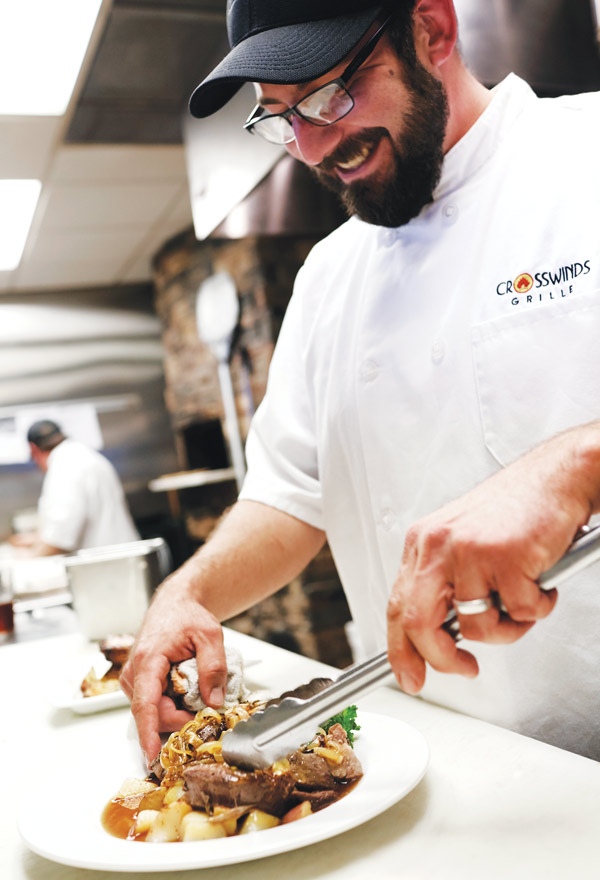 He creates those 10 extra steaks by custom cutting meat that other butchers might grind up. The Ranch cut is an 8-ounce steak from the shoulder. The Bavette is a 7-ounce, long-grain cut from above the flank, and the Denver is a highly marbled cut from the chuck. Fagnilli didn't invent these cuts, but they're uncommon enough that he gives diners an illustrated card that points to each and rates its tenderness and flavor.

"[This method] takes a lot longer to cut the animal, pull it apart," he says. "Most people think a steak is a steak, and want everything to have the flavor of a rib-eye and the tenderness of a filet. There's so much more to it than that."

It's sometimes a tough sell in a tourist-heavy area where much of the summer traffic is people who wander in looking for a bite rather than destination diners. But those willing to go on the culinary ride are rewarded with dishes that elevate the everyday into the extraordinary.

The double cheeseburger may be the best example of this: It's an absolutely revelatory take on an everyday standard, and each element is carefully thought out. For starters, the grass-finished beef (cattle that remain on a pasture and forage diet their entire lives) is presented in two thin patties.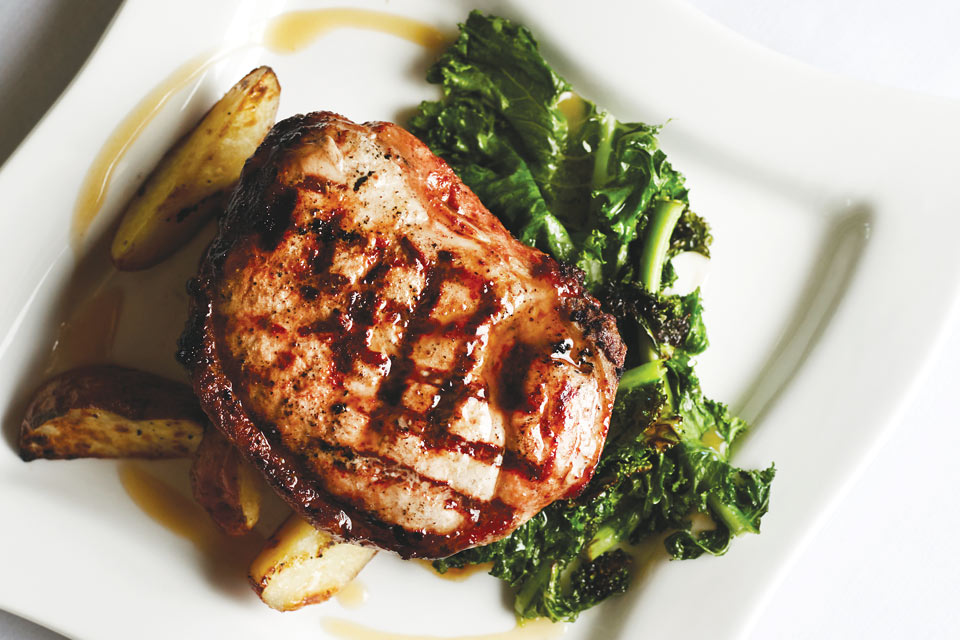 "Two thin patties offer a different texture than one thick," the chef explains. "It's not like biting into a big meatball."

The patties are caramelized on both sides, so there is twice the crispy saltiness, and each is topped with smooth Middlefield Swiss cheese. Nestled between them is Fagnilli's traditional beef navel pastrami, as soft as a thin slice of dense cake.

"It's different and delicious," he says, in what is a massive understatement of the dish served with fries and herbed mayonnaise.

The relationship between the food and the wine is just as considered. To that end, each item on the menu has not one, but up to four suggested wine pairings — recommendations that are intended to enhance some aspect of the dish's flavor. This meticulous approach to dining extends to the rest of the menu as well, with everything sourced locally and in season.

"Why would I source from California, Mexico, Arizona?" Fagnilli asks. "That has no history, no story to it." 5653 Lake Rd. E., Geneva-on-the-Lake 44041, 440/466-8668, crosswindsgrille.com


Order This!
We asked chef Nate Fagnilli for a few of his favorite food-and-wine pairings at Crosswinds Grille.

Charcuterie & Salumi Board + Pinot Rosa
"The crispness of the wine and the acidity of the [in-house] pickled vegetables balance the meats and cheese," says Fagnilli. Offerings differ by day, but keep an eye out for the velvety capa de testa or the sleekly smooth beef brosolo.

Double Cheeseburger + Cabernet Sauvignon
The dark and bold flavor of the cab pairs perfectly with the crisp richness of the caramelized patties that go into this creative cheeseburger. "They have to go together to be fully appreciated," Fagnilli says.

Fried Perch + Pinot Grigio
"People go to New England and have local fish, then don't think of our own perch in the same way," Fagnilli says. His lightly breaded version sings with capers in the accompanying remoulade, and the clean, light wine cuts through the tart.