Food + Drink
| Wineries
4 Ohio Wineries to Visit this Fall
These four destinations across Ohio are great spots to kick back and enjoy a glass of wine as the leaves begin to change.
Sept./Oct. 2021
BY Lisa Sands | Photo by Casey Rearick
Sept./Oct. 2021
BY Lisa Sands | Photo by Casey Rearick
ThornCreek Winery & Gardens

A magical thing happened when David Thorn decided to combine his passions of landscape architecture and wine, and his ThornCreek Winery & Gardens in Aurora is a sensory experience in every way.

Visitors here are treated to expertly crafted wines that can be enjoyed amid 9 acres of meticulously designed botanical gardens.

"We provide a transportation from the hustle and bustle of life to an oasis that has a feel of Napa or even Italy," Thorn says.

ThornCreek's wines are crafted locally with grapes sourced from Oregon, California, Michigan and New York.

"I didn't want to be limited by the growing conditions of Ohio," Thorn explains. "I started building relationships with winery owners and vintners on the West Coast."

Thorn and winemaker Mary Jo Mullins aim for complex, memorable wines like the ThornCreek Red Blend. It's 85% pinot noir blended with cabernet sauvignon and syrah — a wine with notes of currant and blackberry and a surprising caramel finish. The winery has a small but thoughtful menu that complements the wine selections.

"I've traveled all over the country and world exploring wine and food," Thorn explains. "Our tastings and seasonal menu reflect that."

Visitors can enjoy wines in a variety of environments such as an intimate underground wine cellar or a tranquil waterfall garden and meander along scenic paths throughout the property. The winery is a popular wedding and event venue and is at times closed for private functions. Checking the website and social media channels is a must before you visit, and reservations are required. 155 Treat Rd., Aurora 44202, 330/562-9245, thorncreekwinery.com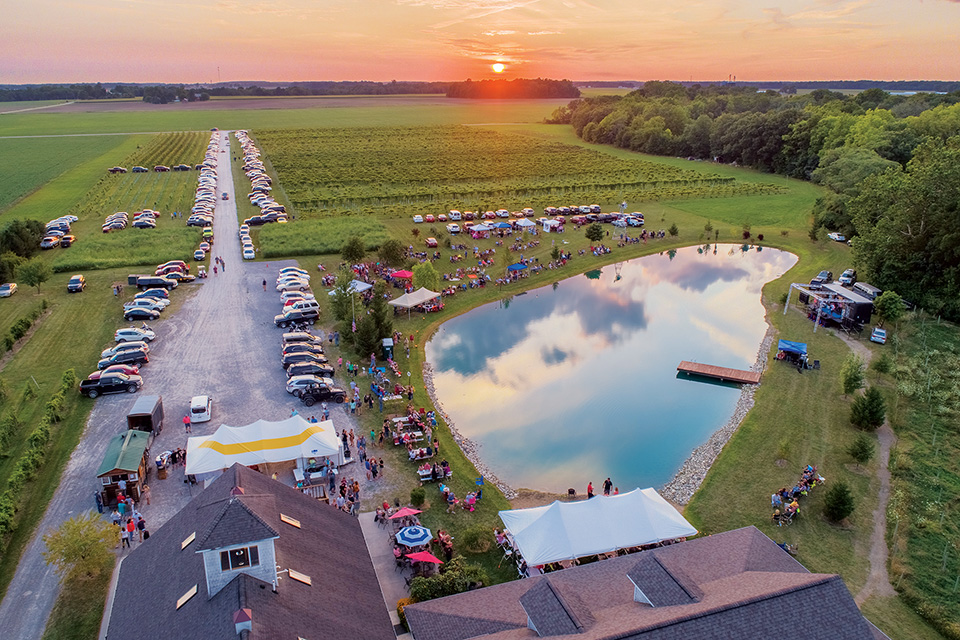 Stoney Ridge Winery

Other growing regions might get more attention, but Stoney Ridge Winery, located in the northwestern Ohio city of Bryan, has been making estate-grown wines in this corner of the state for nearly 20 years.

"Stoney Ridge is a beautifully maintained property, which makes a relaxing and joyful atmosphere for visitors," says Abby Towne, the winery's general manager.

Ryan Towne, Abby's husband, is Stoney Ridge's winemaker. He has an intimate knowledge of the 13-acre vineyard and 15 grape varieties because he helped plant the vines. His mother, Pam Ledyard, started the winery in 2002. It produces 12 wines from hardy French-American hybrid grapes that do well in the area's sandy soil and colder temperatures.

The winery's most popular bottles are blends of estate-grown fruit. Elegant Farmer is a white blend of La Crosse and La Crescent varietals. Similar to a riesling, Elegant Farmer is semidry with an acidity that complements bites of soft earthy cheeses or seafood.

Visitors can stop in the tasting room to select a bottle and enjoy it on the picturesque grounds that are beautiful in every season. The winery views are particularly memorable at sunset. The family has created a convivial environment, where it hosts themed events through the year and local musicians on weekends.

Stoney Ridge Winery is a family business that prides itself on treating its customers like an extension of their family.

"I love meeting new people and introducing people to the wines we've worked so hard to produce," Towne says. "Our fabulous staff welcomes visitors with a smile." 7144 Williams County Rd. 16, Bryan 43506, 419/636-3500, stoneyridgewinery.com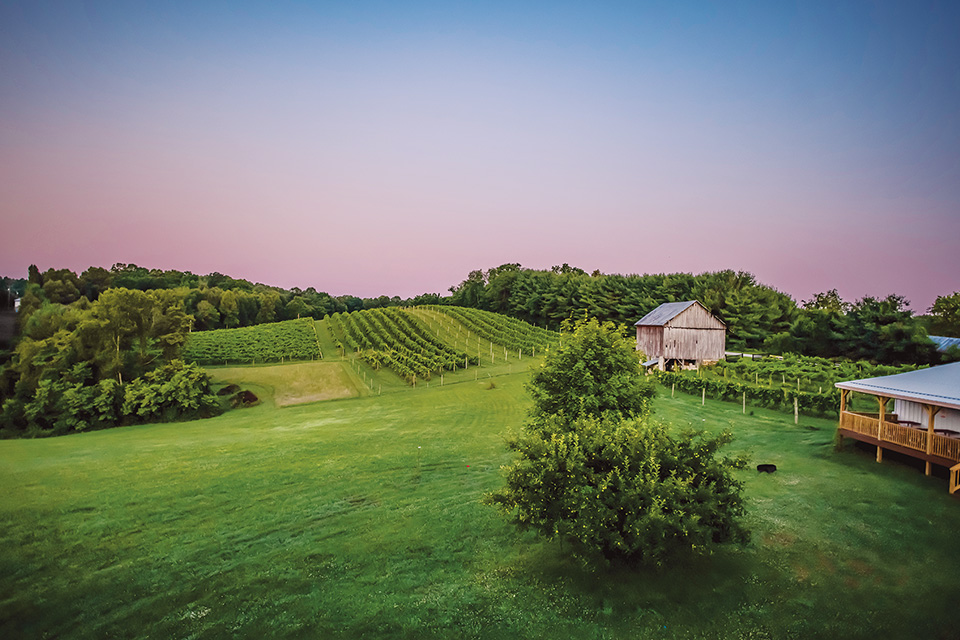 Le Petit Chevalier Vineyards and Farm Winery

Not far from the forest trails and caves of Ohio's Hocking Hills region, travelers find an unexpected but welcome site, Le Petit Chevalier: a 21-acre vineyard and winery that opened in 2020.

The vineyard is located in Vinton County on Locust Grove Ridge, about 1,000 feet above sea level, where wind conditions, good drainage, and sandy loam and clay soil yield fruit with distinct characteristics. The winery sits just 3 miles outside of the Ohio River Valley American Viticultural Area, a recognized growing region.

"We have excellent, fruit-forward wines, all made from our own heirloom varieties or cold-hardy hybrids," says owner and winemaker Mark Chevalier.

The grapes here are grown without herbicides, and Chevalier has been perfecting his fruit and building his destination winery for more than a decade.

"Our 2020 Seyval Blanc has been a runaway success," he adds. "It's been a very popular wine for us, and I think the best white wine we've made to date."

Visitors often remark that the grounds of Le Petit Chevalier remind them of the European countryside. Adding to the pastoral feel is a small flock of Southdown sheep, which take care of the mowing, and the farm's two border collies.

Visitors may gather in the tasting room or bring a picnic to enjoy by the vineyards and pond. Chevalier and his wife, Margit, also added a cozy loft apartment on the property to accommodate overnight guests who are looking for a different kind of Hocking Hills getaway.

"We have a beautiful location," Chevalier says. "Our vines roll over the hillsides, and people tell us it reminds them of Italy or France." 26328 Locust Grove Rd., Creola 45622, 740/988-6150, lepetitchev.com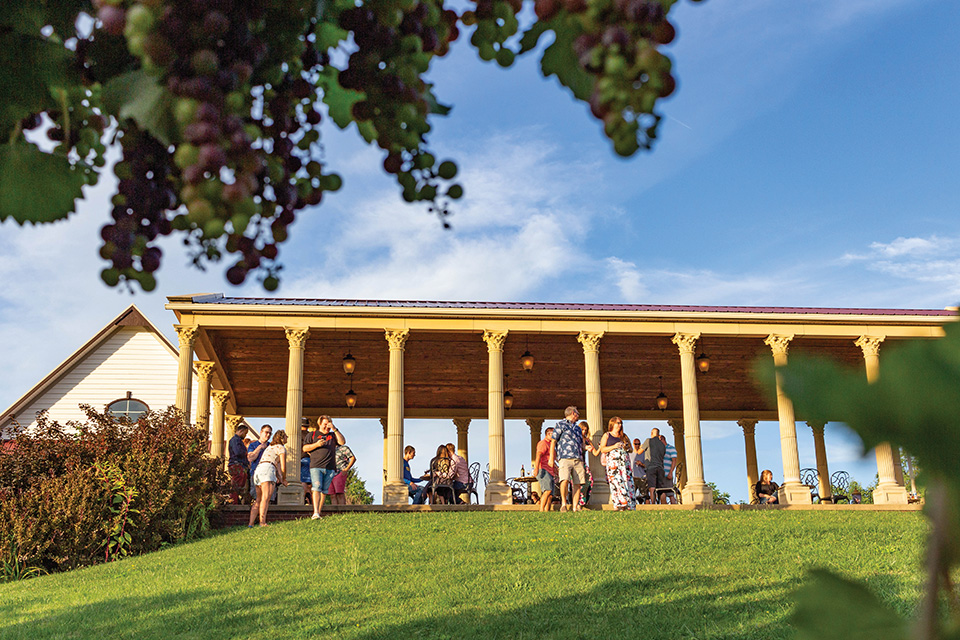 South River Vineyard

Getting lost in the scenery at South River Vineyard is easy. With 50 acres of grapevines and a restored century-old church on the property, visitors will find some of the best photo ops in the Grand River Valley at this Geneva spot.

"People fall in love with the view," says Gene Sigel, South River Vineyard's owner and winemaker. "When people see the vineyard and views, they experience a sense of tranquility and serenity. People return again and again."

The winery tasting room is housed in an 1892 Methodist Episcopal church relocated from Shalersville, a rural town in Portage County. On sunny days, the wood floor is dappled with colorful beams of sunlight streaming through the stained-glass windows.

Visitors can bring in a picnic to enjoy with a glass or bottle of estate wine and spend hours gazing upon acres of grapevines from an elevated open-air veranda or from cozy Adirondack chairs around the outdoor fireplace.

"People don't realize they are looking out at some of the best farmland for grapes in the area," says Sigel, who has cultivated vines in the Grand River Valley for nearly 30 years.

More than two dozen varieties of grapes grow here including riesling, chardonnay, petit verdot, cabernet sauvignon, merlot and syrah. A few prized acres are planted with malbec, an early ripening red grape that is climate sensitive, requiring a nearly frost-free growing site.

"I am proud of the malbec we make," says Sigel, one of the only Ohio growers of that varietal. 6062 S. River Rd. W., Geneva 44041, 440/466-6676, southrivervineyard.com

For more information about Ohio wineries, visit ohiowines.org.