Food + Drink
Weber Ranch, Wayne
Tony and Michelle Weber used their experiences living in Montana to inspire their small Wood County farm, where each pig, cow and chicken is part of an interconnected web.
July 2018
BY Kristina Smith | Photo by Bianca Garza
July 2018
BY Kristina Smith | Photo by Bianca Garza
Tony and Michelle run Weber Ranch in the Wood County village of Wayne. Their 21-acre livestock farm produces food they bill as "Gourmet on Grass" — meat, eggs and honey rich in nutrients and raised responsibly. Chicken, pork, beef and Thanksgiving turkeys go from their farm to Ohio dining tables, whether it's those of customers who are part of their buying club or restaurants in Toledo, Sylvania and Perrysburg.

"All we're doing is mimicking nature," Tony says. "Nature is already the template that's tried and true. We've just figured out how to run it as a business."

Constant motion is the key. The Webers regularly rotate each group of animals through the farm, using movable fencing and portable hen and chicken houses. The cows are grass-fed and work their way through the pastures and small wooded sections. The pigs do the same, often foraging in the woods and keeping the brush in check. Then the chickens come through and sanitize the areas by eating bugs, clover and mice. They also begin the natural process of composting the soil.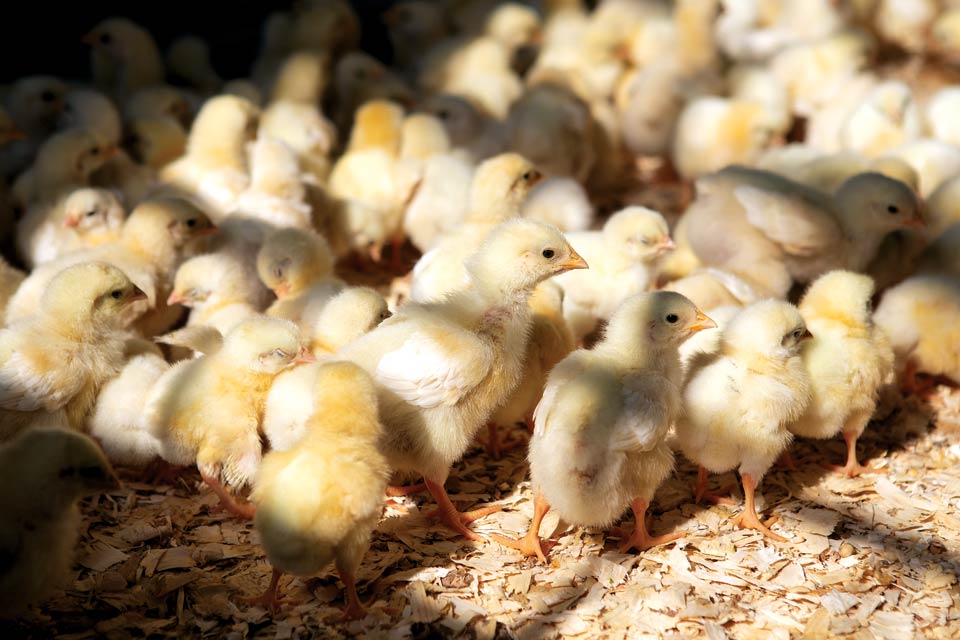 The 500 hens roam free in the pasture where the cattle have cut down the grass, but it is still tall enough to protect the hens from predators. The hen and chicken houses are moved daily and drop natural fertilizer on the ground along the way.
"Everything on this farm has a purpose," Tony explains. "The animals do what they naturally do, and we make it work for us."

The Webers are in their fifth season of running the ranch and their fourth on this property, an 1850s farm with impeccably maintained buildings. The chicken brooder house, a bright red structure that houses fluffy baby chickens, was the original farmhouse.
"It's really cool to know the history and that we're continuing what the original owners did," Michelle says. "I feel like we are really using it to its fullest potential as a farm and business."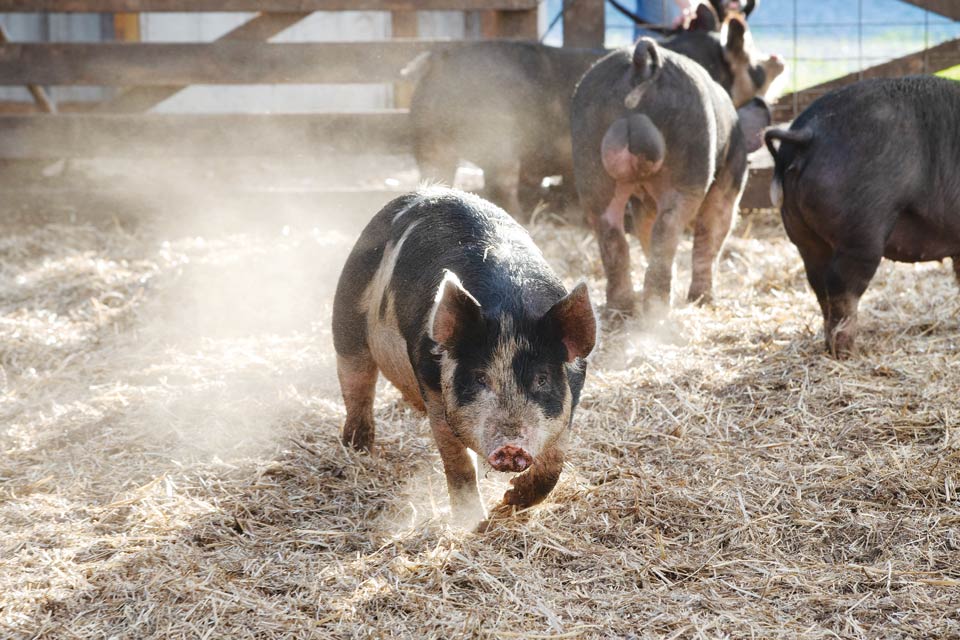 Michelle and Tony are first-generation farmers who grew up in Perrysburg. Michelle teaches art at an elementary school and is an adjunct instructor in the art education department at Bowling Green State University. Tony has a degree in forestry from Hocking College, which has been useful in developing his pasture and wooded area for the cattle. The couple became interested in having their own farm when they lived in Missoula, Montana, and then rural Montana for six years. The Missoula community emphasized local food, and when the Webers later lived 80 miles from the nearest town, the idea of raising their own food was appealing.

"We knew there was a market for this here," Michelle says of Weber Ranch. "We knew the word-of-mouth and support was going to be here."
Most of their meat and eggs go to about 500 families in their buying club and through sales on their website. The couple also works with local restaurants, including Element 112 in Sylvania, Fowl & Fodder in Toledo and Sylvania, and Maddie & Bella Coffee Roasters in Toledo and Perrysburg.

They occasionally offer farm-to-table dinners and regularly give tours to 4-H groups, Girl Scouts and anyone who wants to see their operation.

"We're the authentic alternative," Tony says. "[Naturally raised meat] tastes better. You don't want chicken that tastes like whatever barbecue sauce you smothered it in. You want something that tastes like real chicken and is rich in nutrients."

To learn more, visit weberranchllc.com.

----
The Chef: Chris Nixon | Element 112, Sylvania

Chris Nixon values the quality of his ingredients above all, and he will look beyond northwest Ohio to find farmers who grow the best stuff and do so ethically. The good news for guests at Sylvania's Element 112 is that Nixon, the owner and head chef, finds many of the products he uses right down the road.

"Often you will find a local product fits that bill the best," Nixon says. He buys vegetables, for example, from Elmore's Shared Legacy Farm, and much of his meat comes from Tony and Michelle Weber at Weber Ranch in Wayne.

"It's just the way he handles the animals — how he's running them around the pastures, moving them carefully, giving them way more than enough room to roam," Nixon explains of Tony Weber's approach. "Things like that are extremely important to me, and he makes it a part of their life."

Element 112 serves pub-style favorites in the tavern room and more creative dishes in the main dining room, and menus change almost daily. One of Nixon's long-standing creations features fresh pork from Weber Ranch.

"It's a pork chop that's been brined and marinated," he says, "and then we roast it really hard, let it rest, and try to keep a little of the color to it — the bright red hue that comes from the animal actually walking around."

Nixon marinates the meat with thyme and lemon and pairs it with a simple side of caramelized onions. And while the chops shine, Nixon also subs in another cut when he can get it.

"A personal favorite that I don't normally tell people about is a flank steak," he says. "A pork flank steak is awesome." 5735 Main St., Sylvania 43560, 419/517-1104, element112restaurant.com


Grilled Pork Chops | Serves 4

INGREDIENTS
4 Chicago-style pork chops (12 to 14 ounces each)
2 tablespoons salt
1 tablespoon brown sugar
1 tablespoon minced garlic
8 lemon slices
8 thyme sprigs

DIRECTIONS
Pull the chops out 2 hours before grilling and rub the salt, sugar and garlic into them, coating each evenly. Place two slices of lemon and two sprigs of thyme on each. Leave at room temperature. Preheat oven to 250 F or use a smoker with hickory chips set to the same temperature. Place pork chops in oven or smoker and let sit 20 minutes or until internal temperature reaches 135 F. Remove the lemon and thyme and place on a very hot grill for just long enough to get good grill marks (about 2 to 3 minutes per side). Remove from grill and let rest 8 minutes.