Food + Drink
Sweet Season: 3 Great Maple Recipes
Three chefs in Ohio's maple-sugaring country share recipes that highlight the region's star ingredient.
March 2018
BY Ruth Corradi Beach | Photos by Casey Rearick, Styling by Christine Rice
March 2018
BY Ruth Corradi Beach | Photos by Casey Rearick, Styling by Christine Rice
When it comes to maple syrup, Northeast Ohio is synonymous with the stuff. Come March, the upper right quadrant of our state is dotted with the spigots, buckets and tubing necessary to harvest sap from the region's maple trees. We asked three chefs who work in the area how they use maple syrup to up the wow factor in their dishes. What they came up with is — in a word — sweet.

Maple Brussels Sprouts
Welshfield Inn & Banquet Center, Burton

Stephanie Felicetty, executive chef at the Welshfield Inn, pays homage to the wooded areas surrounding the Burton landmark where she cooks with her Brussels sprouts recipe. She doubles down on the Geauga County maple syrup, using it both in the butter to saute the sprouts and the vinaigrette to dress them.

She blanches and shocks the Brussels sprouts before sauteing, a step taken in the restaurant to speed along their cooking. The sprouts' earthy flavor gets a zing from Thai chili spice and a sweet note from the deep flavors of the maple syrup. The use of soy sauce counterbalances the sweet of the chili but also the syrup.

"And then the rice wine vinegar, which is on the low scale of vinegars in terms of bite, adds a little extra acid since soy is so salty," says Felicetty. "You don't want to add more sweetness, like an apple cider vinegar would do, but you do want to cut the sweetness and the saltiness somehow."

Despite the complex-sounding science behind the flavors, the recipe itself is fairly simple, and the maple syrup keeps on giving even after you've made this Brussels sprouts dish, offering extra of both the vinaigrette and the butter.

"We use the maple vinaigrette for just about everything," Felicetty says. "It's a very good salad dressing, and the sweetness balances the salty in things like bacon and spiced nuts."

As for the whipped maple butter, in addition to a topping for toast, melt some on pancakes to double up on the maple syrupy goodness. 14001 Main Market Rd., Burton 44021, 440/834-0190, thedriftwoodgroup.com


Maple Brussels Sprouts | Serves 4
Courtesy of chef Stephanie Felicetty

INGREDIENTS
1 pound butter
2 tablespoons maple syrup
1/2 teaspoon cinnamon
2 tablespoons brown sugar
12 ounces Brussels sprouts, halved, blanched and shocked (see note below)
1/4 cup chicken stock
1/2 cup maple syrup (Felicetty uses Geauga County syrup)
1/4 cup Thai chili sauce
1/8 cup soy sauce
1/2 cup rice wine vinegar
1 cup vegetable oil
1/2 tablespoon kosher salt
1/2 teaspoon allspice

DIRECTIONS
Blend together, at low speed, first four ingredients to make maple butter. Then, melt 2 tablespoons maple butter in a saute pan. Add Brussels sprouts and chicken stock and bring to a boil until stock has reduced and butter has started to brown the sprouts. Meanwhile, blend the remaining ingredients, adding oil last and gradually, until well mixed, and then immediately transfer to lidded bottle (the dressing will separate quickly and must be shaken immediately prior to each use). Remove sprouts from heat. In hot pan, toss with 8 tablespoons maple vinaigrette and salt and pepper to taste.

Chef's Note: The recipe will result in both extra maple butter and maple vinaigrette. Extra maple butter can be covered, refrigerated and used in place of butter. Extra vinaigrette can be refrigerated and used for salad dressing, on vegetables or to make spiced nuts.

How-To: Blanch and Shock
This method makes Brussels sprouts tender, so they only require a quick saute or roast. Bring a large pot of salted water to a rolling boil and add sprouts. Return to a boil. After 3 or 4 minutes, test the sprouts for tenderness by poking one with a fork. (When ready, they will be easy to pierce but still firm). When at desired doneness, transfer sprouts to an ice bath using a slotted spoon, which stops the cooking process. Remove sprouts after a few seconds.

***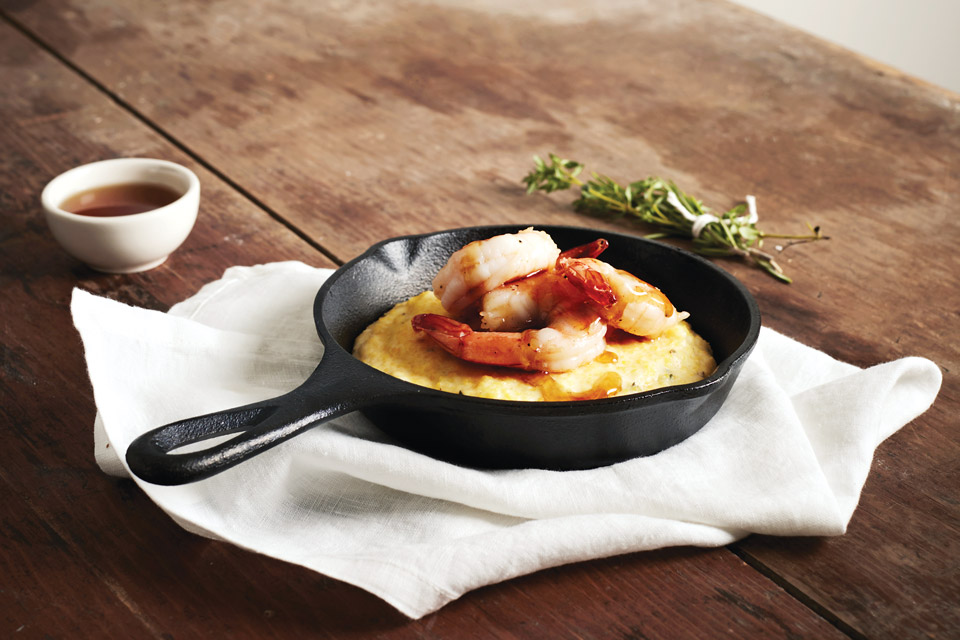 Shrimp and Polenta with Maple Glaze
Sol, Willoughby

Sol is all about fusion, so it's fitting that the man who helms the Spanish-inspired restaurant fuses local maple syrup with world cuisine.

"I live in Chardon and grew up in the middle of Geauga County," says executive chef Brett Zubek. "I have a love for the maple syrups of the region: darks, mediums, light. My personal favorite is nice and dark and rich. It's great for candying or baking or over a stack [of pancakes]. The medium is more run of the mill, what we're used to. And the lighter I use in reductions."

His recipe for shrimp and polenta with maple glaze uses such a reduction, one made with agave nectar and bourbon. Shrimp and maple syrup may not seem like a fitting combination, but it's an example of the fusion cooking Sol is known for, and it does have some precedent in Spanish cuisine.

"When you add sweetness to the seafood, the sweetness enhances the flavor and natural sweetness in the shellfish," Zubek says. "In Spanish cooking, lots of marinades for shrimp and fish use sweetness, like agave, so maple syrup is just another way of doing that."

Zubek appreciates the flair of lighting the bourbon on fire to burn off the alcohol rather than microwaving it. ("It does the same thing, but it's not as cool," he says of the microwave.)

At Sol, Zubek serves the shrimp and polenta dish with house-made habanero carrot hot sauce on the side. You can get as fancy as you like, but the basic dish is a simple, satisfying combination of sweetness, creaminess and a little bit of spice. 38257 Glenn Ave., Willoughby 44094, 440/918-1596, solwilloughby.com


Shrimp and Polenta with Maple Glaze | Serves 4
Courtesy of chef Brett Zubek

INGREDIENTS
1 cup 80-proof bourbon
1 cup maple syrup (Zubek uses a light variety for reductions)
1 cup agave nectar
3 cups water
1 teaspoon salt
1 cup polenta
1 cup heavy cream
2 tablespoons unsalted butter
2 sprigs fresh thyme, chopped
2 sprigs fresh rosemary, chopped
2 tablespoons olive oil
1 pound clean shrimp, salted and peppered

DIRECTIONS
Cook bourbon to 175 F in saucepan. Ignite with lighter in saucepan to burn off alcohol. (Alternately, you can microwave for 35 to 45 seconds.) Once flame is out, reduce to simmer. Add maple syrup and agave nectar and cook down to reduce by one-third. Let cool to room temperature.

Bring water and salt to boil in saucepan, whisk in polenta over medium heat for about 2 minutes. Reduce heat to simmer and add cream, butter and chopped herbs. Simmer until desired texture is achieved (about 30 minutes). Saute shrimp in olive oil until cooked through. Divide polenta among four plates and top with divided shrimp. To finish, spoon or drizzle bourbon maple glaze over top.

***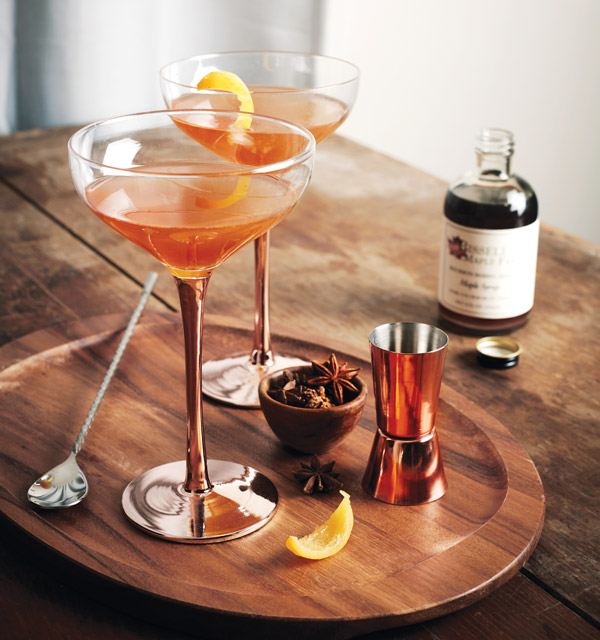 The Foolery
The Smith Restaurant, Burton

The Smith Restaurant is a comfortable fixture on Burton Square, the center of a town known for its maple-sugaring heritage. William Burke, the restaurant's chef and general manager, is of the opinion that maple syrup serves as a terrific counterpart to a range of ingredients.

"It pairs uniquely with things you might not think," he says. "Maple syrup and venison go well together, [or] maple syrup and jalapenos."

It even goes well in a cocktail, and The Foolery is Burke's take on a well-loved classic.

"It's a spirit-forward play on a Manhattan," he explains, "with the addition of a hint of maple syrup and apple cider."

Burke prefers to use bourbon-barrel-aged maple syrup in The Foolery.

"The bourbon-barrel aging gives something a little extra to the maple syrup; an added depth and dimension," he says.

The chef is also a fan of slow cooking and says if you have access to a smoker, smoking both the syrup and the cider will add another dimension still. (As for the preserved lemon, you can buy it at specialty stores, which is what Burke recommends. You can also go the do-it-yourself route. "Slice one and bury it in salt for six months," he says.)

"I really like the maple syrup we get out here," Burke says. "First of all, we try to use local products as much as we can to create a circular economic system. Also, it's not overly sweet, not overly cloying. I dig the color; it's a nice organic color that doesn't look like it's been altered. If you taste enough maple syrup, you start to notice little different notes between batches. … When you taste the maple syrup, you can taste how the year went." 14608 W. Park St., Burton 44021, 440/273-8039, thesmithohio.com


The Foolery | Serves 1
Courtesy of chef William Burke

INGREDIENTS
2 star anise
1 cinnamon stick
4 ounces 80-proof moonshine
1 1/2 ounces straight bourbon (Burke uses the Chagrin Falls-made Tom Foolery)
1/2 tablespoon apple cider
1 tablespoon maple syrup (Burke uses a bourbon-barrel-aged variety)
Preserved lemon

DIRECTIONS
For homemade star anise bitters, combine first three ingredients in a jar, shake well and let sit in a cool, dark place for 3 days. Combine 2 dashes star anise bitters with all other ingredients in a shaker filled with ice. Vigorously shake for 30 seconds and strain into a coupe glass. Garnish with quick-torched preserved lemon.