Food + Drink
Sweet Perfection
The Gottenbusch family's Servatii Pastry Shops have become a Cincinnati favorite built on old-world-style desserts.
February 2014 Issue
BY Lynne Thompson | Photos by David Sorcher
February 2014 Issue
BY Lynne Thompson | Photos by David Sorcher
The array of pastries on display is dizzyingly decadent, enough to make the most sophisticated sweet tooth swoon.

A thoroughly European macaroon torte of tender yellow sponge cake layered with almond paste and homemade apricot and raspberry jams shares shelf space with a rum-soaked tiramisu. On the shelf below, a white chocolate mousse torte nearly disappears in a lacy cloud of white-chocolate shavings.

The selection of tortes goes on and on: Black Forest, mocha truffle, opera crème, chocolate mousse. And that doesn't include the pies, cheesecakes, cookies, sweet rolls and other delights available at the Servatii Pastry Shop in Cincinnati's upper-crust Hyde Park neighborhood.

Yet co-owner Gary Gottenbusch, a third-generation, European-trained certified master baker, is dissatisfied with the assortment, which customers have thinned during hours of exhaustingly brisk business.

"This is the end of the day, so everything's a little bit picked over," the 48-year-old says apologetically.

That constant quest for perfection has allowed the little bakery that Gary's German-immigrant father Wilhelm started in this same neighborhood 50 years ago to thrive as other independent competitors closed their doors.

Gary, his younger brother Greg and their father have opened a main baking facility in northern Cincinnati, expanded the Servatii product line to more than 400 items, and put many of them in supermarkets across the state: The Andersons Market in Sylvania, near Toledo, Andersons the General Store in Columbus, Buehler's Fresh Foods in Wooster, Dorothy Lane Markets in Dayton and Heinen's Fine Foods in Cleveland and suburban Chicago.

But in an age of one-stop shopping, the Gottenbusch family continues to lure customers to their 13 Servatii Pastry Shops throughout the Greater Cincinnati area with a combination of elaborate confections and everyday staples such as breads and rolls, all made with the highest-quality ingredients they can get.

"The secret to our success," Gary says, "is making it worth the trip."

***

Wilhelm Gottenbusch, now 79, comes from a line of bakers. He knows little about his grandfather, a consequence, Gary says, of constant moves and records lost during and after World War I. But as father and son sit in the baking facility's conference room, they point to framed photographs of the Café Servatii, which Wilhelm's father George opened in Münster, Germany, after World War II. He named the now-defunct pastry shop after St. Servatius, patron saint of the gate into the walled city.

Although tradition dictated that Wilhelm take over his father's business, Gary later divulges that his father didn't feel the shop's master provided an adequate apprenticeship. As a result, Wilhelm completed his education at a pastry shop in the German city of Ulm. He then spent five years continuing to train as a pastry chef in businesses throughout Germany and Australia.

Wilhelm arrived in Cincinnati in 1957 after an unsuccessful job search in New York City and found work at a local bakery. After two years of military service as a cook at Fort Knox, he returned to the Queen City and took a position at a kosher bakery. But he was unhappy in a place where he couldn't make the European pastries he loved. "My wife said, 'If you don't like to work for them, then start out on your own,' " he remembers.

In 1963, Wilhelm opened his own business in a storefront just east of Hyde Park Square. He called it the Servatii Pastry Shop, after his father's establishment. The term "pastry shop" and the fancy goods it sold — items made with marzipan and covered in chocolate — were unfamiliar to many locals.

But as more people traveled overseas, they developed a taste for Wilhelm's creations. In late 1972, he moved his operation to a space in a new strip mall a couple of miles away, right across the parking lot from a Kroger — the highest-volume store in the national supermarket chain at that time. Wilhelm's competitors considered the move a risky one. Gary explains that supermarkets typically offered a larger variety of baked goods at lower prices. However, the shop benefited from the traffic.

"When we were kids, there were people who would line up for an hour or more outside of the store [around Christmastime]," Gary recalls. "They would get a number from the counter, go across the street to Kroger and go shopping, and then come back."

***

Servatii still makes a number of the same delicacies George Gottenbusch produced in his Münster pastry shop. Gary singles out tortes such as the Black Forest, which includes a layer of whipped cream flavored with real cherry brandy, and holiday treats such as speckulatius, a thin ginger cookie in the shape of a soldier or other old-world figure.

The apple and cherry strudels still contain a layer of sponge cake to soak up fruit juices from the filling and keep the puff pastry from getting soggy. Similarly, Danish are brushed with apricot preserves to add a bit of acidity and amber color and keep the boiled-butter icing from drying out or being absorbed.

"We haven't changed many ingredients over the years unless it's an improvement over the original," Gary says.

But that doesn't mean the Gottenbusches are resistant to change. Six of their 13 shops now have in-store delis. They also recently invested in an automatic pretzel-twisting machine to make products ranging from a soft pretzel that can be used as a sandwich bun to a huge version that Servatii fills with meat, cheese, lettuce and tomato as an alternative to the standard party tray of sandwiches.

Gary has also developed a preservative-free baked soft pretzel that stays fresh in its package for a year. The snack, marketed under the Pretzel Haus name, is in five of the top 10 movie theater chains. And last year the brothers opened Pizzelii Brick Oven Pizza, a 140-seat pizzeria in the Cincinnati suburb of Mariemont that uses sauces and mozzarella made on the premises.

"They're just hobbies, things that we enjoy," Gary says of the enterprises. "But they're extensions of what we do."

Back at the main baking facility, the white-uniformed second shift has arrived. The smell of cake doughnuts frying mingles with the scent of caraway seed crusting the tops of salty rye bread.

"During the day, they make cakes and cookies — they're not as time-sensitive," Gary explains. "But all of the doughnuts and the breads and the Danish have to be baked at night to get to the stores so they're fresh in the morning."

He stops to watch the pretzel-twisting machine repeatedly transform lengths of dough into what is becoming an iconic Servatii staple. Even some of the doughnuts are now made in a pretzel shape.

"My father told me when I started in the bakery business, 'If you do exactly what I did, you're not going to be around. You have to do things differently,' " Gary says. "That's what we're doing. It makes him crazy because things change. But we don't change the basics."


***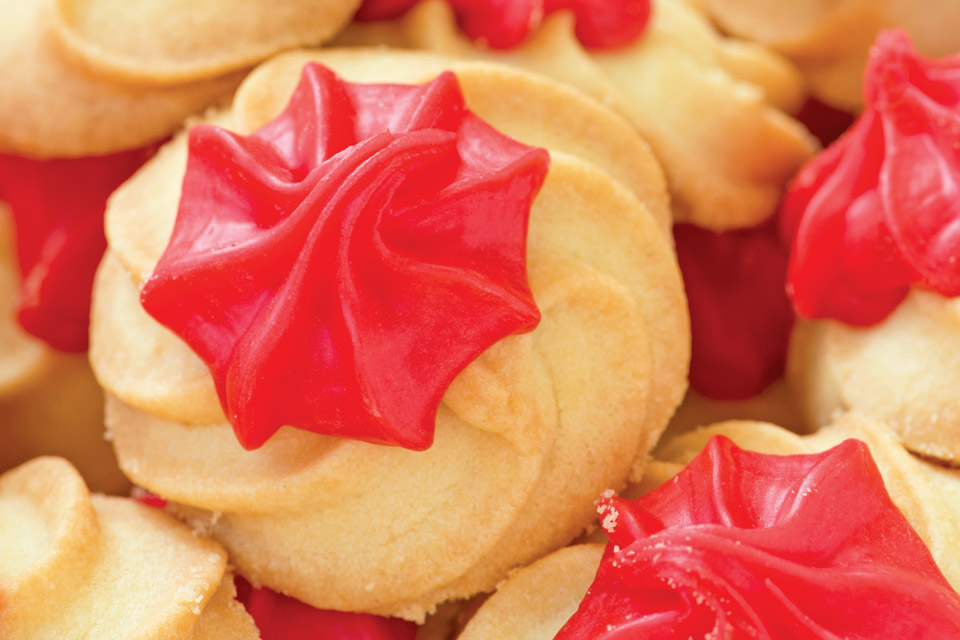 Servatii's Butter Cookies
Gary Gottenbusch says Servatii Pastry Shop's recipe for its ever-popular butter cookie is actually quite simple. The same goes for the boiled-butter icing that tops it. The cookie dough can be prepared and refrigerated as indicated in the recipe or placed directly in a piping bag with a star tip and deposited in half-dollar-size swirls at 1/2-inch intervals on a parchment-lined baking sheet. Simply follow the same baking instructions.
For the butter Cookies
INGREDIENTS
8 ounces unsalted butter
3/4 cup granulated sugar
1/4 teaspoon salt
1 1/2 teaspoons pure vanilla extract
1 large egg yolk
2 cups flour
DIRECTIONS
Preheat oven to 325 degrees. Line a baking sheet with parchment paper. Beat butter, sugar, salt and vanilla until creamed (smooth). Mix in egg yolk, scraping bowl at least once. Add flour and mix lightly, until just incorporated. Scrape cookie dough onto a lightly floured board. Roll it onto a sheet of plastic food wrap, and then roll it into a log about the diameter of a half-dollar coin. Refrigerate for at least two hours. Remove dough from the refrigerator. Cut cookie-dough roll into slices about 1/8-inch thick. Place slices on baking sheet about 1/2 inch apart. Bake 16 to 18 minutes or until golden brown around the edges. Makes approximately 2 dozen.
For the boiled-butter Icing
INGREDIENTS
1 cup milk
6 tablespoons flour
1/2 cup vegetable shortening
1/2 cup unsalted butter
1 cup powdered sugar
1 teaspoon pure vanilla extract
DIRECTIONS
In a medium saucepan, mix milk and flour and simmer on low heat until thick. Remove from heat and cool in refrigerator.
Beat shortening, butter, sugar and vanilla until creamy. Add milk-and-flour mixture and mix until smooth. Makes approximately 4 cups.