Food + Drink
Summer Sweet Corn Recipes
Ready to sink your teeth into one of Ohio's favorite treats? Three chefs share creations that will have you grinning from ear to ear.
August 2017
BY Frances Killea | Photos by Casey Rearick, Styling by Christine Rice
August 2017
BY Frances Killea | Photos by Casey Rearick, Styling by Christine Rice
Street Eats
Chef Eric Williams' Mexican street corn is a big hit at his Cleveland restaurant.

Eric Williams didn't finish college. He didn't attend culinary school either. But the chef-owner of Cleveland's Momocho, a lively nook of a restaurant on the near west side of the city, has successfully pioneered modern Mexican cuisine in northeast Ohio, and he attributes some of his business success to being a little bit book smart.
"My father would buy me books and all of them were Latin American, Caribbean, Mexican," Williams says. "The pictures were vibrant and the colors were vibrant. … As a chef and customer, the association I have with Latin food was always high energy, vibrant, bold."
After more than 15 years of cooking for others, Williams opened Momocho in 2006 as a way to both advance his career and the tastes of the locals.
"We wanted to do a variety of dishes," he explains. "Some had to be accessible for the day and time, in 2006. Some, we wanted to push the envelope."
And corn — a familiar food for Americans and a staple of Mexican cuisine — turned out to be the perfect solution.
"Mexican-style street corn was exactly what it sounded like. It was just street corn," Williams says.
When fresh Ohio sweet corn is in season, Williams grills ears of it, dressing it with butter, a house-made crema and grated queso cotija. He then adds some dehydrated chili lime salt, pico de gallo and a fresh lime on the side. The dish was an instant hit and it's endured ever since.
"The whole point was, while you're eating it, on the sides of your face you get the mayonnaise and the cheese and it's real messy," says Williams. "It was a huge, huge hit, to the point where when we took it off [the menu], people were upset." 1835 Fulton Rd., Cleveland 44113, 216/694-2122, momocho.com


Mexican Street Corn
Courtesy of Momocho | Serves 6 to 8

INGREDIENTS
6 to 8 ears sweet corn
1/4 pound softened butter
1 cup mayonnaise
1 cup sour cream
1/2 cup tajin (Latin fruit and snack seasoning) or kosher salt seasoned with chili powder
1 cup pico de gallo
1 cup grated queso cotija or Parmesan cheese
Lime wedges

DIRECTIONS
Peel back the outer leaves of the corn and remove silks. Leave one end of the corn covered. Combine mayonnaise and sour cream until smooth to form a crema and set aside. Grill the corn over high heat and rotate occasionally until cooked through for a marked but not blackened look (about 8 to 10 minutes depending on grill) and coat with butter. Slather each ear with crema, and garnish with two heaping tablespoons of grated cheese, a tablespoon of pico de gallo and a shake of tajin or chili salt. Finish with a squeeze of lime, if desired.

***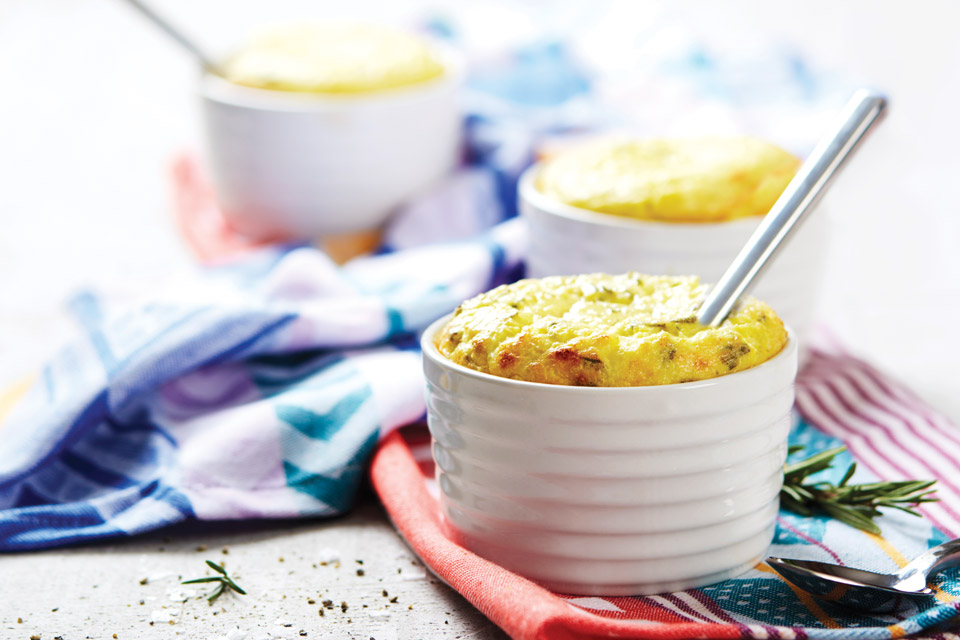 Elegant & Airy
Zoe Fine Dining chef Alex Peterson's sweet corn soufflé requires some culinary care, but the end result is worth it.

For a small college town in Appalachia, Athens has a big reputation. It's known as a destination for great local food and drink, and Zoe Fine Dining — a modern bistro around the corner from Court Street — is just that.
"I think our main vision for the restaurant is using the best ingredients and keeping it simple so the ingredients come through," explains chef Alex Peterson.
Peterson has more than a decade of experience cooking in commercial kitchens, and she's done so at restaurants across the state. But when she got a call from the owner at Zoe at the end of 2016, asking if she'd like to be head chef, she knew she had to take the job.
"I've been all over Ohio pretty much. Got the grand tour," she says. "We love it here. There's so much to work with."
Peterson has a lot of local ingredients to play with in the kitchen, and sweet corn has inspired several fun dishes, from savory to sweet (Peterson once even made a sweet corn ice cream).
One of her favorite ways to feature corn is in a souffle. And while it can be finicky, she says it'll pay off for those who take their time. For the dish, Peterson likes to add goat cheese to an eggs-and-cream-base, incorporating fresh corn into the batter.
"I take it off the cob, and then I soak it, so I can kind of mash it and grind it up, so it becomes more of a mash — a liquid," she explains.
Once it's in the oven, the test of patience begins.
"Don't bump the oven. Don't get impatient and keep opening the oven. Don't touch it, because it won't rise," Peterson warns.
The finished product, however, is an airy-yet-hearty dish that can stand alone or as a side to roasted chicken or duck. 24 1/2 East State St., Athens 45701, 740/592-4443, zoefinefood.com


Sweet Corn Souffle
Courtesy of Zoe Fine Dining | Serves 4

INGREDIENTS
2 to 3 ears sweet corn, husked, cooked and kernels cut off
1/2 cup goat cheese
1/2 cup half-and-half
3 large eggs
1/2 teaspoon salt
1/2 teaspoon pepper
1 1/2 tablespoon fresh rosemary
Unsalted butter (for greasing ramekins)

DIRECTIONS
Preheat oven to 400 F. Combine eggs, cheese, corn, half-and-half and seasoning in a blender, and pulse for about 1 to 2 minutes until smooth. Add fresh rosemary and pulse until incorporated. Grease 4 small 1-cup ramekins. Fill each ramekin three-quarters of the way with corn mixture. Place ramekins on a baking sheet and bake for 25 to 30 minutes until puffy and golden. Serve immediately.
Chef's Note: This is a very simple version that allows the cook to prepare the dish ahead and refrigerate the unbaked mixture in the ramekins until ready to bake.

***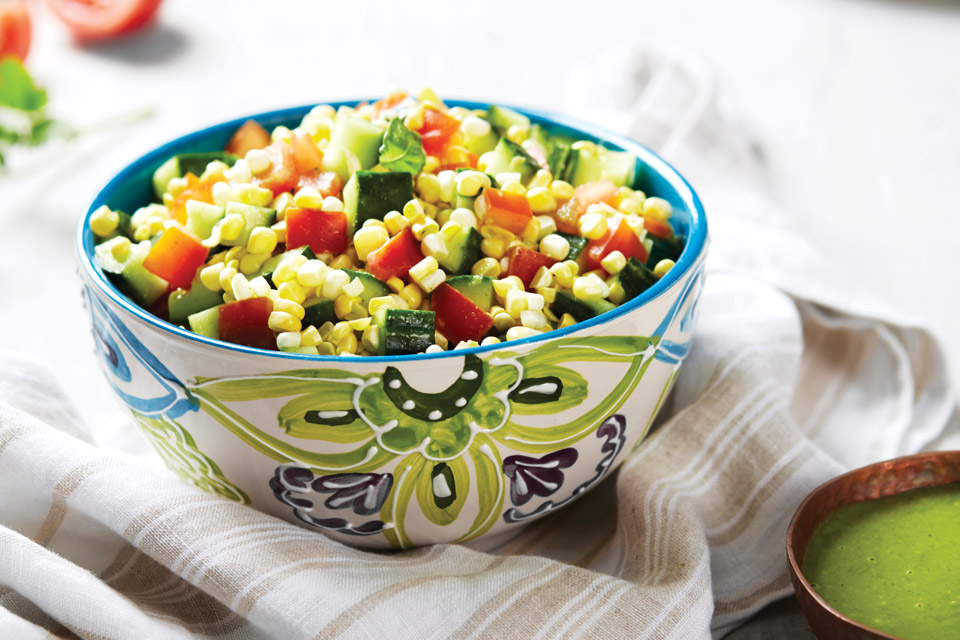 Seasonal Star
Lily's Bistro head chef Amy Finch sees sweet corn as a cornerstone of splendid side dishes.
From the street, Lily's Bistro exudes charm in its simplicity: a brick storefront, neatly painted trim and four sturdy pink window boxes. Inside, head chef Amy Finch transforms similarly simple ingredients, taking reliable dishes and making them special.
"I just like good food, I like using local purveyors," she says. "I don't want to put food on a plate with tweezers. I don't want to make foam."
Diners who visit will see familiar favorites like fried chicken, shrimp and grits and stuffed peppers on the menu.
But it's the components of each dish that offer a window into Finch's approach, be it using Athens-based Shagbark Seed & Mill corn grits, pork from a small farm in Iowa or Amish-made pepper jack cheese.
Finch, who started cooking at just 14, was clearly on a culinary trajectory until her early 20s, when she began working for her family's event supplies rental business instead.
"Life got in the way," she says. "Then, at 36 years old, I decided to go back to college and finish my degree. I graduated at 38, and here I am."
She's been cooking at Lily's Bistro since it opened in 2013, taking the lead role in the kitchen last September. This summer, her menu is ripe with seasonal creations. Because she's surrounded by corn country, Finch makes sure it has a prominent place on her menu, including in a salad featuring a number of Ohio's best veggies.
"I'm going to use corn as a side dish: just cucumbers, heirloom tomatoes, corn, and then this herb vinaigrette that I make," she says.
Finch recommends serving the light salad alongside hearty grilled meats.
"With those fresh herbs straight from the garden, it just brightens everything up," she says. "It brings out all those nice summertime flavors that we all know and love." Note: Re-opened in 2020, Lily's Dayton is a welcoming, tropical-inspired re-imagining of the original Lily's Bistro. 329 E. Fifth St., Dayton 45402, 937/723-7637, lilysdayton.com


Corn Salad with Summer Herb Vinaigrette
Courtesy of Lily's Bistro | Serves 4 to 6

INGREDIENTS
4 ears sweet corn, cooked
1 medium slicing cucumber
2 large tomatoes
1 cup white vinegar
1/2 cup sugar
Herb vinaigrette (recipe below)

DIRECTIONS
Shave the kernels from the ears of corn into a large mixing bowl. Dice the cucumber and tomatoes into bite-size chunks. Toss the mixture in vinegar and sugar and let sit for 1 to 2 hours in the refrigerator. Remove the salad from the bowl using a slotted spoon. Discard liquid. In another bowl, toss the corn salad with the herb vinaigrette dressing to taste. Serve cold as a side dish to grilled chicken, fish or burgers alongside a crusty bread.

Summer Herb Vinaigrette

INGREDIENTS
2 cups mixed herbs (basil, oregano, thyme, rosemary, parsley)
1/4 cup chopped red onion
2 garlic cloves
1/4 cup red wine vinegar
1 cup vegetable oil
1 tablespoon honey
Sugar to taste
Salt and pepper to taste

DIRECTIONS
Puree onion, garlic and a little bit of the oil in a food processor or blender until smooth and no chunks remain. Add honey, vinegar and herbs, and puree again. Add the remaining oil slowly, with the food processor or blender running. Add salt, pepper and sugar to taste. Makes 1 1/2 cups.

----

Grilling Corn 101
We love to flex our creativity in the kitchen, but sometimes the grill is king. And in the case of sweet corn, there is plenty of room for personal style.
"I usually leave the husk on when I grill it," says Alex Peterson, the chef at Athens' Zoe. "It adds a nice flavor."
She adds it is important to rotate the cob every three to five minutes. After taking the corn out of the husk, she uses butter and a simple shake of salt and pepper to season.
Amy Finch, head chef at Lily's Bistro in Dayton, prefers to remove the husk from each ear before it hits the grill, noting the lengthy cooking process otherwise.
"As a short-order cook, I don't have that kind of time," she says with a laugh.
She starts with shucked ears covered with a little oil and butter and turns them constantly while cooking.
She removes each ear from the grill after about 10 minutes and serves it with a twist of lime and some feta cheese.
When chef-owner Eric Williams of Cleveland's Momocho makes corn at home, he prepares it using a grill-free method — husk and all. "This is going to sound crazy," he says. "We found a recipe where you just lop off the end — about a half an inch up — and we microwave it."
Williams suggests a cook time of 8 to 10 minutes for three ears."You can squeeze the cob right out of the husk," he adds. "All the silk and everything comes right off."
He dresses the corn with butter, lime and various salts from a friend who is a spice purveyor. "He even makes his own steak seasoning mix," Williams says. "That's even great on top of corn."