Food + Drink
Summer Spirits
We consulted mixology masters throughout Ohio and asked them to share recipes for some of their signature sippers.
July 2014 Issue
BY Staff & Contributors | Photo by Jerry Mann
July 2014 Issue
BY Staff & Contributors | Photo by Jerry Mann
Tony's Tea
Obscura | Cincinnati

A refreshing glass of iced tea hits the spot when the sun is blazing. Mix that with smoky bourbon, and you have Tony's Tea.

"One of our owners wanted a bourbon tea," explains Obscura bar manager Greg Wefer when asked about the origins of the drink. "But what it actually is, is a peach and apricot tea with bourbon in it."

Although the bar and restaurant infuses its drink with hickory smoke via a culinary smoking gun, Wefer assures that the cocktail is just as tasty without. "With the acidity of the lemon juice and the sweetness of the syrup, it's a very well-balanced drink."

Wefer buys tea leaves at Churchill's Tea at Findlay Market and combines them with bourbon, orange-flecked Amaro Nonino (any dry Curaçao liqueur offers the same flavor) and refreshing mint bitters.

"You still taste the bourbon, but it's still light and refreshing with those peach and apricot notes," says Wefer. "Then, every time you go in to get a drink … you just get that aroma of mint." 645 Walnut St., Cincinnati 45202, 513/421-3800, obscuracincinnati.com

INGREDIENTS
2 ounces bourbon
3/4 ounce Amaro Nonino
3/4 ounce fresh
lemon juice
1 ounce water
1 1/2 ounces peach and apricot tea syrup (see recipe below)
1 dash mint bitters

DIRECTIONS
Fill a shaker with ice. Add all ingredients. Shake for 30 seconds and strain into a Tom Collins glass filled with ice. Garnish with fresh mint leaves.

Bartender's Note: Obscura fancies up its ice by freezing grilled peach slices inside.

Peach and Apricot Tea Syrup

INGREDIENTS
1 tablespoon loose leaf peach and
apricot tea
1 cup sugar
1 cup of water

DIRECTIONS
Bring ingredients to a gentle simmer over medium heat. Cook for 5 minutes. Let cool. Strain out tea leaves.


***
August Martini
Zoe Fine Dining | Athens
Tomato-based cocktails are typically some version of the old, reliable bloody mary. But Zoe Fine Dining wanted to craft a sister drink that was decidedly lighter and better suited for summer.
Each week, the Athens restaurant hosts a Mixology Night, where an additional menu of innovative cocktails is available. "We take what is in season and try to come up with a way to make it work," says front-of-the-house manager James Farley.
One Wednesday evening last summer, the August Martini made its premiere on the drink menu. Because late summer in Ohio means heirloom tomatoes reaching their peak, roasted tomato puree serves as the base of this cocktail. The addition of lime juice and basil-infused simple syrup gives the concoction a light finish.
"The initial flavor is a bit savory, but then as the drink moves to the back of your mouth, you get the basil and the sweetness," says Farley, before stressing the importance of one recipe detail. "Add a leaf of basil as a garnish, so before you even taste it, you get the scent of the drink."
Zoe Fine Dining, 24 1/2 E. State St., Athens 45701, 740/592-4443
INGREDIENTS
2 ounces Buckeye Vodka
3/4 ounce local heirloom tomato puree
1/2 ounce fresh lime juice
1/2 ounce basil-infused simple syrup
DIRECTIONS
Pour all ingredients into a shaker, add ice and shake. Strain into a martini glass and garnish with a torched cherry tomato and a leaf of basil.
Make it a Mocktail:
Swap the vodka for a splash of water to achieve a similar consistency.
***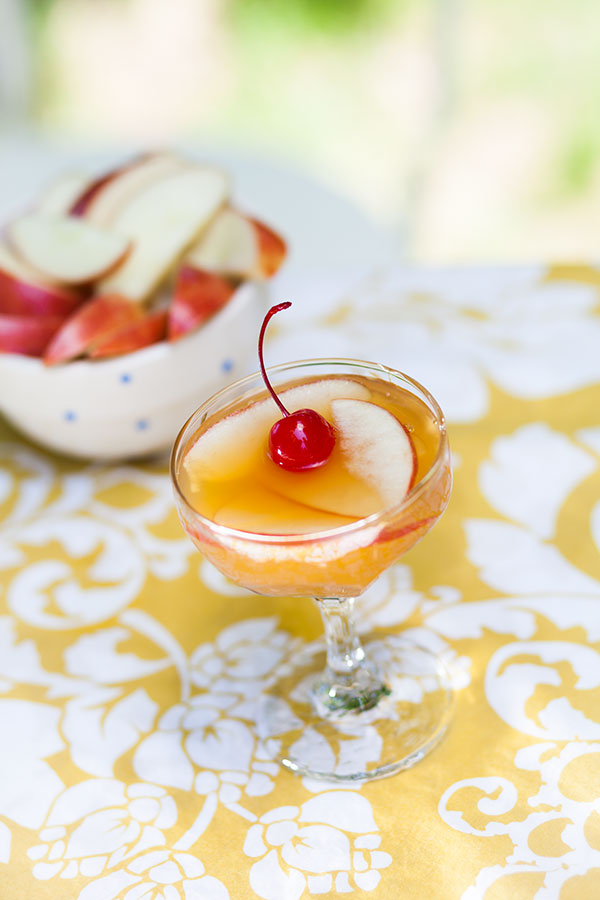 Applejack Rabbit
Society Lounge | Cleveland
Applejack brandy is classically American, yet the family-owned Tom's Foolery distillery in Chagrin Falls is one of just a handful of places in the country that distills sweet apple cider in copper pots in order to make brandy.
After aging in American oak and cognac barrels, the spirit takes on a smooth, lightly smoky finish, which has made it the star of one of Society Lounge's classic cocktails. Joseph Frederickson, bartender and manager of operations at Cleveland's modern speakeasy, prefers this brandy for the American whiskey-like flavor that it offers.
"You do get some oakiness," says Frederickson of his Applejack Rabbit cocktail, "but you also get some light fruit [notes] from it."
Balance is key for this drink. "The maple syrup and the lemon play off each other for that sweet and sour mix," explains Frederickson. "The maple's got kind of a nice texture to it." The grade of the maple syrup is important too, as Grade B offers a deeper, fuller flavor than Grade A. "A rich, local maple syrup is nice," Frederickson says.
Classically a fall spirit, this particular apple brandy cocktail is well suited for a summer evening, delivering crisp citrus with just a hint of warmth.
Society Lounge, 2063 E. Fourth St., Cleveland 44115, 216/781-9050, societycleveland.com
INGREDIENTS
2 ounces Tom's Foolery applejack
3/4 ounce fresh lemon juice
3/4 ounce fresh orange juice
1/2 ounce Grade B maple syrup
DIRECTIONS
Measure ingredients into a shaker and fill with large cubes of ice. Shake for 10 long seconds. Strain into a coupe glass. Garnish with a cherry and thin apple slices to float on top.
Make it a Mocktail:
Double each ingredient, but leave out the apple brandy. Top off the mixture with 3 ounces of soda water instead. You could also add a little heavy cream, Frederickson says. "[It] will make it almost like a milkshake."
***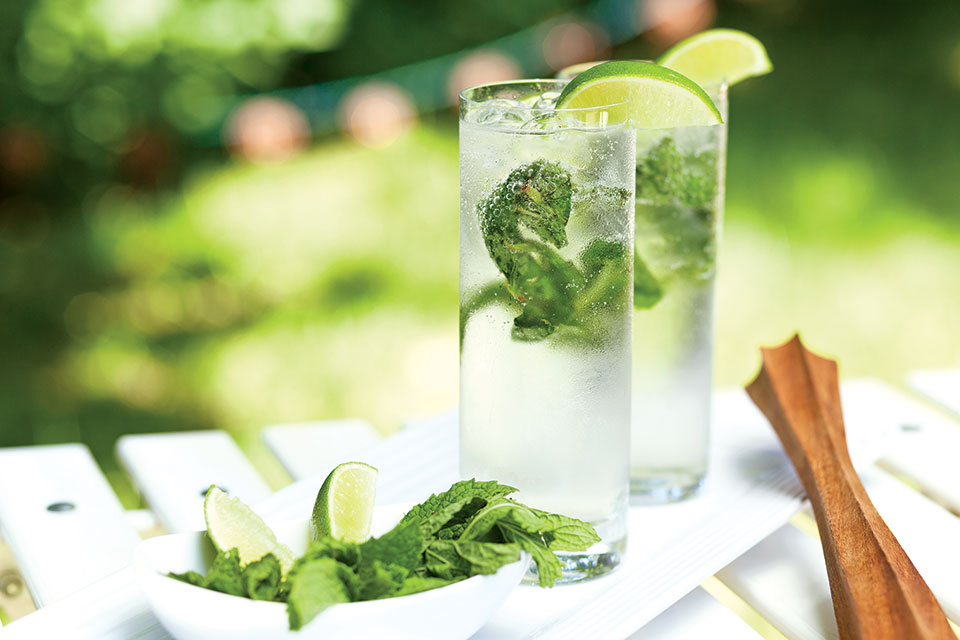 Pressed and Minted
Volstead Bar | Sandusky
In a town dedicated to summer fun, Volstead Bar offers a resort vibe in the form of its Pressed and Minted cocktail. A new take on the traditionally sweet mojito, it's one of the bar's many classic cocktails with a twist. "There is some soda in the drink so it keeps it very light — just kind of a little bit bubbly," says owner Ryan Whaley.
To sweeten the beverage, Whaley adds elderflower liqueur rather than sugaring solely with simple syrup. "The elderflower actually gives it that bit of sweetness that it needs," without causing the drink to become too cloying, he says.
The mint comes from a nearby farmers market or Whaley's own garden. The drink also gets another local infusion: Erie Island Rum from Seven Brothers Distillery in Painesville. "It's a light rum," says Whaley, explaining that it allows the cocktail to maintain its effervescence.
A total of 47 drinks draw visitors to Volstead Bar, a new place that occupies a storied property along the Lake Erie shore. During Prohibition, it stayed busy as a brothel. "It does have a bit of a sordid past," Whaley adds with a laugh.
Volstead Bar, 316 E. Water St., Sandusky 44870, volsteadbar.com

INGREDIENTS
1 1/2 ounce Erie Island Rum
1/2 ounce St. Germain
1/2 ounce simple syrup
Soda water
4 mint leaves
DIRECTIONS
Add mint leaves, simple syrup and St. Germain to the bottom of a shaker. Muddle. Pour in rum, add ice and shake. Pour into a highball glass. Fill glass with soda water and stir. Garnish with a sprig of mint and a lime wedge.
Make it a Mocktail:
Follow the same directions, leaving out the St. Germain and rum. Don't forget the mint garnish.
***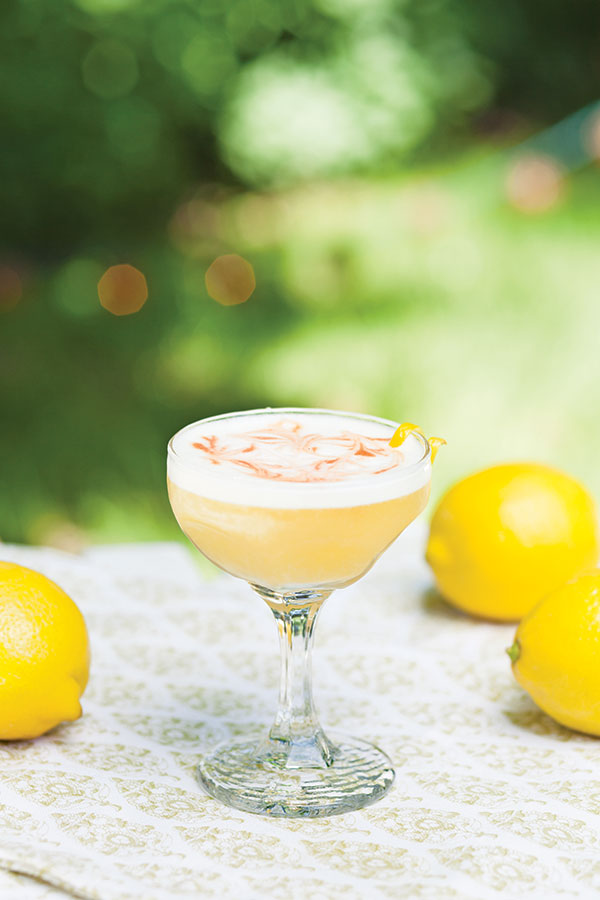 Room with a Grandview
Curio at Harvest | Columbus
Even among a cocktail list featuring nearly 50 concoctions, Room with a Grandview stands out on Curio at Harvest's summertime drink menu. Part of the reason is because owner and barkeep Travis Owens often uses raw wildflower lavender-flavored honey he buys from Brenneman's Farm in Ashland. The result: a refreshing riff on a silver gin fizz.
"It's well-rounded, not super sweet, not super citrusy due to the egg whites — [they] kind of fold everything in," he explains of the mixture that also includes gin, honey and lemon juice.
Though one must be careful to use quality eggs, the seemingly unusual drink ingredient (a common find in many retro cocktails) is vital to the finished product, according to Owens.
"Egg whites give it a different texture — a different mouth feel," he explains. "They make the cocktail frothy and kind of take the edge off the gin."
While Owens says real eggs provide a better texture (Curio always keeps them chilled and buys from local farms to ensure freshness), pasteurized egg whites sold in cartons are an easy and safe option as well.
The cocktail's name is a nod to the gin, which comes from Watershed Distillery in nearby Grandview. "Using local gin and the flavor of the honey is our twist on it," Owens says. "You could pretty much change the honey to any flavor you like."
495 S. Fourth St. Columbus 43206, 614/824-1769, curioatharvest.com
INGREDIENTS
2 ounces Watershed Distillery Four Peel Gin
3/4 ounce fresh lemon juice
3/4 ounce lavender-infused honey
1 fresh egg white
Angostura bitters
DIRECTIONS
Combine all except the bitters in a shaker and dry shake (no ice). Then add ice and shake vigorously until egg whites are emulsified and the cocktail is well chilled. Double strain into a chilled coupe glass and garnish with Angostura bitters.
Bartender's Notes: The dry shake is to initially emulsify the egg whites before adding the ice, which will water them down. The term "double strain" means pouring the contents of your shaker into a cocktail glass through a fine mesh strainer.
Make it a Mocktail:
Use the same amount of lemon and honey, but eliminate the egg white and swap the gin for soda water.