Food + Drink
Buckeye State Spirits
From high-tech whiskey to citrus-accented gin, these Ohio distilleries are doing things differently.
January 2016 Issue
BY Frances Killea | Photos by Maureen MacGregor
January 2016 Issue
BY Frances Killea | Photos by Maureen MacGregor
Watershed Distillery
Columbus | Founded 2010

Juniper berries give gin its unmistakable piney taste — a characteristic that's a hallmark of the spirit but also a deterrent for many. Although juniper is the main ingredient in Watershed Distillery's Four Peel Gin, the Columbus-based business goes a different route when it comes to flavor.

"We downplay the juniper and play up the citrus peel," explains Greg Lehman, part owner of the company and the distiller of Four Peel Gin. "When you crack open our bottle, you get a ton of citrus on that nose."

Starting with grapefruit, lemon, lime and orange peel, Lehman adds coriander, allspice and cinnamon to the mix. The combination creates a bright, herbal breath that mellows the gin's biting flavor.

"Our gin, with the citrus in there, really plays well with a ton of cocktails," Lehman says. "Think about how many cocktails are garnished with citrus or have some kind of citrus component."

And should the citrusy tang of Four Peel not convert the reluctant gin drinker, Watershed Distillery has solidified its place behind bar counters with a lineup that includes vodka, barrel-aged gin, bourbon and Nocino, an uncommon traditional walnut liqueur. watersheddistillery.com


Blood Orange Collins
Courtesy of Watershed Distillery

1 1/2 ounces Four Peel Gin
1/2 ounce fresh lemon juice
4 ounces blood orange soda
1/2 ounce rosemary simple syrup

Mix over ice in a Collins glass. Garnish with slice of blood orange and fresh sprig of rosemary.

For the rosemary simple syrup: Combine 1 part water with 1 part sugar in a saucepan and bring to a boil. Remove from heat and add 3 to 4 fresh rosemary sprigs. Remove the rosemary when the syrup reaches room temperature.

***

Crystal Spirits
Dayton | Founded 2010

As the 2008 recession tightened consumers' pocketbooks, it caused a ripple effect down the liquor-store shelves. But Jim Finke, one of a four-person team behind Dayton's Buckeye Vodka brand, saw opportunity in the nation's economic slump. As he and his partners began researching business ideas, they found a trend in the way people were consuming spirits.

"Volume was up, but the sales were kind of flat, which told us that people were stepping down a shelf," says Finke.

So, he and his brother Chris, brother-in-law Tom Rambasek, and friend Marty Clarke developed a high-quality vodka line with a price tag around $20. The final product is as smooth as glass.

"We use distilled water," explains Finke, a choice facilitated in part by the fact that Rambasek owns Dayton's Crystal Water Co., "so we're not adding any impurities."

Buckeye also distills its vodka 10 times to remove the impurities commonly found in lesser vodkas, making for a clean and pure spirit.

"Filtering is really where the flavor profile changes," says Finke. "We filter it through activated carbon … we'll sit there and taste-test it after each filtration, and it's always filtered at least five times — sometimes six and seven, if it hasn't smoothed out." buckeyevodka.com

***

Cleveland Whiskey
Cleveland | Founded 2009

Cleveland Whiskey founder Tom Lix is well aware some think his company is shortcutting tradition, but he owns the accusations with pride.

"We're not a craft distiller. We're not a microdistiller," he says. "We're a technology company that works in the whiskey space."

In 2013, Lix unveiled a pressurized steel barrel that accelerates the aging process, boosting the development of a mature liquor taste from a matter of years to a matter of weeks. American standards require a true bourbon to rest in an unused oak barrel, and Lix follows the rules just enough to call his Cleveland Underground a bourbon.

"We take very young spirits that have been in the barrel only long enough to comply with regulations," Lix explains. He then puts that partially aged bourbon into the pressurized barrel along with wood to finish it. The process pushes the liquor into the pores of the wood so its flavor is more quickly imparted.

Lix is experimenting with other types of wood, too. "Why would we stop at oak when there are thousands of species of wood out there, some of them with absolutely incredible flavors?" he says.

He adds black cherry wood to make Cleveland Underground. "It gets most of its flavor from the black cherry," Lix says. "We are considered heretics." clevelandwhiskey.com

***

Seven Brothers Distilling Co.
Painesville | Founded 2011

The first time Kevin Suttman tried his hand at distilling, he was 13 years old. "That did not work out so well," he recalls. "My mom caught me."
Suttman went on to create Seven Brothers Distilling Co. in Painesville, which specializes in a low-temperature, vacuum distilling process to make its vodka, whiskey, gin and rum. "When we distill under vacuum, it lowers the boiling point," Suttman says. "So, when you're using botanicals and herbs, it really pulls those flavors out."
The taste benefits were a surprise he discovered after building his stills. Initially, a sense of thrift drew him to the vacuum process.
"I was trying to [avoid buying] a big, expensive boiler," he says. "I can run my still using a glorified hot water heater."
He discovered the taste of his spirits was stronger, which is especially beneficial when it comes to his spiced rum aged in cherry wood.
"We use hand-split vanilla beans and the best cinnamon you can buy," Suttman says. "I went through three cinnamon suppliers before I found one that I was happy with."
seven-brothers.com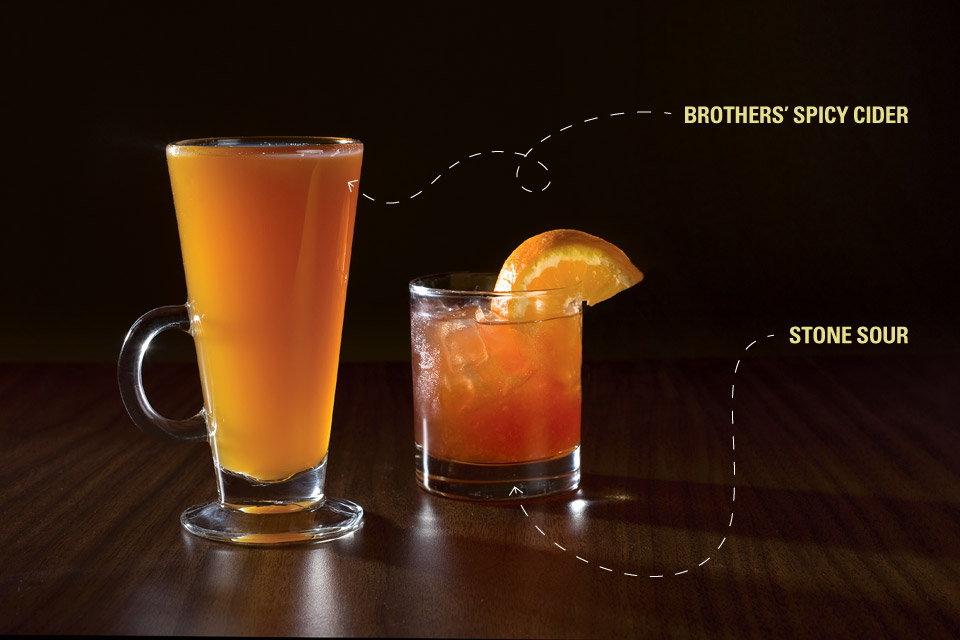 Brothers' Spicy Cider
Courtesy of Seven Brothers Distilling Co.
6 ounces apple cider (warm or cold)
1/2 ounce Apple Pucker
1 ounce Seven Brothers Spiced Rum
To serve warm, heat cider in saucepan just to a boil. Remove from heat, stir in Apple Pucker and rum. Serve in mug. To serve chilled, combine with ice in shaker and shake well. Strain into a rocks glass over ice.
***
Middle West Spirits
Columbus | Founded 2008
Brady Konya hails from Seattle and Ryan Lang's roots are in Pennsylvania, but the founders of Middle West Spirits pride their Columbus distillery on using mainly Ohio-grown ingredients.
"It's a really common language that's used in wine — this idea of
terroir
," says Konya, referring to the taste imparted from where ingredients are grown. "The whole prospect of Middle West came about with this idea: How do you create a wine story in a liquor bottle?"
Konya and Lang begin with Ohio wheat, which they turn into whiskey and vodka (including honey vanilla bean and barrel-finished honey vanilla bean varieties). Then, there's the ruby-toned OYO Stone Fruit vodka, a twist on the famously flavorless spirit.
Three fruits, local honey, almond extract and hibiscus flower are combined in what Konya describes as a nearly port-like beverage that can be enjoyed either on its own or as part of a cocktail.
"You start with the aroma — apricot and wildflower honey," he says. "Then ... the dark cherry."
Notes of almond create a cordial-like taste, and the hibiscus ties each element together while giving the spirit its attractive red hue.
middlewestspirits.com

Stone Sour
Courtesy of Middle West Spirits
2 ounces OYO Stone Fruit Vodka
1/2 ounce fresh-squeezed orange juice
1/2 ounce fresh-squeezed lemon juice
1/2 to 3/4 ounce simple syrup (to taste)
4 to 5 drops Angostura bitters
Combine with ice in shaker and shake well. Strain all ingredients into a rocks glass with fresh ice. Garnish with an orange slice.