Food + Drink
Season's Eatings
We asked Ohio State Buckeye bars with tasty food to share a recipe for one of their game-day creations.
January 2014 Issue
BY Jordan Gonzalez | Photos by Joshua A. Bickel
January 2014 Issue
BY Jordan Gonzalez | Photos by Joshua A. Bickel
The Braxton Burger
Coaches Bar & Grill

To get Buckeye fans in the spirit, this spot about four miles from The Ohio State University campus names some of its monster sandwiches and burgers after the school's players and coaches. Take, for example, the Braxton Burger: two quarter-pound patties served with slices of ham, American cheese, lettuce, tomato and onion.

"If you're watching a Buckeye game, you want to get something that's named after Urban Meyer or that's named after Braxton Miller," explains kitchen manager Geoff Ozier. "Add to the fact that it's great-tasting, and people think that's pretty cool."

Coaches Bar & Grill has been around for almost two decades. But during the past year it has revamped its menu. Every entree is now made from scratch — from the chips in the Nacho Ordinary Nachos to the 14-hour slow-roasted pulled pork and brisket, which are seasoned with their house-made rub and barbecue sauce. Burgers can be paired with hand-cut sweet potato fries served with brown sugar cream sauce.

"We've been trying to morph into a restaurant with really good food that has a great bar," Ozier says, adding the spot hasn't wavered from its original mission. "We still have more than 50 TVs … in the bathrooms, in the booths … we're a sports bar."

During the spring and summer, Ozier says Coaches becomes a Reds bar, serving its own version of Cincinnati's iconic Skyline Chili on hot dogs. "So, all the Reds fans that come in here can feel a little bit at home." 1480 Bethel Rd., Columbus 43220, 614/457-3353, coachesbarandgrill.com


Braxton Burger with Sweet Potato Fries and Brown Sugar Sauce


INGREDIENTS
Burger
1/2 pound ground beef
Kaiser or sesame seed bun
sliced American cheese
sliced Black Forest ham
lettuce
onion
tomato
black pepper
salt
barbecue sauce (Coaches has its own recipe, but suggests Sweet Baby Ray's as an at-home fill in)

Fries & Sauce
large sweet potato
1/2 cup heavy cream
1/4 cup brown sugar
2 tablespoons flour


DIRECTIONS
Evenly split ground beef into two patties, add salt and pepper to taste, cover and let sit in refrigerator for at least two hours. Slice onion, tomato and lettuce and set aside. Cut sweet potato into 1/4-inch strips and set aside.

For the brown sugar sauce, put heavy cream into a saucepan and add brown sugar. Mix flour and 1 tablespoon of cold water in a bowl. Bring the cream and brown sugar in saucepan to a boil and add flour and water mixture and stir. Take off of stove immediately and let cool. (Note: This recipe yields 1/2 cup brown sugar sauce, so it can easily serve two or more people if you're making more than one burger and side of fries).

Cook burger patties (on grill or in stovetop frying pan) to preferred temperature. While burgers are cooking, deep-fry sweet potatoes (in home fryer or pan) until crispy on the outside and soft in the middle. Set aside on paper towel to let excess oil drain. Then season with salt and pepper to taste.

While toasting Kaiser bun, add one slice of ham to first patty (when cooked to preferred temperature) and slice of slightly melted cheese. Then place other patty on top and add another piece of ham and another slice of cheese.
Place completed burger on bun and top with lettuce tomato and onion. Plate burger with sweet potato fries and serve with sides of brown sugar sauce and barbecue sauce.


***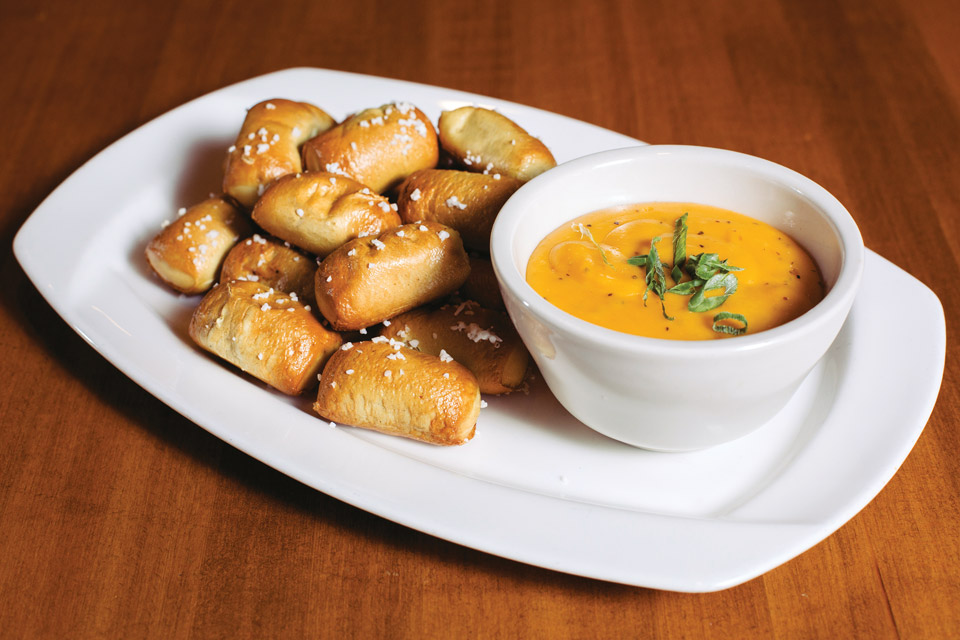 Pale Ale Cheese Dip
Buckeye Hall of Fame Grill
This 300-seat spot, just minutes from the Ohio State campus, has only been around for a few years. But its licensing agreement with the university, which was previously held by a different and now defunct restaurant, has made it a fan favorite.
Look no further than the display of Archie Griffin's first Heisman Trophy, and you'll know why the Ohio State faithful flock here. "People were kind of chomping at the bit to see all the memorabilia and experience the menu that we have," explains sales director Erica Hardesty. "It was an instant hit right away."
A team of chefs from Columbus Hospitality Management devised the restaurant's made-from-scratch menu, which includes hand-breaded chicken fingers (which come served in barbecue, buffalo or teriyaki sauces) and 10-ounce burgers, as well as a host of appetizers that include crispy chicken sliders, house-made potato skins and pretzel bites served with pale ale cheese dip. Keeping true to its Buckeye pride, the restaurant makes the latter with local suds from Columbus Brewing Co.
Of course, on game day all the food is the precursor to the main event, which you can enjoy from the dining room or warming up around the Block O fire pit. "It's very energetic down here during a football game," says general manager Tracy Ritchey. "Our dining rooms are full, the TVs are all on, and the volume is all the way up."
Note: This restaurant is now closed.


Pale Ale Cheese Sauce
INGREDIENTS
2 ounces butter
3 tablespoons yellow onion,
finely diced
6 tablespoons flour
2 cups whole milk
6 tablespoons Columbus
Brewing Co. pale ale (or your
favorite Ohio-made pale ale)
1 pound of shredded cheddar cheese
2 tablespoons Dijon mustard
3/4 tablespoon Tabasco sauce
salt
pepper
DIRECTIONS
Saute onion in butter until soft, no color. Whisk in flour and cook two minutes. Whisk in milk and bring to a simmer for five minutes. Whisk in beer. Whisk in cheese, mustard and Tabasco until cheese is melted. Season to taste with salt and pepper. Serve immediately or refrigerate or freeze the rest. Yields one quart.
***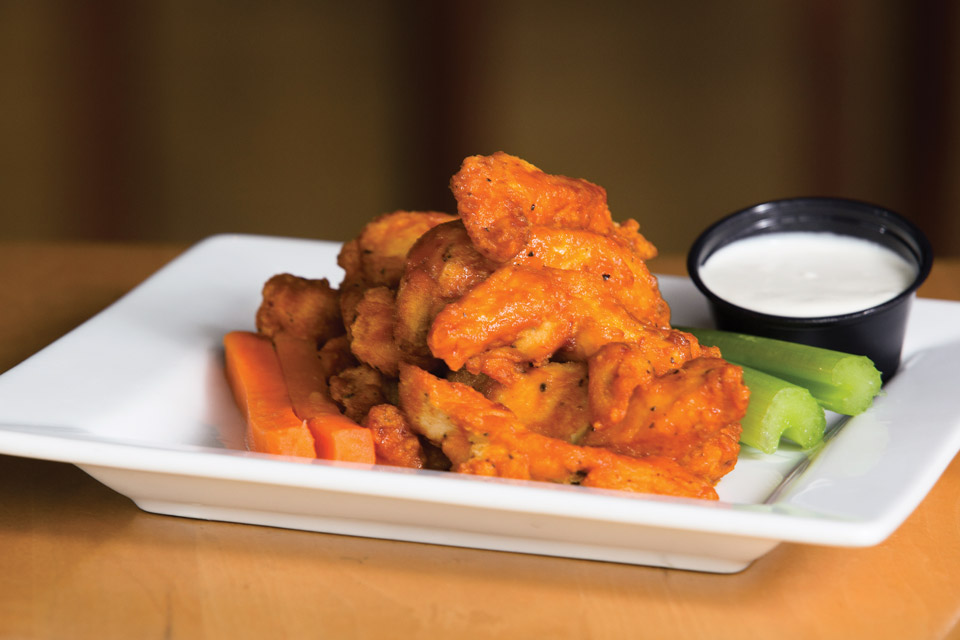 Boneless Wings
Eddie George's Grille 27
Named after Heisman-winning Ohio State running back Eddie George (who sported No. 27), this restaurant has loomed large over North High Street since 2006. Nestled on the edge of the Ohio State campus, it's not only a student favorite but also a destination for families and alumni who stop in before, during or after games.
"It gets real intense in here," says kitchen manager Michael Sowers when we talked to him following the Ohio State–Michigan matchup. "Especially last weekend."
Part of that intensity is by design, with the G.R.E.A.T. Grille Group, which also owns Jerome Bettis' Grille 36, Houston Texans Grille and Indianapolis Colts Grille, investing more than half a million dollars in an audio/visual experience that's the next best thing to a seat in the Horseshoe. It includes 55 televisions for enjoying the game, as well as music and trivia between plays and during commercial breaks run by an AV team.
Any restaurant serious about game-day crowds must have the grub to back it up. Eddie George's Grille has a menu stuffed with sports-bar classics such as chicken wings, nachos and burgers, but it also offers steak and gourmet salads. All of it is made from scratch, and Sowers says the menu has been tweaked over time.
"A lot of these recipes were developed during the first year or two of the restaurant," he says. "[We] kept playing with it and tweaking it until [we] found exactly what the owners wanted."
New location: 775 Yard St., Columbus 43212, 614/421-2727, facebook.com/EddieGeorgesGrille27



Boneless Wings

INGREDIENTS
2 pounds boneless, skinless chicken breasts
1 cup buttermilk
4 cups all-purpose flour
2 tablespoons kosher salt
2 tablespoons black pepper
1 cup of your favorite wing sauce
DIRECTIONS
Cut chicken breasts into strips roughly 3 inches by 3/4 inch. Marinate chicken in buttermilk for 24 hours.
Heat deep fryer or cast iron skillet with oil to 350 degrees. Mix flour, salt and pepper thoroughly.
Dredge marinated chicken in flour and shake off excess flour. Carefully place chicken in preheated oil and fry for 5–7 minutes or until chicken is thoroughly cooked. Remove chicken from oil and let rest for 1 minute for oil to run off.
Place cooked chicken in mixing bowl, add your favorite wing sauce and toss until fully coated.
(Note: To get the full sports-bar experience at home, serve with celery and a side of blue cheese or ranch dressing)