Food + Drink
4 Summer Recipes for a Backyard Feast
These inventive recipes from four Ohio chefs will make your backyard gatherings a little more delicious.
July 2016 Issue
BY Stephanie Grauer | Photos by Jeff Downie, food styling by Christine Rice, styling by Sarah Antonik
July 2016 Issue
BY Stephanie Grauer | Photos by Jeff Downie, food styling by Christine Rice, styling by Sarah Antonik
Wagyu Burger
Canal Tavern of Zoar

The 1829 building that the Canal Tavern of Zoar calls home served a lot of purposes before chef Cameron Krahel starting cooking at the historic space four years ago.

"It was a restaurant, a tavern, an inn, a blacksmith shop on the canal," he says.

When crafting the restaurant's menu, Krahel played on Zoar village's founding by German separatists in 1817. That means he serves lots of locally sourced, German-inspired food, ranging from pretzel rolls to bratwurst. Then, there's the Wagyu Burger — Krahel's spin on a summer cookout classic that's quickly become a customer favorite.

"I have people that will come back to the restaurant two or three times a week to get the burger," he says.

Wagyu beef refers to several breeds of Japanese cattle that are bred to produce meat with intense marbling and, consequently, better flavor. Krahel buys his meat from a farm near the restaurant, but all-natural, grass-fed beef works as a viable substitution at home.

He serves each burger on a challah roll dressed with spicy garlic dill pickles and pickled red onions. It's then finished with a garlic and tomato aioli. Krahel smokes the garlic and heirloom tomatoes prior to making the condiment.

To do the same on your charcoal grill, Krahel suggests filling a tin can with soaked, fresh Applewood and Hickory wood chips and setting it on the coals under the grill rack. "We typically smoke [the tomatoes and garlic] for about two hours at a low temperature," says Krahel. "It's simple." 8806 Towpath Rd. NE, Bolivar 44612, 330/874-4444, canaltavernofzoar.com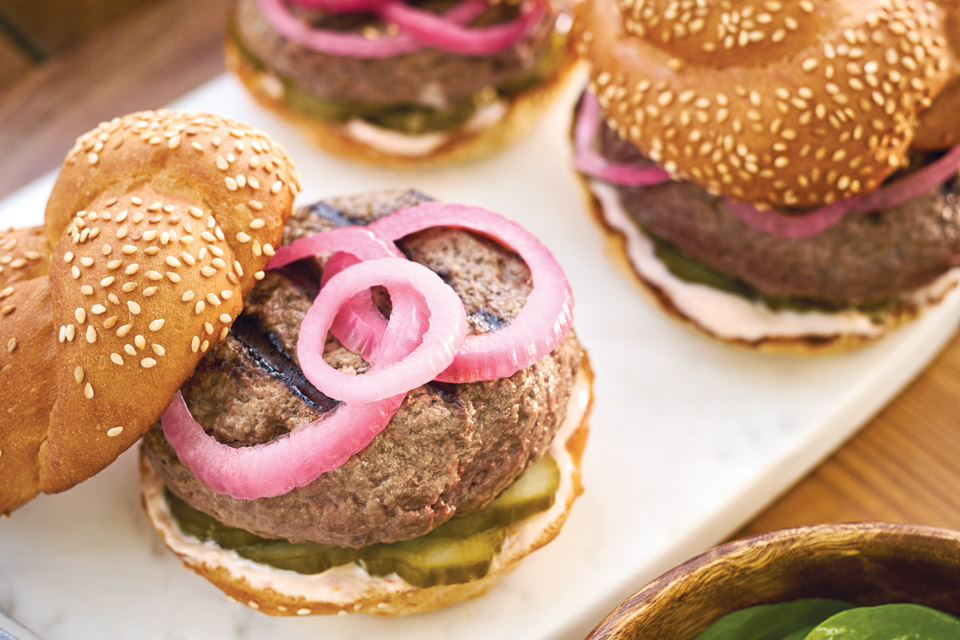 RECIPE: Wagyu Burger
Courtesy of Canal Tavern of Zoar

Chef's Note: Chef Cameron Krahel suggests coating each beef patty liberally with sea salt and freshly cracked pepper and grilling it to medium. "It gets a nice crust on the outside," he says. "I wouldn't go too much beyond that just because it starts to get crumbly."

INGREDIENTS
10-ounce wagyu beef patty
Challah roll
Spicy garlic dill pickles (recipe below)
Pickled red onions (recipe below)
Tomato and garlic aioli (recipe below)

DIRECTIONS
Grill the burger to your liking, being sure to use plenty of salt and pepper. Toast the challah bun and spread the tomato and garlic aioli on both the top and bottom of it. Add the spicy garlic dill pickles to the bottom of the bun and the red onions to the top. Place burger on bun and assemble.


Spicy Garlic Dill Pickles

INGREDIENTS
2 English cucumbers, thinly sliced
5 cups white vinegar
1/3 cup sea salt
1/3 cup sugar
1/8 cup sliced jalapenos
6 garlic cloves, chopped
2 tablespoons pickling spices
3 sprigs fresh dill

DIRECTIONS
Combine vinegar, sea salt, sugar, sliced jalapenos, garlic and pickling spices to a boil. Pour liquid over cucumbers, add 3 sprigs of fresh dill and let cool in the refrigerator for 2–4 hours. Yield: Enough for 12 burgers


Pickled Red Onions

Use the same recipe above, but replace the 2 English cucumbers with one thinly sliced red onion. Yield: enough for 12 burgers


Tomato and Garlic Aioli

INGREDIENTS
2 heirloom tomatoes
5 cloves fresh garlic, chopped
3 cups mayonnaise
Salt and pepper

DIRECTIONS
Combine tomatoes and garlic in a food processor and puree. Put in bowl and combine with mayonnaise. Add salt and pepper to taste. Yield: enough for 12 burgers

----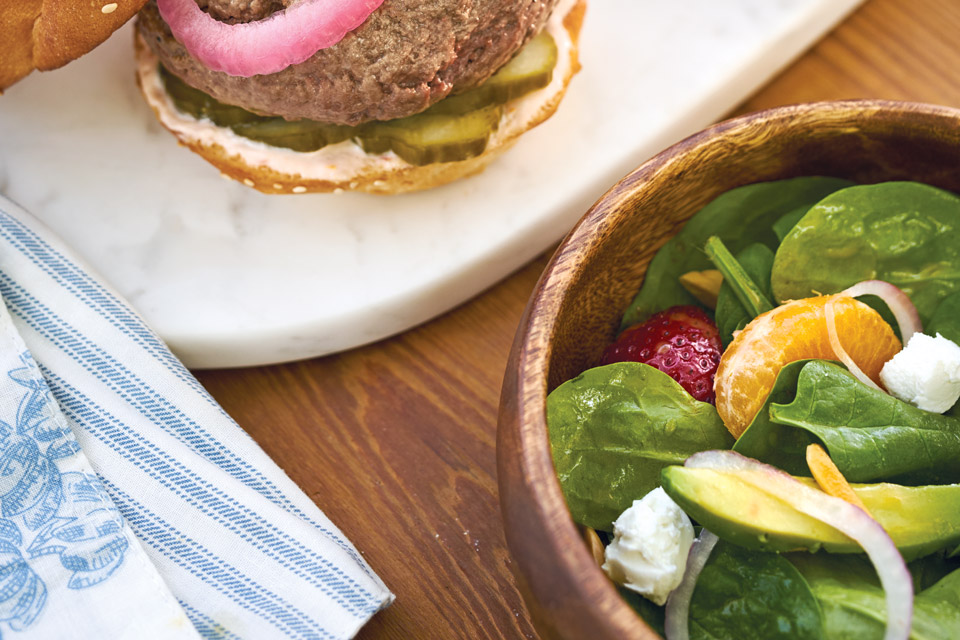 Spinach Salad with Citrus Vinaigrette
Local Roots

Local Roots lives up to its name. Employees take turns working on restaurant owner Jessi Iams' farm, so they can follow the path of the produce they serve from the field to the plate. It's the sort of place chef Benjamyn Greig found as an instant fit when he started at the suburban Columbus restaurant 2 1/2 years ago.

"I just fell in love with the place," he says. "Working here is like a family."

Greig's classic spinach salad with citrus vinaigrette is a summer favorite that embodies Local Roots' farm-to-table approach. It features leafy spinach and sliced strawberries complemented by avocado and mandarin oranges and then dressed with orange-citrus vinaigrette. Greig advises making the dressing first, as the emulsion process takes patience.

"Making sure that you add the oil slowly is key," he says.

The toasted almonds add a crunch that is balanced by the creamy goat cheese. "We usually just dollop it on, and that way it's spread throughout the salad," says Greig.

Strawberries can be swapped out for cranberries in winter, but Greig asserts that the salad stands as a quintessential warm-weather dish. "It's got as many fresh and sweet ingredients as I can think of that remind me of summer," he says. 15 E. Olentangy St., Powell 43065, 614/602-8060, localrootspowell.com


RECIPE: Spinach Salad with Citrus Vinaigrette
Courtesy of Local Roots

Chef's Note: This salad is a top seller at Local Roots during the summer months. "We also sell it in our prepared foods cooler in cute little mason jars wrapped in ribbons," says chef Benjamyn Greig.

INGREDIENTS
8 ounces (about 5 to 6 cups)
baby spinach, rinsed
1 cup strawberries, destemmed and quartered
1 cup segmented mandarin oranges
12 rings red onion, sliced 1/8-inch thick
1 fresh avocado, peeled and cut into long slices
4 ounces creamy goat cheese, separated into 12–16 dollops
1/2 cup almonds, peeled and slivered
5 ounces citrus vinaigrette (recipe below)

DIRECTIONS
Preheat oven to 350 F. Spread almonds evenly on a sheet tray. Bake in oven for 3 1/2 minutes, tossing midway to ensure an even cook. Place all ingredients in a large bowl (except goat cheese) starting with the spinach and ending with the citrus vinaigrette. Toss gently. Place in serving dish and top with dollops of goat cheese. Serves: 4


Citrus Vinaigrette

INGREDIENTS
1/2 15-ounce can mandarin oranges
1/2 tablespoon lemon juice
Zest of 1/8 lemon
1/2 teaspoon minced garlic
1/4 tablespoon kosher salt
1/4 cup white vinegar
2 tablespoons honey
Pinch ground allspice
Pinch ground cloves
Pinch ground cinnamon
7 tablespoons fresh-squeezed
orange juice
3/4 cup + 2 tablespoons oil blend
(75 percent canola, 25 percent olive oil)

DIRECTIONS
Drain mandarin oranges. Place all ingredients in blender except oil. Blend on high while slowly adding oil for 1 to 2 minutes until emulsified. Will keep for seven days refrigerated. Yield: Makes about 1/2 quart

----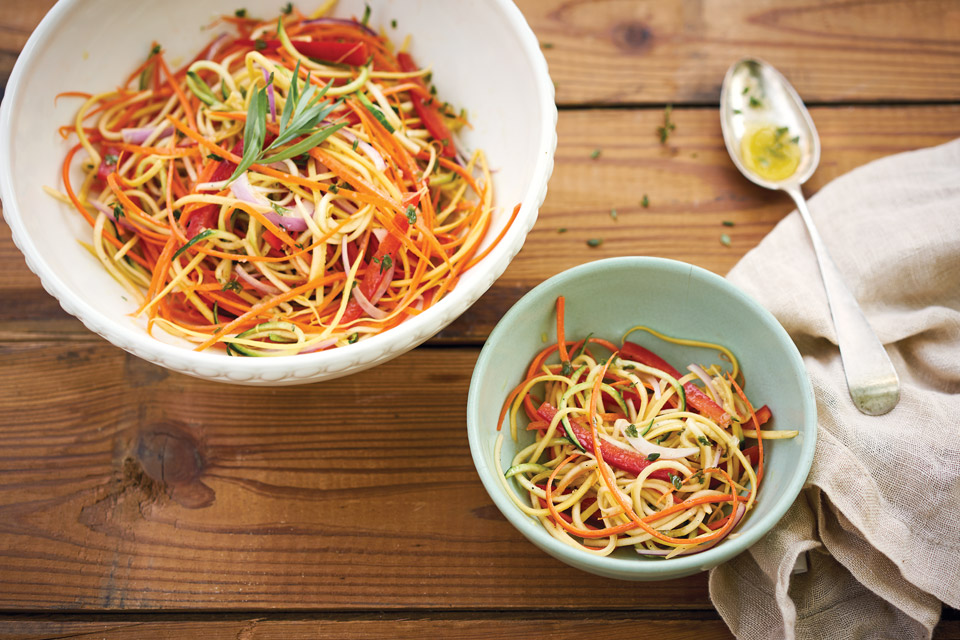 Summer Squash Salad
Crosswinds Grille

With in-house butchering and a lineup of locally sourced proteins, Crosswinds Grille is a meat-lovers' paradise. So, when chef Nate Fagnilli needed a simple summer side dish that could be paired with fish, chicken or beef, he turned to the ubiquitous squash.
"Usually in the summertime, squash is so abundant that I find, come August, people don't want squash anymore because they've eaten so much of it in July," says Fagnilli, who has been the chef at The Lakehouse Inn's on-site restaurant for the past five years. "This is another way to eat it that I think comes across completely different."
Fagnilli cuts the squash and zucchini into ribbons, creating the look of colorful spaghetti. "It's very fresh and vibrant," he says. "It's a very simple dish."
The vegetables can be served cold or they can be briefly sauteed and served hot. Fagnilli dresses the squash with vinaigrette made with fresh herbs, such as parsley, thyme and lemon verbena.
5653 Lake Rd. E., Geneva 44041, 440/466-8668 ext. 4, crosswindsgrille.com


RECIPE: Summer Squash Salad
Courtesy of Crosswinds Grille
Chef's Note: "We use this side often in the summer months at the restaurant, and it can be either served raw and cold or quickly sauteed and served hot," says chef Nate Fagnilli. "The key is to make the squash and zucchini look like spaghetti and use a mixture of bright colors."
INGREDIENTS
3 golden zucchini or yellow summer squash cut into long ribbons (cut with a mandoline slicer using the julienne blade)
3 green zucchini cut into long ribbons
4 orange carrots cut into long ribbons
1 red bell pepper,
julienned
1 red onion,
julienned
Salt and pepper to taste
Herb vinaigrette (recipe below)
DIRECTIONS
Combine all cut vegetables and season with salt and pepper. Allow them to wilt in a colander for a half hour and then toss with the vinaigrette. To serve hot, add cut vegetables to a large hot pan, season with salt and pepper, quickly saute for just a few minutes and finish with the vinaigrette.
Serves: 8–10
Herb Vinaigrette
INGREDIENTS
1 cup extra-virgin olive oil
1/4 cup white wine or champagne vinegar
1 tablespoon chopped white onion
2 cloves garlic
1 tablespoon fresh,
finely chopped mixed herbs (recommendation: parsley, thyme and lemon verbena)
6 leaves basil,
chiffonade
DIRECTIONS
In a blender, add the vinegar, white onion and garlic. On medium speed, slowly add the olive oil. It's not necessary to completely emulsify the oil but it will help. Mix in the herbs and basil on very low speed, and season to taste with salt and pepper.
----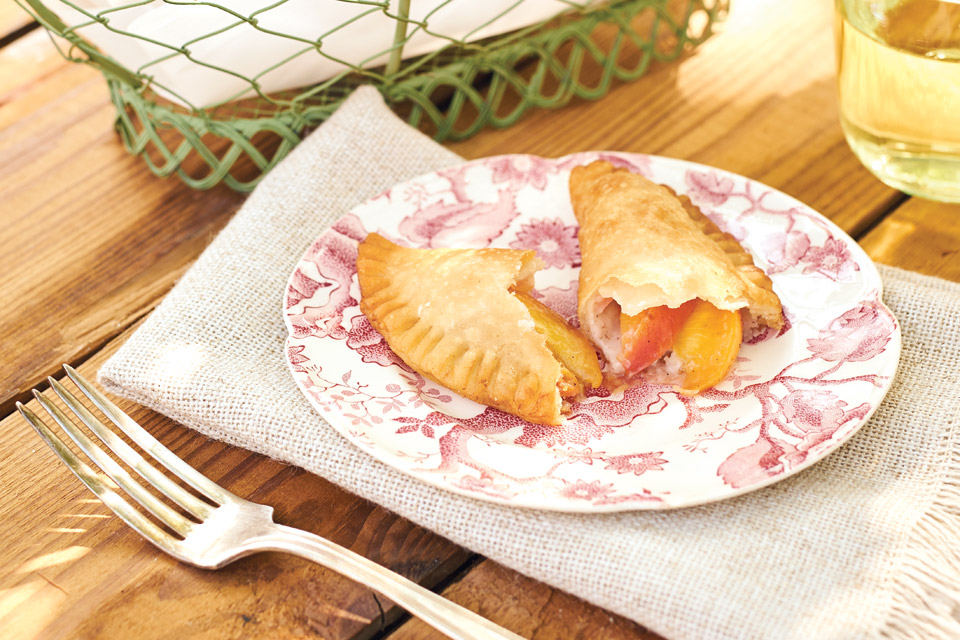 Peach Hand Pies
The Old Arcana
Chef Jeffrey Besecker opened The Old Arcana with his business partner Leslie Handshoe-Suter just two years ago. But in that time, the comfort-food spot in the middle of tiny downtown Arcanum has made a big name for itself with menu staples such as the Arcana Hot Brown and Bourbon Praline French Toast.
This time of year, The Old Arcana prides itself on sweet desserts made with farm-fresh produce, and Besecker's Peach Hand Pies offer a single-serving spin on a seasonal favorite. The dessert starts with a pâté brisée, a classic French pie crust made with chunks of cold butter, ice water, sugar, salt and flour that can be frozen for several weeks.
"The way it's processed, the butter gets blended in," he says. "It's an old-time secret to making a great pie crust."
The dough contains no preservatives, and the buttery crust adds a distinct flavor that differs from supermarket dough. The peaches are seasoned with a cinnamon and sugar mixture, and Besecker advises frying each pie individually to get the best results.
While the pâté brisée may be new for many home cooks, it's the touch that Besecker says makes the dessert.
"We don't cut corners," he says. "You get the butter in there to bring out the sweetness of the peach, [and] you get that nice bit of flaky crispiness."
109 W. George St., Arcanum 45304, 937/692-0068, oldarcana.com



RECIPE: Peach Hand Pies
Courtesy of The Old Arcana


Chef's Note:
This recipe starts with a basic pâté brisée — the French version of dough used in a pie or tart pastry. "It definitely adds a texture quality. You're going to get more of a buttery, flaky crust," says chef Jeffrey Besecker.
INGREDIENTS
Dough for crust (recipe below)
6 large peaches,
blanched
1/2 cup sugar
1 teaspoon cinnamon
1 teaspoon flour
1 egg, beaten
3 to 4 quarts canola or vegetable oil
DIRECTIONS
Pit and core blanched peaches. Slice peaches into 1/2-inch slices. Toss with cinnamon, flour and sugar.
Lightly flour work surface and cut dough into 2-inch balls. Roll each dough ball flat into 6-inch circles. Cover half of each dough round with 5 to 6 peach slices, leaving a 1/4-inch rim along the edge.
Brush edges of dough with egg. Fold empty edge over top of peaches and gently press edges together. With a fork, press light ridges around folded edge of hand pie. Chill covered for 1 hour.
Heat 3 to 4 quarts of canola or vegetable oil in a 6-quart stockpot. Warm over medium high until oil reaches 265 F. Lightly place each hand pie into the oil one at a time. Fry until golden brown.
Serves: 6
Dough for Crust
INGREDIENTS
2 1/2 cups all-purpose flour
1 teaspoon salt
1 teaspoon sugar
1 cup (2 sticks) cold unsalted butter,
cut into small pieces
1/4 to 1/2 cup ice water
DIRECTIONS
Put flour, salt and sugar in bowl of a food processor and pulse to combine. Add butter and process for about 10 seconds, or just until the mixture resembles coarse meal.
Add ice water, tablespoon by tablespoon (1/4 to 1/2 cup), through the feed tube with machine running, just until the dough holds together without being wet or sticky; do not process more than 30 seconds. Test the dough at this point by squeezing a small amount together. If it is crumbly, add a bit more water.
Divide dough in half and wrap each half in plastic wrap, using a rolling pin to flatten into a disk. Chill until needed. Wrapped in plastic, dough can be frozen for several weeks before using.