Food + Drink
Red Basket Farm, Kinsman
Amy and Floyd Davis grow specialty crops and Ohio favorites at their Trumbull County farm year-round, selling to restaurants, schools and home cooks alike.
July 2018
BY Jim Vickers | Photo by Ken Blaze
July 2018
BY Jim Vickers | Photo by Ken Blaze
Floyd Davis reaches down toward the spiky tufts growing from the ground and plucks out a handful of vibrant green and red leaves. He quickly arranges them and holds them out like a tiny bouquet, explaining their quality and durability.
"This is the lettuce that makes up our leaf-lettuce blend," he says. "It grows as a head but you can pop these leaves off a center core. ... Once you put the reds and greens together it makes this beautiful mix. It's hearty and it tastes good ... We'll move 400 or 500 pounds of this stuff a week."
The Davises' Red Basket Farm covers nearly 20 acres of land in rural Trumbull County, but it's a patchwork of nearby and neighboring fields. Aside from the 5 acres that surround the family's home, there are 8 acres across the street and even more down the road.

"If you go catty-corner about a quarter mile ... there's a farmer over there, and we do about 3 or 4 acres of sweet corn and have another couple acres we plant over there," Floyd explains. "It's scattered about."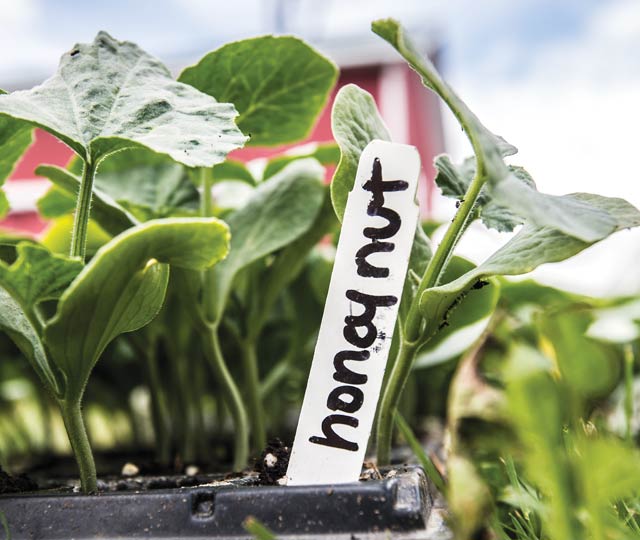 Greenhouses, where crops grow year-round, sit behind the Davises' farmhouse. The long hooped tunnels are filled with plants started months ago as well as seedlings that will later be moved into the fields outside. Inside one of the hoop houses, Floyd points out an impossibly plump sugar snap pea dangling from one of the plants. It's been growing here since January.

"That's an edible pod. Bite right into that," he says, "there's nothing much better."

An immense crunch and a surprising rush of flavor follow. You've never eaten a snap pea that tastes this good. Floyd smiles. That kind of reaction is what he and Amy are working to produce here.

The Davises started Red Basket Farm in 2008, bringing their products to farmers markets in Cleveland and the surrounding area a year later. There, Floyd met Ricardo Sandoval of Fat Cats at the Tremont Farmers Market and Jonathon Sawyer of The Greenhouse Tavern while selling at the Countryside Farmers' Market at Howe Meadow in Peninsula.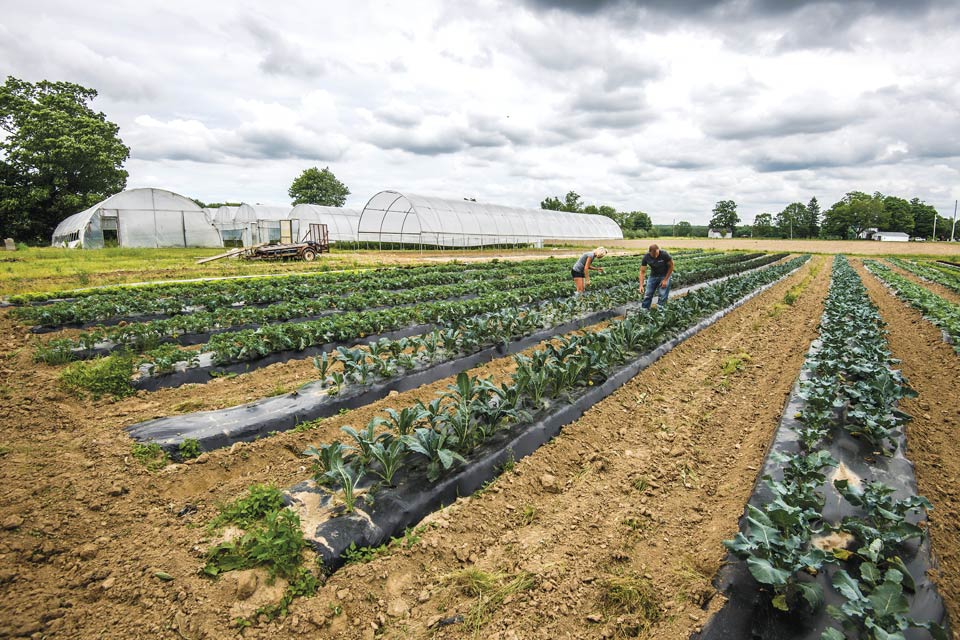 "The first time I met [Jonathon Sawyer], he basically came in and bought everything I had," Floyd recalls. "That's how the whole restaurant business began — with Ricardo at Fat Cats and Jonathon Sawyer at Greenhouse."

A significant portion of Red Basket Farm's fields contain specialty crops desired by creative chefs: different kinds of kale, oversize dandelion greens, fresh baby sweet corn, the list goes on and on.

"The restaurant side of it was what we focused on for the first few years," Floyd adds. "That's what built the farm."

Today, the Davises supply 15 or 16 restaurants throughout Cleveland, and Floyd estimates that 60 or 70 percent of what the farm produces ends up there — not just at farm-to-table restaurants, but also at Case Western Reserve University and South Euclid Lyndhurst City Schools on the east side of Cleveland.

The Davises also host tours for local seventh-graders to not only show what the farm produces but also teach them that small-scale agriculture can be a viable family business.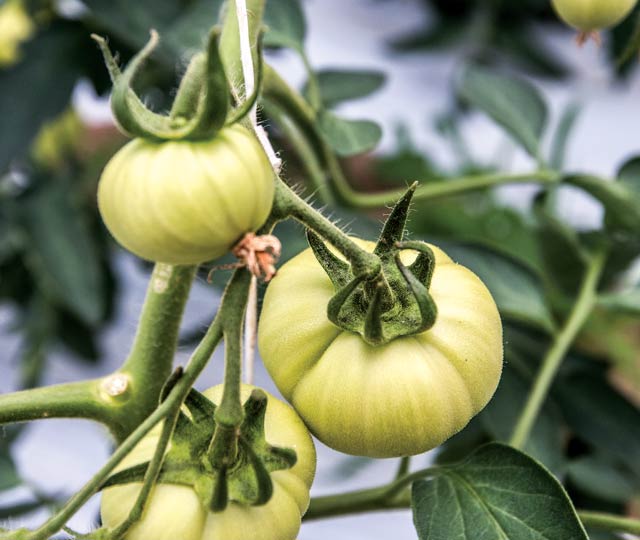 "This is something that you can do," Floyd says. "We make a living at it. This is all we do. We don't have 1,000 acres. [We're] small acreage, small equipment, labor intensive ... we do good with it."

Floyd, who formerly had a hay business before spending time in the insurance industry, bought the property that would become Red Basket Farm in 2001. The Davises got serious about farming in 2008 before hitting their stride in 2012 and growing every year since.

Today, the farm grows in soil year-round, having built additional greenhouses to shield and insulate crops. Over the years, the Davises have figured out which varieties can tolerate lower temperatures and less light while also surviving the freeze-thaw cycle.

"We just experimented, we learned things," Amy explains. "I always told [Floyd], 'You need to write a book.' There are people starting out like us. Now we need to pass on that information and educate them, because more people need to do this."

To learn more, visit redbasketfarm.com.

----

The Chef: Brett Sawyer | The Plum, Cleveland

Lorain Avenue heading west out of the heart of Cleveland's Ohio City neighborhood was once most known for its empty storefronts. But in 2016, chef Brett Sawyer became part of the area's revival when he opened his small-plates focused restaurant, The Plum.

Sawyer previously worked at The Greenhouse Tavern in downtown Cleveland and Trentina in the city's University Circle neighborhood, learning not only how to cook but also what ingredients to use and where to buy them.

"People want to know that you're doing your best to source local, sustainable ingredients," Sawyer says.

He knows buying 100-percent local isn't always possible, but he's made friends with suppliers who help him get as close as he can, including Floyd and Amy Davis' Red Basket Farm.

"I'd only been working at The Greenhouse Tavern for two or three weeks when I met Floyd for the first time," Sawyer recalls. "We really developed a friendship, a solid working relationship as well … Floyd understands what I do and what I'm looking for."

Sawyer loves the farm's unusual vegetables like kale sprouts and baby corn — things that he can't find anywhere else — but he's also impressed with old favorites.

"His bok choy last year was just unbelievable," Sawyer says. "His cucumbers are out of this world, green tomatoes, regular tomatoes … He just grows some of the best vegetables I've ever had."

When it comes to tomatoes, he prefers to let their genius shine, merely tossing wedges in oil and salt to serve alongside a garlic-yogurt dipping sauce.

"If the vegetables are good," Sawyer explains, "you don't have to do a lot." 4133 Lorain Ave., Cleveland 44113, 216/938-8711, theplumcafeandkitchen.com


Heirloom Tomatoes with Black Garlic Whip | Serves 4 to 8

INGREDIENTS
6 to 8 heirloom tomatoes of your choice (a hearty beefsteak also works)
Olive oil, sea salt and fresh, chopped herbs, to taste (Brett Sawyer uses basil, mint or oregano)
Black garlic whip (recipe below)

DIRECTIONS
Drizzle heirloom wedges with olive oil, and sprinkle with sea salt and herbs. Serve on a plate with the black garlic whip in a dish on the side.


Black Garlic Whip

INGREDIENTS
2 heads black garlic, peeled (black garlic available at specialty grocery stores such as Whole Foods)
1 quart heavy cream, plus 3 tablespoons
2 teaspoons salt
2 cups unsweetened yogurt

DIRECTIONS
In a medium saucepan, cook black garlic in 1 quart of heavy cream on low heat until garlic is soft (approximately 1 hour). Remove from heat, cool and pour into a blender, blending into a smooth puree. Combine yogurt, 1/2 cup black garlic puree (extra can be kept in a lidded container in the refrigerator) and salt in food processor. With motor running, slowly drizzle in the remaining 3 tablespoons of cream.