Food + Drink
Chefs Share Favorite Family Recipes
To offer some holiday cooking inspiration, we asked four Ohio chefs to share the story behind a meal from their own kitchen.
December 2018
BY Ruth Corradi Beach & Frances Killea | Photos by Megann Galehouse, styling by Kaitlyn Hale
December 2018
BY Ruth Corradi Beach & Frances Killea | Photos by Megann Galehouse, styling by Kaitlyn Hale
Mom's Hot Ham and Cheese Sandwiches

The holiday season has its own gastronomy: Home cooks line tables with hearty roasts, opulent desserts and mugs full of hot cocoa and marshmallows. But this time of year is also about comforting favorites, and for Chad Lavely that means chopped ham mixed with Swiss cheese, tucked inside a simple sandwich bun.

"The story with these sandwiches is that my mom's mother used to make them just as a means of stretching the budget, because they used fairly inexpensive products: Swiss cheese, chipped chopped ham and plain white hamburger buns," recalls Lavely, executive chef at the Granville Inn in Licking County.

The tradition carried on, as Lavely's mother raised her brood of seven kids.

"I think it was just because it was something that could be prepared ahead. It could feed a crowd," he says. "As more people showed up, you could pull more sandwiches out of the freezer."

But their simplicity hardly hindered these ham-and-cheese sandwiches from taking a place of honor in Lavely's memories of cherished holiday meals.

"They were fun," he says. "The little bits of Swiss cheese would melt out of the sandwiches and get crusty on the foil, so when you opened up the sandwich you got to pick off all the little crunch pieces of cheese."

He still makes the sandwiches to this day, sometimes for his kitchen crew and sometimes when his family members — most of whom live close by — gather for Christmas. Lavely insists that substituting higher-end ingredients won't make for a better sandwich, right down to the white-bread hamburger buns. But the chef also notes that some of the fond memories tied to the simple, aluminum-foil-wrapped creations go beyond the recipe itself.

"When you were done with the sandwich, you got to wad up the foil into a ball and throw them at your brother and sister," he says. "All those little bits and pieces made it the experience."

Granville Inn, 314 E. Broadway, Granville 43023, 740/587-3333, granvilleinn.com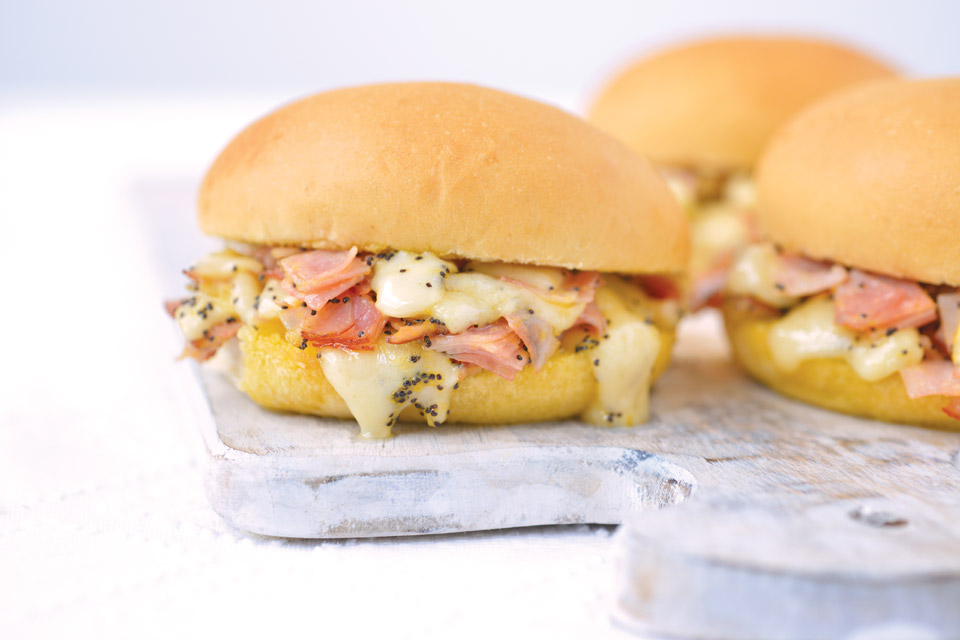 Mom's Hot Ham and Cheese Sandwiches | Serves 12
Courtesy of Chad Lavely | Granville Inn, Granville

INGREDIENTS
2 pounds sliced chipped chopped ham (preferably Isaly's)
1 pound Swiss cheese, sliced thick
1/2 pound butter, melted
4 tablespoons minced fresh onion
3 tablespoons poppy seeds
4 teaspoons prepared yellow mustard
12 plain white sandwich buns
DIRECTIONS
Cut the ham slices into 1/2-inch squares. Cut Swiss cheese into small cubes. Combine in a bowl and set aside. Melt butter over low heat, add onions and cook for just a minute, then stir in poppy seeds and prepared mustard and cool slightly. Combine the butter mixture with the ham and cheese. Scoop the ham mixture evenly onto the 12 buns. Place the bun tops on and wrap each sandwich in a square of aluminum foil. (These are great made ahead and the wrapped sandwiches can be stored in the bun bags and frozen for a couple of weeks.) When ready to eat, bake the foil-wrapped sandwiches on a cookie sheet at 325 F until good and hot — about 25 minutes for a frozen sandwich and 15 minutes if thawed.

---

Peanut Butter Fingers

Katie Hammond was partway through college at The Ohio State University when her father called to announce that he wanted to buy a property in her hometown of Yellow Springs with the intent of opening a hotel. When he asked her if she'd be interested in helping him run the business, she didn't hesitate.

"I changed my major at that time to hospitality," says Hammond, now co-owner of the Mills Park Hotel.

Before the grand opening in 2016, Hammond spent two years studying culinary arts at Johnson & Wales University in Charleston, North Carolina.
"That's where I find inspiration: I try to make some sort of Ohio-southern fusion with the cuisine," she says.

The menus at Mill's Park Hotel's on-site Ellie's Restaurant & Bakery feature Hammond's Ohio/Carolina mashups: Think fried Ohio chicken and waffles as well as shrimp and grits made with local cheddar cheese. But it's Hammond's desserts that allow her to re-create some of her favorite culinary hand-me-downs, and this holiday season, she's making peanut butter fingers.

The recipe hails from North Carolina, by way of Hammond's great-grandmother, Thetis Hammond. But the postscript at the bottom of the weathered piece of paper upon which the recipe is typed notes it's a version of the dessert that won Sharon Nulsen of Cincinnati a $500 prize in Pillsbury's National Bake-off in 1962.

"[My grandmother] started the tradition of baking them every year for Christmas for my dad and grandparents to take on their annual family road trip to Florida," Hammond explains.

When Hammond began baking as a child, the bars — rich and chewy with rolled oats, brown sugar, peanut butter and melted semisweet chocolate chips on top — were a natural choice.

"I started making them for my dad every year for his birthday," she recalls. "That was my way of giving people presents."

That's still true. Hammond adapted the recipe into a cake for her father's birthday just this year. The recipe's sweet simplicity lends itself to any celebratory occasion.

"When it's done, you turn the oven off and throw the chocolate chips on top, and the heat just melts it and you spread it out," Hammond says. "It's so easy to add stuff to the brownies or sprinkle stuff on top."

Ellie's Restaurant & Bakery, 321 Xenia Ave., Yellow Springs 45387, 937/319-0402, millsparkhotel.com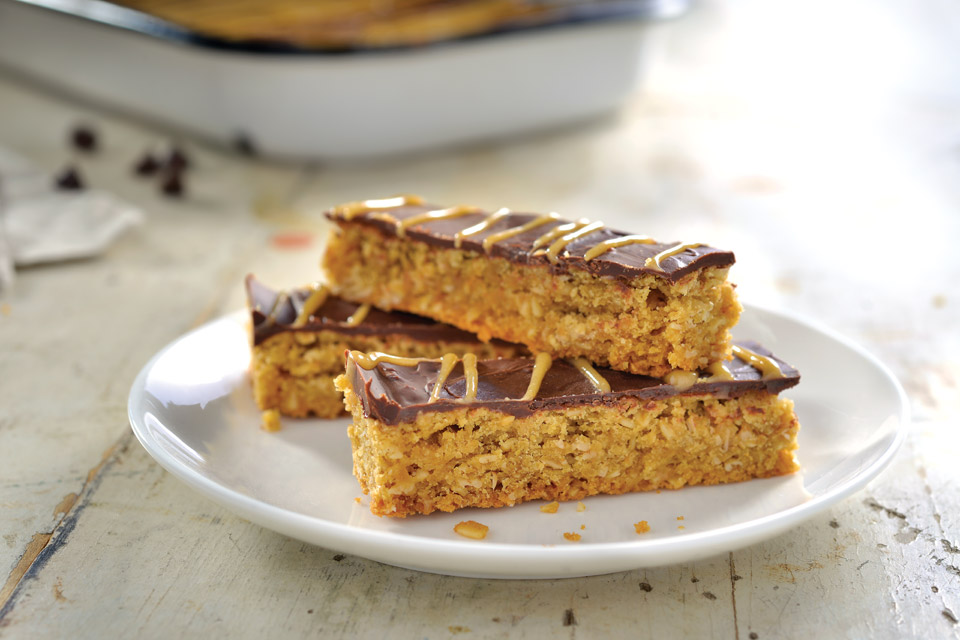 Peanut Butter Fingers | Serves 12-16
Courtesy of Katie Hammond | Ellie's Restaurant & Bakery, Yellow Springs

INGREDIENTS
1/2 cup butter, plus extra to grease baking pan
1/2 cup sugar
1/2 cup brown sugar, firmly packed
1 unbeaten egg
1/3 cup peanut butter + 1/4 cup peanut butter
1/2 teaspoon baking soda
1/4 teaspoon salt
1/2 teaspoon vanilla
1 cup all-purpose flour
1 cup quick-cooking rolled oats
6 ounces semisweet chocolate morsels
1/2 cup powdered sugar, sifted
2 to 4 tablespoons evaporated milk

DIRECTIONS
Combine butter, sugar and brown sugar until well blended. Mix in unbeaten egg, 1/3 cup peanut butter, baking soda, salt and vanilla. Stir in flour and rolled oats. Prepare greased 13-by-9-inch pan (two 7-by-7 inch pans work as well) and spread in mixture. Preheat oven to 350 F and bake for 20 to 25 minutes. Remove and sprinkle with semisweet chocolate morsels. Let stand 5 minutes. Combine 1/2 cup sifted powdered sugar, 1/4 cup peanut butter and 2 to 4 tablespoons evaporated milk in separate bowl and mix well. Spread now-melted chocolate morsels evenly over top and drizzle with peanut butter mixture (can use a cake decorator's tube). Let cool and cut into bars.

---

Pasties with Meatloaf and Irish Colcannon Potato Filling

Colcannon invites creativity. The Irish mainstay consists of mashed potatoes and usually either kale or cabbage. But it can be made with a variety of additions, and that's why it was so popular in Chris Campbell's home growing up.

"My mom's side is Irish," he explains. "We didn't have a lot of money, so potatoes were just such a part of our diet, and colcannon is a very interchangeable recipe. It was always made with something that was available. It was a revolving, evolving recipe and very much a comfort food for us."

In fact, Campbell credits his mother's colcannon tradition with his interest in becoming a chef. Today he and his wife, Cassie, are managing partners at The Merchant House in Greenville, which they own with Cassie's father and stepmother, Randy and Georgianne Lambright.

"[My mom] was usually working two jobs so I had to do a lot of cooking for myself, and that evolved to my mom calling me from work to say, 'Here's what's in the fridge,' and I'd make something out of it," Campbell recalls.

What he had on hand to add to the ubiquitous potatoes might include broccoli, kale, green onions, cauliflower or corn. And while it was never the same dish twice, Campbell's colcannon featured bacon along with the potatoes.

"Bacon was always something we added," he says. "We never cooked with anything but bacon grease."

The meatloaf filling is likewise important in The Merchant House kitchen, Campbell explains, in that it's a holiday recipe for chef Eric Stoner's family. The pasty itself is a nod to northern Michigan, where both Campbell and his wife grew up. In the 1800s, local miners who hailed from Ireland and Scotland brought the handheld potpie with them. Its super-thick crust served as a handle for the lunching miners who had nowhere to wash their sooty hands. (It was discarded rather than eaten.) The side of brown gravy is a northern Michigan addition.

Campbell makes colcannon for his three young children during the holidays, just as he ate it growing up. For his kids, though, the meaning is slightly different.

"During the holidays [as a kid] we didn't have a lot," he says. "But we ate stuff that could fill you up and make you feel really warm and fill your soul as well. … Though my three children aren't in that position, I want them to eat those things and feel that way. It's not about the ingredients, it's about the time and effort you put into it."

The Merchant House, 406 S. Broadway, Greenville 45331, 937/459-4405, tmhgreenvile.com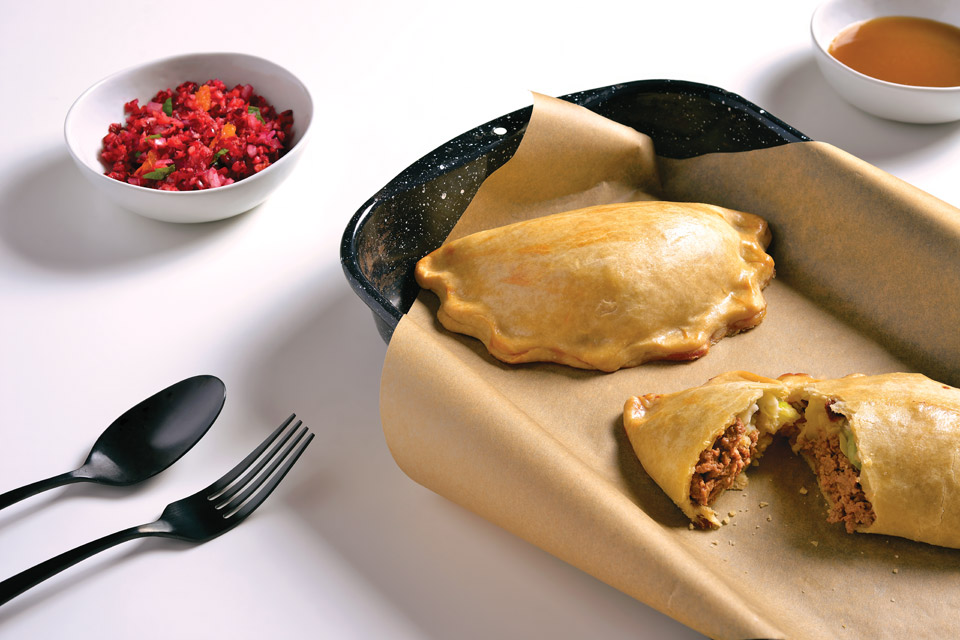 Pasties with Meatloaf and Irish Colcannon Potato Filling | Serves 4
Courtesy of Chris Campbell | The Merchant House, Greenville

Pasty

INGREDIENTS
2 cups bread flour
1/2 cup sweet salted butter
1/4 teaspoon salt
1/3 cup cold water
DIRECTIONS
Mix flour, salt and butter in a bowl until crumbly. Slowly add the water until the mixture starts to come together. Knead dough until elastic. Cover in clear wrap and let rest in the fridge for 3 hours while preparing the filling.

Meatloaf Filling

INGREDIENTS
2 eggs
3/4 cup buttermilk
1/2 cup finely crushed dry crackers (such as Cheez-Its or Chicken in a Biskit)
1/4 cup chopped onion
1 teaspoon salt
1/2 teaspoon pepper
1 teaspoon Worcestershire sauce
2 teaspoons minced garlic
1 pound lean ground beef
1/2 pound ground pork belly
1/2 cup ketchup
3 teaspoons molasses
1 teaspoon spicy ground mustard

DIRECTIONS
Mix all ingredients in a large bowl and cover. Let sit in fridge for 2 to 3 hours.


Irish Colcannon Filling

INGREDIENTS
3 pounds red potatoes, peeled and quartered
1/2 cup cream
1/4 cup + 1 tablespoon butter
1/2 head of cabbage, chopped
6 slices bacon
Salt & pepper to taste
3 tablespoons melted butter (optional)

DIRECTIONS
Bring a large pot of salted water to a boil. Cook potatoes 12 to 15 minutes or until fork tender. Drain and set aside. Meanwhile, cook bacon in a large pan until crisp. Leaving drippings in pan, remove bacon and chop; set aside. Add 1 tablespoon of butter to the bacon drippings. Cook cabbage over medium heat in drippings until tender. Mash potatoes, adding cream and butter as needed. Season with salt and pepper. Gently fold together mashed potatoes, cabbage and chopped bacon. Top with additional melted butter if desired.

ASSEMBLY
When the dough has rested, preheat the oven to 330 F. Line a baking sheet with parchment paper. Roll out the dough and cut into four circles of approximately 8 inches. Layer the meatloaf and colcannon filling onto one half of each circle. (Make sure you have enough filling left to fill all of the circles you cut out.) Fold the dough over to close it and crimp the edges. (If needed, lightly brush the edges of the pasty with water before crimping.) Transfer to a baking sheet lined with parchment paper and brush with beaten egg. Bake for approximately 50 to 55 minutes, until golden. Serve with mint/cranberry relish (recipe below) and a side of brown gravy.


Mint/Cranberry Relish

INGREDIENTS
2 12-ounce bags fresh (or frozen, thawed) cranberries
2 teaspoons orange zest from 1 of 4 navel oranges
3/4 cup sugar
1/2 cup minced sweet yellow onion
1/4 cup chopped fresh mint
1 tablespoon minced, peeled ginger

DIRECTIONS
Pulse cranberries in a food processor until coarsely chopped. Transfer to a large bowl. Using a sharp paring knife, remove peel from all 4 oranges. Working over a bowl, cut between membranes to release orange segments. Coarsely chop segments; add to cranberries. Stir remaining ingredients and reserved zest into cranberry mixture. Cover and chill.

---
Whole Roasted Chicken with Root Vegetables and Apples

The scent of roasting chicken still makes Jill Vedaa want to dance.

"[Growing up], we'd dance and cook in the kitchen. We used to listen to the soundtrack for 'The Big Chill.' That was very popular in my family," recalls the chef and co-owner of Salt, located in the Cleveland suburb of Lakewood. "When I got older I'd find recipes that I wanted to try and we'd make those."

Vedaa's parents both worked full time, but her mother always made the evening meal rather than opting for TV dinners or other mealtime shortcuts, and one of the most memorable is her whole roasted chicken.

"This is one of my favorite recipes that she'd make," says Vedaa. "I adapted it a little."

Vedaa's version includes lining the pan with root vegetables and firm apples like Honeycrisp, which maintain their crunch even while absorbing the chicken fat. She's created a one-pan meal that any home cook can tackle with confidence. Sure, you could go out and buy a whole roasted chicken at the grocery store, but, Vedaa explains, that would be missing the point.

"It's such an easy thing to do at home," she says, "… and there's a sense of gratitude that comes when you cook this meal — when you have the smell of roasted root vegetables and chicken in your house, knowing that there's something delicious on the other side of that."

Just as this recipe was central to Vedaa's family growing up (consisting of her mom, dad and older sister) it's an important element of her present-day family as well.

"The first meal I made for my girlfriend was this one," she recalls. "That was just over four years ago. I knew it would be a good dish. I knew it was the ultimate comfort food. Her favorite part was the roasted apples."

This recipe is ideal for a couple, because it creates enough leftovers for a second meal. Vedaa makes chicken and dumplings for meal two, but it could just as easily be turned into a stew by shredding the chicken. Either way, that means two days of a beautifully scented house, along with extra free time to crank up the music and dance.

"There's just something really comforting about the smell of this recipe," Vedaa says. "Every time I cook it, it reminds me of my childhood and how awesome my mom is."

Salt, 17625 Detroit Ave, Lakewood 44107, 216/221-4866, saltcleveland.com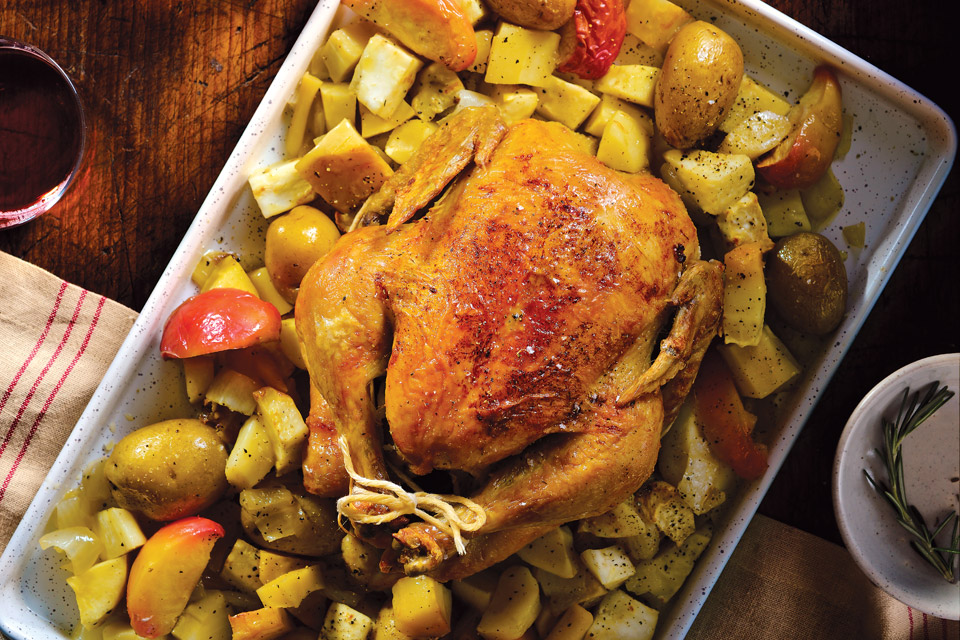 Whole Roasted Chicken with Root Vegetables and Apples | Serves 4
Courtesy of Jill Vedaa | Salt, Lakewood

INGREDIENTS
1 free-range chicken
1/2 cup kosher salt
Zest of 1 lemon
1 teaspoon dry thyme
2 cloves garlic, minced
1 teaspoon whole cumin
1 teaspoon fresh ground pepper
1/2 stick unsalted butter
1 medium celery root, peeled
1 medium Spanish onion
2 sweet potatoes
4 parsnips, peeled
A couple handfuls of baby Yukon potatoes
2 Honeycrisp apples, cored and cut into wedges
Olive oil for coating
Salt & pepper
Fresh thyme to taste

DIRECTIONS
Mix all the spices and rub on every inch of the chicken. Cover and refrigerate for at least 4 hours (overnight is best). Preheat oven to 400 F. Remove chicken and rinse; pat dry thoroughly. Rub room temperature butter over the entire skin and under the skin. Roughly chop all vegetables except the baby Yukons. Toss, along with apple wedges, in olive oil, salt, pepper and fresh thyme. Cover the bottom of roasting pan with the vegetables and apples, place the chicken on top, cover loosely with foil, and place in preheated oven. Uncover after 45 minutes and continue to roast for about another 45 minutes, making the skin crispy. Make sure meat thermometer reads 165 F. Remove chicken from oven and let rest for 10 to 15 minutes. Remove chicken from roasting pan to a cutting board and arrange all the vegetables and apples in a serving dish. Cut chicken and arrange on top of the vegetables and apples to serve.