Food + Drink
Quarry Hill Orchards' Market Barn
This third-generation family business offers fruit-picking workshops and local produce in a newly built structure that holds a lot of history.
Sept./Oct. 2020
BY Lilia Sciarretti | Photo by Lilia Sciarretti
Sept./Oct. 2020
BY Lilia Sciarretti | Photo by Lilia Sciarretti
The 19th-century barn sits among fruit orchards and pick-your-own flower fields. As we walk inside, Bill Gammie, who led the operation at Berlin Heights' Quarry Hill Orchards for more than 30 years, offers a warm welcome and some crisp apple cider made with fruit grown on the property.

"Personal dialogue is lost when you go to a big box store … it's just not part of the intention," says Bill's son, Ben Gammie, third-generation operator of Quarry Hill Orchards. "[We added the new barn] for a chance to slow down a bit."

Founded in 1931, Quarry Hill Orchards is a family business covering more than 300 acres. Operated by the Gammie family, which consists of Bill and his wife Jacque, their son Ben, his wife Brooke and their four children, Quarry Hill grows apples, peaches, cherries, pears, plums, raspberries and flowers. (The Gammies also cultivate a variety of grapes for their second business: Quarry Hill Winery.)

Quarry Hill's new Market Barn, which opened in July, provides visitors an authentic bit of farm life as they browse and purchase fruits and vegetables, dry goods and pantry items from Ohio vendors or the orchard itself. There are also goods from local bakers on the weekends: apples fritters and snoogles — a sweet, cream-filled pastry.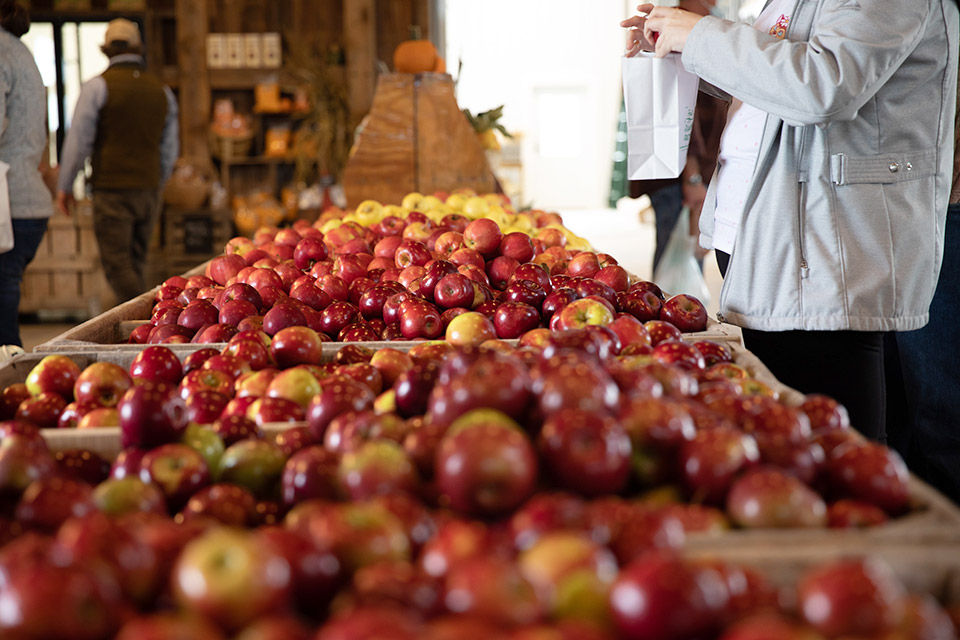 "We wanted guests to stay a little bit longer and dig deeper into our experience," says Brooke Gammie.

Builder Dwight Miller and his team constructed the timber-framed portion of the barn. Ben Gammie had approached Miller about re-erecting an existing barn, as many such historic structures were disappearing fast, typically bulldozed or destroyed.

"Ben wanted to bring back a piece of American history and add to the farm," Miller explains.

The Market Barn is built from what started as three separate structures, with part of it being relocated from northern Michigan. Miller used beams from the Gammies' own barn dating back to the 1820s as a way to weave in family history. The floor joists were taken from another old barn just down the road.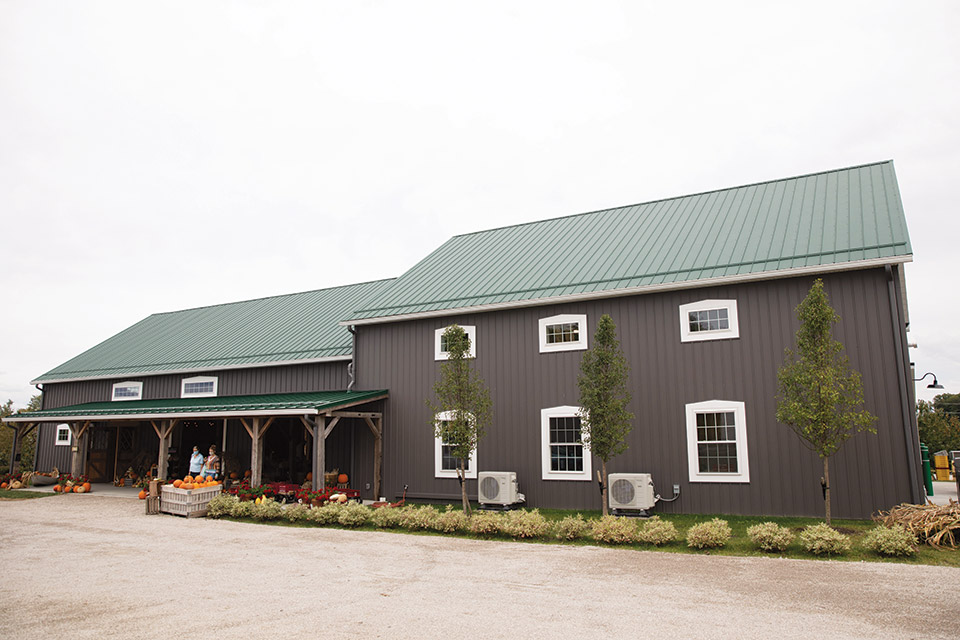 "Our programming which allows people to pick their own fruit is one of the biggest reasons people come to visit Quarry Hill," says Brooke. "We hosted several pick-your-own workshops where we educated [people] … because there's an art that goes into it."

Along with hosting fruit-picking workshops, the barn offers a new place to sell what Quarry Hill grows, as well as local produce that includes Concord grapes from Molly's Vineyard in Vermilion and popcorn from Schlessman Seed in Milan.

"We are constantly repurchasing and reselling local produce from relationships that Bill and Jacque have built over the years," says Brooke. "We really build our business on relationships."

Quarry Hill Orchards is open daily 9 a.m.–6 p.m. from mid-June through October, and 9 a.m.–5 p.m. during November, December and January (or until the apples run out). 8403 Mason Rd., Berlin Heights 44814, 419/588-2858, quarryhillorchards.com