Food + Drink
Ohio Wine Month: Raise a Glass
Celebrate Ohio-grown grapes and Buckeye State wines at these six summer festivals.
June 2015 Issue
BY Chelsey Milkovich | Photo by Ohio Images
June 2015 Issue
BY Chelsey Milkovich | Photo by Ohio Images
Granville Art Affair & Wine Festival
June 12–13 | Granville

The Vitals: What started as an art show in 2009 has since grown into a showcase of Ohio wines as well. "The art sets the scene for the wine fest," explains event coordinator Melinda Moore. A juried show of 80 to 100 artists from across North America is the backdrop for this annual event, which is held on the 32-acre lawn of Granville's historic Bryn Du Mansion. This year, the festival will also take guests inside the home, according to Moore. "Having such a wide variety of space will give all of the vendors plenty of opportunity to display their arts and wine," she says.

The Extras: Wine and Canvas — a class that merges sipping and painting — will offer 30-minute art classes, while the Mid-Ohio Fiber Fair will showcase alpaca wool, cashmere and angora. "Some of our vendors will give short, free demonstrations showcasing a fiber-arts skill or technique," says Mary Anderson, coordinator of the Mid-Ohio Fiber Fair. Food trucks will cater to guests' cravings. "Some of the food trucks will be simple, some will be gourmet," says Moore. "Everyone will be happy."

The Wines: Although the lineup wasn't finalized when we talked to Moore, last year's six winemakers in attendance included central Ohio's Buckeye Lake Winery and Camelot Cellars. Belgian, domestic and craft beers such as Spaten, Yuengling and Goose Island will also be available this year. "There's a variety and a distinct beverage for everyone," Moore says. 537 Jones Rd., Granville 43023, 740/587-7053, granvilleartaffair.com


Grove City Town Center Wine and Arts Festival
June 20 | Grove City

The Vitals: When this festival started four years ago, it featured a lineup of eight winemakers. Now, 20 wineries and 130 artists, authors and crafters gather for this daylong outdoor event in historic downtown Grove City. Andrew Furr, executive director of Grove City Town Center, created the festival as a way to bring people to the district and raise awareness about the businesses there. "Word of mouth has spread," he says. "We're seeing a regional effect."

The Extras: Festival policy requires all artists to showcase handmade crafts, so there are many one-of-a-kind works to browse, which range from fine art to fun, wine-inspired creations. "We have one vendor who creates lamps out of wine bottles and also melts them down to create cheese trays," says Furr. "Even if you don't drink wine, you can definitely come and check out all the other vendors."

The Wines: Grove City's own Plum Run Winery will be among the vintners featured as will Soine Vineyards of Powell. Deers Leap, a Geneva winery, will feature a variety of wines including its most popular, Geneva Fusion — a sweet red wine made from American Concord grapes. 3378 Park St., Grove City 43123, 614/539-8762, grovecitytowncenter.org


North Market Food & Ohio Wine Festival
July 10–12 | Columbus

The Vitals: Established in 1876, North Market is Columbus' last true public market. In 2002, it hosted the inaugural Ohio Wine Festival to showcase great bottles being produced in the Buckeye State. "A lot of people did not know there were a lot of wineries in Ohio," says Sheila Hunt Rossiter, director of development for the festival. "It was one of those hidden secrets." The event features 20 wineries, which set up along Spruce Street outside the market.

The Extras: This year's festival lineup includes Lamb Jam, a competition that asks local chefs to create a distinct lamb dish. CaJohns Flavor & Fire, a North Market merchant known for its salsa and hot sauces, will offer cooking demonstrations during the festival on how to prepare a perfect spicy dinner. "We will be cooking an entree and two sides, all featuring Ohio wines as an ingredient," says owner John Hard. Musical entertainment during the three-day event will swing from jazz one night to a DJ set the next. "It's local entertainment," says Hunt Rossiter. "It might be your next-door neighbor. It might be a local celebrity."

The Wines: Competition is intense for the festival's 20 winemaker spots, which this year will include Laurell0 Vineyards, Troutman Vineyards, The Winery at Wolf Creek, St. Joseph Vineyard and Markko Vineyard. "All of the wineries we choose have their own special quality about them. Trying to pick the best of the best is always hard," says Hunt Rossiter. "It's amazing how many vineyards there are now in Ohio." 59 Spruce St. Columbus 43215, 614/463-9664, northmarket.com

Toast of Ohio Wine Festival
July 25 | Sandusky

The Vitals: Hosted by the Merry-Go-Round Museum, this festival lines Jackson Street and Central Avenue in downtown Sandusky. "You can walk up to any winemaker, tell them you like a sweet wine and they will point you in the direction of the best selection for you," says Veronica Vanden Bout, a member of the festival's committee. "It's an interesting experience meeting the person who made the wine you're drinking."

The Extras: Cedar Point catering as well as the Berlin Heights-based Good Eats Food Truck and three others will accommodate both casual and gourmet cravings. They'll serve guests options ranging from sausage to sandwiches to a festival favorite: Cedar Point Perch Tacos. "The perch tacos go incredibly well with wine," says Vanden Bout. "You'd be surprised."

The Wines: The festival will present more than 10 Ohio wineries, which will each bring six to eight different wines, with options catering from the driest to the sweetest styles. Wine lovers are encouraged to sip and learn from Ferrante Winery, Myrddin Winery, Humble Bee Vineyards and more. "We have had most of the same wineries since we started 10 years ago," says Vanden Bout. "The wineries tend to enjoy the personal experience just as much as the customers." 301 Jackson St., Sandusky 44870, 419/626-6111, merrygoroundmuseum.org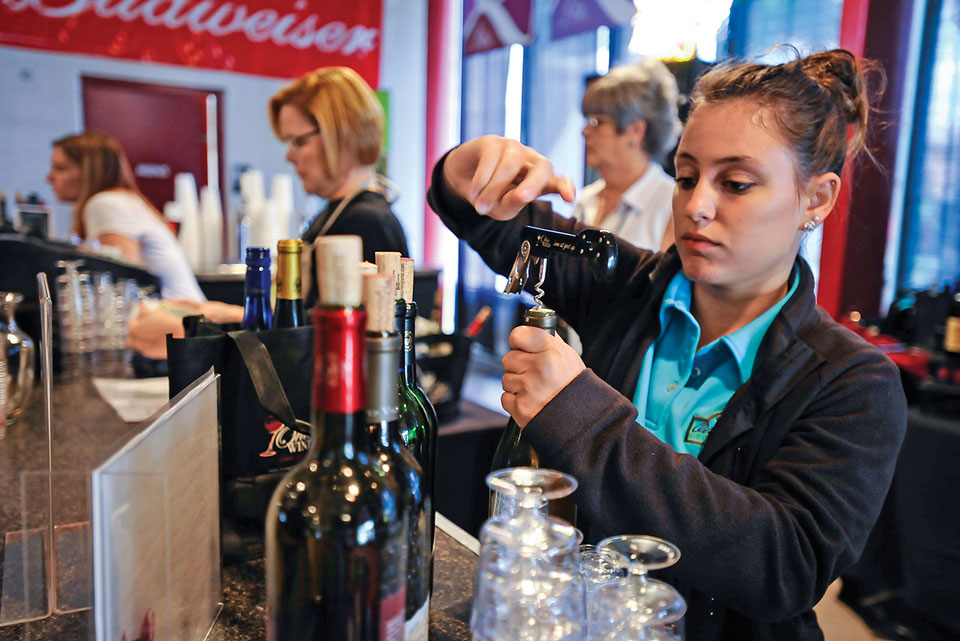 Ohio State Fair Wine Pavilion
July 29–Aug. 9
|
Columbus
The Vitals:
The Ohio State Fair is famous for its rides, concerts and food, but Ohio wines are also part of the draw. Located in the Ohio Expo Center, the Taste of Ohio Cafe will offer festivalgoers the opportunity to sample from among 25 wines, including offerings from Ferrante Winery, Valley Vineyards, The Winery at Versailles and more. Ferrante, which is located in Ashtabula County, will be serving its popular riesling. "The taste is quite exceptional due to the cool-climate region we have when the grapes are growing," says Ferrante marketing director Alyssa Sekerak-Ollis. The wine is very fruit forward, tasting of green apple and finishes with a sweet, apricot taste.
The Extras:
Various Ohio commodity groups that farm poultry, beef, lamb and pork will have food stations set up in the the Taste of Ohio Cafe, giving consumers the opportunity to pair their favorite wines with not-so-typical fair foods such as gourmet sandwiches and gyros. "There will be recipe cards based on the foods the vendors will be serving alongside pairing cards to pair your wine with the perfect bite," says Christy Eckstein, executive director of the Ohio Grape Industries Committee. Ohio's Heartland Cuisine, an organization of commodity groups, will offer cooking demonstrations as well.
The Wines:
The wineries attending the festival must fall into one of two categories. They must have earned the Ohio Quality Wine Designation within the past year for being manufactured with a minimum of 90 percent Ohio-grown grapes and have passed a sensory and chemical analysis, or they must have won a gold medal at the annual Ohio Wine Competition. "Do they have enough volume? How strong is their taste? These are all very important qualities each wine needs to be involved in the festival," says Eckstein. "We wanted to make sure there was diversity in all of the wines being provided."
717 E. 17th Ave., Columbus 43211, ohiostatefair.com
Vintage Ohio Wine Festival
Aug. 7–8
|
Kirtland
The Vitals:
Boasting a lineup of more than 20 vintners, the Vintage Ohio Wine Festival is the longest-running showcase of the state's winemaking industry. Celebrating its 21st year in 2015, the festival takes place among the tall oaks and rolling hills of Lake Metroparks Farmpark and makes for a calming setting to sip pinot gris, chardonnay and fun fruit wines made with Ohio-grown grapes.
The Extras:
Five gourmet food trucks and 15 other food vendors will be on hand to serve this year's festival guests. Local artists provide an added dimension by demonstrating watercolor paintings at the festival. "The artistic aspect of the festival will add to the relaxed atmosphere of the wine tasting," says Donniella Winchell, executive director of the Ohio Wine Producers Association, which sponsors the event. Chef Lisa Delgado will be running a cooking tent with other area chefs. They will host demonstrations and hand out food samples that pair with specific wines available at the festival.
The Wines:
From wineries such as Barrel Run Crossing Winery & Vineyard in Rootstown to Heineman's Winery in the Lake Erie Islands village of Put-in-Bay, this festival provides a snapshot of the state's industry and offers wines ranging from cabernet franc to riesling to fruit wines made from strawberries, blackberries and peaches. "[The festival] not only gives us the opportunity to provide our wines, it also gives us the opportunity to share the company's history," explains Mike Kapusta, winemaker at Barrel Run Crossing. You will find their most popular wine, Tipsy Conductor, which is made with Ohio-grown frontenac gris grapes, at this year's festival.
8800 Euclid Chardon Rd., Kirtland 44094, 800/227-6972, visitvintageohio.com
Ohio Magazine editorial assistant Frances Killea and editorial intern Melanie Morris contributed to this story.