Food + Drink
Ohio Spirits: 3 Fall Cocktails
As the leaves pile up, these autumn-inspired cocktails courtesy of Ohio distilleries should be part of your seasonal celebrations.
November 2019
BY Megan Grantham | Photo courtesy of Watershed Kitchen & Bar
November 2019
BY Megan Grantham | Photo courtesy of Watershed Kitchen & Bar
Harvard on the Hocking
Watershed Kitchen & Bar, Columbus
Watershed Kitchen & Bar's Harvard on the Hocking cocktail (named after a 1950 Time magazine reference to Ohio University) uses Watershed Distillery's apple brandy to deliver a taste of the season. "It's sort of tough to think autumnal vibes and not think apples," says beverage director Josh Gandee. The brandy is crafted with locally sourced Ohio apples that are pressed at a Cleveland cidery before being fermented and distilled on-site. The drink combines the brandy with rye whiskey, sweet vermouth and soda water, making it reminiscent of a Manhattan but with more effervescence. "If you're comfortable drinking things like rye or bourbon, you can be comfortable with drinking apple brandy as well," Gandee says. watersheddistillery.com

INGREDIENTS
1 ounce Watershed apple brandy
1 ounce rye whiskey
1 ounce sweet vermouth
3 dashes angostura bitters
1 ounce soda water
Cherry

DIRECTIONS
Stir apple brandy, rye whiskey, sweet vermouth and bitters in a mixing glass with ice until well chilled. Strain the mixture into a chilled coupe glass. Top the cocktail with soda water, and garnish with a cherry.

---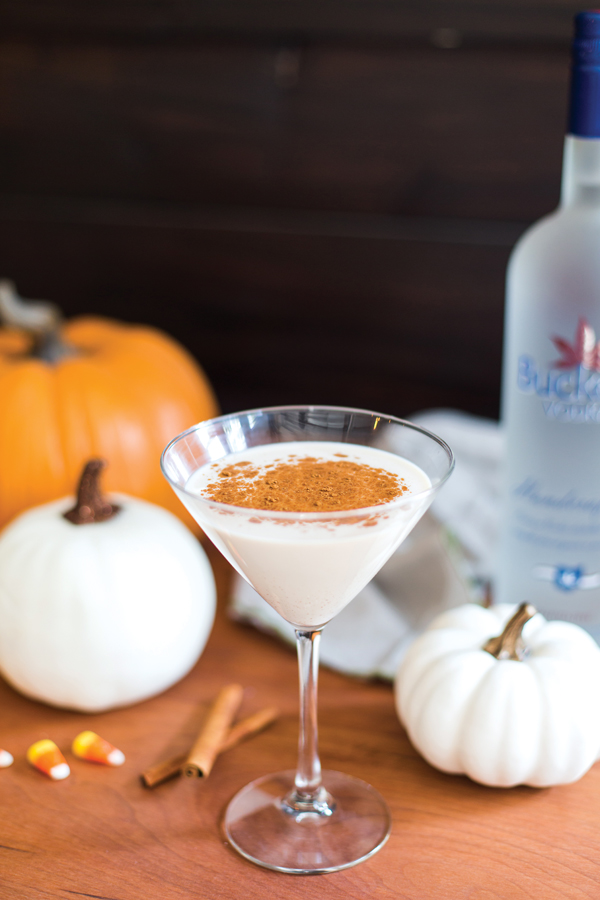 Pumpkin Spice Martini
Buckeye Vodka, Dayton

Buckeye Vodka's Kelly Rauch wanted to design a drink that features the company's namesake spirit while incorporating the essence of autumn. Because she often puts a scoop of pumpkin puree in her smoothies or coffee, she tried crafting a pumpkin-based martini. After a few tries, she found adding Bailey's Irish Cream created the right balance. "A lot of fall drinks are hot," Rauch says. "I think it's really cool to have a nice martini that's cold and still feels like fall." buckeyevodka.com

INGREDIENTS
2 ounces Buckeye Vodka
2 teaspoons pumpkin puree
1/2 ounce simple syrup
2 ounces Baileys Irish Cream
Dash of pumpkin pie spice

DIRECTIONS
Fill a cocktail shaker with ice. Add pumpkin puree, simple syrup, vodka, Baileys Irish Cream and pumpkin pie spice. Shake the mixture for about 30 seconds and strain into a chilled martini glass.

---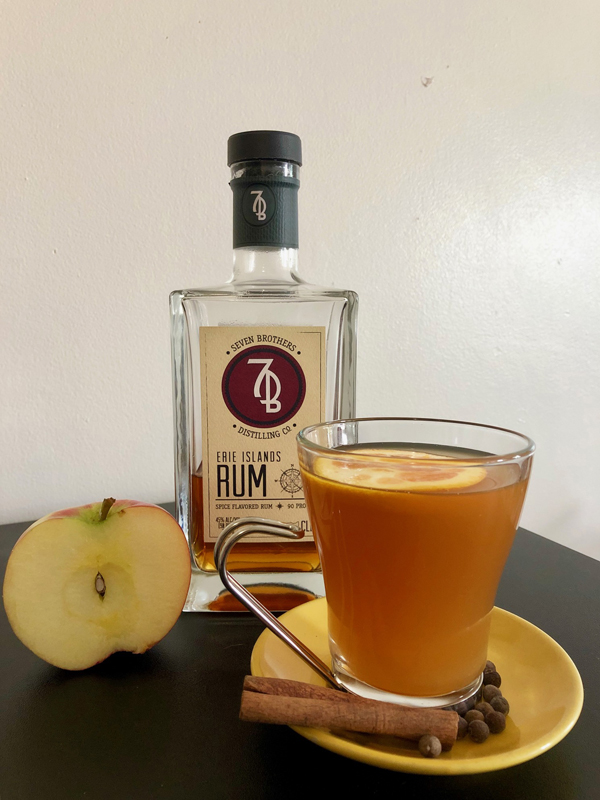 Hot Wassail
Seven Brothers Distilling Co., Painesville

Seven Brother's Distilling Co. bartender Madison Johnson aimed to modernize a classic drink when concocting the Hot Wassail, a fresh take on traditional English hot cider. Whether you opt to finish the drink with Seven Brothers' Erie Islands rum or the company's Cinnamon Infusion vodka, the result is a hearty punch of autumn flavors. Fresh cider and orange juice, orange and apple slices and mulling spices make this large-batch recipe perfect your holiday parties. It's simple, accessible and tasty. "There's a reason that it's super traditional," Johnson says. "It's so approachable, and so many people enjoy it." sevenbrothersdistillingco.com
Makes about 24 drinks

INGREDIENTS
3 quarts apple cider
2 cups fresh orange juice
1 orange, sliced into rounds (about 10 pieces)
Sliced apples
Mulling spices (see below)
1 bottle Seven Brothers Cinnamon Infusion vodka or Erie Islands rum
Mulling spices:
2 sticks cinnamon, crushed
2 tablespoons whole cloves
6 to 8 cardamom pods, broken
2 ounces piece of fresh ginger, sliced
1 teaspoon black peppercorn
2 star anise pods
1 whole nutmeg, crushed

DIRECTIONS
Combine all ingredients except for rum or vodka into a slow cooker. Simmer for anywhere from half an hour to 8 hours (the spices and scent will grow stronger over time and the wassail more concentrated). Ladle the hot punch and fruit into a mug, leaving room. Add 1 1/2 ounces of your favorite spirit, stir and enjoy.