Food + Drink
Ohio Spirits: 4 Summer Cocktail Recipes
We asked four Buckeye State distilleries to share a recipe that is perfect for the season of sitting outside.
May 2021
BY Kate Bigam Kaput | Photo by Megann Galehouse, styling by Betty Karslake
May 2021
BY Kate Bigam Kaput | Photo by Megann Galehouse, styling by Betty Karslake
O Holy Chai | Watershed Kitchen & Bar • Columbus
Let's face it: Even summer weather isn't perfect. Recognizing that not every weekend is ideal for patio sipping, Joshua Gandee, beverage director for Watershed Kitchen & Bar, conceived of an aromatic cocktail designed to do it all. He describes his O Holy Chai as a hybrid gin and tonic meets hot toddy.
"It allows you to drink for the weather you have and for the weather you want," Gandee says. "It has crisp, refreshing elements like the fresh-squeezed lemon juice and the tonic water, but also warming rainy-day notes, like chai and chamomile."
Those hints of chamomile are key to Watershed Distillery's popular Guild Gin, a straw-colored spirit flavored with dried, macerated chamomile flowers for an authentically floral finish. Although the cocktail is delicious with regular tonic water, Gandee suggests replacing it with Fever-Tree Aromatic Tonic for an added boost of cinnamon and clove to complement the chai.
He refers to it as a "snacky drink," one that pairs well with salty and savory coffee-table nibbles like popcorn and cheese boards. And for eager hosts holding gatherings this summer, Gandee says this cocktail provides an especially warm welcome.
"A drink is really your best foot forward when it comes to hospitality," he says. "It's the first thing you hand to someone when they come over, and this cocktail is a true expression of what the season holds." watersheddistillery.com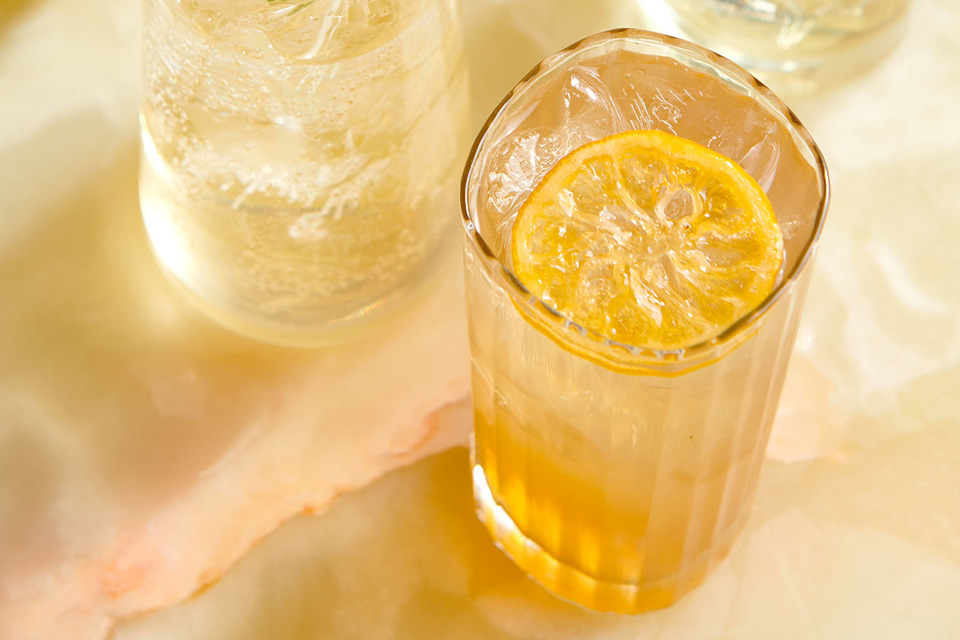 INGREDIENTS
2 ounces Guild Gin
1/4 ounce lemon juice
4 ounces tonic water
1/2 ounce chai syrup
Star anise and a lemon wheel for garnish
DIRECTIONS
To make chai syrup, boil 1 cup of water with your preferred chai tea. Let steep for the recommended time, then stir in 1/2 cup granulated sugar until dissolved. The syrup will keep 3 to 4 weeks if refrigerated. To make cocktail, add all ingredients to a Collins glass with ice and gently stir to combine. Garnish with one star anise and a lemon wheel.

---
Sage Advice | Middle West Spirits • Columbus
Kyle Nelson is ready for outdoor dining season. "Cocktails and food have always been very communal, and dining al fresco is ingrained in us to enjoy," says Nelson, beverage director for Service Bar and Middle West Spirits in Columbus. "After the last year, being outside is a reprieve, a literal breath of fresh air."
He envisioned Sage Advice — a light, aromatic drink to usher in warmer weather — to be enjoyed in the backyard or at a picnic with friends.
The cocktail is built around Middle West Spirits' flagship product, OYO Vodka ("O-Why-O"), which is made with Ohio-grown red winter wheat. Unlike vodkas with a more neutral flavor, OYO is unfiltered and intentionally earthy. It's mixed here with Norden Aquavit, a Michigan-made spirit brimming with unusually herbaceous flavors like dill and caraway, and topped with a dash of prosecco to bring about the bubbles.
"It's a really refreshing, light cocktail that has herbaceous notes to it, stemming from the sage syrup and the aquavit," Nelson says. "It's a full bloom of aroma and flavor."
The biggest burst of flavor comes from homemade sage syrup, featuring fresh, fragrant herbs. Although making it is the most time-consuming step of cocktail creation, Nelson says it's also the most worthwhile, as it takes just about 30 minutes to prepare and keeps in the refrigerator for two to three weeks — because nothing says summer like the luxury of on-demand craft cocktails at home. middlewestspirits.com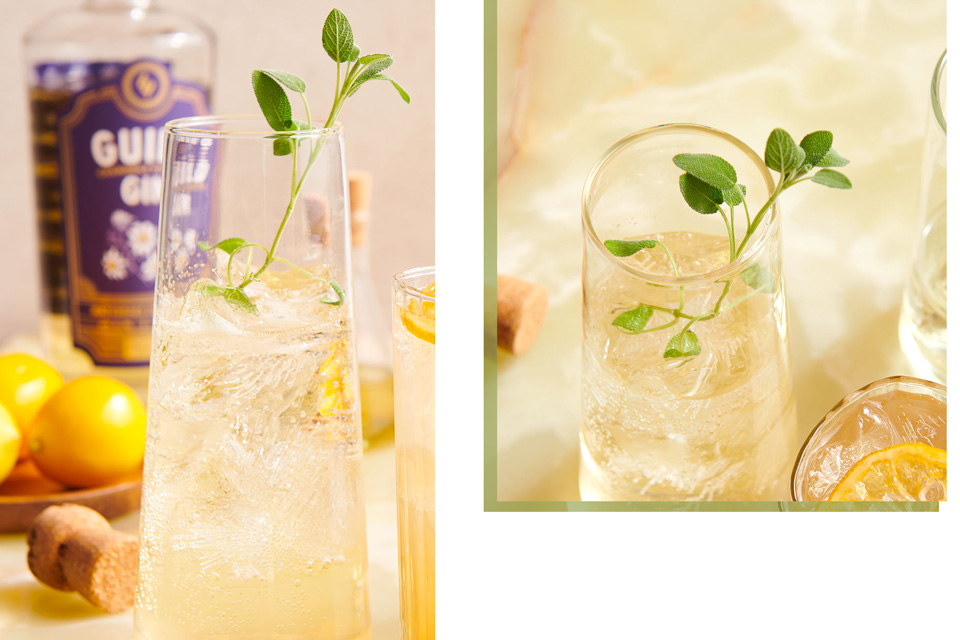 INGREDIENTS
1 1/2 ounces OYO Vodka
1/4 ounce Norden Aquavit
1/2 ounce sage simple syrup
Small amount of prosecco (or sparkling wine)
Fresh sage for garnish
DIRECTIONS
To make sage simple syrup, heat one cup of sugar, one cup of water, and one large bunch of sage on stovetop until simmering. Let simmer for 20 minutes, then remove from heat. Let sage infuse for another hour. Strain through cheesecloth into a fluted glass.
Add the vodka, aquavit and sage simple syrup to a mixing glass. Fill the remainder of the glass with ice and stir for 15 to 20 seconds. Double strain the cocktail into a stemmed glass. Top the cocktail with prosecco and garnish with fresh expressed sage leaves.

Buckeye Cranberry Cocktail | Buckeye Vodka • Dayton
Jim Finke's family used to own a water-purification company, but when business started to decline during the recession of 2008, they moved to a new idea: making vodka. After all, 80-proof vodka is 60 percent water — and thus, Buckeye Vodka was born. This year, the Dayton-based company celebrates its 10th anniversary, committed as ever to distilling its vodka with the purest of water from Ohio's Miami Valley.
"Our vodka is very smooth; there's no harshness there," says Finke, who owns the company. "It doesn't have that burn or aftertaste that comes from impurities and other additives."
Vodka's versatility makes it an ideal option for folks who want to enjoy a craft cocktail without being overpowered by the taste of the base liquor.
"I like to say our vodka is good standing alone, but it mixes well with others," Finke says, "and vodka is a grain-neutral spirit, so it takes on the flavors you put into it."
Buckeye Vodka's eponymous Buckeye Cranberry Cocktail brings together the seasonal flavors of ripe berries, fresh peaches and ice-cold lemonade with a boozy kick — like a fruit salad in a glass. Not so comfortable trying your unskilled hand at bar-worthy home cocktails? This summer sipper requires almost no existing mixology know-how: just mix everything up in a shaker, pour it over ice, and enjoy — preferably outdoors. buckeyevodka.com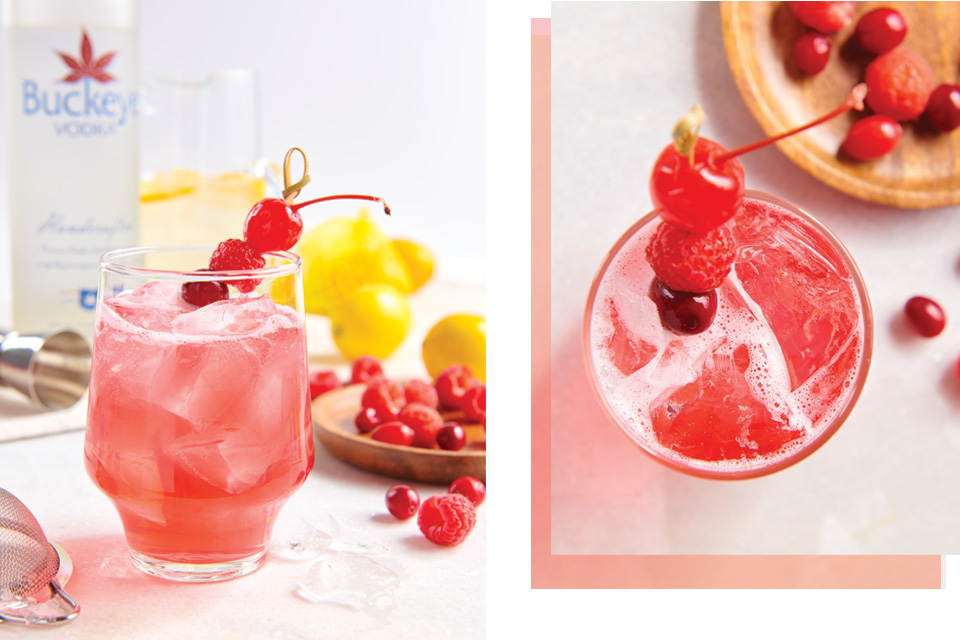 INGREDIENTS
2 ounces Buckeye Vodka
2 ounces thawed lemonade concentrate
2 ounces cranberry-raspberry juice
2 ounces peach schnapps
Maraschino cherries for garnish
DIRECTIONS
Combine all ingredients with ice into a shaker and mix well. Pour into glass over ice and garnish with Maraschino cherries.

Baja Sour | Western Reserve Distillers • Lakewood
Did you know that tequila can only be called tequila if it originates in Mexico? It's true, but it's not stopping Kevin Thomas, co-owner of Western Reserve Distillers in Lakewood, from creating an agave-based spirit that appeals to diehard tequila lovers.
In fact, his is the first distillery in the United States to receive the Tequila Aficionado Brands of Promise, putting Western Reserve's Reposado Agave Spirit in the same category as true tequila made south of the border. Understandably, then, Thomas is eager to create a bevy of summery drinks that show off its versatility and depth of flavor.
"We've found that people drink tequila primarily in a margarita, but it's actually a beautiful spirit with a number of traditional adaptations," Thomas says. "For example, our Baja Sour is a riff between a gin sour and a whiskey sour."
This reposado-based cocktail, featuring muddled blackberries and fresh lime juice, is ideal for warm weather and pairs perfectly with fish tacos and other light fare.
Though the recipe may look a little complicated, what with the triple-shaking and the careful straining, Thomas swears it's worth it to make your own magenta-hued majesty. The key to achieving that light, fluffy egg white foam, he says, is to shake the concoction hard, as though you're trying to get in a good arm workout.
"This is a high-end drink that we'd do at our bar," he says. "Our hope is that it gives people a sense of that same type of experience at home, out on the deck in 75-degree weather." westernreservedistillers.com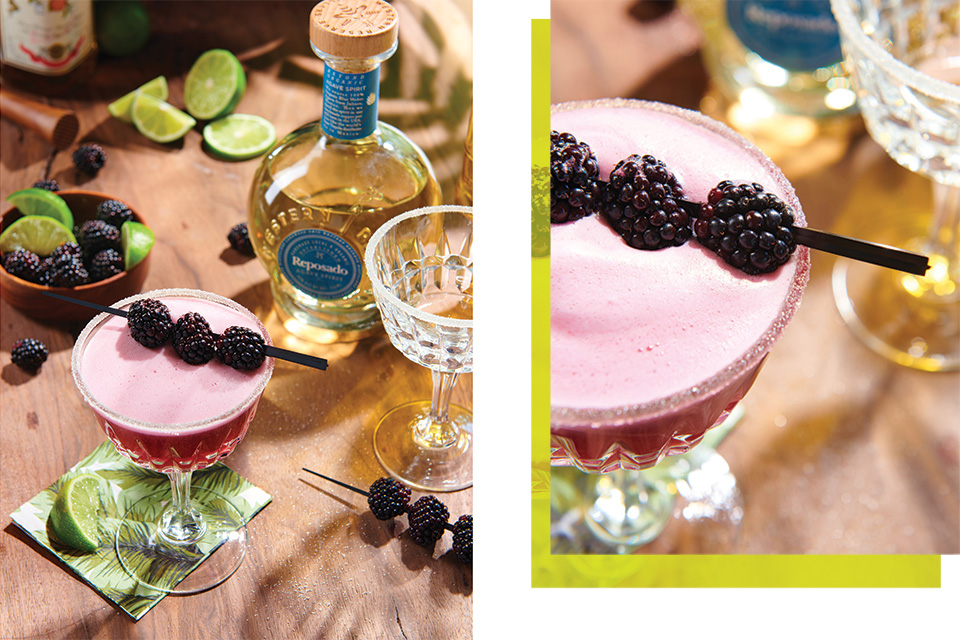 INGREDIENTS
2 ounces Western Reserve Organic Reposado
3/4 ounce Pierre Ferrand Dry Curacao
1 ounce fresh lime juice
1/2 ounce agave simple syrup
7 organic blackberries
1 large brown organic egg white
Organic turbinado sugar for the rim of the glass
DIRECTIONS
Muddle fruit together with the reposado and the curacao. Add the remaining ingredients to shaker and shake to blend. Add ice and shake again to cool and dilute the drink. Remove ice and shake for the third and final time to create the stable foam.
Rim the glass with organic turbinado sugar (or sprinkle on top of the foam layer after pouring). Pour drink into glass through a fine strainer to remove any pulp and remaining egg white.