Food + Drink
Ohio Apple Orchard Guide
Our state is bursting with ripe apples this time of year. Here's our guide to 15 places where you can fill up on one of fall's favorite flavors.
September 2018
BY Rachel Cagle, Leo DeLuca, Madison Durham, Vince Guerrieri & Jill Sell | Photo by Laura Watilo Blake
September 2018
BY Rachel Cagle, Leo DeLuca, Madison Durham, Vince Guerrieri & Jill Sell | Photo by Laura Watilo Blake
NORTHEAST

Brant's Apple Orchard, Ashtabula

It's a tradition for kids visiting Brant's Apple Orchard to tear off small bits of cider doughnuts from the on-site bakery to share with the fish swimming in the pond. Owners Brian and Jennifer Diehl know all about the traditions here. The 80-acre property was a destination for the couple when they were dating.

Brian, an electrical engineer, and Jennifer, a physical therapist, purchased the property in 2014 as an investment after spending a year learning every aspect of the orchard business.

"We didn't know anything about apples," confesses Jennifer, "but our operating manager knows everything."

The Diehls own 3,000 apple trees on 25 acres and annually harvest 300,000 pounds of the fruit. They've also planted an additional 300 trees and four additional varieties, Daybreak Fuji, Evercrisp, Crimson Gala and Premiere Honeycrisp, which will be ready to harvest in a few years, bringing the number of apple varieties the orchard grows to 27.

Apples from dwarf trees are handpicked by three or four employees and sold in the retail store or used to make cider, apple pies and turnovers. U-pick apples are limited to October after all the fruit has ripened.

"We use every apple we have," explains Brian. "We don't wholesale."

The main building houses a bakery, farmers market, sorting room and an 1895 Boomer & Boschert press used to make unpasteurized cider. Open from August until the day before Thanksgiving, the orchard also offers hayrides, a children's playground with a covered bridge and walking trails. Visit website for hours of operation; 4749 Dibble Rd., Ashtabula 44004, 440/224-0639, brantsappleorchard.com

Patterson Fruit Farm, Chesterland
Yes, Patterson Fruit Farm is an orchard, but it's also an amusement park for young children. During the annual Family Fun Fest, which runs mid-September through October, there's a treehouse, a corn maze, 50-foot slides and more. "We hope to make memories here. We have been here a long time. The original farm was started in 1826," says owner Jim Patterson. "People who came here as children are now bringing their children and grandchildren." The farm offers 25 apple varieties, which it sells as U-pick or in its retail space. Visit website for hours of operation and other updates to annual activities; 11414 Caves Rd., Chesterland 44026 (Fun Fest address: 8765 Mulberry Rd., Chesterland 44026), 440/729-1964, pattersonfarm.com

Pick n' Save Orchard, Medina
In 1890, orchard owner Lynn Van Deusen's grandfather bought an apple farm. When he offered each of his children $400 or an acre of land, Van Deusen's father was the only one to take the acre, eventually acquiring the rest. Today, Pick n' Save Orchard grows 15 apple varieties at the all-U-pick operation, including its best-seller, Melrose. "We also have Winesap, an antique variety," says Lynn Van Deusen. "Folks who know what it is will whisper to me, 'When do you think they will be ready?' They don't want others to know." The orchard also sells pumpkins, cider, jams and more goodies. A reservation is needed for Pick Your Own. Visit website for hours of operation; 1222 Ledge Rd., Medina 44256, 330/239-1480, picknsaveorchard.com


CENTRAL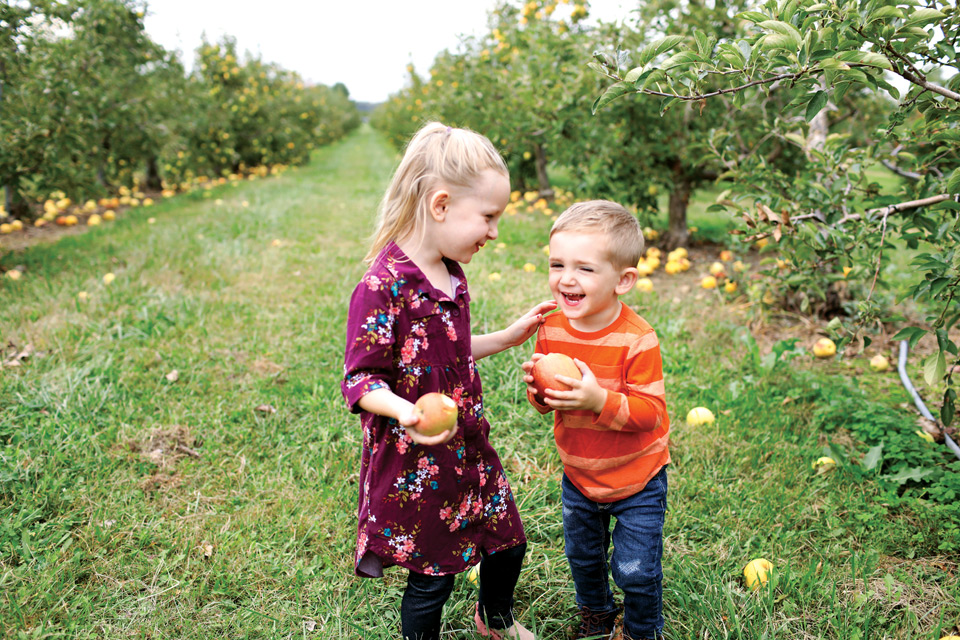 Lynd Fruit Farm, Pataskala

A well-established name in central Ohio, Lynd Fruit Farm welcomes patrons every year to enjoy the U-Pick options that start up around the beginning of September. Co-owner Andy Lynd is quick to proclaim Honeycrisp the most popular apple he sells, and the farm is home to more than 15,000 Honeycrisp trees to accommodate the high demand.

"Originally, my grandfather and uncles only wanted to do wholesale," explains Lynd, "but after my father saw in the faces of his friend's daughters the pure joy of picking apples in an orchard, he said, 'We need to do this.' "

Lynd Fruit Farm covers 500 acres, but you won't have to worry about trekking far and wide for your apples. The staff here has their U-pick experience down to a science, with customers pulling up near the rows of apples that are ripe. (It's recommended visitors keep a close eye on the growing schedule to make sure they're visiting during peak season for its favorite picks.)

Lynd Fruit Farm carries 17 popular apple varieties, but the orchard is also on the forefront of innovation, cultivating new apple varieties that orchard-goers may never have seen before, including an Evercrisp and a previously unheard of variety called Ludacrisp, both related to their best-seller.
"The families thoroughly enjoy coming out and experiencing something real, just rows and rows of apple trees full of fruit," says Lynd. "It's just a wonderful experience to come out and pick apples, especially in the fall, since it's a great time to be outdoors." Visit website for hours of operation; 9393 Morse Rd. SW, Pataskala 43062, 740/927-8559, lyndfruitfarm.com

Legend Hills Orchard, Utica
Co-owners and -operators Richard Hoar, Douglass Hoar and Susan Hatch invite visitors to buy homegrown apples at their family's 340-acre Licking County orchard starting in July and running through the end of October. Over the years, the orchard has worked to maintain favorite apple varieties such as Winesap, Honeycrisp and Paula Red. Besides picking from the 23 types of apples, the country store is open year-round, offering home decor goods such as rocking chairs and swings. "Our orchard is definitely a fun destination for the fall," says Virgil. Visit website for hours of operation; 11335 Reynolds Rd., Utica 43080, 740/892-2498, legendhillsorchard.com

Lawrence Orchards, Marion
Since 1921, Lawrence Orchards has provided Marion County apple lovers with great U-pick options. Visitors can stroll the winding orchard paths, as they ponder what they'll take home with them from among the 37 acres. Home to 27 types of apples, including varieties such as Honeycrisp and Melrose, Lawrence Orchards offers a wide range of choices throughout the season. Applefest arrives each year the last Saturday in September, with wagon rides, a hay maze and more. Visit website for hours of operation; 2634 Smeltzer Rd., Marion 43302, 740/389-3019, lawrenceorchards.com


SOUTHWEST

Peifer Orchards, Yellow Springs

Row after row of sunflowers unfold along U.S. Route 68 near downtown Yellow Springs each September, their golden petals stretching toward the sky. The Whitehall Farm sunflower field is a popular autumn attraction. It also provides an unmistakable landmark for another fall favorite found directly across the street: Peifer Orchards.

Family-owned and -operated for nearly a quarter century, Peifer Orchards offers 25 varieties of apples as well as locally grown produce.

"It was a 200-tree hobby that exploded into a business," says John Peifer, who was running a remodeling company before the orchard became a 3,000-tree operation.

"We partner with Winds Cafe and Sunrise Cafe in Yellow Springs, Seasons Bistro in Springfield, Meadowlark in Dayton," he adds.

Offering baked goods, jams, preserves, honey and maple syrup at his farm market, Peifer is committed to supporting the regional economy. Ninety percent of what is sold at his store is produced within a 60-mile radius of Yellow Springs.

But Peifer's most popular offering is made right in-house — on a small press.

"Our apple cider is handcrafted, one small batch at a time," he says. "We match the right apples and make superior cider."

As for the future, Peifer's daughter may one day take over the operation, but he doesn't anticipate leaving it any time soon.

"I'm looking to retire, but that won't happen," he says with a laugh. "I like to work. Perhaps I'll just slow down." Visit website for hours of operation; 4590 U.S. Rte. 68, Yellow Springs 45387, 937/767-2208, peiferorchards.com

A&M Farm Orchard, Midland
"Never think you know it all," advises Howard Adae, who owns and operates the 32-acre A&M Farm Orchard with his wife, Cynthia. "Every year is different." For Adae, every one of his 64 years has been spent on his family's farm near Midland. Founded in 1942 by Adae's father and grandmother, A&M Family Orchard offers more than a dozen varieties of apples, but it grows blueberries, pears and pumpkins as well. Adae's son, daughter and 10 grandchildren all live near the farm, many of them lending a hand. "I have a couple grandsons who are showing interest," says Adae. Call for hours of operation; 22141 St. Rte. 251, Midland 45148, 513/875-2500

Nana's Orchard, Urbana
For more than 30 years, Phil Louden, a former U.S. Air Force colonel, operated Louden Family Orchard before selling his property to Elizabeth Fernandez and Clyde John Kranz, who reopened as Nana's Orchard in August 2017. "The apple orchard came up on a listing," says Kranz. "We thought, 'Well, that might be fun.' We got thrown right into apple season." Nana's Orchard grows around 20 varieties of apples on its 7-acre property. Visit website for hours of operation; 576 N. St. Rte. 560, Urbana 43078, 646/872-4482, nanasorchard.com


SOUTHEAST

Hidden Hills Orchard, Marietta

One of southeast Ohio's few pick-your-own apple spots, Hidden Hills Orchard can be found along the winding roads of Marietta. Tom and Cathy Burch, the orchard's second owners, grow apples on 7 acres surrounding their 1895 home.

"Owning an orchard is a dream come true for my husband," says Cathy. "He grew up beside one, and he worked there as his first job. Ever since I met him, he planned to own his own."

Both Cathy and Tom are involved in Hidden Hills' day-to-day operations and have made the business as environmentally sustainable as they can. They enjoy getting to know their customers and have many regulars. Guests are greeted with friendly smiles and hellos as they head into the orchard's store. Traditionally, they can taste-test the apples that are currently available for picking before selecting the size of bag they want to fill and head out to the trees.

Overall, the property is home to more than 5,500 dwarf trees and 22 varieties of apples throughout the season. The store sits atop a hill next to 2 acres of trees open to the public. About two varieties of apples are available to be picked by visitors on any given weekend, depending on what is ripe. Once their bags are full, guests head back to the store, where they can shop for additional apple varieties, as well as other apple goodies including cider and salsa. Visit the Facebook page or website for hours of operation; 5680 St. Rte. 26, Marietta 45750, 740/376-9170, hiddenhillsorchard.com, facebook.com/hiddenhillsorchard

Laurelville Fruit Farm, Laurelville
Located about an hour's drive southeast of Columbus, Laurelville Fruit Farm has been in the Bowers family for more than a century. The 35-acre orchard with more than a dozen varieties of apple trees supplies the family's cozy country store. "We're a good old family business," says Bob Bowers, a third-generation fruit farmer. "We try to meet everyone who comes in and give them a good product to take back home with them." This place is known for its quality apple cider, which is also available in a slush form. Call for operating hours; 16181 Pike St., Laurelville 43135, 740/332-2621, facebook.com/laurelvillefruitfarm

Hirsch Fruit Farm & Market, Chillicothe
Nestled among rolling hills, this roadside store sells 25 apple varieties, as well as other apple products such as butter, preserves, cider and apple rings. Apple lovers can order signature gift boxes that can be customized and shipped to recipients. Business is conducted within the store itself, but for one weekend a year in late September, the 40-acre orchard is open to the public during Hirsch's Apple Harvest Open House. The event, features apple picking, apple-butter-making, apple- and cider-tasting and other fall activities. Visit Facebook pages for hours; 41 Seney Rd., Chillicothe 45601, 740/775-1037, facebook.com/hirschfruitfarm


NORTHWEST



Burnham Orchards, Berlin Heights

This place has been a part of Erie County since before there was an Erie County. Burnham Orchards, which celebrated its 200th anniversary in 2015, predated the county by 23 years and was originally part of the Firelands of the Connecticut Western Reserve, property given to those whose homes had been burned by the British during the American Revolution.

The farm continues today with crops grown on its more than 1,000 acres, including peaches, blackberries, raspberries, plums, pears, squash, pumpkins, nectarines and 27 varieties of apples. Visitors can pick their own apples in September and October. All that manager Brittany Castillo Morales asks is that they dress for the weather.

"People come in flip-flops," she says. "If it rained the night before, you don't know what the orchards might look like."

In addition to the orchard and farm store, there's an on-site bakery serving coffeecakes, pies and cookies. During the fall, it's also known for its pumpkin and apple cider flavored doughnuts. Apple fritters and a cider house were added in 2014. Apples grown in the orchard are also fermented for use in hard cider that's in some cases complemented by other produce grown on-site, such as blackberries and (in one instance) jalapenos. Thirty pounds of the spicy pepper are used in a 300-gallon production of the orchard's Hot Chick Cider, and the flavor is noticeable. The tasting room even offers growler fills to go. Visit website for hours of operation; 8019 St. Rte. 113 E., Berlin Heights 44814, 419/588-2138, burnhamorchards.com

Hoen's Orchard, Delta
For four generations, the Hoen family has been selling produce in the Toledo area, first in Holland and, since 2004, at Hoen's Orchard's current location in the Fulton County village of Delta. Owned by Toni and Mike Hoen, the 6.2-acre farm offers around 20 varieties of apples, and September and October are the best time for apple pickers to visit (it's also a popular time for pumpkin picking, which is another option here). The Hoens also grow tomatoes and peppers. Visit website for hours of operation; 12540 County Rd. 7-2, Delta 43515, 419/822-4080, hoensorchard.com

MacQueen's Orchards, Holland
Nothing says fall like a trip to the apple farm, but MacQueen's Orchards always has the holidays on the brain. A former barn has been turned into the orchard's year-round Christmas shop, stocked with decorations, trees and animated figures. The fourth-generation, 175-acre farm grows 18 varieties of pick-your-own apples, with the most popular variety being Honeycrisp, according to owner Marlene MacQueen. In addition to peaches and fresh vegetables, the place also sells cider. "You can watch the cider being made from inside the market," MacQueen says. Visit website for hours of operation; 7605 Garden Rd., Holland 43528, 419/865-2916, macqueenorchards.com