Food + Drink
Low & Slow: 3 Recipes to Barbecue Like a Pro
Three Ohio barbecue spots share recipes that will break you out of your brats-and-burgers rut.
May 2016 Issue
BY Laura C. Adiletta | Photos by Casey Rearick, food styling by Christine Rice
May 2016 Issue
BY Laura C. Adiletta | Photos by Casey Rearick, food styling by Christine Rice
Ah, the month of May.

The last remaining vestiges of dreary weather have finally gone, and both lush lawns and patio grills are sprouting in backyards. You don't have to tell us that this state has a burning love for all things barbecue, but it's all too easy to crank the propane and let it rip. To really release the flavor and texture of meat — whether you're serving up ribs, brisket or chicken — you'll need to harness the power of patience. We talked with three Ohio pit masters for their go-to tips on how to barbecue like a pro at home.

ON A CHARCOAL GRILL
Latin Flair Dry-Rubbed Beef Brisket
Eli's BBQ | Cincinnati

Barbecue may have a reputation as a cuisine of thick sauces and mandatory Wet-Naps, but at both of Eli's BBQ's Cincinnati locations, almost all of the shop's smoked meats are served dry by default. When co-owner Elias Leisring does incorporate a sauce into a dish, it actually serves a functional purpose beyond mere flavor, such as binding pulled pork together or providing balance. And diners are always free to add a sauce on the side

"You really want that hot acid and vinegar cleaning off all the fat on your tongue," Leisring explains. Ask him how to make the perfect dry rub, and he goes even geekier on you.

"You're going to change the level of the sugar depending on the level of the fat in the meat," he says. "The higher the fat content, the higher the sugar content of your dry rub."

If you're cooking at higher temperatures, he says opt for brown sugar over white to avoid burning. "From there, your next real base spice is just going to be black pepper. … The higher the sugar, the more pepper, because the sweet's counteracting the hot," he adds.

What Leisring likes best about this custom-blend approach is that once you have a good base to start with, you can layer on additional spices and herbs for global variations, such as using smoked paprika for a Hungarian twist or coriander, allspice and nutmeg for Jamaican flavors. "People overcomplicate the dry rub thing," he says. 133 W. Elder St., Cincinnati 45202; 3313 Riverside Dr., Cincinnati 45226, 513/533-1957, elisbarbeque.com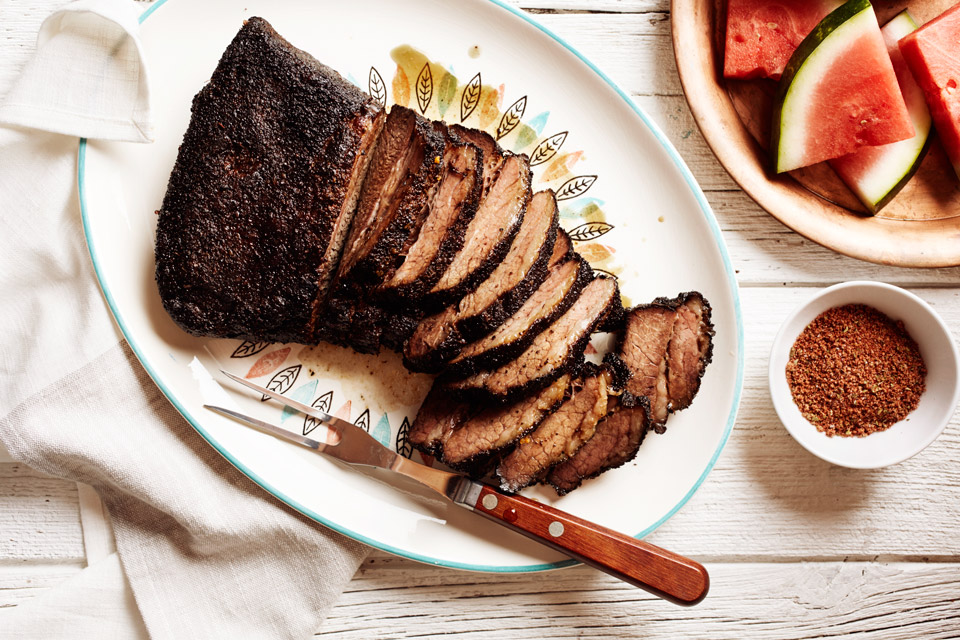 RECIPE: Latin Flair Dry-Rubbed Beef Brisket
Courtesy of Eli's BBQ

SUPPLIES NEEDED
Charcoal grill
6 cups hardwood chips for grill
Chimney charcoal starter
Foil pan
Oven thermometer

INGREDIENTS
3 tablespoons brown sugar
1 1/2 tablespoons black pepper
1 1/2 tablespoons salt
1 tablespoon dried Mexican oregano
(or substitute marjoram)
1 tablespoon ancho chili powder
5–6 pounds beef brisket, fat trimmed to 1/4-inch thickness

DIRECTIONS
Soak hardwood chips in water at least one hour. Combine dry ingredients. Pat brisket dry then coat the outside with the rub and allow it to come to room temperature (about 1 hour). Fill a chimney starter with charcoal and light. Burn until the coals form a layer of ash, then pour into one side of the grill. Place 1 1/2 cups of wood chips over the coals. Then cover and preheat to 225 F to 250 F (if the temperature won't stay below 300 F, close the grill vents to narrow slits). Place the brisket, fatty side up, on the grate with a foil pan below (off direct heat) and replace cover. Smoke 10 to 12 hours, or until tender enough to shred with your fingers, rotating the brisket and adding a handful of coals and more wood chips every hour to maintain heat. Allow to rest at least 15 minutes, then slice across the grain. Yield: Serves 6

***

ON A GAS GRILL
Classic Barbecue-Marinated Pulled Chicken
Crooked River BBQ + Beer | Mentor & Lyndhurst

Crooked River BBQ + Beer, which has two northeast locations, originally started out as two Old Carolina BBQ franchises. After nearly four years, owner Todd Schafer relaunched in October to focus instead on the Buckeye State, sourcing nearly everything — even the beer — from within Ohio.

The restaurant offers more than a dozen smoked meats and hot dogs, as well as fresh takes on standard barbecue sides. But one of the most popular items is the pulled chicken, which Schafer says is a safe bet to try smoking at home. "What's nice about poultry is that [it], of course, absorbs everything, especially a marinade that has a saltier base to it."

Although Schafer can't use marinades in the restaurant due to sanitation and volume constraints, he recommends it as a great way to incorporate additional flavor and moisture. He adds that a quick spice rub will seal everything in and provide texture as it dries. For the real deal, start with bone-in, skin-on chicken. "I always recommend two different types of chicken: a dark meat and a white meat," Schafer says. Because of its smaller size and lower fat content, the chicken will be fully cooked in an hour to 90 minutes. Then comes the good part: digging in.

"You can put your favorite barbecue sauce in afterward ... You can have it as a sandwich, as a taco, you can put it inside of a soup," he says.

Or you can follow Schafer's lead and "just have it plain." 5100 Mayfield Rd., Lyndhurst 44124, 440/605-0227; 9110 Mentor Ave., Mentor 44060, 440/255-3131, crookedriverq.com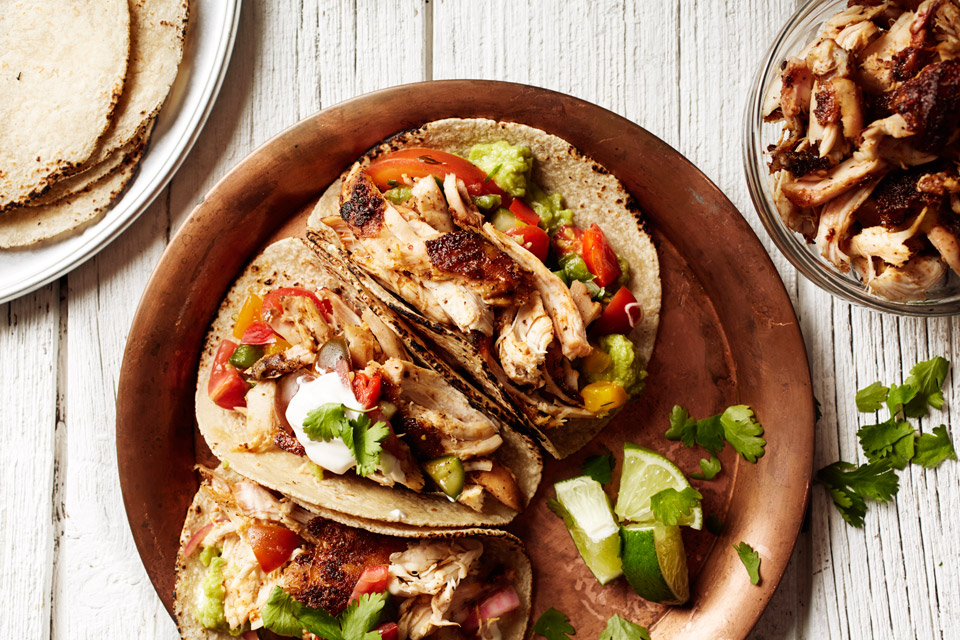 RECIPE: Classic Barbecue-Marinated Pulled Chicken
Adapted from a recipe courtesy of Crooked River BBQ + Beer
SUPPLIES NEEDED
Gas grill
Hardwood chips for grill
Smoker box or foil tray
Meat thermometer
INGREDIENTS
1 cup oil
1 cup brown sugar
1/2 cup soy sauce
1/2 cup apple cider vinegar
4–6 pounds bone-in, skin-on chicken breast and thighs
1 tablespoon garlic powder
1 tablespoon onion powder
2 tablespoons ground mustard
1/4 cup black pepper
1/3 cup chili powder
1/3 cup brown sugar
1 tablespoon paprika
1/4 cup salt
1 teaspoon cayenne
2 tablespoons cumin
DIRECTIONS
Combine the liquid ingredients in a large bowl or zip-top bag and mix thoroughly. Submerge chicken and marinate at least 4 hours or overnight. Soak 5 cups hardwood chips in water at least 1 hour. Remove chicken from marinade and discard liquid. Pat chicken dry with paper towels. Combine dry ingredients and generously coat the chicken. Light just one grill burner to medium and place soaked wood chips directly over the heat source, either in a smoker box or foil tray. Place chicken, skin side up, onto grill, avoiding direct heat. Cover and cook at 290 F, checking infrequently until internal temperature is at least 165 F and meat begins to separate from the bone (60 to 90 minutes). Cool until chicken can be easily handled and shred with two forks or your fingers. Serve with your favorite sauce on a bun, use it to fill tacos or just enjoy plain.
Yield: Serves 8


***
IN THE OVEN
Thai Barbecue Pork Spare Ribs
City Barbeque | Various Ohio Locations
Rick Malir, president and co-founder of the Cincinnati-based City Barbeque chain, which has 25 locations in four states, likes to play with his food.
"We embrace the whole art of barbecue, and the smoking of meats and the craft of what it is," he says of the collaborative recipe development that goes on behind the scenes at his restaurants. "We're just constantly playing and inventing."
After work, you can find Malir in his own kitchen offering up unique meals such as coffee-rubbed steak with avocado sauce or Asian-inspired smoked pork spare ribs. But while ribs get an up-to-7-hour smoke at City Barbeque, he says they can be just as good (and a whole lot less labor-intensive) out of the oven.
"Sometimes I enjoy just roasting them in the oven, because that's how I was raised in a Czechoslovakian family. So sometimes I enjoy doing that, and then I get that real porky flavor coming through," he explains.
Starting with a from-scratch sauce is a great way to incorporate fresh, new flavors such as this not-too-sweet and slightly pungent Thai barbecue sauce that's balanced with bright citrus, herbs and vinegar. Take a tip from Malir and experiment with ratios and varying levels of sauce thickness.
"Really that's sort of up to the person," he says, adding that his preference is for a ketchup-like consistency. "That's your prerogative."
Ohio locations in Cincinnati, Columbus, Dayton, Findlay, Newark and Toledo, citybbq.com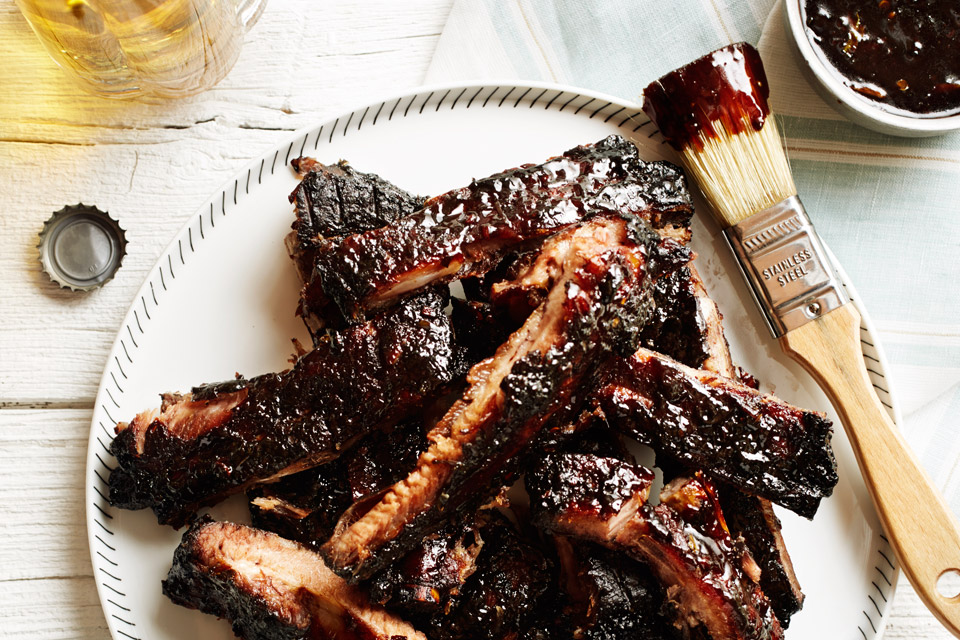 RECIPE: Thai Barbecue Pork Spare Ribs
Courtesy of City Barbeque
INGREDIENTS
2 tablespoons Thai red pepper paste
2 tablespoons ginger,
minced
1 tablespoon garlic,
chopped
1 tablespoon lemongrass (use the inside stalk only),
minced
1 tablespoon kaffir lime leaf,
minced
1 1/2 tablespoons sesame seed oil
3 1/2 cups hoisin sauce
1/4 cup fermented black beans, soaked in warm water 1 hour then drained (look for this specialty ingredient in Asian markets)
1/2 cup fish sauce
1/2 cup dry sherry
1/4 cup plus 2 tablespoons balsamic vinegar
2 tablespoons sambal Thai chili sauce
1/4 cup brown sugar
2 tablespoons cilantro, chopped
1/4 cup fresh lime juice
6 pounds pork spare ribs
DIRECTIONS
Saute garlic, ginger, lemongrass and lime leaf in sesame oil until fragrant. Add all remaining ingredients except ribs, cilantro and lime juice. Simmer over low heat until thickened. Allow to cool, then add lime juice and cilantro. Line a baking sheet with aluminum foil and place a cooling rack on top. Lay the ribs on top of the rack (do not overlap). Adjust the oven rack to several inches below the heating element and set the broiler to high. Brush the sauce liberally on both sides of the ribs. Broil, meaty side up, until the sugar is bubbling and brown (about 5 minutes). Set the oven to 300 F and place baking sheet in the middle rack of the oven. Roast for 2 1/2 to 3 hours. Halfway through cooking, baste with sauce then cover with foil. Ribs are done when a sharp knife slides easily into the thickest part of the rib meat. Rest, covered, about 10 minutes. Serve with extra sauce.
Yield: Serves 6