Food + Drink
Try 3 Recipes from Favorite Irish Restaurants
Three Ohio pubs known for Irish fare share a recipe from their menu so you can bring some of that sláinte spirit home.
March 2017 Issue
BY Frances Killea | Photos by Casey Rearick, food styling by Christine Rice
March 2017 Issue
BY Frances Killea | Photos by Casey Rearick, food styling by Christine Rice
Drinking part of your dinner on St. Patrick's Day is all well and good, but Irish pubs often serve more than just thick stouts and stalwart ciders. Inspired by the comfort foods of the Emerald Isle, chefs at three Ohio favorites share the secrets to their most popular dishes. So, this March, you can take a seat at the bar to eat (and, yes, drink) with the best of them — or whip up a culinary tribute to Ireland all on your own.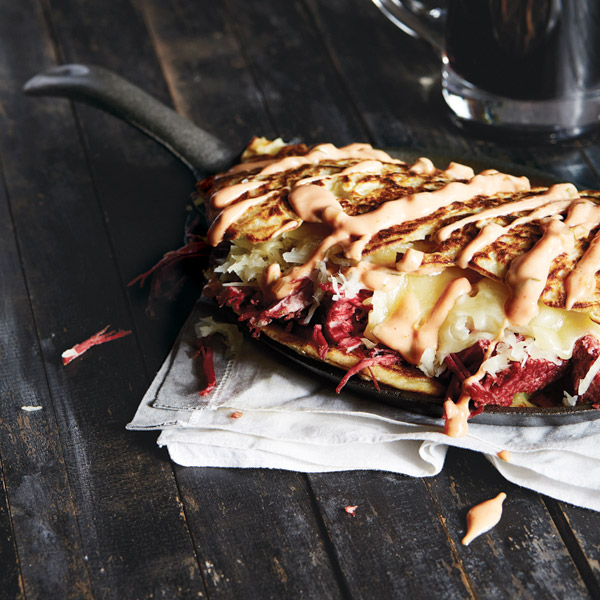 Corned Beef Boxty
The Harp | Cleveland

The Harp is one of Cleveland's most popular spots for a pint and some tasty Irish grub, and one needs to look no further than chef Joseph Nagy's savory potato pancake to see that the food here has roots stretching back to the rolling hills of Ireland.
"The boxty, traditionally, can come different ways," explains Nagy, who has led the kitchen at The Harp for more than a decade. "Some people make it with mashed potatoes in Ireland. We use shredded hash browns, and we make it almost like a pancake batter."
A thick mixture of flour, potatoes, cream, eggs and seasonings cooks up into what's become the basis for six different versions of the dish, the most popular of which is the corned beef boxty.
"It's definitely not supertraditional," Nagy admits. "It's almost like a corned beef Reuben that you would have at a deli somewhere."
Nagy makes The Harp's boxty large enough to fold over corned beef, sauerkraut and Swiss cheese. Topped with a creamy Russian dressing, the meal speaks to both the Irish and Eastern European heritages so prevalent in northeast Ohio. It's ethnic comfort food at its best, and it's fairly easy to make.
"The batter is really basic," Nagy says. "The hardest part is flipping them." 4408 Detroit Ave., Cleveland 44113, 216/939-0200, the-harp.com. As of February 2021, The Harp is temporarily closed.

Corned Beef Boxty
Serves 4 | Courtesy of The Harp

Boxty Cakes (makes four)
INGREDIENTS
2 pounds peeled and shredded potatoes (use fresh or frozen; to make your own, use the large holes on a box grater to shred potatoes)
3 large eggs
2 cups all-purpose flour
2 cups heavy cream
1 tablespoon salt
1 teaspoon black pepper
1/4 cup chopped scallions

Corned Beef Filling for Boxty
INGREDIENTS
20 ounces corned beef (5 ounces for each boxty)
12 ounces sauerkraut (3 ounces for each boxty)
4 slices Swiss cheese (1 slice for each boxty)
Russian dressing (recipe below)
DIRECTIONS
Preheat oven to 350 F. In a large bowl, combine grated potatoes and eggs. Stir in flour, salt, pepper and cream until well combined. Heat a skillet over medium-high heat. Ladle 1/4 of the batter into the skillet and cook until the pancake begins to firm and browns on one side. Using a spatula, carefully flip the cake and cook until brown on the other side. Remove from heat. Repeat with remaining batter.

On each pancake, place 5 ounces of corned beef, 3 ounces of sauerkraut and a slice of Swiss cheese. Fold cakes in half to cover fillings. Place in oven on a cookie sheet for 3 to 5 minutes, or until cheese melts. Remove from oven. Top each boxty with a portion of Russian dressing, and serve.
Russian Dressing
INGREDIENTS
1/2 cup ketchup
1/4 cup mayonnaise
1/4 cup pickle relish

DIRECTIONS
Stir all three ingredients together in bowl until combined.

----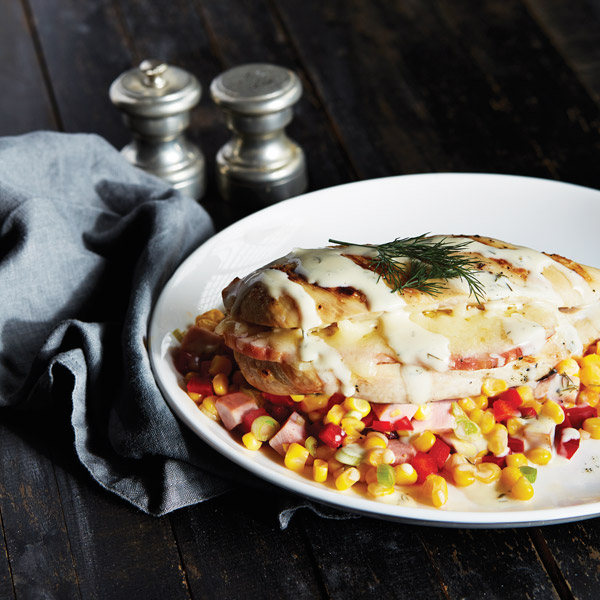 Chicken O'Brien
The Dublin Pub | Dayton
The Dublin Pub's bowls of potato soup and platters of lamb sausage offer a nod to the establishment's namesake city, but one of the most popular dishes on its menu is a surprising and delicious confluence of cultures.
Lee Morgan has been serving the Dayton pub's Chicken O'Brien for more than five years and has worked as head chef for most of the past two.
"It's kind of an Irish take on a cordon bleu," Morgan explains of the dish that has been on the The Dublin Pub's menu since its 1998 opening, "but we stuff Irish rashers in it, which is Irish bacon."
Instead of Swiss cheese, Morgan uses Irish cheddar, and to balance the rich filling, he grills the chicken instead of breading and frying it. After stuffing the chicken breast, he pops it into the oven just long enough to melt the cheese and then serves it atop a hash made with green onions, yellow corn and red peppers.
"Then we have a lemon dill cream sauce," Morgan adds. "It's a white sauce, but it's got the little green dill speckled all around it. It's a very bright-looking dish."
And while the meal is an inviting mix of flavors and colors, Morgan also makes sure it's a filling one. "In a traditional sense, a lot of Irish food is just meat-and-potatoes, fill-me-up, keep-me-full, comfort foods," he says. "It's kind of hard to finish." 300 Wayne Ave., Dayton 45410, 937/224-7822, dubpub.com

Chicken O' Brien
Serves 2 | Courtesy of The Dublin Pub

INGREDIENTS
2 chicken breasts
2 cups frozen corn
1/2 cup diced rasher or ham, plus 2 slices
1/2 cup chopped scallions
1 cup diced red bell pepper
1 cup shredded Irish cheddar or sharp white cheddar
Salt and pepper to taste
Dill cream sauce (recipe below)

DIRECTIONS
Combine corn, scallions, red bell pepper and diced rasher or ham, and set aside.
Sprinkle chicken with salt and pepper and grill the chicken breasts until done. Butterfly each chicken breast and stuff with one slice of the rasher or ham and half of the shredded cheddar cheese.
While chicken is cooking, cook corn in a medium saute pan until hot, adding salt and pepper as needed. Divide corn mixture equally on two plates. Place stuffed chicken breast on top and cover with dill cream sauce.
Dill Cream Sauce
INGREDIENTS
1 teaspoon minced garlic
1 teaspoon minced fresh dill
4 ounces white wine
1 tablespoon
unsalted butter
1 cup heavy cream
Juice from half a lemon

DIRECTIONS
Combine butter, dill and garlic in a small saucepan. Heat until butter is melted. Add wine, lemon juice and heavy cream, and bring to a simmer while stirring regularly. Continue simmering and stirring until you reach desired thickness (the sauce should coat a spoon dipped into the mixture).

----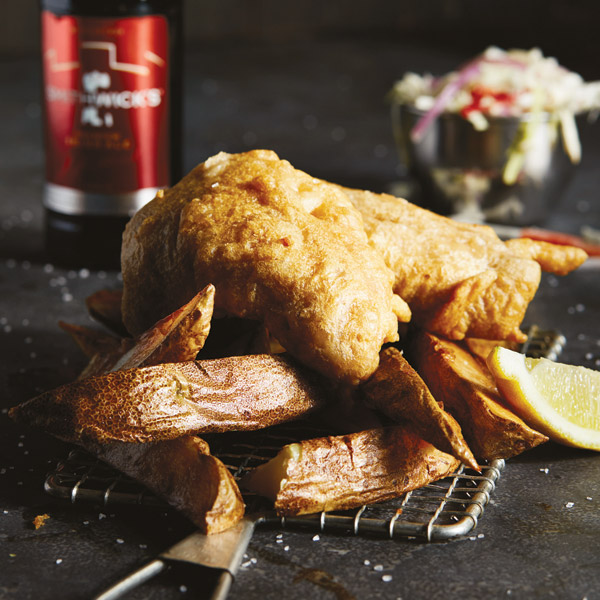 Fish & Chips
Brazenhead | Dublin
Brazen Head is the oldest pub in Dublin, Ireland, dating back to 1198. But for the past two decades, central Ohioans have been enjoying pints and a bit of that 12th-century pedigree at a suburban Columbus spot inspired by the original.
"We brought over Irish wood, Irish tile," says Pete Meyst, general manager of Brazenhead in Dublin, Ohio. "We brought carpenters over from Ireland to really get the most authentic feel."
Meyst, who spent a decade as kitchen manager at the Ohio pub, helped develop Brazenhead's menu, which mixes iconic Irish nibbles with staple American bar food.
"People want some of the comfort food they're used to," he says. "Pub grub, if you will — snacking foods that go well with a good pint of Guinness."
The pub's fish and chips will satisfy homegrown and traveled palates alike. Starting with Atlantic cod, the filets are dredged in a batter made with Guinness and then fried for just a few minutes, resulting in a crispy-yet-tender finish. The dish is served, of course, with fresh chips and a uniquely American side of crunchy-spicy slaw.
"Using a little bit of spice, like Tabasco, which is a very common hot sauce that most people know, it really does add to it," says Meyst. "The vinegary side of the slaw itself helps cut through the richness of the fish. It is a heavier, more filling entree." 56 N. High St., Dublin 43017, 614/792-3738 (second location at 1027 W. Fifth Ave., Columbus 43212, 614/291-1930), hdrestaurants.com *Note: As of February 2021, Brazenhead in Dublin and Granville are closed.
Fish & Chips
Serves 4 | Courtesy of Brazenhead

INGREDIENTS
4 large russet potatoes
2 pounds Atlantic cod (or other white fish), boned and fileted
2 cups all-purpose flour
1 tablespoon baking powder
1 teaspoon salt
1/4 teaspoon cayenne pepper
1 12-ounce bottle Guinness stout, cold
Soybean, corn, peanut or safflower oil, enough to fill a Dutch oven or deep pot 2 to 3 inches
Salt and pepper to taste
Tabasco slaw (recipe below)

DIRECTIONS
Preheat oil to 300 F. Cut the potatoes into wedges. Fry in oil for 4 minutes, remove and cool. Raise oil temperature to 350 F. Crisp the wedges by frying again for 5 minutes. Remove and season with salt and garlic powder. Drain on paper towels and set aside.
Next, preheat oil to 375 F. Mix flour, baking powder, salt and Guinness in a bowl. Dredge each fillet in flour, dip into batter, and fry until the fish floats (hold each piece of fish with tongs for the first 12 seconds of cooking to avoid sticking). Once the fish floats, cook for one additional minute. Drain on paper towels. Serve with chips and slaw on the side.

Tabasco Slaw
INGREDIENTS
1 head green cabbage, shredded
1 red pepper, julienned
1 red onion, julienned
1/4 cup chopped cilantro
1/2 cup mayonnaise
2 tablespoons Tabasco sauce
2 tablespoons sugar
2 tablespoons salt

DIRECTIONS
Mix shredded cabbage, sliced pepper and sliced onion in a large bowl. In a separate bowl, whisk together Tabasco sauce, mayonnaise, cilantro, salt and sugar. Pour mixture over vegetables and toss to coat. Set aside.