Food + Drink
Honeyrun Farm, Williamsport
Isaac and Jayne Barnes have grown what started out as a hobby into a full-fledged business that sells seasonal honey and other products that are creating a buzz.
July 2018
BY Rachel Cagle | Photo by Eric Wagner
July 2018
BY Rachel Cagle | Photo by Eric Wagner
Gravel crunches underfoot and the soft buzzing of distant bees can be heard as you make your way to a small, cash-only wooden stand filled with a variety of honey-based treasures. The barn directly ahead is home to bleating goats and clucking chickens. Ducks quack farther down the driveway, and there's the occasional appearance by the family dog.

This is Honeyrun Farm in Williamsport, nestled among mile after mile of farmland in Pickaway County, just south of Columbus. The farm's roots reach back to 2003, when Isaac Barnes got his first beehive as a Christmas present from his then-girlfriend and now-wife, Jayne.

"We were just dating and he ate a lot of honey, which made me think that he may like beekeeping," Jayne recalls.

The hobby took off, and soon friends and family were asking to purchase the couple's home-harvested honey. Next came neighbors and friends of friends, and word continued to spread. Since the couple was already making more honey than their family could eat, they decided to become commercial beekeepers and co-founded Honeyrun Farm.
Isaac keeps the bees and Jayne is in charge of marketing and customer service. They both make the products. Even their four kids are beginning to take part in the business, helping with farmers markets and making candles and the apple orchard pollinating process.

"They're not hired on yet, but maybe someday," Isaac says with a laugh.

Most commercial beekeepers' main line of business is either pollination or honey production. Not only does Honeyrun Farm do both, it also specializes in all-natural seasonal honey production.

Spring honey is made from the hives' honeysuckle, along with autumn olive and black locust trees to produce a mild, light flavor, as opposed to autumn honey's goldenrod and aster combination that results in a more robust and rich flavor. Summer honey is a light, sweet product made from clover, wild blackberry, milkweed and Canadian thistle.

Honey isn't the only product the farm sells though. There are also handmade soaps, lip balm and beeswax blocks carved into fun shapes such as bees and owls.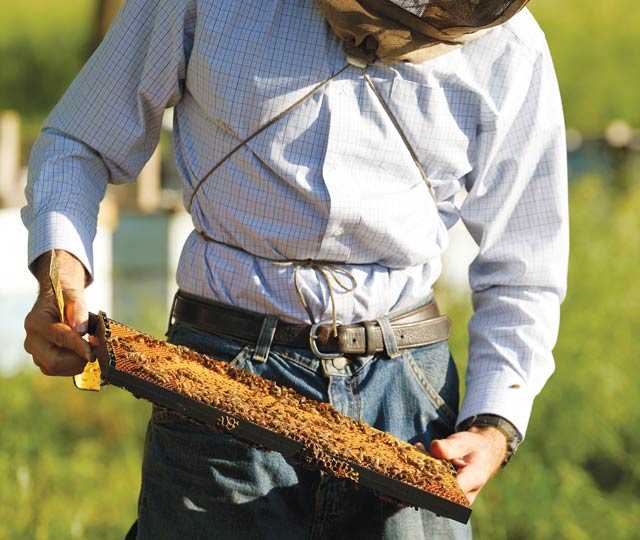 "There's no blueprint for what we're doing," says Isaac about the products the farm sells. "We're going where the market is."

Honeyrun Farm doesn't just sell its products at the farm. Its honey can be found in local grocery stores and in dishes served by local restaurants. Columbus' The Guild House and One Line Coffee are two of the farm's biggest restaurant customers.

"They've all come to us, seeking out local products and producers," Jayne says.

The family can also be found setting up shop in local farmers markets where they enjoy educating customers about honeybees and their products.

"There's a growing amount of people who care about connecting with local producers and knowing where their food comes from," Jayne says. "It's nice to buy honey from people you know and trust."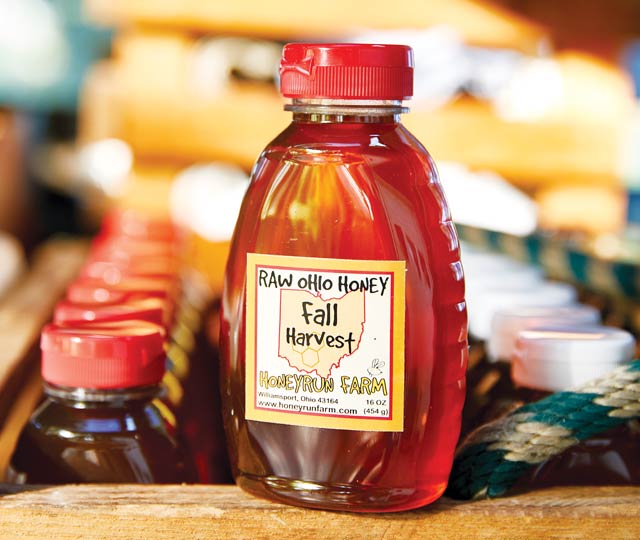 The family works hard to make sure this understanding reaches their customers. Jayne and Isaac maintain an active online presence, with Honeyrun Farm's social media channels containing behind-the-scenes photos and videos detailing how their products are made.

The bees are free to come and go as they please, the Barnes family just provides them with a home to do what they do best and only use the surplus honey they produce.

"We're a small farm doing things the old-fashioned way," Isaac says, "because we care about the bees we keep and the quality of our products."

9642 Randle Rd., Williamsport 43164, 330/763-4752, honeyrunfarm.com

The Chef: Paul Millman | Acre, Columbus

If there's anything chef Paul Millman's Acre says about dining, it's that fast food doesn't mean what it once did. The casual eateries in Columbus' Clintonville and Grandview neighborhoods benefit from Millman's 25 years in the business and connections he's made with Ohio farmers and purveyors.

"I made a relationship with our meat producer, New Creation Farm. I found out about Shagbark [Seed & Mill] there," he says. "And now, I'm at Acre, and we try to do as much local as we can."

With an ethos that values doing no harm, Acre recycles, composts and makes as much in-house as it can. It also purchases from local farmers rather than ordering from one-stop-shop suppliers.

"Instead of having two or three purveyors, I have 20, but it's fun," Millman explains. "The relationships you develop with the farmers — you get to know these people over the years. It's really worth it. It's nice to know that the money that we're paying them is going to their farm and their family and not to shareholders."

One of those suppliers is Honeyrun Farm in Williamsport. There, Millman found Summer Harvest, a bright wildflower honey that's in dishes all over his menu.

"We put it in smoothies, in recipes, we set it out for customers for tea," Millman says. "It's raw honey, so it hasn't been processed ... It's got all the flavors."

Millman substitutes honey for refined sugars whenever he can. For Acre's peanut butter banana smoothie, he finds Summer Harvest is the perfect choice.

"We use a locally processed peanut butter, Krema peanut butter, that's not sweetened," he says. "So, it needs a little sweetness to make it shine." 2700 N. High St., Columbus 43202, 614/447-9400; 1717 Northwest Blvd., Columbus 43212, 614/826-2896, acretogo.com

Peanut Butter Banana Smoothie
Makes 1 smoothie

INGREDIENTS
1 cup almond milk
4 ounces or 1/2 medium ripe banana, peeled and cut into chunks (Paul Millman freezes Acre's, but they can be fresh)
1/4 cup Krema smooth peanut butter
1/2 cup ice cubes
1 tablespoon Honeyrun Farm Summer Harvest honey

DIRECTIONS
Place all of the ingredients in a blender and blend until smooth.